Support Black Farmers: Fundraisers for Land Ownership and Education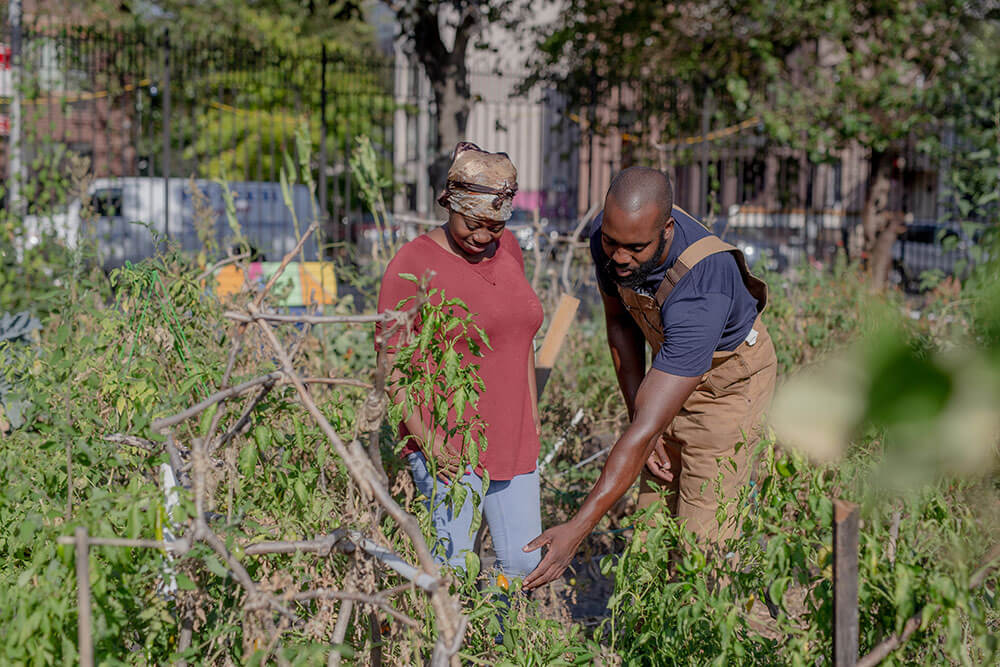 Black farmers currently represent around 1.3% of all farmers in the United States, according to CNN. That 1.3% is made up of 45,500 Black farmers—a number that was 20 times larger in 1920 when the USDA recorded 925,708 Black farmers in the United States. However, today there is a resurgence of Black farmers that want to rejoin the agricultural industry on behalf of themselves and their communities.
Independent farmers have struggled to sustain a living in recent years as market forces have changed, along with increased focus on sustainably sourced food systems. Black farms have especially taken a hit as the industry has evolved. While the COVID-19 pandemic has further threatened the survival of Black farmers and Black-owned businesses, communities have rallied to reclaim the land that once belonged to their ancestors. Learn more about how you can support Black farmers below.
Food insecurity in BIPOC communities is a problem
The reduction in land owned by Black farmers and other minority populations has led to food deserts in many urban areas across the country. It is often found that marginalized communities experience higher rates of food insecurity, which can result in nutritional deficiencies among members of those communities. As Feeding America points out, Black people in the United States are twice as likely to face hunger in comparison to White households.
Related reading:
How can we help Black farmers?
Farmers across the country are turning to crowdfunding to buy back the land of their ancestors, generate financial support for their operations, and rejoin the agricultural landscape on behalf of themselves and their communities. Here are a few ways you can show support.
Promote and support Black urban farming and education
Through urban farming, community members have the ability to transform empty local lots in the neighborhood into community gardens that can feed many families in their area. Not only does this generate community interaction, but it passes farming education on to new generations. Austin Hurt and Kofi Thomas are two Black farmers who have taken to their local communities to run their own urban gardens—but they aren't alone in their quest to feed others through community gardens. Read on to learn about other folks who have started fundraisers for BIPOC farming, or consider starting a fundraiser to raise money for your own community garden.
To help the BIPOC farming community in San Francisco, Isaiah Powell created a fundraiser for the Florence Fang Asian Community Garden. It has raised just over $100,000 to support the purchasing of supplies, such as soil, and larger equipment, including sheds and mowers. Another organization started a fundraiser that has raised nearly $100,000 to purchase land for farmers to enable the support of 22 BIPOC families.
Fundraise for Black farmers
Receiving economic support has been one of the roadblocks placed in front of Black farmers over the years. Purchasing, owning, and operating a farm has grown increasingly difficult, especially during downturns in the economy. Fundraising for Black farmers directly allows you to help them invest in their future. Here are a few examples of fundraisers that were started to fund Black farms and promote the longevity of BIPOC farming—maybe they will inspire you to start a fundraiser of your own.
Atlanta resident Briana Meeks finally decided to make her dream come to fruition when she started a fundraiser to buy back the Tennessee farm where her grandparents lived that she fondly remembered visiting as a child. Her campaign successfully raised more than $135,000 and continues to receive donations daily. Meeks' grandparents worked the farm as sharecroppers, the same way their parents had before them, and they eventually bought the land. They owned it up until Briana's grandfather passed away, when they were forced to sell the property.
Soul Fire Farm exists to offer farm training for BIPOC growers and food justice workshops for urban youth to reduce food insecurity for northeast households. Additionally, they facilitate several other programs aimed at ending racism and seeding sovereignty. A fundraiser was started for Soul Fire Farm to help the organization expand and move out of the single-family farmhouse that it has been operating out of. Soul Fire Farm has raised $101,623 from more than 1,100 donors.
Vote for equality
As the US Department of Agriculture pointed out in their report on Black farming in America, Black people have not had the same opportunity for land ownership as their white counterparts. The end of slavery was followed by a decade of racial injustice, making it difficult for Black people to buy land to farm on. In the quest for justice and equality for the BIPOC community and for Black farmers, it's critical to cast our votes for representatives in government that will continue to equalize opportunity in America.
Black and Indigenous farmers need your help
Help empower marginalized populations to grow their own food and create communal wealth through policy advocacy and urban planning. Offer financial support by starting a fundraiser for a Black farmer or organization supporting urban farming in your community. Communal gardens within cities allow communities to shape their environments and reduce food insecurity. Start a fundraiser today or donate to a Black farmer near you.