Anti-Trump Poster by Robbie Conal
$12,449
of $8,500 goal
Raised by
207
people in 28 months
Anti-Trump Poster by Robbie Conal
Hi, I'm Robbie Conal. Since 1986 I've been making satirical guerrilla street posters of politicians who, by my reckoning, have too much power over us and have been abusing it in the name of representative democracy. Over the years I've developed an irregular street army of wonderful volunteers, around the U.S. When I can, I travel with my posters, and with help from local activists, put them up on the streets. It's my way of hopefully tickling people into thinking along with us about the state of our democracy.
My new poster campaign,
"BULLY CULPRIT/CAN'T EVEN,"
is about Donald J. Trump, whom I consider to be a major threat to our country's social and political values. I feel so strongly about Trump's demagoguery–especially his appeals to hate, fear and prejudice–that I've made a double-sided street poster about him! With your help I'm hoping to get 1000's of them printed, shipped, and pasted up on the streets of America before the November election.
Printing, shipping, supplies, and travel are costly. But with your help I promise we'll be out there practically every night, spattering ourselves with glue and doing our best to deliver the message.  Additionally, since I can't get to every city I'd like to cover, I'm offering to send posters anywhere in the U.S., to those
volunteers who are truly committed
to getting them up in their area. From the East Coast to the West Coast, to the prairies, to Hawaii and Alaska—yes, even Alaska! Please sign up for email updates at my
website's Home Page.

If you're serious about putting together a volunteer crew in your own city or town, please email me with your details and I'll be in touch ASAP! 
We'll update everyone with images of posterings from places we've visited, as well as photos we've received from volunteers who've distributed them in their towns.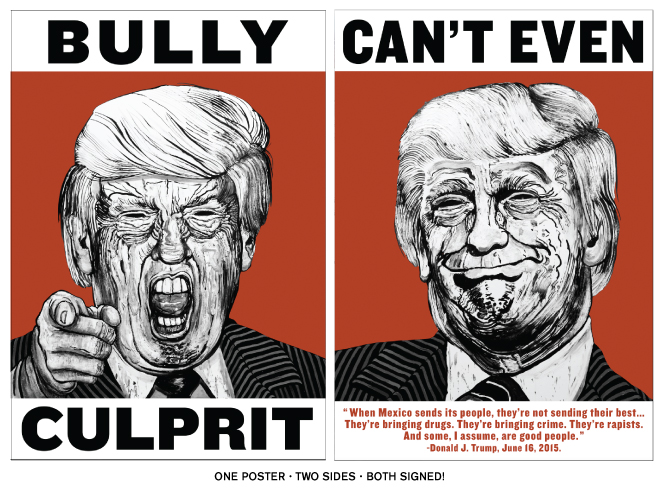 Perks: For anyone who donates $40 or more, and wants one for him/herself, I'll send you a personally signed and dated, individual copy of the double-sided TRUMP poster! Please send me an email with your mailing address. (More signed posters from 30 years of past poster campaigns are also be available through my
webstore
, starting at @$25 + S&H). Every penny helps toward meeting our goals.
We can't let Trump happen here! And with your help, we won't. Thanks so much for your consideration and enthusiasm for our mission!
~ Robbie Conal
For an inside view of what it's like, check out this amazing Anti-Trump postering video, shot by "Anonymous" in Los Angeles, June 2016.
+ Read More