Buena Vista Horror Club 2017
$4,205
of $5,500 goal
Raised by
67
people in 9 months
Very few homes decorate or give out candy to trick or treaters in Mexico due to the economy and Halloween being over-shadowed by the Dia de los Muertos holiday that is observed on November 2nd. The children are aware that there's Halloween excitement across North America, but barely get to participate.
In 2004, we decided to start a small Halloween yard display in Tijuana to encourage the kids in the area to come out and trick or treat. As word spread that there was a house giving out candy on Halloween night, we went from a few dozen kids that first year to 200 the following year! As years went by, the number of kids kept growing and we kept adding props and décor to make the yard display more elaborate (and lots more candy!)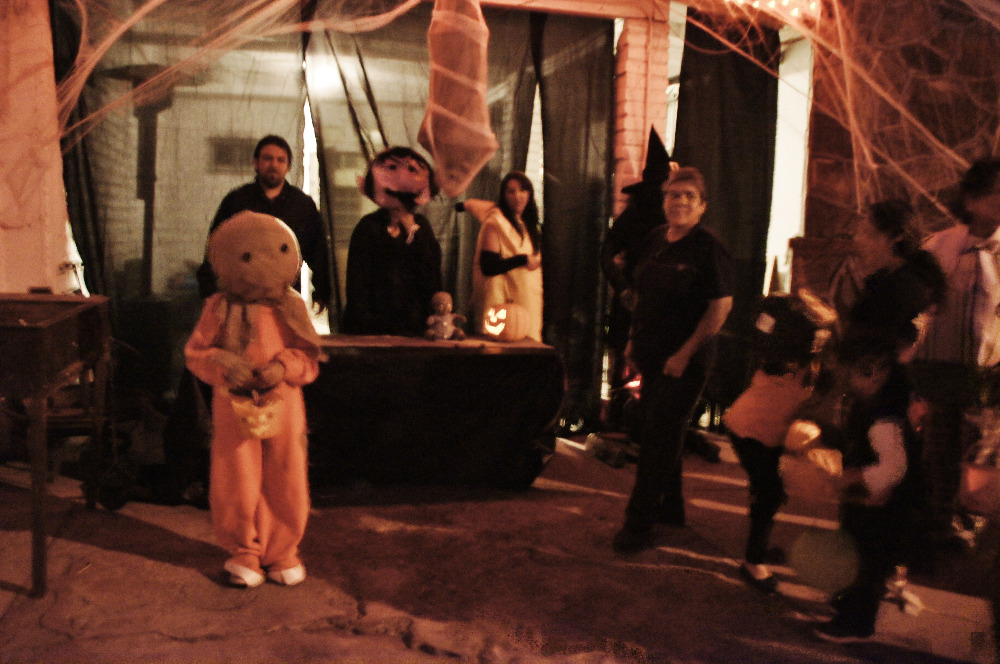 We always thought it would be cool to do a haunted house scare maze for them, so in 2012 we took the leap and did our very first walk-through. It mainly consisted of black fabric, plastic sheets and a handful of friends volunteering as scare actors. The kids loved it and we had over 700 people walk through our scare maze that Halloween night.
Oh the feeling of seeing the trick or treaters and their families going through the maze, getting a few good scares and receiving trick-or-treat candy for making it through; what a special sensation to say the least...we were hooked!



Word continued to spread beyond the neighborhood, growing attendance even more. We were soon drawing families from several of the city's surrounding neighborhoods...

We made a commitment to make the experience bigger and better for them each year, dedicating a lot of time into researching and learning different building, haunt design and prop making techniques. In 2014, we transitioned from simple fabric and plastic sheets to using lumber and real building materials for the construction of the maze as well as adding scenery, sound and lighting. In 2015, we had over 1,000 people come through our haunt!


All of this has always been (and always will be) absolutely free of charge to anyone that wants to come and visit our haunt.
The cost of building and running this project was funded entirely by me and assisted by the invaluable help that friends and family provide by volunteering their time, talent and dedication; but as the number of people that come to our haunt increases each year, unfortunately, my personal income and budget could not keep up with the scope of the event.
For that reason last year we decided to reach out for help by setting up a GoFundMe campaign and through the generosity of our supporters (special shout out to my
Reliant Funding
family,
Eduardo Martínez at AHF.org
and
GoFundMe
) not only did we hit our funding goal but actually went over by 16%!!!
With the funds raised we were able to cover the shortfall and on Halloween night over 1,250 trick-or-treater's came through our haunt! We even caught the attention of local news media who came to report on the event.

And continuing with our tradition, everyone got their equal bounty of candy regardless of age!
This is our way of contributing to the community and creating lifelong memories for both kids and adults. Do you remember the excitement of Halloween? Many of us still remember the thrill of discovering a home haunt on our trick or treat runs. The ability to create those feelings in hundreds of other people each year is indescribably rewarding (not to mention, the thrill of doing the actual scaring!)

This year's theme will be a Haunted Orphanage that will include a 22ft H x 32ft W Facade and Expanded Maze Layout:
This year is also our
13th Anniversary
and due to the exposure we got last year we are expecting the number of trick or treaters to increase even more than before…
That's why your help through this Campaign is more important than ever before!
I have already invested over $2,000 of my personal funds towards this year's event and our campaign goal will allow us to purchase the extra building materials, tools and paint to build our two story facade and expand the square footage of the maze layout; as well as lighting/sound, actor costumes, make-up and candy needed to support the number of people that we expect this year.
Can you help us provide the kids in Tijuana another safe and HAPPY HALLOWEEN?
There's no minimum or maximum pledge limits. Please feel free to contribute as much as you are financially comfortable doing.
We will post videos and pictures of our progress throughout preparations, as well as from the main event on Halloween night.
Like us on FB
for updates and more information about our haunt. Interested in volunteering for the build or being a scare actor? Please contact us as we would love to talk with you.
Even if you are not able to make a monetary donation you can still help us out tremendously by spreading the word and sharing our campaign on social media through the share links on this page.
On behalf of the children and their families, we thank you in advance for helping us make this happen.
Photo credits: Sid Rocha, Jesus Bustamante, Liliam Jimenez and Ruby Geron.
+ Read More