Stand Up For Academic Freedom
$22,133
of $22,500 goal
Raised by
307
people in 47 months
 Academic Freedom in Australia is in grave danger – and we need to act now before it is too late.

Last week, cowed by a shrill vocal minority of far-left activists, the University of Western Australia cancelled its contract with internationationally renown academic Bjørn Lomborg to establish a leading research centre to apply cost-benefit analysis to development projects .

For daring to apply evidence to public policy, Bjørn Lomborg was hounded out of our universities.

What have we become?

Academic freedom is at the heart of any university. To expose students to new ideas, to teach them to think critically, to challenge accepted wisdom – this is what a university should be about. And it is this fundamental principle that is now in grave danger.

By giving in to a few shrill online protests, the University of Western Australia has admitted that it is a closed shop. That it is shut to ideas. That challenging the accepted left-orthodoxy is not permitted. 

Is this what we want our education system to be?  Run not by evidence or ideas, but by what the mob wants?

I think we are better than this. I want our universities to be world-class. But that means we need to take a stand now. 

This is why I am calling on you to join our campaign in support of academic freedom:  We need to send a loud message that can not be ignored- academic Censorship will NOT be tolerated!

The Australian Taxpayers' Alliance will be running an open letter in full-page newspaper advertisements proudly supporting academic freedom.

By joining our campaign, you will be publicly stating your opposition to this disgraceful attempt at academic censorship, and putting your commitment to intellectual freedom on the record. 

All donors will be publicly listed on our website  as signatories, and donors over $100 will be included in the print version (unless you choose otherwise)

Make no mistake: unless we take action today, this will happen again, and again, and again. This is why we need to draw a line in the stand now and say - enough! 

The only way to stop bullies is to stand up to them – and that is what we need to do.

Printing an open-letter in a newspaper won't be easy. This will be the biggest and costliest project we have ever done. So we really need your help. 

Anything you can contribute, whether it be $50, $100, $500, more or less, WILL make a difference.

It is vital we stand up to these thugs and I hope you will dig deep and join us in this campaign.

Here is the draft version of the open letter:

"Respect. Inclusiveness. Diversity. Fairness: These are the values The University of Western Australia pledges to uphold. We, the undersigned, call on UWA and all other Australian universities to honour this commitment.

Academic freedom and fact-driven discourse should be at the core of any university. The decision by UWA to surrender to closed-minded activists and cancel its contract to create the Australian Consensus Centre is an affront to these fundamental principles.

Dr Bjorn Lomborg's Consensus Center has a decades-long record of academic work at the highest levels.  Australia Consensus plans to continue that work with leading international economists and Nobel Laureates to produce vital analysis on development and economic priorities for Australia.

Our universities should be a bastion of reason, fearlessly challenging conventional wisdom. Rejecting cost-benefit analysis because of a vocal and unsubstantiated smear campaign cannot be tolerated.

We stand for academic freedom. We stand with Dr Lomborg."
 
Any surplus funds, or if the target will not be met, will be dedicated entirely to other activities promoting academic freedom in Australia. 

Thank you for your generous support for this very worthy cause! 

Tim Andrews
Executive Director
Australian Taxpayers' Alliance
+ Read More
Update 2
47 months ago
Share
Here's a preview of our ad set to go out in Tomorrow's Australian!
We're still a little short of required funds, so anything you can do to help us get over the line will be appreciated!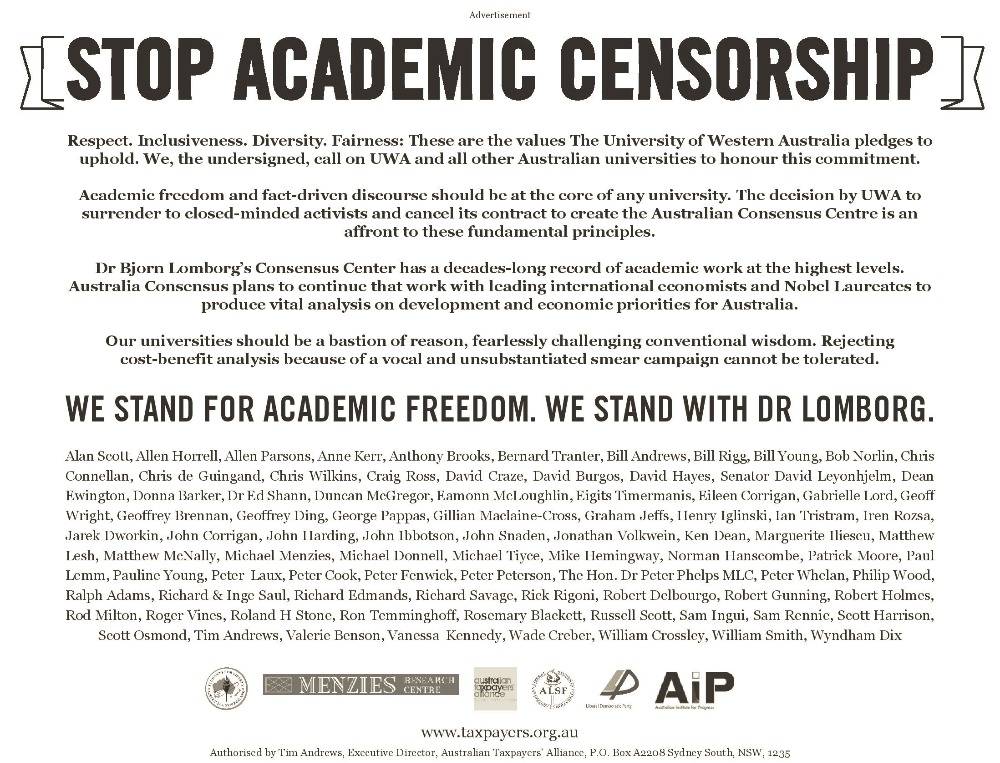 + Read More
Update 1
47 months ago
Share
Almost there! We just need another $2,000 for a half page ad to go to print in The Australian this Wednesday! Please encourage all your friends to donate and help us get over the line!
+ Read More
Read a Previous Update