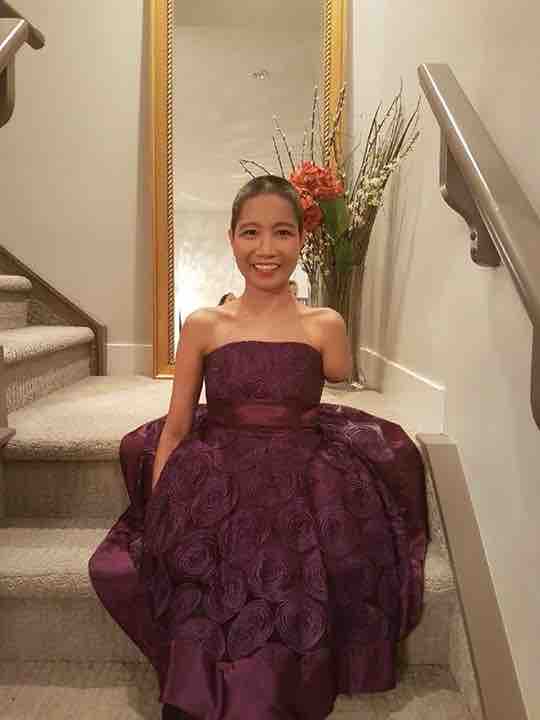 34
4
Verna's Prosthesis & Running Blades
$2,850
of $200,000 goal
Raised by
34
people in 6 months
Two years ago I was completing feats many only dream of– traveling all over the world, joining humanitarian works, leading small group in my church, running to raise money for charities, enjoying extreme adventures like bungee jumping, cage diving with great white sharks, sky diving. Fast forward a year and I was learning to walk again, recovering from a near-fatal infection that required my arms and legs to be amputated.
I aimed to walk without assistance before my first amputation anniversary and I did. After a month, I joined and won the Dance For Ellen contest when Ellen DeGeneres came to Calgary. Two months later I had an invitation from a church and AM700 to share my story of hope. The following month, I registered for 5k of MEC Race. My sister Debbie, my nephew, my friends, and I were the last to reach the finish line because I don't have running blades but I'm a finisher. This month, Darrel Janz of CTV is featuring me at Inspiring Albertans. I'm excited of my future.
My goal is to continue to show and encourage people that there is hope for those who embrace challenge and never give up.

I want to have running blades but my physiatrist strongly recommend to have better prosthesis first. What I'm using now has no flexibility in the ankle. My right "knee" folds when I put pressure in the toe and kick to straighten. This are not very safe compared to the good prosthesis in the market today. I've fallen several times but I'm glad I didn't have broken bones yet because I don't want that to happen. Good prosthesis are very expensive and every activity need a different prosthesis. As an AISH recipient I can only have them through your kindness and generosity. 
If you would like to help me achieve my goals of running and living life to the fullest, please consider making a donation. Any amount would be truly appreciated. Other ways you can help: Help us spread my story! Use this link to share on Facebook, twitter, and email:   https://www.gofundme.com/better-prosthesis-for-verna
---
Read below for my full story..

My name is Verna.
It means "born in spring", but my birthday is in the fall. I'm short and skinny, but I have a lot of energy. I love traveling. I enjoy the outdoors and extreme adventures. I've gone paragliding, skydiving, bungee jumping, cage diving with great white sharks and lots more! I ate healthy, was always active and never had any serious health issues. That all changed last March 18, 2017. 
In January 2017, I went to the emergency room of Rocky View hospital due to persistent pain in my stomach. After a series of examinations, I was told that I had an almost 10 cm endometriosis and was sent home with pain relievers. On March 16, my gynaecologist told me I had a very sore cyst and advised that I should go to Peter Lougheed (PLC) if the pain persists. March 18 around 6 am, I was taken to PLC emergency where the attending physician decided to transfer me to Foothills Medical Centre at 5 pm. At 9pm I had a total hysterectomy. The next day proved to be more challenging as lab tests showed I had severe sepsis and my large intestine had a leak resulting not only in removal of my large intestine, but all my limbs as well. The doctors informed my sister, Debie, that I only had 10% chance to survive. This was reduced to 2% the following day and I was placed on life support. Doctors thought I wouldn't make it.

My kidneys were severely damaged. My Intensivist thought that if I were to make it through this ordeal, I would  be on dialysis for the rest of my life. But after a couple of weeks, my kidneys started working and I didn't require dialysis anymore. Now, my liver is recovering from the damage caused by the strong medications I had. My brain is now free of blood clots. The stroke and abscess didn't damage my brain. I lost my hair and eyelashes but now they're back. I lost my sight but I can see again. I lost my arms and legs but mobility is being restored through my prosthesis. 
The day I was taken to emergency, friends came together to help me and my family in every way. They called themselves Team Verna. They are all busy people but they made time to ensure that my family and I were not left to battle life alone. Everyday after work they came to the hospital to encourage one another and to pray for me. They fought the good fight of faith! Everyone had their own assignment – handling legal matters, processing insurance claims, communicating with doctors to make sure they are working together as a team, chasing (almost harassing!) people for the accomplishment of so much paper work, monitoring my bank account and business, making sure I eat (I prefer home-cooked food rather than hospital food), comforting me with their great voices and instruments. You name it, they handled all my needs very well. I felt nothing but LOVE and KINDNESS. Because of my amazing group of friends and a team of awesome healthcare providers, I was not consumed by the weight of my new life and I was able to concentrate on becoming healthy again.  

I feel like a baby learning to do everything all over again; walking, eating, brushing, making a phone call, typing a text message etc. But I am growing, developing and taking steps one day at a time. It has not been easy, but I make progress every day; with determination and dedication, it is possible.
There is HOPE.
As the first anniversary of my hospitalization approaches, my goals are very simple; using my prosthesis, I want to walk without assistance. Running will be next, as I intend to continue running for cures. I would like to live in a home where I can function well with minimal assistance as well as be able to have my friends and family over often. My ultimate goal is to live life to the FULLEST and be an inspiration to people who are losing hope. I want to be known as VERY capable, not disabled.
May the story of my life inspire you to help others, encourage you to keep going and motivate you to embrace challenge and never quit.
With love and gratitude,
Verna


+ Read More