140
26
The Art of Migration
$23,808
of $36,000 goal
Raised by
152
people in 14 months
Join The Art of Migration and Support
 our
10,000+ mile journey
 from Germany through Eastern Europe and Central Asia to Russia, as we seek to understand and raise awareness about migration — and to explore culture, identity and the concept of "home" through public art, conversation, and story-telling.
.. because migration is a complex issue,
but curiosity, art, and conversation are catalysts.


This summer, we — 
an artist, a dancer, a professional traveler & a U.S. immigration lawyer — 
embark on a
10,000+ mile journey
through 20+ countries in Eastern Europe & Central Asia, to raise awareness about migration & to explore culture & identity through public art, conversation & story-telling. Our adventure is part of the
Mongol Rally
,
an annual pilgrimage from Prague to Ulan-Ude, in a 1.2L engine car. This year over 400 teams from all over the world will participate.
                              OUR TEAM IS MISSION-DRIVEN.                    We understand migration is a complex issue                    ...and believe curiosity, art, and conversation
                                                     are catalysts.


WHO ARE WE - THE ART OF MIGRATION "MONGOL RALLY" TEAM!

Sheryl
is a U.S. immigration lawyer who changes lives, opening doors to help people realize their dreams & contribute locally, and working with communities to build bridges that encourage security, resilience & joy.
Bethany
brings communities together using her gift for the arts & creativity. Her Paint the World organization invites people to contribute to collaborative art murals around the world, to visually express relevant themes.
Quentin
brings people together through the art of movement & dance. From Montana to Florida to an African refugee camp in Uganda, he sparks joy & possibility through cultural dance exchange.
Yuri
is a professional in the travel industry who helps countries develop tourism as a tool for development, and to foster cross-cultural understanding through experiences bridging people, countries and cultures.
EACH OF US
works in our own way to break down barriers between people, bringing us closer together, so we can co-exist peacefully… and joyfully! 
*
The Art of Migration
 is a community platform to engage in meaningful conversation, participate in targeted impact activities, identify and celebrate positive initiatives, and build cross-cultural understanding, one mile at a time, 
starting right where you are.
We facilitate & participate in 
real interaction
 between people where they live, to better understand each other, our journeys, and the forces that shape us, as we help to cultivate a sense of community and cooperation. We explore reasons why people move and how the arts and dialogue can ease the challenges of integration, inviting all to participate in seeking and celebrating solutions together.
Currently, a record number of over ​
65 million people 
are displaced from their homes. Countless others move for work, or love. Beyond migration, over​ 
1.2 billion people
 ​cross borders every year for tourism. ​These statistics are staggering. What are the implications of so much movement? Where do people go when forced from their own homes? Could travel and tourism be a tool for building empathy and innovation? What easily replicated practices and behaviors can guide us beyond stereotypes to foster peace and understanding wherever we find ourselves?
The good news?
Solutions are everywhere, 
when you look for solutions.
Everywhere we go, we find ordinary people making extraordinary choices, to improve life for all the residents of their communities. Many of these initiatives are small and simple, and they matter.
You matter.
One example (of many) is
Refuge Coffee Co.
in Clarkston, GA, which CNN calls the most multicultural square mile in the USA, due to refugee resettlement. Local residents & church ministries identified the need for a social space where community can gather, so they created Refuge to share coffee & culture & get to know each other in joyful ways.
They now celebrate holidays together and break bread together. Volunteers also use the space to teach English and other life skills to their new neighbors.
At the annual Refuge Coffee 5K, we overheard a runner saying, "You know, the world could be like this!" Another Georgia native told us he doesn't like to travel so much, so he appreciates getting to
explore the world through his own community,
sharing food, art & stories with his international neighbors.
The City of Clarkston is a picture of possibility: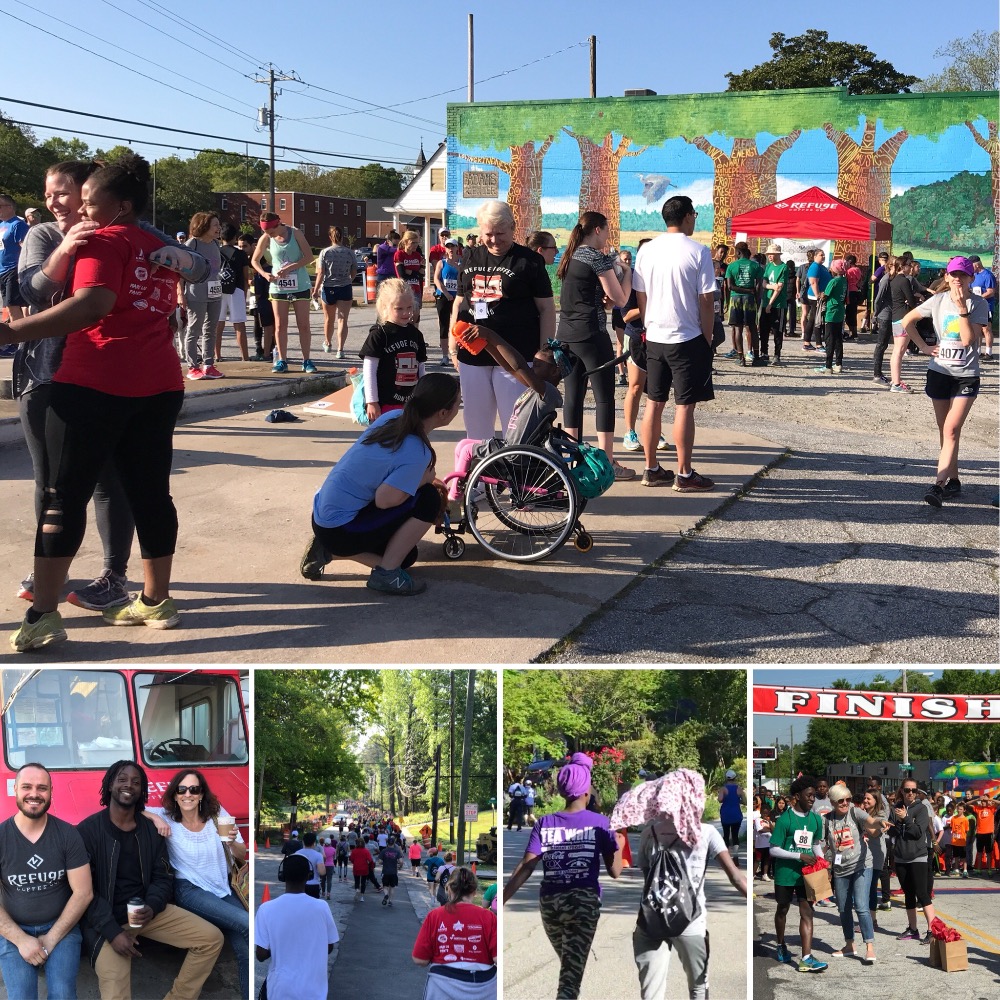 Whether people move for love, opportunity, or because of circumstances out of their control, the effort to move forward & keep trying is fueled by a faith that something better is ahead 
— freedom, possibility, hope.
*
The
Art of Migration
is
AN INVITATION
to tap into that kind of faith & discover your best self in the context of here and now — as the *act* of migration dares you to realize the innate qualities we all possess, as humans: strength, courage, resilience, resourcefulness, creativity, humility & so much more.
Our intention is not to politicize an already charged issue,
but to celebrate ALL of our journeys — what we have in common, as well as our unique perspectives, experiences, challenges, skills, food and culture — and to explore ways we can all contribute to make our communities joyful & resilient.
What role do YOU play? How do YOU choose to contribute?

TEAMWORK — WE CANNOT DO THIS ALONE!
The Mongol Rally adventure is meant to be a catalyst for collaboration and community engagement, to share and discover practical ways that individuals and communities can solve complex challenges. Along the route, we are partnering with local organizers and activists, visual and performance artists, migrants and refugees, and everyday people.
WE ARE ALL SUPERCONNECTORS —
Determined to use our superpowers to spark more magic in the world.

+ Bethany 
will collaborate with local artists & invite all community members to co-create a collaborative art mural reflecting local culture & identity.
+ Quentin
 will demonstrate how movement can break down perceived barriers & ask local residents to share traditional dances, so he can choreograph a medley of moves from different countries & cultures to share with the world.
+ Sheryl
 will facilitate story-sharing & explore the challenges of migration, using the art of conversation to deepen understanding of ourselves and the people around us, in the context of global migration.
+ Yuri
 will explore how the opportunity to travel and meet people from different places can spark curiosity and facilitate cross-cultural understanding. 
+ You 
are invited to participate, as much or as little as you like, and we need you to
identify people
in your community who are leading initiatives to create resilient, joyful & welcoming communities. We want to celebrate & uplift as many people as possible, to spark the imagination of people all over the world — with ideas of ways they can make a positive impact in their own communities.
THE ROAD DOESN'T END IN MONGOLIA!

Importantly, we will use the materials we produce — film, portraits, stories of migration, and collaborative art murals — as we travel around the United States with The Art of Migration in 2019-20, to offer different perspectives as we continue to engage communities in the exploration of culture, identity and change in the country we call home.
+ FILMS
 to inspire & inform conversation 
+ COFFEE-TABLE BOOK
 with photos, stories, and collaborative art murals by & about people in communities we visit
+ TRAVELING ART EXHIBIT
 with portraits & collaborative art murals to spark discussion & action
​+ GROWING NETWORK
 collaborating to create joyful communities where everyone can feel safe and secure, and have the opportunity to thrive.
*Funds for post-trip production of film, photographs, coffee-table book, and art canvasses will be handled separately.
We are soooooo grateful for your support!!!THANK YOU!
Special thanks to the
TED Residency
 where Sheryl & Bethany met in Spring 2016... to
HATCH
 where we met Quentin... to
TEDxMidAtlantic
  where we met Yuri (& whose co-organizer
Nate Mook
  inspired us with his Mongol Rally journey
in 2014
 )... to Sheryl's law firm,
Blue Dot Advocates
, offering "legal solutions for a small planet"... to
Welcoming America
  & their new, Berlin-based initiative
Welcoming International
... to
Voyaj
, connecting people through travel for a more peaceful world... to our friends at
The Pink Line Project
 ... and to the
EG Conference
 community, whose incredible support is priceless! We love & value you all so much!
+ Read More