Helps People With Disabilities
$9,754
of $250,000 goal
Raised by
188
people in 43 months

... It all started when I saw a man in a wheelchair attempt to open a very heavy door at a store. The door didn't have an automatic push button to open the door, and the man struggled to get through the door... 

Hi! My name is Alexander and I'm 13 years old. I love helping people and I'm excited to tell you about the app that my team and I are developing, called Ability App, that will help people with disabilities navigate public spaces, and find safe, reliable services and employment.

I would like to thank all of you who have donated to help me start developing Ability App.  The app is almost 90% complete.  I'm looking for additional financial support to finish the development of the Ability App website, Android and iOS apps, and to help cover the $5-10k per month in hosting fees on Amazon Web Services, along with engineering and maintenance fees for updates to Ability App on all three platforms.

As you can imagine, and as I have come to find out, developing an app of this caliber can be very expensive. Several incredible people have volunteered to help along the way, but I still require funding for development/hosting/engineering/maintenance costs that are not covered by volunteer support. 
Your support will enable me to continue to develop and operate Ability App after its initial launch.  
Check out my latest update!
In addition to looking for additional financial support to continue to develop and maintain Ability App,  I'm also looking for volunteers to help provide information on accessibility features in their hometowns.  These volunteers are called Ability Ambassadors.
Becoming an Ability Ambassador is fun and easy. 
It is a great way to give back to your neighbors within your community.  As an Ability Ambassador, you simply let others know about accessibility friendly features that you find throughout your day at various public spaces.  Any feedback is appreciated, and will provide others with incredibly valuable information that will lead to a much higher quality of life for so many!  Together we can make this world a better place for everyone!  Please join us today!

To Become An Ability Ambassador, Click Here.

Alex Knoll

Thank you to NBC Nightly News with Lester Holt, Joe Fryer and Savannah Guthrie for the great story and for helping raising awareness about accessibility issues: 
More about the Ability App:

The goal of Ability App is to improve the lives of all people with disabilities by giving them the resources to make informed decisions.  Ability App will help people with disabilities and their caregivers navigate public spaces and find services and employment opportunities. Disability-friendly features at specific locations will be listed like wheelchair ramps, Braille signs and menus, service animal relief locations, wheelchair friendly restaurant seating and more.  Plus, services like in-home care, grocery delivery, transportation, and occupational therapy.  Employment opportunities, specifically for people with disabilities, will also be listed on Ability App .

A lot of people ask me how I thought of this app idea.  It all started when  I saw a man in a wheelchair attempt to open a very heavy door at a store. The door didn't have an automatic push button to open the door. As the man struggled to get through the door,  I wondered if there was an app that could have told him, before he left his house, about the features available at this and other stores around the area.  After doing some research, I wasn't able to find any such app. So, I decided that I would create the app to assist disabled people in finding the features at various locations that could meet their needs.

I have been fortunate enough to be recognized by many great individuals and organizations, and receive many State and National awards for my app idea, including becoming the National Grand Champion for I Cubed, a National student invention competition.


I also received 1st Place for the AT&T/Imagination Foundation Inventor's Challenge.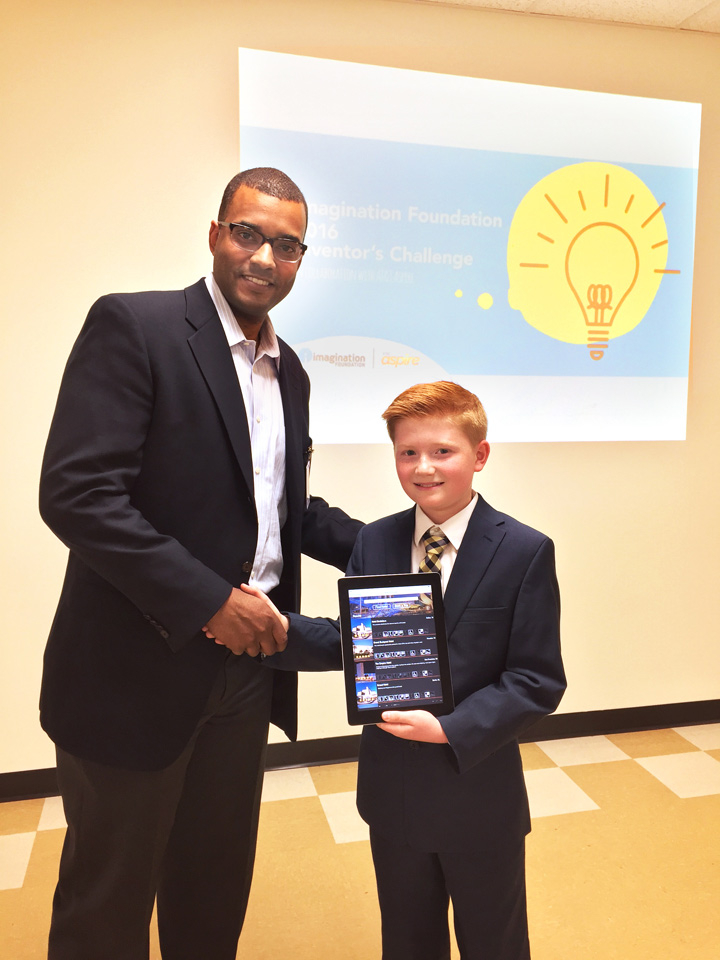 I Was The Idaho State Merit Winner for the Discovery Channel/3M Young Scientist Challenge.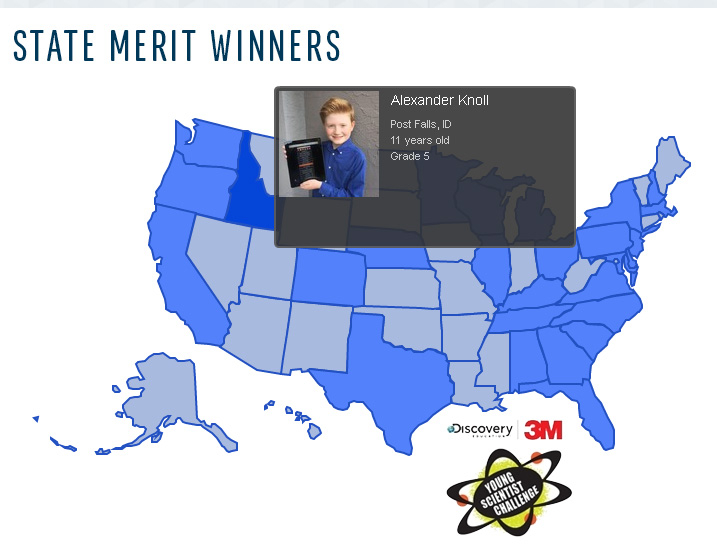 Here is an interview from my appearance on the T.D. Jakes Show where I explain Ability App:


I was invited to present my idea at Web Summit in Dublin, Ireland last year to over 40,000 people in attendance, including many top minds in business and technology.



As the youngest entrepreneur at Web Summit, I was interviewed by and featured in many broadcast news programs and print publications including Sky News, The Irish Times, and the Irish Tech News.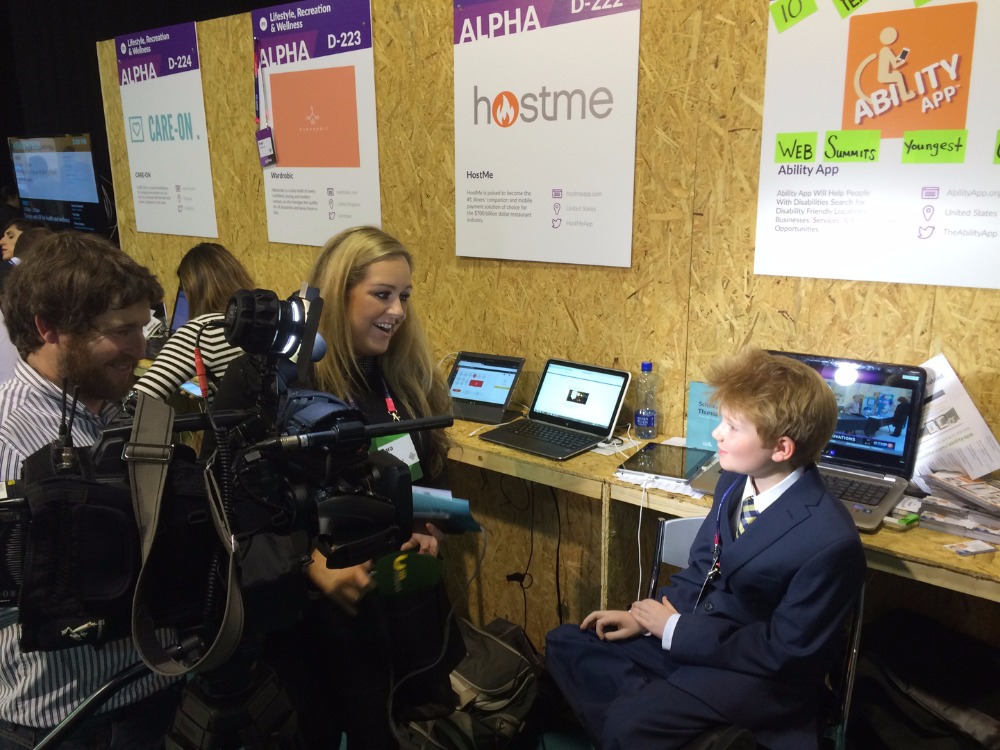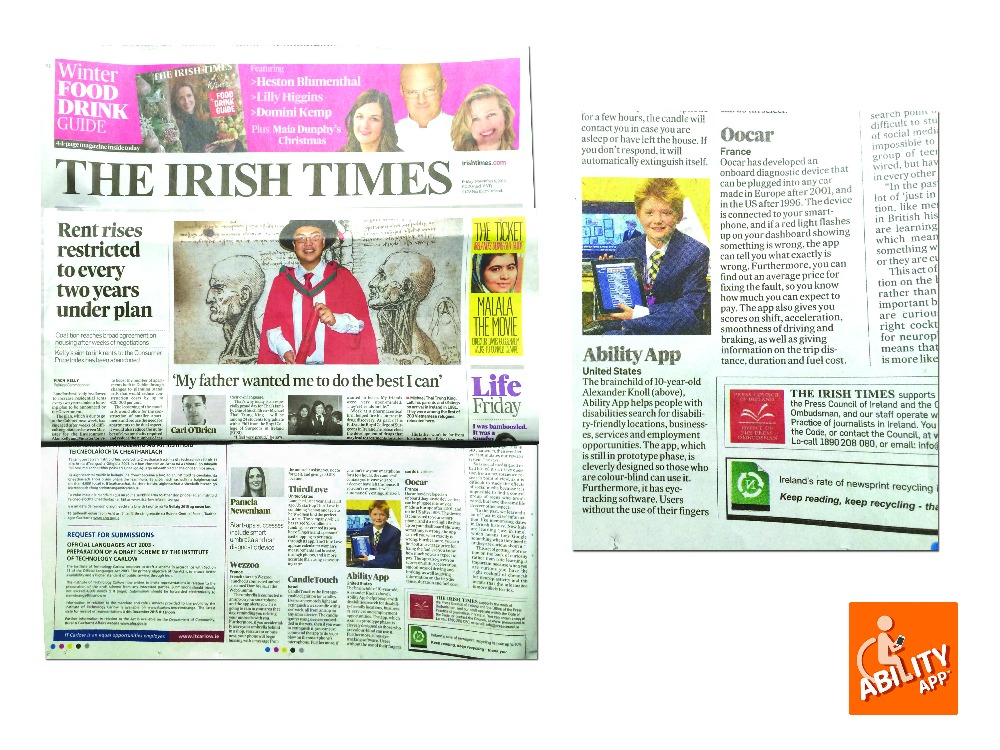 Ability App has been featured in many other National and International publications including the Miami Herald, The Washington Times and Platinum Business Magazine.

Recently, I was invited to present Ability App on the T.D. Jakes show.



I will continue to work hard and spread the word about developing this app so that it can help people with disabilities.  With your support, we can help so many people find employment, services, and facilities that give abilities! 
+ Read More