Hoehns Lakeview Farms
$4,415
of $100,000 goal
Raised by
61
people in 37 months
A battle is occurring in Henrico County Virginia between legacy property rights of Hoehns Lakeview Farms and expansion of the Islamic Center of Richmond (ICR). This battle is not about freedom to worship protected under the First Amendment or federal laws granting exemption waivers from local land zoning laws. Instead it is about abuse of the courts through lawfare to lay claim to property and property rights through adverse possession - civil disputes, harassment and intimidation.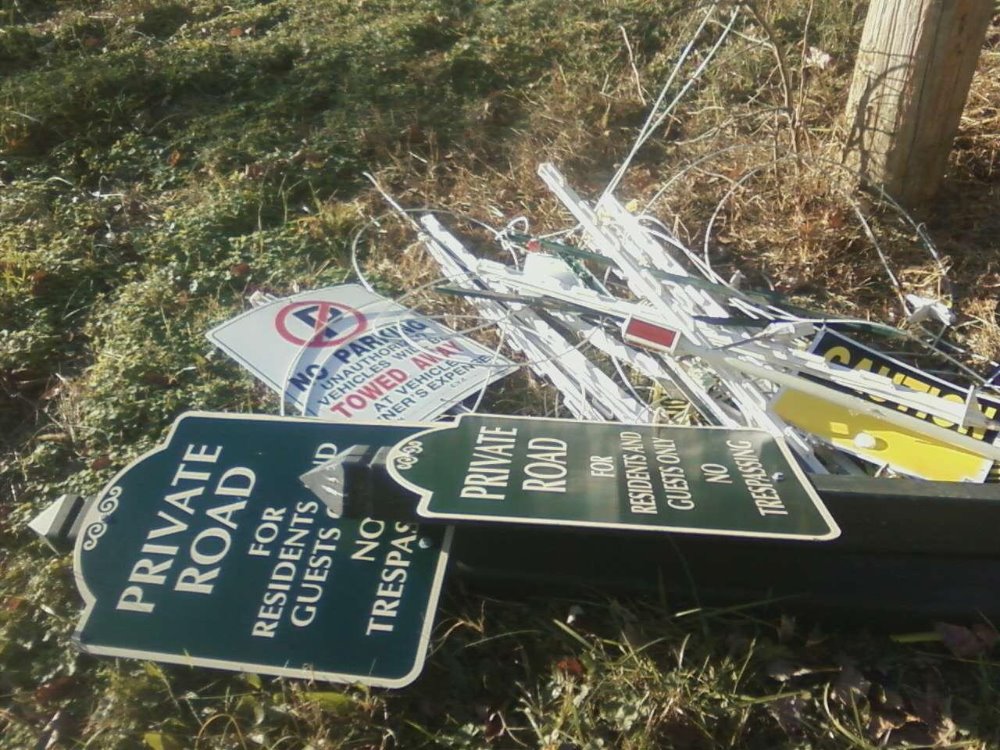 private road signage destroyed by Yunus Vohra & ICR

Donations used to protect the property rights of Hoehns Lakeview Farms, founded as a Quaker farm in 1838.
Details of Civil Complaints: Filed in November of 2013, plaintiff Yunus Vohra who describes himself as a spokesperson for ICR filed a civil complaint which attempt to side-step requirements of VA Code 55-50.1 which requires a consensus agreement to merge 'property rights' of private road Hoehns into Vohra's proposed residential project Hungary Road Village.
In January of 2014, Vohra filed a more extensive format commonly refer to as a SLAPP suit. A strategic lawsuit against public participation (SLAPP) is a lawsuit intended to censor, intimidate, and silence critics by burdening them with the cost of a legal defense until they abandon their criticism or opposition. Typically SLAPP plaintiffs do not expect to win the lawsuit; and, in fact, the plaintiff's goals are accomplished when a defendant succumbs to fear, intimidation, mounting legal costs or simple exhaustion and abandons the criticism (and/or ownership of his/her property/property rights).
Nevertheless, it is the testimony of Henrico County Commonwealth Attorney Shannon Taylor and others associated with the County, "the County is operating under a 'sensitivity ruling' RLUIPA which influences enforcement of local laws and regulations" that has 
influenced a jury to view 'legacy property rights' as secondary to Islamic entitlement.
In 2012 a plan of development (POD) was issued for development of ICR's Mosque located at 8481 Hungary Road. This agreement was violated within one week; and to date, the County fails to enforce agreements which protect those who reside in Hoehns Lakeview Farms. Similarly, in 2014, a rezoning was approved for Vohra's proposed Hungary Road Village. It also does not comply with state of Virginia code requirements which protect the rights of Hoehns Lakeview Farms residents. And, in fact, since 2011, multiple complaints of assault and property damage have been filed by residents.  All of which were ignored by those who have pledged to 'protect and serve' the public.
Vohra who brought legal complaints without benefit of insurable rights continues his
lawfare
, wage of legal assault against defendant Sylvia Hoehns Wright and her insurer.  As a response, Wright is soliciting support for pending federal level legislation HR 2304, Free Speech Act of 2015; and is also involved in establishing for the state of Virginia an antiSLAPP effort spear headed by Christopher Peace, member VA House of Delegates.  
Sylvia Hoehns Wright credits the legacy of a rural Virginia childhood and Quaker lifestyle belief - view self as caretaker, not owner of property – as the source of her commitment to being a present-day caretaker for her family's 7th generational properties.
Still, she and her family have been under siege since 2011.  As a result of this experience, Wright urges all to
1.            Selectively use rights to vote to ensure the election of people who value constitutional rights.
2.            Lobby for agency functions that monitor enforcement of local government plan of development agreements, proffers and/or compliance of VA Code requirements – there is presently such a function for those who violate 'fair housing' laws.
3.            Lobby for land use processes that require 'clear title' of properties prior to approval for land use development. 
4.            Ensure there is a 'next level' of law enforcement available when local structures fail to prevent 'breaches of peace'  – no person should receive written notice from governmental representatives that he/she can defend his/her own rights.
5.            Become involved in supporting much needed antiSLAPP legislation which would enable the ability to resolve lawsuits intended to censor, intimidate, and silence critics by burdening them with the cost of a legal defense until they abandon their criticism or opposition.
To acquire awareness of the details of Wright's effort to protect family legacy property rights, link to
http://drrichswier.com/2015/09/07/virginia-property-rights-versus-muslim-supremacy/.
+ Read More