Help transport rescued wild horses!
$5,230
of $16,000 goal
Raised by
145
people in 65 months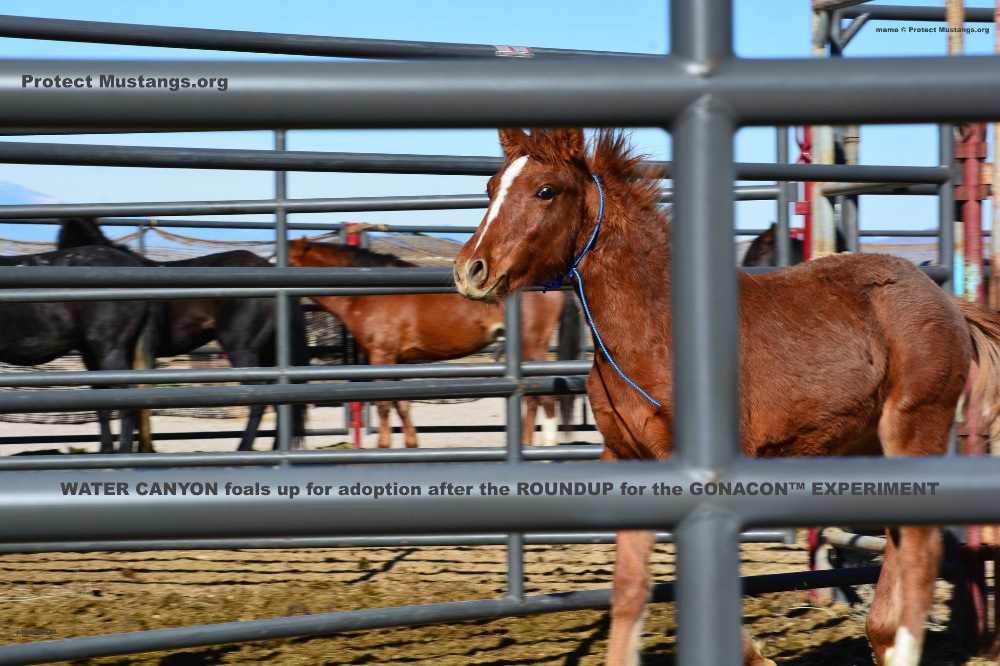 UPDATE February 4, 2016:

The majority of the Water Canyon Orphans have been adopted

If we already had the Wild Horse Trailer we could have gotten the Water Canyon babies out 2 weeks ago :( Pro haulers who take wild horses are busy and the wait is long too. These 2 babies have had to sit and wait at BLM's facility for us to find a trailer to borrow working around nice people's schedules. We have pulled it together and they will leave soon thank heavens!
PLEASE DONATE
https://www.gofundme.com/WildHorseTrailer
to make this used stock trailer happen for the wild horses. It's for them. We are 100% volunteer. Transport is the key to safety away from slaughter and experiments.
Bless you and thank you!
With love,
Anne
Anne Novak
Volunteer Executive Director
www.ProtectMustangs.org



URGENT UPDATE December 17, 2015:Horrible EXPERIMENTS are being carried out on the Water Canyon herd! The small herd was rounded up for the experiment with GONACON™ another restricted use PESTICIDE like PZP and this one sterilizes quickly! Read about it here: www.ProtectMustangs.orgIt's urgent to get the 9 foals (now weanlings after being torn from their mamas) and two yearlings  out of BLM and into loving forever homes. HELP get the trailer to move them with patience not whips! Please donate here: https://www.gofundme.com/WildHorseTrailerThese babies already HAVE ONE STRIKE against them because they were not adopted at the BLM's onsite adoption event! Please HELP us HELP them and donate for the trailer https://www.gofundme.com/WildHorseTrailer so we can haul these scared orphans to their adopters anywhere between The BLM holding facility near Reno and Monterey or any similar distance of about 350 miles. Members of PROTECT MUSTANGS will VOLUNTEER our time and only need to have the gas paid for and a motel room if needed by the adopter. We encourage people to adopt two so they have the comfort of each other to heal from the trauma of this roundup and herd destruction! We want these babies to get into good homes quickly. Please help by donating for the trailer. https://www.gofundme.com/WildHorseTrailer(more at updates)
UPDATE December 14-15: When someone else is hauling traumatized mustangs they might be impatient and not understand wild horses need to feel calm and safe--not chased into the trailer with whips cracking behind them!
We take our time to gently move wild horses into the trailer but when the transporter is fed up waiting--it causes more tension. Wild horses feel that and are quickly terrified.
Their sense of danger is keen. Painful memories of being ripped away from their families and their home are still fresh in their mind. They smell the fear dripping on the walls of the kill buyers' trailers from previous loads . . .
Tell a hauler he needs to go chill out when he feels he should be charging more money to wait around. Then you've got bad vibes at the scene and the wild mustangs pick up on this.
At that point wild horses get fearful and upset. They start to panic. . . and then it's really hard to safely load them.
So you need to stop and calm them down.
Does the transporter want to wait around? No. So his frustration gets more intense. And the wild horses pick up on it and become more stressed and scared. . . It's a vicious circle.
This is one reason why PROTECT MUSTANGS needs our own trailer. Also it will be much much cheaper than paying others to do the hauling. At that point all we need is gas because we are donating our time. We are 100% volunteer. Please donate here to help the mustangs get a safe trailer:
https://funds.gofundme.com/dashboard/WildHorseTrailer
Every time you work with wild mustangs you are training them and they will remember what you do. . . The positive experiences move you forward and the negative ones move you back--way back because they lose trust in you frown emoticon
Please help the wild horses in PROTECT MUSTANGS' program have a trailer of their own so they can load and transport without fear. We want to help adopters get their mustangs out of BLM facilities too. It's urgent to get as many mustangs to a safe place ASAP!
The wild horses have already suffered so much from the traumatic BLM helicopter roundup and then right afterwards was their first haul.
We want to make it better for them.
Many blessings,
Anne
Anne Novak
Volunteer Executive Director
www.ProtectMustangs.org
PROTECT MUSTANGS
P.O.Box 5661
Berkeley, CA 94705
URGENT:  PROTECT MUSTANGS needs a horse trailer to serve the rescued wild horses in our program as well as other wild horses in need of transport to safety.
Most people don't want to haul "wild horses" in their trailers for fear they will get crazy and trash the trailer.  Generally they transport better than domestics with bad habits but there is so much prejudice against mustangs that people refuse to haul wild horses or they double their prices.
Professional haulers always charge way too much money. The few who do it for a somewhat reasonable rate are very busy and therefore transportation involves very long wait times. before getting picked up and then they have to be in the trailer longer than normal while the hauler picks up other horses in other locations before delivering the mustang.  When wild horses are hauled with other horses they are at risk of catching illness and that gets expensive with vet bills. 
Its important for PROTECT MUSTANGS  to get our own trailer to serve the mustangs, for outreach and education,  in case of an emergency and to help adopters get mustangs out of horrible BLM facilities. Please help and donate what you can for the wild horses! Thank you so much!
Your donations will go towards the trailer because we are 100% volunteer with our boots on the ground.
Thank you and bless you!
With kindness,
Anne
Anne Novak
Volunteer Executive Director
www.ProtectMustangs.org

PROTECT MUSTANGS
P.O. Box 5661
Berkeley, CA 94705


Note from Anne:
I have been fundraising for the Wild Horse Trailer off and on for more than 2 years. It hasn't been top priority because I've been raising money to feed and care for rescued wild horses. Clearly now it's become more important to help get wild horses at risk in BLM's possession get to safety and to adopters. They want to experiment on them. You can read about that here:
http://protectmustangs.org/?p=8657
Let's make this trailer hapen for the wild horses and with your help meet the goal for them. We are 100% volunteer with #BootsOnTheGround.
Thank you and Bless you forever,
Anne
Anne Novak
Volunteer Executive DIrector
www.ProtectMustangs.org
+ Read More