54
12
STOP VERIZON'S 5G CELL TOWERS -DANVILLE/ALAMO AREA
$4,175
of $15,000 goal
Raised by
58
people in 8 months
We are making GREAT PROGRESS! In partnership with the California Brain Tumor Association, Americans for Responsible Technology, East Bay Neighborhoods for Responsible Technology, San Ramon Citizens for Responsible Technology, Lamorinda Families for Responsible Technology, and many others, Danville Citizens for Responsible Technology (DCRG) led the East Bay in supporting a nationwide (and what ended up being an international) 5G Day of Action rally to raise awareness. We organized peaceful demonstrations outside wireless retail stores during our lunch break, providing handouts, t-shirts, and expertise in answering questions. 

On May 15, 2019, more than 30 organizations  across the United States and Canada participated in this first ever organized campaign to raise awareness about the impacts of microwave radiation and 5G "small cell" technology.

We also gathered nearly 250 letters from individuals across California, along with nearly 5,000 signatures, that were hand delivered directly to Governor Newsom by another fearless leader, Ellie Marks, founder of the CA Brain Tumor Association on May 20th.

Our ask is common, but our reasons are diverse. We all want to "pause" the deployment of an untested technology that scientists across the globe believe to be toxic. Some do not want it because they understand the health impacts. Others don't want their property values diminished. Others simply find the vast deployment of wireless antennas unsightly. Whatever the reasons are, we are all united in DEMANDING proof that this millimeter wave technology (completely different technology than 4G) will not harm our families. People who are asking for the "pause" of these small cell deployments are not anti-technology. They are simply "aware" of the likely negative impacts of this technology and the manner in which it is being forced upon our communities in such vast numbers. 

We are asking for your continued support in helping us raise awareness and keep the pressure on our congressional and local representatives.  Hosting expert-led events, sending out mailers so we reach everyone in our community, and creating educational media has been funded primarily by a few members of DCRG and some generous donors. We are still far from our goal. We are asking for any assistance you can provide to help us further our efforts to reach everyone. Most people still have no idea that Danville and other cities are planning to put cell towers with numerous toxic small cells right outside their homes, on city-owned streetlights. They will be very shocked and completely powerless.

Please help us reach EVERY single person in Danville and continue to enact change at the state and federal levels. THANK YOU for your support! We cannot do this without you!

Our most urgent request, in addition to financial support, is to ask that you write to the Danville Town Council and demand that the five members do more to protect our community. Danville is the ONLY city in the East Bay that has prohibited the downtown and allowed residential areas to be inundated with these dangerous RF-emitting towers. Danville is the ONLY city with only a 50 foot setback. The TOWN COUNCIL determines all of these requirements. Why aren't they protecting our families? Ask them why.
rstorer@danville.ca.gov
kstepper@danville.ca.gov
rmorgan@danville.ca.gov
narnerich@danville.ca.gov
lblackwell@danville.ca.gov

COMPARISON OF DANVILLE'S WIRELESS ORDINANCE TO OTHER CITIES


````````````````````````````````````````````````````````````````````````````````````````````````````````````````````````````````````````````````````````````````
You are not powerless. If you easily give up without even a word of opposition, you have surrendered your strength.

We need your financial support to help us continue to raise awareness in local communities about the dangers of 5G millimeter wave technology. Your contribution will enable us to organize community awareness meetings, develop educational materials, and pay for experts as needed. We hire consultants who are Building Safety Specialists/Certified Safety Professionals, engineers, telecommunications experts, attorneys, and other professionals to ensure the information we provide is the most current and accurate available. Our small team also attends local state of the union town halls with our state and local representatives, speaks at neighboring city council and planning commission meetings, and coordinates activities (including an upcoming rally!) across the East Bay. The 680 Corridor is where Verizon is targeting their latest high-density deployment of Close-Proximity Microwave Radiation Antennas (CPMRAs), which the wireless industry has gently labeled "small cells".  They have 87 CPMRAs planned for Orinda (13 square miles), approximately 120 for Danville, and similar numbers for Lafayette, Moraga, Walnut Creek, Alamo/Tice Valley, Pleasanton, Dublin, and San Ramon.

We continue to build on our victories locally, but our fight isn't over. The most pressing issue for Danville right now, is to develop a strong, citizen-oriented, protective wireless ordinance and stop any licensing agreements with Verizon so this doesn't happen again.

As part of our efforts to raise awareness, we meet with other citizen leaders to discuss the strategies that Verizon, AT&T and Sprint (and their subcontractors Crown Castle and Epic Wireless) are using so we can be ahead of the curve when they come at us with threats and bullying tactics that make local elected leaders and city staff fearful of being sued.

Our team has been gathering successful local wireless ordinances and is working to ensure that similar language is incorporated into our local ordinance. We are also working with Governor Newsom, Congressman DeSaulnier, Assemblymember Bauer-Kahan, Representative Anna Eshoo, as well as organizations and experts that include Dr. Joel Moskowitz, Ellie Marks (founder of the CA Brain Tumor Assn), Building Biologist Eric Windheim, Filmmaker Matt Landman and many, many others whose names you've likely heard. We are working to change things, raise awareness, and lobby to change the law which favors wireless providers over people. 

While we have been successful with our appeal and in raising awareness about this issue more than ever before, the fight is far from over. Even in Danville, our own town staff and Town Council have been working on a licensing agreement with Verizon the entire time that we were fighting to save the one site. Many leaders and city planners are doing the same thing to their residents - claiming that their hands are tied and they are the victims of the FCC, while revising their once-protective wireless ordinances to take advantage of Verizon et al revenue streams. We are at odds. Unfortunately, the negative outcome of this situation falls entirely on the people who live in these cities.

Help us stop this bullet train from mowing down every city in its path. Without adequate funding, we can't reach all of the people whose support we need to protect us all. 

Are Small Cells Next to Homes Safe? The short answer is no. Watch the video to learn more.

Subscribe to our Facebook page for more frequent updates.

SUCCESS STORY: March 5, 2019 Town Council Meeting (continued Appeal Hearing)
WE DID IT! Highlights from our victory, and of the Town of Danville finally standing up for its residents: DANVILLE vs. VERIZON 

Once again, we had near-record attendance at the March 5th Town Council meeting!!! More than 100 people showed up to voice their concerns about this dangerous technology. In February, our Town Council demanded that Verizon share their plans for the Town of Danville. Verizon refused. The Town asked that they at least share the plans for the existing application corridor (any planned towers for towers in the near vicinity of the current application under dispute). Thankfully, they did, as it allowed us to see how closely they wanted to place these Close-Proximity Microwave Radiation Antennas ("small cells") to people's homes and nearby schools. Their map was horrifying - it showed CPMRAs placed within 25 feet of homes all along Camino Tassajara (see below). No concern for the 24/7/365 microwave radiation that would be pouring onto these people's properties. Most families in Danville have children and/or grandchildren. This would render their yards unusable for the kids due to the intense exposure.

To see the map Verizon provided of their Phase 1 activities along Camino Tassajara, which were shared by town staff on the 3/5/19 meeting agenda item 7.1, click below. Their plans include a slew of macro and micro "small cell" towers. Click here to see the full map on page 19: https://danville-ca.granicus.com/MetaViewer.php?view_id=9&event_id=1067&meta_id=26668



***Please don't let us lose this battle because of a lack of contributions. If everyone donates even $20 or $200 (some have given more than $1,000 via check to DCRG), it will be enough to keep us strong.***

February 5, 2019 Town Council Meeting (Appeal Hearing)
More than 150 people attended the nearly five-hour Feb 5 meeting, in opposition to the Town Council's decision to approve a Verizon cell tower to be built 25 feet from a Danville neighbor's home. It was the best show of strength our community has ever seen at a council meeting, and IT WORKED! WE WERE HEARD. The Town Council did not take the town staff's recommendation to deny our appeal, but instead asked Verizon to extend the review period 30 more days during which they would evaluate the alternative locations we provided (on commercial sites, nowhere near any homes or schools). Verizon wasn't happy, but they reluctantly agreed. So we have 30 days to continue building up our strength within the community and to sit at the table with our town leaders and with Verizon to find a site that we can all "live" with.

Watch our attorney in action at the Feb 5th meeting. She was a pillar of strength, knowledge, and confidence up against a large group of Verizon lawyers and sales representatives: https://youtu.be/FzrsWJiNFwg 

However, the fight is far from over. We need our attorney to stand up on behalf of Danville citizens. We need a revised wireless ordinance that protects residents. We need even more people to attend the ongoing Town Council meetings. The Council's hopes are that people will lose interest, not show up, not email them, and let this massive cell tower deployment happen quietly. This is the time to stay committed to the cause and set the right precedent for how Danville allows wireless technologies to be deployed.

WHAT ARE "SMALL CELLS"?
Small cells are words coined by the wireless industry to sound benign/non-threatening. Small cells are actually Close-Proximity Microwave Radiation Antennas (CPMRAs). These are antennas that are deployed closer to homes than macro cells. However, deployed CPMRAs even within 1,500 feet of someone's home or a school is known to be detrimental. Most CPMRAs have a range of 4,000-6,000 feet (4G) and 2,000-3,000 feet (5G). 

Danville wants to place CPMRAs within 25 feet of people's bedrooms!

What Biological Effects Can Be Caused by RF Energy?
Biological effects can result from human exposure to RF energy. Biological effects that result from heating of tissue by RF energy are often referred to as "thermal" effects. It has been known for many years that exposure to very high levels of RF radiation can be harmful due to the ability of RF energy to heat biological tissue rapidly. This is the principle by which microwave ovens cook food.

Exposure to very high RF intensities can result in heating of biological tissue and an increase in body temperature. Tissue damage in humans could occur during exposure to high RF levels because of the body's inability to cope with or dissipate the excessive heat could be generated. Two areas of the body, the eyes and the testes, are particularly vulnerable to RF heating because of the relative lack of available blood flow to dissipate the excessive heat load. 

WHAT'S THE PROBLEM WITH 5G?
Most of us want faster, more reliable wireless for streaming our movies and video games. However, in its current state, 5G (fifth generation wireless) is not safe to be deployed near people. It's a fact. The challenge is that the FCC is trying to legislate that Verizon and any other carrier cannot be denied adding more and more towers to your neighborhood. The head of the FCC, Ajit Pai, worked for Verizon. Most of his career has been in the telecommunications industry. His goal is to make the widespread deployment of 5G a priority for the United States, so that we can win the 'global race to 5G'.  The FCC has allowed Verizon, AT&T, T-Mobile and all the other wireless carriers to do everything possible to expand their businesses, claiming they are within safety standards. These standards were developed in 1996. Things have changed since then, however the standards haven't been updated.

If the law doesn't permit us to defend ourselves for health reasons, what can we do? We CAN stop these deployments by tightening local ordinances that keep 5G millimeter waves away from our homes and our families.  Monterey  did this successfully. Mill Valley , Petaluma , and others pushed back on Verizon successfully. This can be stopped in our neighborhoods. Why aren't Danville, Alamo, and Walnut Creek stopping residential deployments of 5G? The Danville Town Council and Contra Costa Board of Supervisors need to support us and stop these first sites before they start construction. Once the first site is approved, it's a tidal wave of deployments. We are asking them to create lawful, local ordinances that prohibit residential deployments.

Based on the success of other cities, we know how to stop Verizon and help us keep our rights to property and health. Our challenge is trying to get our elected leaders to support us and work with us. There is no need to rush for an onslaught of 5G antennas blanketing Danville, Alamo and Walnut Creek California. We don't even have phones that can use 5G. We believe that our local government should slow down its plans to cover Danville with an untested, potentially unsafe technology.  The law is being challenged at the state and federal levels based on its constitutionality, and the fact that it must address health impacts and safety. FCC Chairman Pai is being accused of collusion. Let's wait until we see the outcome before we go ahead and legally commit our cities into long-term Master Licensing Agreements with Verizon and AT&T that let them claim our cities, our property values, and our quality of life.



CBS News (local) 

STUDIES SHOW THE DANGERS OF 5G RADIATION
Hundreds of evidence-based independent studies have concluded that the type of radiation emitted from cell towers causes cancer and other illnesses.  Close-proximity microwave radiation is real. Its effects are real. We know that 4G radiation is unhealthy for us, which is why we are not supposed to hold our cell phones close to our heads. Now imagine the intensity of 5G  microwave radiation as compared to 4G. These emissions are not even in the same band of the spectrum. 5G is at least 20 times more intense and it will absolutely affect your human cellular structure, causing neurological damage first and other, possibly fatal, effects over long-term exposure. Your immune system and brain function WILL be impacted. Do an internet search on "Active Denial", which is a military weapon system that successfully uses 5G millimeter waves to keep enemy combatants away. These studies prove that there are clear biological effects below FCC thermal safety guidelines, thus enabling us to use 5G as a defense tactic in warfare. 

Hear from an expert from the CA Brain Tumor Association 

Verizon's chairman and former CEO, Lowell McAdam, said their tests show that 5G signals travel 2,000 feet. One of his field engineers said it is in fact 3,000 feet - that's more than half a mile. He stated on CNBC, "I have never seen a technology that will be more disruptive".  While he may have meant that it's a good thing, we know that it will be disruptive in an extremely negative way. So while Verizon and others are trying to grab up every utility pole on every right-of-way, it's overkill. They don't need these towers every 500 feet. But they are claiming as many sites as possible before the law changes, and we're confident that it will change. However, it may be too late for Danville and Alamo, who are the first areas to work alongside Verizon to initiate the tower clusters. 




Have you considered what our children are already experiencing in school? And that's not even adding the 5G frequencies. https://patch.com/maryland/edgewater/high-levels-wireless-radiation-southern-high-school


WHY IS VERIZON PUSHING SO HARD IN DANVILLE AND ALAMO?
Our town staff are really easy to work with, so why wouldn't Verizon continue to bulldoze Danville? David Crompton (Danville town planner) and Rob Ewing (town attorney) even sent Verizon and AT&T our DRAFT ordinance for their input! In addition, town staff and our elected leaders are doing Verizon's work for them by promoting massive small cell deployments in our neighborhoods - on the town's own website! David Crompton is bending over backwards to help Verizon by trying to approve all cell tower applications ministerially (by himself, without public hearing).  David lives in Benicia - so why should he care what happens to us in Danville? See his email below to the Verizon attorney Paul Albritton. The Town of Danville has even created a website and a multi-page color brochure to promote more wireless towers. Crompton indicates that citizens are literally begging for it. NOT TRUE. There is more opposition to this than ANY OTHER initiative since the ordinance was changed. There's no mention of fiber as a safer, faster and better alternative. There's no mention of the fact that the Town Council intentionally excluded the downtown business district from these deployments, opting instead for residential saturation.  Even the Danville area Chamber of Commerce couldn't answer when residents asked why these CPMRAs aren't being deployed downtown instead of near homes and schools. They couldn't answer because the town leaders excluded the downtown!


WHAT SITES ARE PART OF VERIZON'S BIG PLANS TO BLANKET THE EAST BAY?
Danville is a Town. The majority of the people who live here chose NOT to live in a city. There is no reason for the Town Council to turn Danville into a highly densified microwave radiation city that no one needs. What Verizon has stated are THEIR needs, not OURs. Paul Albritton, Verizon's attorney, stated at the Feb. 5 meeting that their new Close-Proximity Microwave Radiation Antennas (CPMRAs) will not help with dropped calls or dead spots. They want to densify their network and takeover Comcast business. Why should WE suffer because THEY want to grow their business?

Here are the cities starting to fill up with these toxic towers -  just wait for the healthcare industry to be flooded with people lining up for cancer treatment:


In Orinda, a Verizon engineer let it slip that they will want 87 sites with CPMRAs. Danville is 18 square miles, so using simple math, they'd want 120 CPMRAs deployed here.


The Danville Town Council and Planning Commission worked closely with Verizon, not with the citizens of our cities (scroll to the bottom to watch the recorded meeting), to revise our 20-year old wireless ordinance, which had requirements for safety, health, and limitations on where antennas and towers could be placed. The revised ordinance removed local residential protections and simplified the process for Verizon, AT&T and others to apply for and claim sites for their vast deployments of towers throughout our residential neighborhoods.  The Contra Costa Board of Supervisors and planning commissioners did the same in Alamo and unincorporated Walnut Creek. Our elected leaders, and the planning commissioners they appointed, are literally partnering with Verizon, not the taxpayers. In Danville, they agreed that that they would permit these installations in all residential areas without hesitation, as long as the towers were not placed in the downtown district. The beautification of Downtown Danville has been and continues to be their priority, not our residential areas. Residential concerns, according to our elected leaders, are secondary, even though the taxpayers fund all the development in the downtown district.

In Alamo, when the Zoning Administrator approved the applications in the first round of decisions, she attached a Condition of Approval that RF emissions had to be measured within 15 days of installation, also on an annual basis, and if any equipment is replaced. Verizon appealed that condition, claiming it was illegal and unenforceable.  They refused to measure the emissions!

These multiple site applications (which Verizon is claiming is 4G, but can later upgrade to 5G without approval or public hearing or any notification) are the beginning of wireless cell tower "clusters", which are groupings of cell towers. The reasoning behind clustering is because 5G emits high frequency waves which are intensely powerful for a relatively short radius and therefore need to be placed every 2-10 houses (or on every other streetlight, utility pole, or tower). Verizon is trying to get a jump on other telecom providers by grabbing up as many sites as possible in cities where it has been easy to do so (like ours!!!). Once they claim a site, even if it's under the guise of 4G, they can just add their 5G equipment on the same pole without a permit or public hearing. They essentially own that site in terms of adding whatever technologies they want. That's why they are going full-steam ahead and have plans to open up a tidal wave of tumor towers. Have you seen what they're doing in Sacramento with over 300 new antennas? You can expect a lot of people who live there to become ill. It's tragic.

WHAT ARE WE DOING WITH THE FUNDS WE RAISE?
We are NOT fighting Verizon or the FCC. That would require millions of dollars, lobbyists, big media support, etc., and other well-funded organizations are taking up that fight at the federal level. Our fight is with our Town - requiring them to uphold the ordinance and not abdicate their legal authority to protect us by enforcing aesthetic, least intrusive placement, setback from homes, and other allowed rights.

The funds we raise are to raise awareness, retain professional services and consultants, including our brilliant attorney, Anita Taff-Rice of iCommLaw, for her expertise and support in protecting our rights.  

With her expertise, we are requesting that the Town of Danville implement the following:
1.  A revised ordinance that protects residential areas from broad cell tower deployments (and instead allows placement in commercial/business districts, if sites are truly needed and all requirements are met – see below).  Danville Town Council members have been working with Verizon and AT&T instead of with Danville residents to revise the ordinance. That is why we are no longer protected and this is happening now. Verizon mentioned they are bundling up to 25 new site applications to submit to Danville very soon.
2. Rights to property (protect our nest eggs). Properties WILL BE devalued by 20% or more if they are anywhere near a cell tower. At the March 5th meeting, Paul Albritton (Verizon attorney) stated that homes with cell towers next to them will be MORE valuable and attractive to buyers. Really?
3.  Rights to appeal (these should be our constitutional rights).
4. Creation of a small cell subcommittee or commission (membership could be comprised of people who represent the taxpayers' voices, as well as the the town attorney and planner), who:
           a.   Reviews and recommends approval/denial of new site applications
           b.   Develops a streamlined process that meets "shot clock" requirements while balancing local rights
           c.   Implements stricter, tighter controls that protect residential areas (such as the 150/150 plan on mystreetmychoice.com), including:
                      i.      Height restrictions
                      ii.     Measurement of emissions
                      iii.    Visual/aesthetic requirements
                      iv.    EVERY application requires an underground vault (reasons: fire, manual switch, no monitoring equipment in a high fire zone, vault can also be a fire container while the alarm comes on and fire fighters are on way.)
                      v.     Least intrusive with ongoing plans for maintenance (tree trimming, painting, etc.)
                      vi.   Demonstrates gaps in service with factual data or demonstrates capacity constraints
                      vii.  Explicit description of azimuths (If you look at a picture for a cell tower, you'll notice that the antennas are in a triangular formation. The antennas are directional: each points in one direction. Since the tower uses a triangular form, each antenna provides about 120 degrees of coverage. It takes three to provide full 360 degrees). In Monterey, they had evidence that all 13 towers pointed toward Pebble Beach golf course (clearly, they weren't to address capacity or coverage in the city of Monterey).
                     viii.  Maintenance records for utility poles (PG&E was culpable in recent fires that had dozens of fatalities due to poor maintenance on utility poles)
                     ix.  Backup plan for cooling equipment malfunctions
                     x.   ADA impacts – anyone with stimulator implants, etc. will be more affected (signals will find metal in the body, release electro ions in the body.  The FCC protects against extremely low frequency; AINSI doesn't.)

WHAT IS 5G?
5G is 5th Generation technology, the next 'communications advance' after 4G/4G LTE. These technologies operate within different bands in the electromagnetic spectrum, each with unique features as you move up into higher frequencies. 5G isn't just a little step up from 4G. 4G networks use frequencies below 6 GHz, but 5G uses extremely high frequencies (millimeter waves) in the 30 GHz to 300 GHz range.  Higher frequencies do not travel far, so 5G antennas are typically placed on utility poles, lamp posts, etc., every 500-1,500 feet (which we know is overkill). In addition, the same carrier cannot use the same pole, so imagine every single pole near your home having this technology on it from a multitude of different carriers. To understand what this will look like, replace "Diablo Highlands" in the picture below with your neighborhood, such as Alamo Springs or Sycamore, and you'll start to understand what the area around you will look like if we don't take action now.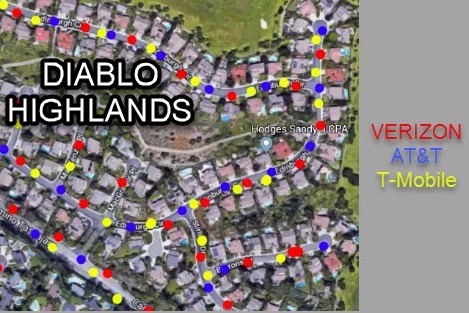 WHY SHOULD I BE CONCERNED?
Several aspects of 5G and the way our Town of Danville and Contra Costa County representatives are handling these requests should cause you to be concerned.

1) Property values will decrease. Cell towers placed near residential homes result in significant reductions to property values. Not only are they aesthetically displeasing, but few buyers are willing to purchase a home near a tower that is constantly emitting high radio frequency radiation. Decreased demand and fewer potential buyers result in lower sale prices.  94% of people surveyed would not buy or rent a home next to a cell tower. Studies also cite a 20% drop in property values. 
Cell Phone Towers Lower Property Values 
Nearby Cell Towers Negatively Impact Property Values 
Cell Tower Impacts in Palo Alto 

2) Your health will be affected. This technology has not been widely deployed, and it is highly debated in terms of health impacts. Verizon is targeting cities where it has been easy for them to get approved applications (like Danville, Alamo and Walnut Creek). Independent research has proven that this technology, which operates in the higher frequencies of the spectrum, has known negative health effects. These include, among many other illnesses, chronic migraines, reproductive issues, and various forms of cancer. Many supporters of 5G will say that non-ionizing radiation is harmless. This is the biggest fallacy of our time. 
What You Need to Know About Small Cells
The Truth About 5G 
Impacts on Students' Cognitive Health 

In 2017, De-Kun Li, MD, PhD, a reproductive and perinatal epidemiologist at the Kaiser Permanente Division of Research in Oakland, California, conducted a study at Kaiser Permanente, Northern California and determined a 24.2% miscarriage rate due to electromagnetic field exposure.

In November 2018, U.S. National Institutes of Health National Toxicology Program (NTP) provided conclusive evidence that exposure to wireless radiation causes cancer. They found "clear evidence" that male rats developed cancerous heart tumors from exposure to cell phone radio frequency radiation according to final reports released today. In addition, they concluded the increased tumors in the brain and adrenal gland of exposed male rats were "some evidence" of cancer from the cell phone radiation exposure. According to NIH, the final reports on rats and mice represent "the consensus of NTP" and a panel of external scientific experts who reviewed the study data in March and voted to strengthen the conclusion that cell phone radiation caused health effects. Scientists are now calling for federal action - a quantitative risk assessment and protective policies to reduce wireless exposure. 

"Considering the widespread exposure among our children and the proliferation of cell towers to prepare for 5G, these findings should not be minimized. Effects were found at non-thermal levels, which means that FCC limits are not protective. Until research tells us otherwise, we can no longer assume wireless devices are safe," said Theodora Scarato, Executive Director of EHT. "The rollout of 5G small cells must be halted. Schools need to install wired Internet networks and use cords to connect devices. Landlines should be maintained throughout communities. Practical solutions exist such as ethernet and fiber optic networks. Let's use them.
http://www.sbwire.com/press-releases/clear-evidence-of-cancer-from-cell-phone-radiation-us-national-toxicology-program-releases-final-report-on-animal-study-1078348.htm 

3) Verizon is deploying their equipment at the top of outdated, poorly maintained PG&E utility poles. In addition, PG&E has been accused of (and appears to be) responsible for recent fires that have decimated parts of California. PG&E was also responsible for the San Bruno fires, which were a result of poorly maintained equipment and improper record keeping. They are possibly facing murder charges  for their role in these recent fires. Do you personally feel comfortable putting these heavy transmitters on PG&E poles? Have you seen any of these poles leaning, just with existing equipment?

VERIZON'S NEWEST PLANS FOR THE DANVILLE POLYGON PROJECT AND SURROUNDING AREAS
In 2018, Verizon re-submitted one of its applications to install 4G/5G towers 25 feet away from the home of a Danville family with two young children. The Planning Commission and Town Council approved the request with no hesitation. Verizon also submitted several applications to Alamo and Walnut Creek, which the county has just approved. Several of these are also immediately adjacent to people's homes (within 25 feet). Appeals are underway.

While Verizon hasn't stated exactly why they "need" all these Danville and Alamo sites, nor have the cities requested this information, East Bay experts did their own research and determined that there are NO GAPS IN COVERAGE near any of these sites (see the proof in the video below). More than likely, Verizon hopes that by widely deploying 5G, it will be able to replace the cable companies and satellite internet and TV companies that some of us are using. It's all about growing their business. However, it is expected to be more than 15 years before 5G replaces 4G for most users. Some of us might not be around in 15 years if this is massively deployed. View the video which reveals No Gaps in Verizon Coverage. 

ARE THERE ALTERNATIVES TO WIRELESS TECHNOLOGY?
Yes! Fiber (wired) technology uses light waves instead of electrical signals to transmit data, and distance from the network is not a limiting factor. Because of this, customers on the network have higher speeds available to them, regardless of their distance from a network node. Fiber provides more secure, safer, and faster connections than any generation of wireless. Dozens of companies have launched major initiatives to expand fiber to homes, in light of the uncertainty of 5G. Danville has fiber, but it hasn't expanded it to our homes or even offered it to residents or businesses. It is the safest, fastest way to get exactly what we want without exposing us to unnecessary harm.
https://fiber.google.com/about/ 

WHY ISN'T VERIZON OFFERING FIBER TO THE HOME?
It would cost them more to install fiber to improve their network. They'd rather keep the profit and pass the real costs to us and our families, in terms of chronic illnesses and eventual fatalities. Isn't it worth sacrificing a little profit to keep people safe from harm? Verizon's response, "No."

WHAT HAVE OTHER NEARBY CITIES DONE TO STOP THIS FROM HAPPENING?
Unlike Danville and Alamo, dozens of other Bay Area cities such as Mill Valley, Petaluma, Oakland, Palo Alto, Monterey and others revised their wireless ordinances to prevent Verizon from initiating its plans to build these high frequency cell clusters near people's homes. Rather than continuing to battle these cities, Verizon found that Alamo and Danville are much easier to work with. Weak leadership, poorly educated town planners, and money have made this possible for Verizon to fulfill its business needs at our personal cost.
Monterey Shuts Out Verizon 
Mill Valley Stops Verizon's Plans for 5G 
Petaluma Supports Residents 
Palo Alto Appeals Verizon Cell Tower Clusters 
Sacramento did NOT try to stop any cell towers - this is not good for the residents 





+ Read More