Save 450,000 trees from clearcut!
$4,600
of $15,000 goal
Raised by
102
people in 49 months
GOOD NEWS, dear friends of forests!:

1) The devastating plan to cut down over 450,000 healthy, mature trees in the Oakland and Berkeley hills in the San Francisco Bay Area has been halted (!) thanks to the successful, coordinated efforts of numerous citizens and local environmental groups.



2) Crucial lawsuits brought by local Berkeley environmental group, The Hills Conservation Network (HCN) helped save hundreds of acres of trees.  Their legal challenges succeeded on both the federal (FEMA) and state (CEQA) level.  READ MORE.

3) BUT other campaigns to cut down thousands of healthy, carbon-sequestering trees in the Bay Area continue, even now (March 2017) in San Francisco,  despite SF's environmentalist and progressive reputation.  LEARN MORE.

Why all the ongoing deforestation campaigns?  They are part of an ongoing, de facto War on Nature driven by a non-science ideology called Invasion Biology which non-scientifically labels wild plants and animals "native" and "non-native" — and (respectively) Good and Bad.  The bad "non-natives" are then targeted for eradication — e.g., cutting down thousands of healthy, productive trees, even if 100+ years old.  READ MORE.



The deforestation and habitat destruction usually includes spraying carcinogenic herbicides like Monsanto and Dow (and Syngenta, BASF, Dupont, Bayer, etc.).   THESE SAME GIANT CHEMICAL COMPANIES FUND AND SUPPORT SO-CALLED "INVASIVE" PLANT COUNCILS, getting government funds for their massive killing campaigns.  READ MORE.



In our era of human-caused climate change we desperately need MORE, not fewer, carbon-sequestering, shade-making, oxygen-producing trees.  All trees provide inumerable ecological benefit , no matter their country of origin.

100-year-old forests like the one below in Berkeley, CA, that are teeming with life, are portrayed as enemies to fear — and kill.  READ WHY.



Also, despite what you may have heard, eucalyptus trees are NOT a fire hazard.  This is another scare tactic; nativists use fear of wildfire to achieve prejudicial goals.  "Native" bay laurel trees contain MORE volatile oils in their leaves, grow closer to the ground than eucalyptus do, and thus are more easily ignited by fires in "native" grasses and shrubs — what creates recent wildfires in northern and southern California.

"Nativists" also routinely blame the infamous 1991 Oakland hills fire on eucalyptus trees — but it started in grasses and brush, then spread to houses.  Then trees of ALL species burned; victims of the fire, not its perpetrators.  Read the official 1992 FEMA report documenting these facts: http://treespiritproject.com/sfbayclearcut

Another false claim is that eucalyptus — AND ALSO Monterey Pine and Monterey Cypress — trees are  "invasive," an undefined and again NON-SCIENTIFIC term used to scare the public — and justify killing entire forests in massive, public-funded "restoration" projects.  After 150 years in California, eucalyptus have integrated into the ecosystem, supporting numerous other species of plants, birds, and mammals.  They are, simply trees,  contributing much to a healthy ecosystem.



Simplistic,  xenophobic fear-mongering is tragically not much different from what the Trump administration uses to stir fears of immigrants in American, a nation of proud immigrant heritage.  America's plants and trees, like its people, come from all over the world.

This ongoing GoFundMe fundraising campaign is devoted to educated an unsuspecting public about these issues, and end this War on Nature by giant chemical companies.  Their multi-million dollar advertising and public relations disinformation, tries to convince YOU, for example, that Monsanto Roundup, now the most widely used pesticide in history, is safe.  (It's not.)  LEARN MORE.

              DONATE NOW TO SAVE OUR FORESTS
____________________________________________________________




Help spread these truths, and save America's and the world's forests, by supporting this campaign.

Read the many new books & articles that dispel the destructive myths of Invasion Biology: http://www.TreeSpiritProject.com/InvasionBiology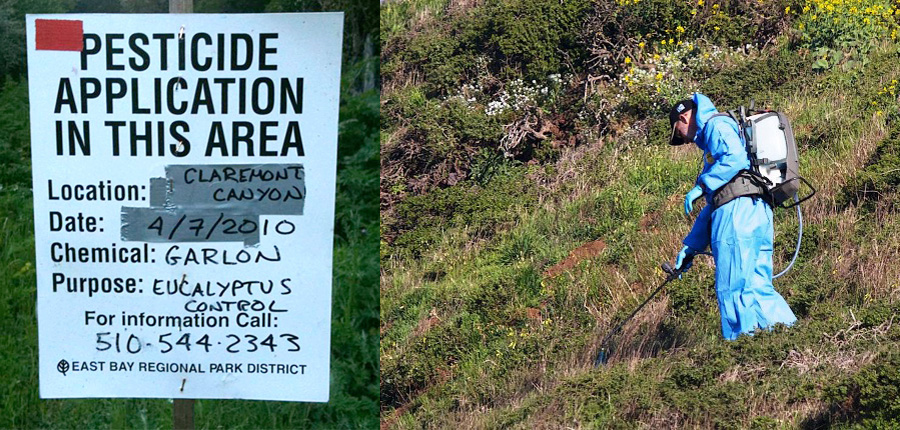 YOU CAN HELP inform and inspire others to action; spread understanding for forests where there is now, tragically, fear of them.  Speak up for of our silent, life-giving allies, the trees,  with YOUR donation. 

THE GOALS OF THIS FUNDING CAMPAIGN:
• Engage social and traditional media with information and TreeSpirit activisim and artwork to inform thousands more in the Bay Area, America, and the world about environmentally disastrous deforestation, killing, and poisoning plans — and their "nativist" roots;

• Produce more community TreeSpirit rallies, panel presentations & photographs to draw public and media attention.  See examples: http://treespiritproject.com/tv

• Document with still photgraphy and video what's happened so far, pending deforestations; warn other communities of deforestations spurred by hatred of eucalyptus trees & false claims of fire danger;

• Pay support team: media & graphic professionals, filmmakers, sound technicians, and more, to document & educate people everywhere. 


Your donation empowers TreeSpirit Project  to work full-time on this effort in the Bay Area — and beyond California.  We must revere trees and forests all over.
Trees and forests OF ALL SPECIES are precious friends, not enemies to be feared, and have been for thousands of years. Now they need your help.
For the trees, for all our sakes,
Jack Gescheidt
The TreeSpirit Project
TreeSpiritProject.com
jack-AT-treespiritproject-DOT-com
https://www.facebook.com/TreeSpiritProject
Trees purify the air; they also purify the mind . . . if you want to save your world, you must save the trees.
                                         – The Trees of Endor, J.R.R. Tolkien
People who will not sustain trees will soon live in a world that will not sustain people. http://www.TreeSpiritProject.com/SFbayClearcut 
                                                                                    - Bryce Nelson
+ Read More
Be the first to leave a comment on this campaign.