Computers for India Learning Center
$628
of $4,000 goal
Raised by
12
people in 36 months
UPDATE:
Our first project last November 2015 became a reality with your help. We traveled to the Himalayas in northern India, and completed the outreach film: Reaching New Heights in the Himalayas. See the finished video above. 
And, while there we realized an urgent need!Now
, we are raising funds to buy 10 laptop computers for the Village Learning Centers in these Himalayan villages. While we were filming we learned that students would line up and wait
as much as an hour
 for just half an hour of use for learning these skills.
It is upon this critical need that we are now asking for your help in purchasing 10  laptops. We have a cost of $4000. Our goal is to travel to India,  deliver and install these  on November 15, 2016.  Please help- every dollar counts! (We all have computers at the tip of our fingers, why not share this potential with others in need?) Thank you guys!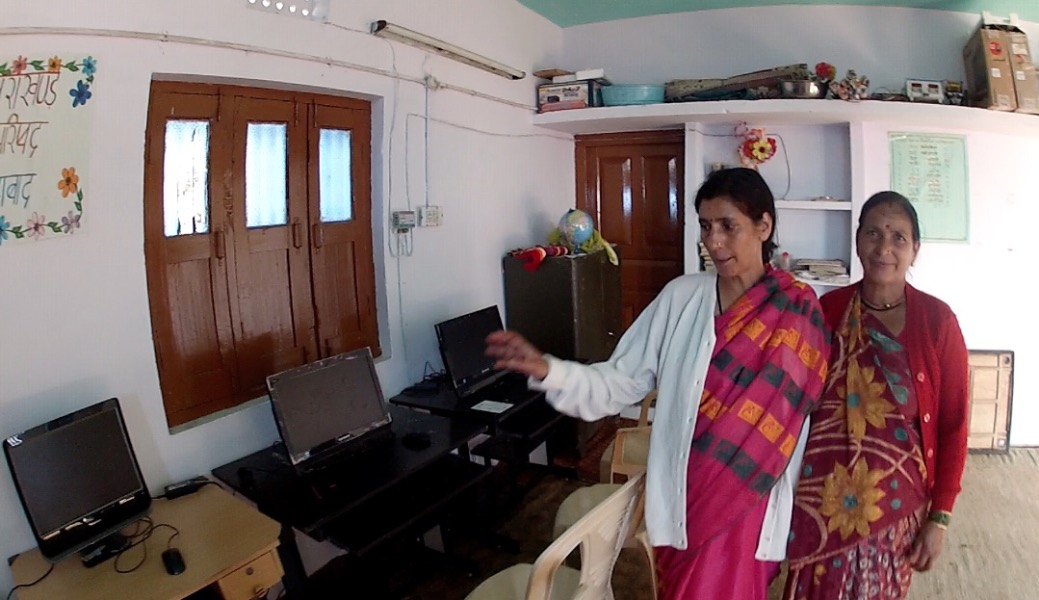 Previous post and project history:
The film, "Reaching New Heights in the HIMALAYAS" from Wisdom Garden Institute
First, let me say that your contribution will add to our contribution which is a very needed film to tell a story of success to the world.
Here is why we feel compelled to help the Himalayan hill people in need:
In July of this year we had the opportunity to spend some time in the Himalayan Kumoan Hills region of Uttarakhand. It wasn't the first time we had been there. Some 45 years had past. In some ways not much had changed in this awesome and gorgeous steep mountainous region just below the snow capped peaks. People looked the same and were as open and generous as they had been then when we were here as spiritual pilgrims in 1971.
What had changed, was the economic sustainability factor which was not even discernible on first glance. However this one event caused us to look deeper. A family who were children of parents who generously hosted my friend and I back then, now offered their humble home again. They were mere children when we last saw them and already they worked the fields, gathered wood, and helped the family survive this harsh land.
The meal they offered us was simple, great tasting and plenty. What we came to find out was they were only a day away from no food to feed their own family and no money. Yet they offered us their last. Things had changed here and we in the next weeks would discover the many contributing factors. In 2012 this region suffered one of the worst flooding disasters in which some 10,000 people lost their lives from the monsoon. Much of the land and homes were ravaged by flooding and landslides. But there is more. Like many places on the planet, climate changes have shifted and altered growing seasons and Uttarakhand was not left out.
Then too, the steady creep of outside influences have had impact on the social order of this ancient culture just as everywhere.
Meeting the Center (UEEC):
In the course of our visit we met with an organization that is serving the needs of some 450 villages in the region with programs, of children's education, women's empowerment groups and projects of sustainable farming and animal husbandry. UEEC started some 18 years ago at the vision of one man, a local man who like many wanted to help and started with 3 villages. It took some trial and error over those first years, but the key to their success, became when they reversed the process by allowing the people to direct what they needed instead of the usual implementation of such programs by well meaning groups and NGO's which often don't deliver.
Upon spending some time at the training center meeting the people and learning first hand about their challenges and successes, we immediately wanted to help this valuable program. But none of us were really skilled in healthcare, teaching or building infrastructure, and as an organization ourselves not able to make a monetary contribution we inquired if we could help get the word out about this amazing successful template they had developed.
Where we come in:
Realizing that perhaps all we had were our skills in years of media and filmmaking, we suggested an outreach film that would tell their story and show potential funders where their money was going first hand by seeing it up close with the village people and hear from them how and why this is improving their sustainability and daily life.
The response was a resounding "YES, this is what we need." In the last weeks since returning to the U.S., we have created a script and shooting schedule beginning around November 1st. Our contribution will be all skills and film crew of four. All first class 4k camera packages and a drone ship for those powerful aerials to give the big picture. And final conforming to a finished piece at no cost to the org. Much is being provided in the way of support by the orgs there. What we don't have are travel funds from the U.S.
And this is where all of you come in. Please help this much needed film and what will be a valuable tool for outreach.
+ Read More
Be the first to leave a comment on this campaign.