306
4
Support for Patricia Okoumou
$12,225
of $20,000 goal
Raised by
306
people in 4 months
Patricia Okoumou Was Live!
 Feel Free To Donate Through My Website
                                                     America, "I really care, why won't u? Be Best."

#PatriciaOkoumou #TheresePatriciaOkoumou #ThereseOkoumou #pokoumou #GoodTrouble #BeBestMyAss #BeBest #weareindigenous #wewontbecomplicit #FourthofJuly #ReturnTheChildren #LadyLiberty
     I have been overwhelmed with your messages of love and solidarity from all over the world. I am humbled and grateful, and I am even more committed to this fight, with your help.
     When I climbed onto the Statue of Liberty, I wanted to express the urgency of stopping our government's inhumane treatment of migrant children. I wanted no one to forget that children have been put into cages and that we must do everything we can to stop the imprisonment of children. Even today many of these children are still in cages, tender-aged children have been ripped away from nursing mothers, toddlers are being asked to testify in court, parents are torn apart with grief and very little has been done to reunite these families.
     I am determined to keep the focus on The Children for as long as it takes.
     I have had great support through all of this journey. I have pro bono legal services, at least through my trial scheduled for December 17th at 9:00 a.m.  There has been much to manage with media and legal demands and with planning next steps in the fight to get The Children out of cages and back into the arms of loved ones.
     Right now, I simply need help with basics — rent, food, utilities, and transportation so that I can both manage these new demands and continue my full-time activism. The amount doesn't matter - any support you can provide will help move this work forward.
     I hope that I can count on your support. Thank you!
+ Read More
Update 1
12 days ago
Share
Needs You Once Again, Please: I was beaten by #FrenchPolice of #EmmanuelMacron, as I took my cause to #France in connection with #LadyLiberty's birthplace. I was incarcerated and institutionalized in psych wards. Today, Sunday December 02, 2018, I am sound and safe. God has shown me time after time that s/he leads my life. I did go without fear of authority to re-experience my act of defiance in solidarity with #ReturnTheChildren. #EiffelTower climbing was another testimony to our strength and faith that we will overcome any obstacles placed upon our paths.
My banner cost me about $300. It reads: "Christopher Columbus didn't Discover America #AbolishICE #ReturnTheChildren." Both of my actions with #frenchpolice did evacuate the #EiffelTower. Credit was given to #Yellowvest #protesters, who weren't at this site in #Paris. The people of Emmanuel Macron were alerted and notified, as I was expected and picked up by #police. I'm kindly asking them to return my banner. In the meantime, I am raising money for my troubles. Next time, I'll #Boycott #ColumbusDay2019 in favor of #IndigenousPeoplesDay2019!
I am raising money to cover my last trip, #Paris. Thank you again everyone who was concerned about my safety. Thank you for caring and supporting my cause. Thank you to everyone who posted status updates about me as I had little Wi-Fi connections. I was often low on batteries. If you cannot give this time, please share my GoFundMe (
www.gofundme.com/PatriciaOkoumou
) account widely until my trial, which is on schedule for December 17, 2018 . Here's My Fundraising Link:
https://www.facebook.com/donate/265882710947741/265971857605493/.
Wishing everyone good mental health!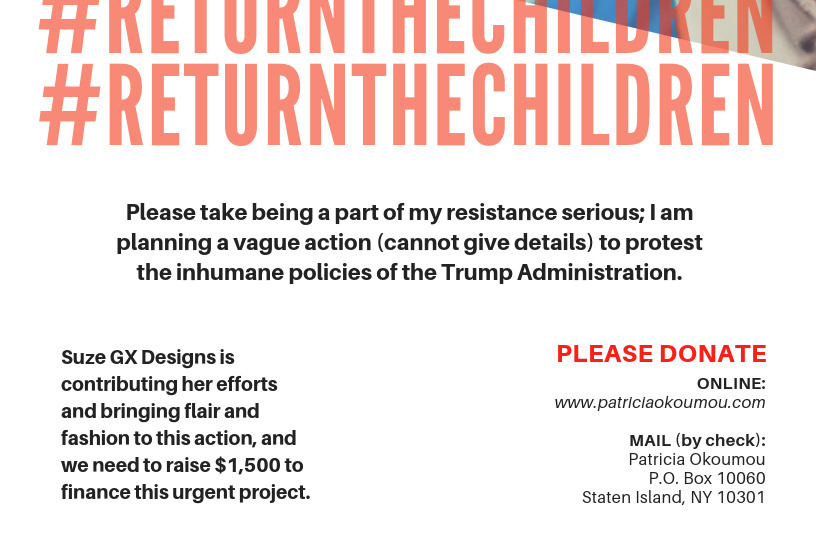 + Read More