Art Classes for Syrian Refugee Kids
$10,850
of $15,000 goal
Raised by
71
people in 21 months


The Inside-Outside Project in Europe gives refugee children a voice through their art and portraits, and our classes give them skills for psychological resilience. We will follow the refugees' trail from Turkey to Europe, teaching art classes and documenting the refugee experience through photographic portraiture and children's art.
March 28 – June 18, 2017


Website: insideoutsideproject.org
Take a boat trip from Turkey, across the Aegean Sea to Greece; from there, go through Bulgaria, Serbia, Hungary, and Austria into Germany. This is the trail through Europe that most refugees have taken to find a new home, a safe country where help and jobs are the easiest to find. Some have found new lives in Germany and the Netherlands, but many others are trapped along the way.
This is the second phase of the Inside-Outside Project. Before, we met children in Turkey who recently fled the war zone to safety. This time, we will travel the refugee trail to work with children in each country — including some of the children we met in Turkey! In each country, we will collaborate with local humanitarian organizations, and we will donate lesson plans and art supplies.
(Video: David speaks at the World Affairs Council in San Francisco)
The program teaches refugee children expressive arts skills to help them deal with their difficult lives. Our program combines art classes for refugee children, portrait photography, and teacher training with a public awareness campaign featuring the drawings and portraits of the kids we work with. We get people directly involved with refugee children by connecting American and European classrooms with refugee children to share art and experiences.
The Inside-Outside Project discovers, documents, and frees the children's inner voices. We teach them new ways to express and deal with the difficulties they face. We teach them how to rediscover hope for the future.

Who We Are
The Inside-Outside Project is led by David Gross, a photojournalist with 18 years' experience. David covered wars in Kosovo, Macedonia, and Iraq. He led the previous phase of the project in Turkey and Beirut to create the drawings and photographs presented here.
Mieke Strand is also a photographer with a background in art history and education.
This project is a collaboration. We have reached out to our professional network, and professional journalists and activists across the Balkans volunteering their time and connections. 
Where the Money Goes
The money you donate will be used to pay for art supplies for children, food and lodging, translators and fixers, and travel costs for a 1,926 mile (3,100 km) trip by car through from Athens to Amsterdam. We may also have to pay for lodging for professional art therapist volunteers.
The project begins March 29, 2017, when David leaves for Europe. We return to the USA on June 18, after almost three months on the road. 
Why This Project Matters
We hope you will support the project, because it is an important gift for the children who have lost so much, and have so little. Sure, an hour respite from daily life in an art class may seem like a small thing — but don't you remember important events from your childhood? Moments that stand out, when you discovered something new and powerful, perhaps a life lesson that changed who you became? These art classes have that power for children in need.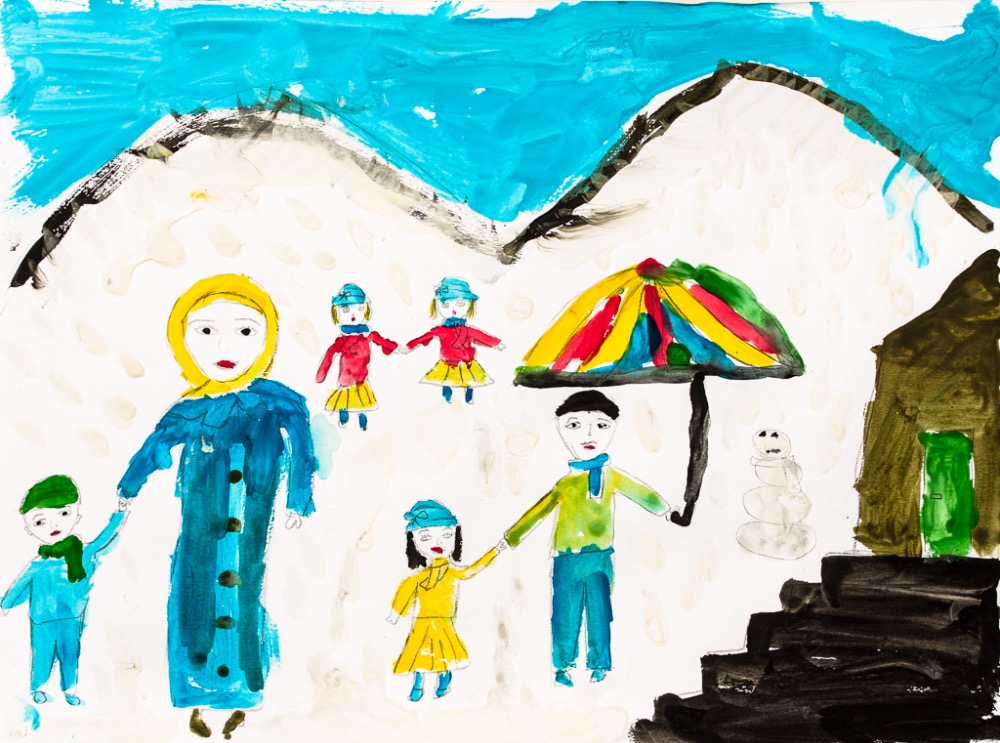 Because, the work we do isn't just fun for the kids — we are giving the children psychological tools for resilience. We are giving them ways to express and handle the fears and the anger that children feel when the world is unjust. We are giving them time to rediscover hope for the future when everyone around them only talks about the war.
We believe in this work. We've seen how important — how positive — these classes are for the children, in Turkey and Lebanon, and we've seen how it moves people around the world. 
Thank You
We have been working on this project since 2013. We have volunteered hundreds of hours into the project, including designing and printing exhibitions, designing web sites, creating training programs, and testing art exchange programs with schools. We've paid for exhibition prints, travel, web servers, and more. But it is not enough!
We will appreciate whatever you can donate. One of the things we hear most often from refugees is that it helps them to know people are hearing their stories, that we haven't forgotten them. Your donation will bring their stories to the world.
Please support this work. It will mean a lot to us, and even more to the children.
We thank you, and they will thank you.
+ Read More
You appear to be in a vaulted cave deep under millenea of buildings, indeed fathers and grandfathers worth!! But I do enjoy the Stanley tape measure off on one side
+ Read More