Ifeanyi's volunteer camp in Nigeria
$2,065
of $17,000 goal
Raised by
34
people in 41 months
MY ORGANIZATION:
 Unsung Talent Basketball is an organization that aims to empower and provide educational opportunities for young African men and women through basketball; we believe in motivating the youth on and off the court. Basketball is not only a sport that teaches discipline, work ethic, and drive, but it is greatly revered in the United States and provides thousands of American students each day with exceptional opportunities at the secondary and collegiate level. Education and basketball work hand and hand, and we would like to extend our hands to those who exhibit the necessary talent, dedication, and desire to succeed and overcome their current circumstances. I hope to inspire young athletes to never give up,  show them that there are possibilities for a better life, and teach them the importance of education.
WHAT YOU CAN DO:
We held our first annual camp on August 7, 2015. I am truly thankful for  everyone that made my dream become a reality. Our camp was successful, and  we ended up hosting over 250 students. As a new organization, we exceeded our goal of 50 students, which was fantastic for our first camp. Something that stood out to me during the camp was that many of the players in Nigeria did not have sneakers and their backboards were not in the best conditions. The rims were 7ft tall and crooked. This disables young players from perfecting their shooting form, as they become accustomed to shooting at hoops that are 3ft shorter than average. This observation inspired me to have a different agenda for my upcoming camp. We decided to do a shoe drive as well as  fundraise in order to buy a better backboard and rims. This year's goal is to get over 600 pairs of sneakers (new or used) to donate to the youth at the next scheduled camp to be held in August 2016.  Unsung currently has 200 pairs of sneakers already donated to my organization by various high schools and other charitable organizations. Every dollar donated goes directly to the organization. Currently my team and I need to raise money for:
*100 basketballs: $20 each
*100 T-shirts: $15 each
*2 In-ground Hoops: $1599.99 each (from Dick's Sporting Goods)
*100 jerseys: $15 each
*Shipping costs: $3000
*Traveling Ticket: $1,700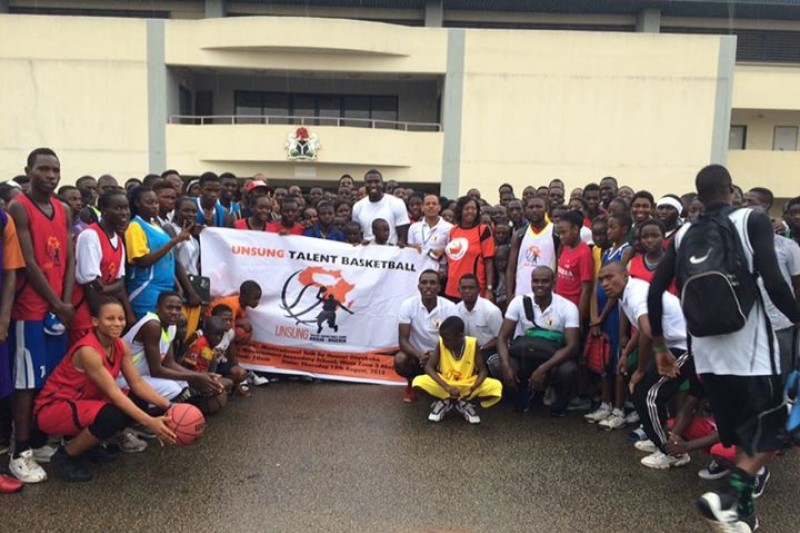 Whatever you can donate is appreciated and serves to better the young men and women in Nigeria. This is the beginning of something truly powerful and I thank each and everyone of you for your support. God Bless You.
+ Read More