23
19
Ian's Accident -Quad - Needs Help
$1,230
of $50,000 goal
Raised by
24
people in 13 months
https://www.gofundme.com/quadriplegicalways-helped-others
‌ 
I am raising money for my Uncle, Ian Weis. An Uncle who has always been a Special part of My Life, Our Daughters, and My Families. Always having a strong Connection and was Instrumental in teaching me from a young age, how to understand and ride horses.
Our Daughter, Honoured Uncle Ian mid last year with a Beautiful Tribute, representing, The Love, The Passion shared and Foundations Developed, through Uncle Ian and her Journey with Horses. 
A SPECIAL BOND
A Love that is Shared throughout our Family, especially being Uncle Ian's only Immediate Family ( being My Mum-Uncle Ian's Sister, My Dad-Best mate and fishing buddy, My Husband, Myself and our Daughter, My Sister, Brother and their Children and Bitz-Uncle Ian's Beautiful Blue Healer and Best Buddy...
FAMILY TIME
My parents , Uncle Ian and Bitz, always shared a Bi-Annual, 2 week holiday and Fishing and Camping trip, to Boondoomba Dam.
Uncle Ian Loves his Fishing, Camping, Travelling and Spending time with his Family and Mates from OMU ( Older Men Unlimited )
AN ACTIVE AND LOVING MAN
Prior to the accident, Uncle Ian was always on the go, A Very Active Man. One, who Always worked hard all his life . He also owned and Managed, Wanamara Quarter Horse Stud, at Mungar for more than 30 years, breeding and selling approximately 200 horses, during this time, and even though now retired, was contributing regularly to help others and was a Very Active member of OMU, Visiting nursing homes, Assisting to Raise Money, being Treasurer of the Club,  and helping to organise the various functions and activities, that the club participated in. Also, cooking regular sausage sizzles, repairing, restoring and building different items.
Being there for Family, assisting Mum And Dad ( after Dads Cancer Surgery in February 2017) Being a Delivery driver for Mums Avon deliveries in February and March and just spending quality Family time together in the evenings. During those weeks, being there, as A Companion, A Friend, Brother, Brother In-law and Mate. which, all Assisted During Dads Road To Recovery..
THE ACCIDENT
On the 19th March, at 11.10am 2017, A Tragic accident occurred.....
We received the Devastating Phone call and News, that Uncle Ian was in Hospital. He was hit by a Car, In Maryborough and was in a Critical Condition, having to be revived, twice, at the scene. He had sustained numerous Fractures,  Breaks and Dislocations.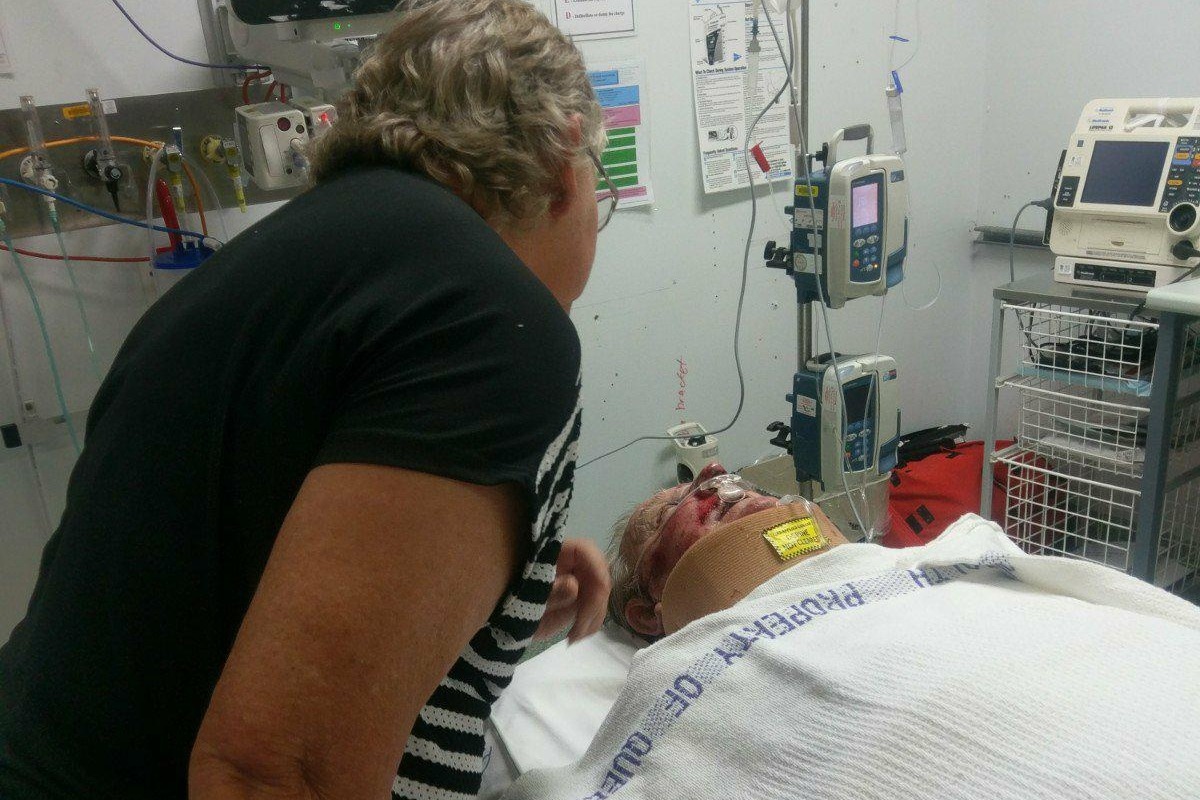 This came as a Massive Shock to our Family, especially since, Uncle Ian was coming to our place that afternoon with his Beautiful dog, Bitz, to stay for the week and help out.
But, the shock that was to come, that day, the following weeks and many months ahead, for everyone, was to hear that through injuries sustained,  Uncle Ian had fractured C2/C3, Dislocated C4 and Broken C5/C6, which, damaged his spinal cord. He also fractured his back, ribs and numerous other internal injuries. We learnt that this would change his life and our families forever.. 
RESULT OF THE ACCIDENT
After surgery and four weeks in Intensive Care on ventilation, in Princess Alexander Hospital in Brisbane, we were informed, that the injuries sustained, would leave Uncle Ian as a Permanent Quadriplegic. ( having no movement from neck down) .
Despite numerous and what seemed continuous setbacks and adversities, amongst them being infections, the loss of ability to talk and complications from procedures performed, we continued with a Positive Outlook, with vigilant weekend visits, supporting and assisting Uncle Ian, in any way we could. Finding a balance between, acceptance of What Is, the changes that have occurred, and Always Encouraging with Positive words, Hope and the Love to continue, with the strength and will, to move his fingers, hands, arms and hopefully toes, feet and legs again.. Even though, we were informed initially, that this would not occur.. 
THE JOURNEY FORWARD
The things we take for granted in life, like wipe our tears, scratch an ear or nose, pat our dogs, were now, a priority,  to one day, be able to do again.. And to be able walk,  again, one day,  would be a Blessing.
Uncle Ian's determination, Strength and Courage, has continued throughout, and even after just a short few weeks, a flicker of movement was visible in Uncle Ian's fingers. 
RAISING FUNDS
Uncle Ian has recently progressed to a Special Mobility Chair, that is controlled by his chin, and a sipper puffer. The chair also has a hand control, which nurses, carers, family and friends and Uncle can operate, once more arm and hand function is apparent.
This chair allows Freedom and an Independence to move around the hospital and once home, around his house and out and about.
With house modifications being approved and three permanent carers, this allows Uncle Ian to move back into his own house.
Our goal is to purchase a suitable vehicle, that is required, to enable Uncle Ian, not only a viable mode of transport to travel to doctors, specialists, physio and other appointments, but also to help give Uncle Ian, a life, where he can be taken out by his carers, family and friends and have a Quality of Life, going to the places he Loves, whilst also, regaining a portion of Independence, to enable him to do this, even though he is in a wheelchair with limited movement. 
Another part of Uncle Ian's journey towards Independence, is the purchase of an Automatic Door to be installed in his house. The door, which is operated, by a sipper puffer on Uncle Ian's chair, would enable him to go outside without assistance. The door can also be opened by carers or family if required.
House modifications have been approved and even though, an automatic door was recommended, it was not included in modification funding. 
HOW YOU CAN HELP
The vehicle has to be a Specific Size, to accommodate his mobility chair and also be within a Specific Age and Mileage requirement, to be passed by NIISQ
( National Injury Insurance Queensland ). 
Modifications funding is supported and approved through NIISQ, however they do not cover costs for purchase of the vehicle or any other incidentals, surrounding the vehicle.
The vehicle does, however, still have to meet all the age and mileage requirements of NIISQ and it does need to meet the height and other measurements required. The three specific vehicles that would suit and have been recommended for Uncle Ian's Mobility chair are, Mercedes Sprinter, VW Multivan and Transporter, all of which have an internal clearance height, at rear entry of 1500 mm. 
YOUR IMPACT
Any Contribution you make, will go directly towards the purchase of a suitable vehicle for Ian, which has been, valued between $25,000-$30,000.
The purchase and necessary fitting of a rear air-conditioning unit, to the vehicle, to help maintain a stable temperature for Uncle Ian. Valued $5000. 
And the Purchase and Installation of an Automatic door for his house and necessary fittings to his chair. Valued $10,000. 
All of which, will assist Uncle Ian, in having a quality of life when he comes home. While also, having a positive impact on his Independence, to not have to rely on others for everything. 
OTHER WAYS YOU CAN HELP
You can use this link, to help spread the word.
https://www.gofundme.com/Help-Ian-Gain-Independance
To see Uncle Ian be able to come home, after more than a year in Hospital and be able to Independently move around, inside and outside his own house,  attend necessary appointments with ease, visit friends and continue moving forward, with a quality of life spending time with Family and Mates from OMU, will be the most Heartfelt gesture anyone could ever make..
Thank you So Much For All Your Support. !!
We are Very Grateful and Really Appreciate Your Consideration, Sharing our Page and for any Donations made !!
Lesley and Family and Bitz
xxxx
+ Read More
Update 1
13 months ago
Share
With only one day into our Campaign, to raise money, to assist Uncle Ian, gain Independence and Quality of life.. Yesterday, we raised $120 in just a few short hours. Thank you to all those that have already donated and shared our story, amongst family and friends. !! Your Support means everything to us. !! We are on a journey to raise $50,000 , so all donations and support and greatly appreciated !! A donation of even just $5, goes a long way, In stepping towards Uncle Ian's Quality of Life And Independence. !!
Thankyou xx
+ Read More