12 Little Free Libraries > Washington DC
$665
of $5,280 goal
Raised by
16
people in 63 months
I originally attempted to fund this project through KickStarter, and although the response was wonderful, with over $2000 in pledges made, the project ultimately failed to fund at the level I first attempted. KickStarter operates on a 'all-or-nothing' basis, meaning if one does not reach an initial goal, then zero funding is accomplished. **But I am not giving up.** I still want to put up at least one dozen Little Free Libraries. This time, I am scaling back the plan to the basics, [see revised estimates below] eliminating the seating benches and the landscaping, and using GoFundMe, where there are no such 'all-or-nothing' restrictions. Whatever is raised through GoFundMe is released to be used right away to fund this project you are supporting.

Phase one: Building, decorating, and installing ONE DOZEN Little Free Libraries in the Takoma, DC Historic District, and Takoma Park, MD.
Phase two [if funded above initial goal]: Spreading the concept throughout the DC Metro Region by installing additional Libraries in MD, DC and VA.

How this idea began:
In 2010, my girlfriend, Jennifer, a native of Madison, WI, told me about a literary project begun by another Wisconsin native, Todd Bol. From there, the seed was planted as the idea took root and grew in my head over the coming year. When we moved into our new home in Mid-2011 on Aspen St, NW, in the Historic District of DC, I told her I wanted to install a Little Free Library in our front yard as a gift to the community and neighborhood we had adopted and grown to love.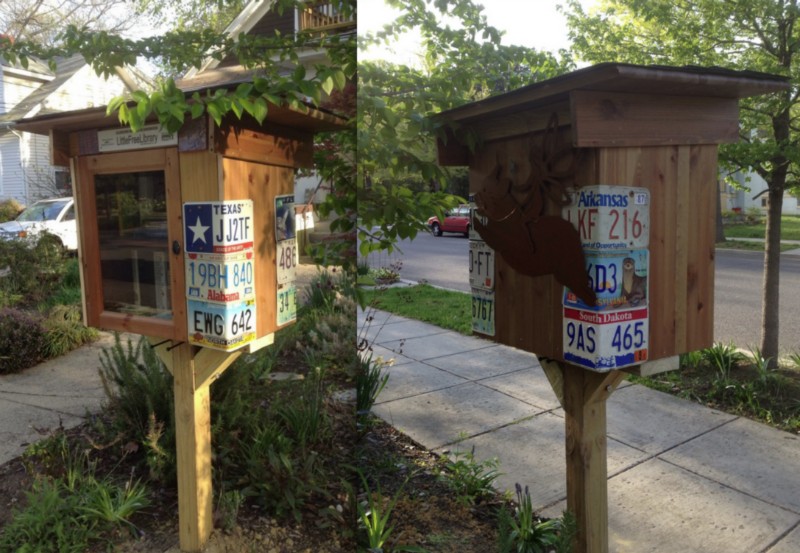 The first Takoma Little Free Library that started it all!
That dream was realized on April 23, 2013, in conjunction with World Book Night day, another literary project I am involved with.
http://www.walkscore.com/place/takoma-little-free-library-5646-washington-d-c
The Little Free Library became an instant hit, with dozens of people stopping by every day while out walking their dogs, or walking towards or from work or the metro subway station nearby, or walking with their kids, pushing strollers with their babies, riding their bikes, or driving by and stopping suddenly in the road when they spotted the odd structure in our yard. We were delighted with the response, seeing so many people using the library, both in the taking of books, and in leaving other books for others to take.
Then came Takoma Little Free Library #2!
So many positive comments and good vibes came, and I decided I wanted to spread this feeling onto other streets and neighborhoods in the Historic District of Takoma, DC, and in Takoma Park, MD just over the state line. I have since then completed a second Little Free Library, and it was installed by the new owner at the front of his house on 8th & Elder Streets, NW in early-July.
http://www.walkscore.com/place/8th-elder-st-nw-washington-dc-washington-d-c
A third Little Free Library is under construction now in my basement workshop and will soon be installed on a grassy corner lot just across the street from a newly renovated elementary school and a historic old church building.
In addition to these libraries, I have committed to building *at least* one dozen more!
One is for another home at the gateway into Takoma Park, located at the corner of Fenton and Philadelphia, and still another will be built and installed outside of the very first Andrew Carnegie sponsored Public Library in the District of Columbia, built in 1911 at the corner of 5th and Cedar in the Historic District! [That one is in partnership with the Friends of the Library group of Takoma, DC.]
And then there is the
biggest
project I've committed to yet, ...building and installing
T-E-N
Little Free Libraries in partnership with the Friends of the Library of Takoma Park, MD!! These libraries will be installed in public locations [where permissions are granted by authorities] throughout the Takoma Park, MD area.
So...... Why GoFundMe?
The concept will surely grow, as more people become involved and decide they, too, want to be a part of the project. All funds raised through GoFundMe will be used to expand into the whole of the DC region. My goal is to get these libraries constructed and installed not only in Takoma Park and Takoma, DC but all over the city, and surrounding areas of the city, inside the 495 Beltway.
The need:
This is where YOU, the GoFundMe community, come in. I built the first three Little Free Libraries using whatever materials I could scrounge, or was given, or that i already had on hand in my
"˜hey! someday I'll use this!'
material hoard, umm, I mean: collection. In fact, the 1st one i built, that is at our home, was created partially out of wood salvaged and hacked from an old Ikea TV cabinet! For the one dozen Little Free Libraries to be built and installed that I've described above, I will need to purchase recycled materials from salvage yards like the nearby Community Forklift,
http://www.communityforklift.com/
which has a wonderful ever-changing collection of materials available for reuse in homes and artistic projects. I will also need to buy posts and concrete for securing the libraries and benches to the earth, decorative elements and paint to make each library unique and colorful and beautiful.
Costs:
All told, I estimate $400 will be needed for each Little Free Library site. Thus, my goal is $400 x 12, for the first twelve Little Free Libraries, which comes to $4800.
In addition to that, however, I must take into consideration the fees deducted by both GoFundMe Payments system, which handles your contributions. Those fees will come to an estimated $480, which, added to the $4800 makes the final goal a total of $5280. Additional funds above that will allow me to build more Little Free Libraries and keep the expansion going for as long as funds become available.
There will also be annual maintenance costs for each location, but I am confident I can clear that hurdle in other ways, through in-kind community help & support. Here is how the revised costs break down for each location, in my estimates:
$100 - basic materials for the library box
$40 4x4 pressure treated posts and concrete for each site
$40 artistic design elements, decorative salvaged pieces and paint.
$160 initial supply of 40 books to fill each library [$4 each, for very good condition, used books]
$25 a supply of several hundred personalized bookmarks for each location.
$35 - registration for each site at the non-profit
littlefreelibrary.org
Total $400 per site
But.... what if.....?
When I posted pictures of my first LFL on my Facebook back in April, a friend asked me "But:won't someone steal all the books?!" My response was 'something that is free cannot be stolen.'
However, vandalized structures are a possibility. Perhaps even a car accident. I do not worry about these sorts of things, though, because I believe that communities grow attached to their libraries, and they will rally to repair or rebuild them. And if they do not, well, then, I will.
Note to Authors / Book Donors: Sometimes I am asked by authors if I could distribute copies of their books to Little Free Library patrons. I am more than happy to do this for you, provided you supply the books in whatever quantity you desire to contribute. Likewise, some people have asked if they could send or drop off books for me to use in the Libraries. Again, the answer is yes, gladly. Donations may be mailed [use media mail rate for cheapest cost] or dropped off at:
Takoma Little Free Library Project408 Aspen St NWWashington, DC 20012Neighbors:
Once constructed and installed, Your involvement in the project is essential to its success. Leave a book. Take a book. When done with it, return the book you took so someone else can enjoy it, and take another one! Post a picture of your Little Free Library visit on your Facebook page and on mine. Let me know if a collection is running low and needs a refill or if the structure is being misused or needs maintenance. This project not only promotes literacy but the shared spirit of community. Meet your neighbors. Start a conversation.
More about how the very first original Little Free Library came into being:
"¨The Little Free Library project began in 2009 when Todd Bol built a small structure and filled it with books in honor of his late mother, who was a school teacher and an avid reader. He placed the structure on his front lawn with a sign encouraging visitors to "Take a Book. Leave a Book." The spirit of the project, which aims to promote literacy and community, spread very quickly and today there are an estimated 10,000 libraries nationally and even internationally.
+ Read More
Update 2
62 months ago
Share
here's a quick update:
check out this video: Free Little Libraries Popping Up in D.C. Neighborhoods | NBC4 Washington News!
http://buff.ly/17v6RVC
- My Little Free Library in this segment is the first one, with the license plates on it. I'm the guy in the green t-shirt and goofy grin. :-)
My Third Little Free Library is almost ready. It will be installed this week at the Piney Branch & Dahlia NW, DC intersection across from the newly renovated school.
Thanks to some recent generous donations, I'm now at 11% of my goal! visit the home page for more info - thanks!
-ken
http://www.gofundme.com/DC-LittleFreeLibraries
+ Read More
Update 1
62 months ago
Share
Read a Previous Update
Be the first to leave a comment on this campaign.