RESHAPE THE FUTURE @ FORT NEW SALEM
$550
of $59,000 goal
Raised by
2
people in 28 months
(Taking down the "old" BLOCK HOUSE)
Photo by Lemeul B Muniz
UPDATES 08-28-17
Fort New Salem is a representative frontier log house settlement of nineteenth century North Central Western Virginia/West Virginia. The village of over 19 relocated log structures was created as an extension of the Salem International University campus in the early 1970's. The Fort opened to the public in 1974.  
Fort New Salem is a living history outdoor museum interpreting the history, crafts and lifestyles of the area. It is surrounded by tree covered hills and takes its visitors into another lifetime when work and leisure activities reflected the values and traditions of the community and the Appalachian culture of her people. We intrepret the early 1800's. Historically, among the numerous seasonal activities held at the fort is "The Spirit of Christmas in the Mountains". This nationally recognized event is a joyous celebration of the traditional folk-ways found in observance of Christmas in the 1800's. Fort New Salem is currently closed on a day to day basis but hosts numerous tours and special events annually. 
Since December 2005, Fort New Salem has been under the private ownership and operation of the Fort New Salem Foundation, Inc. We are a West Virginia Not For Profit Corporation and an IRS 501C3 so your donation may be tax deductable (consult your tax accountant).
As we progress in our redevelopment, the scope of projects increase in magnitude.
In 2015, we kicked off our "RESHAPE THE FUTURE" campaign designed to greatly change the appearance and future of Fort New Salem! We invite your participation.
Initially this project was to involve:
The Green Tree Tavern
The Old Admin Building
The Reynolds House
The Block House
Our fund raising has done well but recently been stagnant. At the same time, our involved buildings needed addressed quickly. 
Work was done on the Old Admin Building,  in an urgent manner, giving it a new shake roof and structural repairs. to stabilize it.  Ultimately this will be a classroom for teaching heritage crafts.  DOMINION FOUNDATION awarded us a grant to improve access to this structure. Work should begin late summer 2018.
The relocation of the Reynolds House from US Rt 19 North of Clarksburg to our campus.  The Reynolds House (circa 1800) is reconstructed at our entrance as part of our new visitors center complex.  It was stored as stacked wood in our parking lot for nearly 1.5 years.  The second phase of the work was completed in August 2016. This brought the structure to a stage of being will be framed in, on a new foundation and under roof.  It will NOT be a usable facility until more work is completed.  In July 2018, DOMINION contributed to our cause by donating in kind work which installed 800 feet of gas line. This will allow us to brings heat to the Reynolds House and other key structures on our campus.  
The Block House, which was closed to the public due to its condition, was showing rapid decay.  In the summer of 2016, it was taken down, moved 30 feet to a new foundation and reassembled. It, also, is framed in, on a solid foundation and under roof but will NOT be a usable for the public until more work is completed.    Work is underway on the BLOCK HOUSE. Preliminary wiring to establish electrical service has been conducted. Floor joist's and sub-flooring for the first and second floor have been completed.   The stairs as well as a ceiling are currently being developed. Chinking, daubing, windows, doors are up next. Although they do not show in the donated total, we have been blessed to receive lumber donation and in kind electrician services.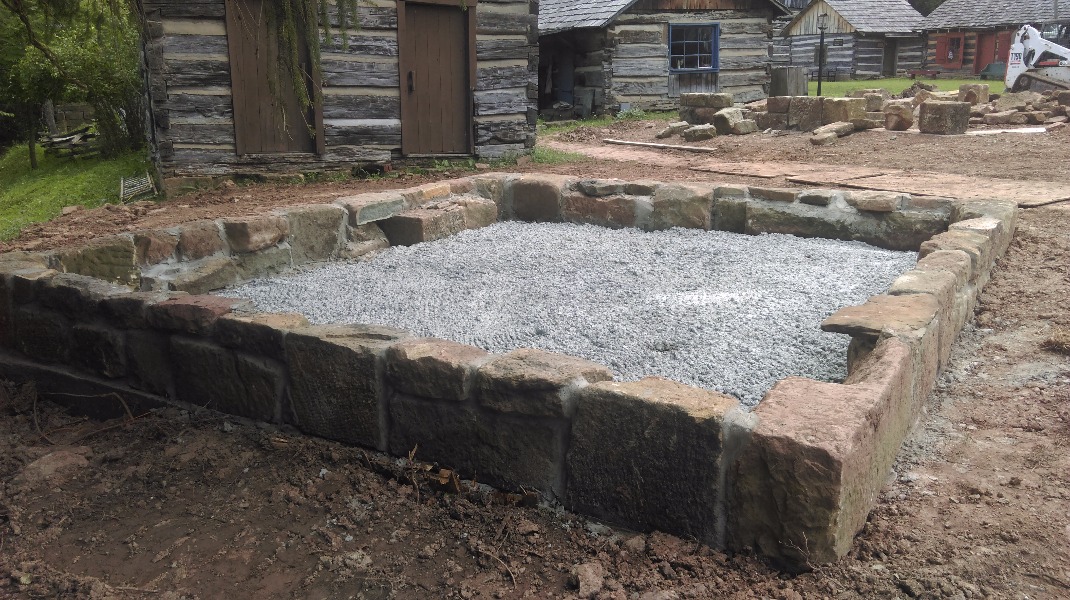 New Foundation for Block House (shown above) and the reconstructed first floor (below) reflect recent work.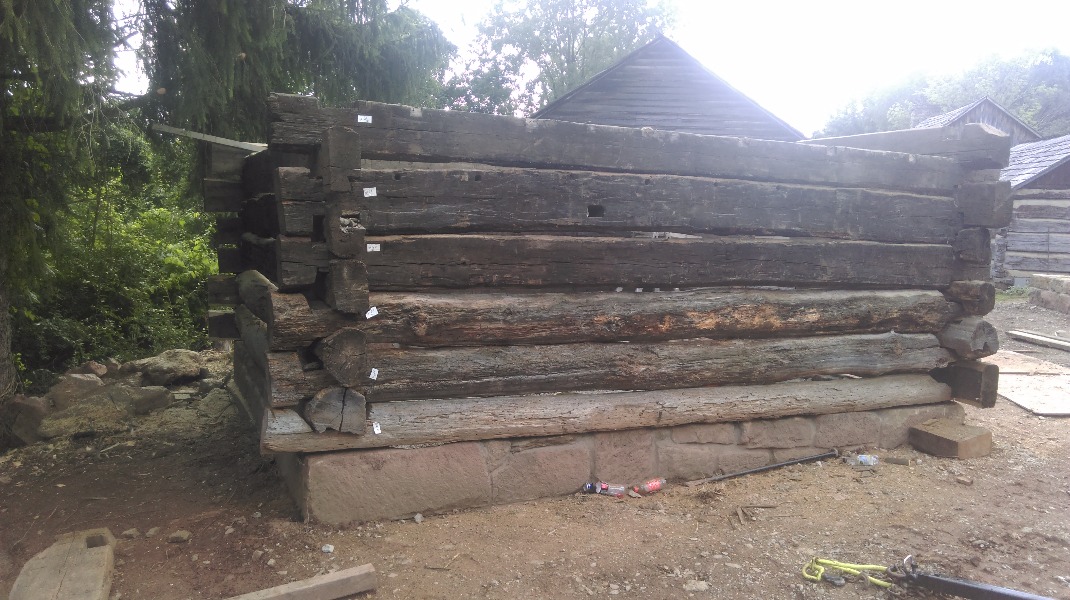 Photos by Lemeul B Muniz
The restoration, rehabilitation and reopening of the Green Tree Tavern is important in our long range plans. It is our signature structure and a visitor favorite for its fireplace and bar setting. It is in an advancing state of decay. Due to its cost, it is currently on hold.
We had hoped to wait until all the funds were raised so that everything could be done together.  Our foundation board decided to move forward as listed about to stablize things.  This request at gofundme will be used on the Reynolds House & Block House for the following:
1) appling chinking & daubing 
2) electrical service including lighting
3) flooring
4) apply doors
5) apply windows
6) construct stairs
7) HVAC (Reynolds House only)
8) apply door hardware and seek custom made period correct items as needed
9) construct porch (Reynolds House only)
10) Point of sale cash register.
Getting these two structures done is huge in the development and future of Fort New Salem.  The Block House represents the first structure established in our community around 1792. It shows the "safe house" settlers created.  The Reynolds House will be or feature entry point to our campus. Visitors will pass through it to purchase their admission ticket and to frequent our gift shop. We have never had a climate controlled place to show artist demonstrations. This will give us that opportunity.
Donations will be recognized on a permanent sign placed in the Reynolds House acknowledging donors to the RESHAPE THE FUTURE campaign.
This project is currently being worked on and will continue progress as funds arrive.
The Reynolds House and Block House are now safely on a new foundation and under roof. 
Reynolds House  (Photos by Lemeul B Muniz)
+ Read More
Update 1
27 months ago
Share
The Fort will open for the 2017 season on Saturday, April 22 for The John Randolph Spring Arts Kick Off. Come out, support our event and see the exciting work being done on the cabins. It is always a fun time of the year to get outdoors and enjoy the spring air. Our event has demonstrations by artisans; arts and crafts as well as entertainment. The full schedule will be at
www.fortnewsalemfoundation.org
as the event date approaches.
+ Read More
Be the first to leave a comment on this campaign.