2ème festival franco-bolivien !
€580
of €7,000 goal
Raised by
19
people in 25 days
Pour la deuxième année consécutive, des membres de L'Orchestretto partiront bénévolement en Bolivie organiser un stage de musique classique. Soutenez-les !
                                                                                                                                                                          (English version below) En juillet 2017 a eu lieu un événement d'importance dans le paysage musical bolivien : la tenue du premier « Campamento », première académie de musique classique jamais organisée en Bolivie. A Tarija dans le sud du pays, pendant presque deux semaines, les participants ont vécu dans un véritable bain de musique, entre cours individuels, de musique de chambre et répétitions d'orchestre. Plus de soixante élèves de tous âges, professionnels ou en voie de professionnalisation, sont venus de toute la Bolivie et même du Brésil et d'Argentine pour vivre cet événement unique.

Sans la générosité des membres de L'Orchestretto et de deux professeurs du conservatoire de Lille qui ont donné des cours et des concerts de musique de chambre bénévolement, ainsi que de nombreux donateurs pour financer leur voyage, le « Campamento » n'aurait pas pu voir le jour. Mais un tel projet a vocation à s'inscrire dans le temps pour transformer durablement la vie musicale en Bolivie : c'est pourquoi nous faisons à nouveau appel à votre générosité. Cette année, c'est à Cochabamba que migrera le « Campamento », pour sa deuxième édition !


L'histoire de notre projet
Cette aventure, c'est la concrétisation d'un rêve que Mauricio Arancibia, pianiste et chef d'orchestre bolivien, venu en France pour ses études il y a plus de 10 ans, a nourri pendant de nombreuses années. En arrivant à Lille il y a 4 ans, il fonde "L'Orchestretto", un ensemble à "géométrie variable" d'une quinzaine de musiciens qui propose un large répertoire allant du tango à la musique baroque, de la musique contemporaine aux grandes oeuvres symphoniques spécialement arrangées pour petit ensemble : le signe, déjà, d'une volonté de partager la musique là où elle n'est pas forcément accessible. Les musiciens de L'Orchestretto, tous professionnels, mènent leurs carrières en France et en Europe et enseignent dans différents conservatoires, à Lille, Paris, Pantin...
Mais Mauricio est toujours resté très attaché à son pays d'origine, et souhaitait depuis longtemps y apporter quelque chose de nouveau, partager avec les musiciens boliviens le savoir-faire français dont il s'est imprégné. C'est après avoir été lui-même élève dans des académies d'été en France qu'il a l'idée de créer un événement similaire en Bolivie : en effet, quoi de mieux qu'une pratique intensive de la musique pour progresser ?
En juillet 2017, la ville de Tarija a donc accueilli la dizaine de musiciens de L'Orchestretto qui s'est enthousiasmée pour ce projet : 12 jours intensifs de cours individuels, de musique de chambre, et une académie d'orchestre rassemblant tous les participants. Cette première édition a suscité un grand enthousiasme dans le pays et créé une véritable demande : au-delà des cours, cela a été l'occasion pour certains élèves de faire des rencontres déterminantes pour leur avenir musical.
La deuxième édition : direction Cochabamba
Nouvelle édition, nouvelle ville ! La ville de Cochabamba, située au centre du pays, permettra à de nombreux jeunes musiciens qui n'avaient pas pu faire le déplacement à Tarija de participer à ce deuxième « Campamento ». L'Alliance Française et l'Orchestre Philharmonique de Cochabamba seront les institutions partenaires de l'événement.
Sept membres de L'Orchestretto feront le voyage cette année  : cette fois-ci, l'enseignement sera axé sur les cours individuels et la musique de chambre. Comme l'année dernière, des disciplines nouvelles et encore peu enseignées en Bolivie seront proposées, notamment la direction d'orchestre, l'orchestration, l'accompagnement, ou encore de l'initiation à la musique ancienne.
A quoi servira la collecte ?
Les cours auront lieu dans les locaux de l'Alliance Française, et l'Orchestre Symphonique de Cochabamba assurera un soutien logistique de poids (partitions, pupitres, etc.). Les musiciens de L'Orchestretto donneront les cours bénévolement, et plusieurs familles sont déjà volontaires pour leur offrir logement et repas.
Comme l'année dernière, c'est donc uniquement au transport des musiciens jusqu'en Bolivie que servira la levée de fonds. Il ne manque plus qu'un pas pour que cette deuxième édition puisse avoir lieu. Nous comptons sur vous !
Que se passe-t-il si l'objectif n'est pas atteint?
Le 3 Juillet, nous clôturerons la collecte de fonds. Quoiqu'il arrive, le projet se réalisera : si l'objectif n'est pas atteint, ce sont les musiciens eux-mêmes qui ajouteront la somme manquante pour l'achat des billets d'avion. Et si l'objectif est dépassé, comme l'année dernière, les dons supplémentaires serviront à l'achat de partitions et de matériel musical à destination des élèves du stage. Dans tous les cas, votre don sera une aide précieuse !
Les musiciens de cette édition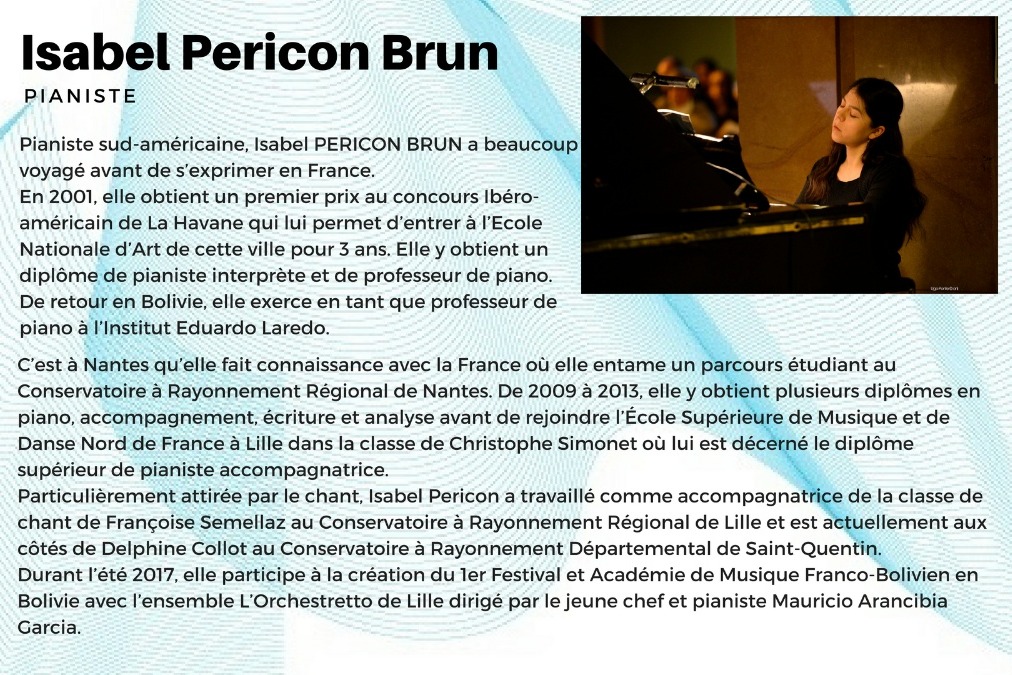 https://www.facebook.com/campamentodemusicafrancoboliviano/ 
https://www.facebook.com/LOrchestretto/
http://romualdgrimbertbarre.com/


For a second consecutive year, members of Orchestretto will head to Bolivia as volunteers to host a classical music workshop. They need your support !


In July 2017 an important event in the world of Bolivian music took place: the very first "Campamento", the first classical music academy ever organized in Bolivia. In Tarija, a city in the south of the country, over the course of two weeks, participants lived in a world of music taking in individual classes, chamber music, and orchestra rehearsals. More than 60 students of all ages, both professionals and those are their way to becoming professionals, came from all over Bolivia and even Brazil and Argentina to take advantage of this unique experience.
Without the generosity of members of Orchestretto and of the two professors at the conservatory of Lille who gave free classes and chamber music concerts, as well as the many generous donors who financed their trip, "Campamento" could never have happened. But a project with such a meaningful mission has the potential to make a lasting transformation to the world of music in Bolivia. That's why we are once again asking for your generosity and support. This year, "Campamento" is moving to Cochabamba for its second workshop!


History of the project 


This adventure is the culmination of a dream of Mauricio Arancibia, a Bolivian pianist and conductor who came to France for his studies over ten years ago. After arriving in Lille four years ago, he founded Orchestretto, an ensemble of about fifteen musicians with a varied repertoire, ranging from tango to baroque to contemporary music to symphonies especially arranged for small ensembles. These musicians want to share the joy of music in places where it is not always accessible. The musicians of Orchestretto, all professionals, have careers in France and Europe teaching at many different conservatories in cities including Lille, Paris, and Pantin.
Mauricio has always felt a strong attachment to his country of origin, and has long wished to bring home fresh ideas, to share with Bolivian musicians the things he has learned from his studies in France. It was only after being a student himself in a summer music workshop in France that he had the idea of creating a similar event in Bolivia. What better way to increase student progress than an intensive music practicum?
In July 2017, the city of Tarija welcomed a dozen Orchestretto musicians who showed great enthusiasm for the endeavor : 12 intensive days of individual classes, chamber music, and an orchestra that brought all the participants together. The workshop elicited a lot of excitement and created a real demand for more. In addition to classes, the workshop provided an opportunity for many students to make connections that will help them in their future music careers.
Second edition : Cochambamba
New workshop, new city! Cochabamba is located in the center of the country, allowing many young musicians who were unable to relocate to Tarija to now participate in this second "Campamento." The Alliance Française and the Philharmonic Orchestra of Cochabamba will partner to make this event possible.
Seven members of Orchestretto will make the journey this year, and this time coursework will focus on individual classes and chamber music. Like last year, we will offer subjects that are new or not often taught in Bolivia, particularly in the fields of conducting, harmonization, accompaniment, and introduction to medieval music. A quoi servira la collecte ?
Where is my money going? Les cours auront lieu dans les locaux de l'Alliance Française, et l'Orchestre Symphonique de Cochabamba assurera un soutien logistique de poids (partitions, pupitres, etc.).
Classes will take place at the Alliance Francaise and the Symphonic Orchestra of Cochabamba will provide logistical support (including sheet music, desks, etc.). Orchestretto musicains will be giving free lessons, and several local families have already volunteered to provide lodging and meals.
Just like last time, it's only the cost of getting our musicians to Bolivia that requires us to raise money. Plane tickets are all that stands between us and the second Campamento. So we are counting on you!
What happens if the funding goal is not achieved?
On July 3th, we will stop collecting funds. Whatever happens, the show will go on. If we don't reach our financial goal, the musicians themselves will make up the difference. And if we surpass our goal, as we did last year, the extra funds will be used to buy more music and other materials for the students. No matter what, your gift will provide vital help to our project!
+ Read More