Lost at sea... and lost without him
$2,800
of $45,000 goal
Raised by
16
people in 31 months
Update as of July 11th:
It's astounding the harassment from locals that my Alaska friend, Victoria Briggs, is getting this fishing season! State troopers were called to investigate several vandalizing incidents like rocks and mud slipped into fuel tanks, different motors and other property vandalized, machine and fishing parts stolen, and more. All this is done to kill her spirit about staying there and fighting for her home as well as her business of refueling planes, farming fresh Alaska Grown produce for sale, and the sockeye salmon fishing season now underway. Locals even lied to the troopers about her stealing a boat, when in actuality, the owner specifically removed it from that local village and parked it on her property for safekeeping! She is determined to overcome the overwhelming hardships of her life as a new widow, as well as the nastiness of some locals whose hobby seems to be making her life miserable. So far, so good! Hang in there, Victoria. Keep your eye on the goal of surviving and flourishing, just as Roland would have wanted.
The full story of how she got where she is today...
My friend, Victoria Briggs, needs some help with her rural Alaska business this year after the sudden death of her husband last fall.
It was an ordinary kind of day when Vic's husband, Roland Briggs, a lifelong resident of Ugashik, Alaska, left their home on the Ugashik River, took his 49' boat out into Bristol Bay and up the coast to pick up a load of fuel for their family business. He never came home.
What is known is that Roland met a fuel barge as planned, his fuel purchase was off-loaded onto his boat, and he began his return trip home which might take about 18 hours. Not only were his hull tanks full, but he also carried several tanks of fuel on the deck, as well.
The best-equipped US Coast Guard search-and-rescue talent, equipment, and aircraft, plus private pilots, air-borne state troopers, and commercial pilots all looked for any sign of him, crisscrossing 8,000 square miles. Roland was an especially accomplished, careful Alaskan, a former commercial pilot, a proficient mariner, and a knowledgeable mechanical engineer who had every kind of safety gear, including VHF radio, mariner radio, and life vests, leading the CG to expand the search area beyond what logic, science and technology would normally dictate. However, the only sign of him or his boat were three fuel tanks floating 25 miles off shore-- neither oil sheens nor any other kind of identifiable debris from the boat were located.
In February, Roland was declared legally dead, and Vic is left now to pick up the pieces of her life and her business — alone.
I first met Vic and Roland back in 2009.  A dangerous situation had developed in western Alaska for native people living out in remote villages that winter.  A miserable fishing season the preceding year left villagers with a limited amount of fish stockpiled for the upcoming winter, which was further complicated by an early freeze of the rivers.  That meant cancellation of the  delivery of rural villages' winter fuel supply normally delivered by barge.  By January, in a number of remote western Alaska villages, people were forced to decide whether to use their meager cash reserves to buy remaining local fuel at inflated prices to heat their homes against the brutal Alaskan cold, or purchase expensive food to feed their families when winter reserves of fish ran low.  Some parents admitted they skipped meals themselves and just drank a lot of coffee during the day in order to have money to buy food for their children and try to keep their homes warm.  An Alaskan food and heating fuel tragedy was unfolding with remote native populations in the grips of a dangerously cold winter.
Alaska's soon-to-be reality TV star, gun-toting, moose-eating governor was in the news, and people were keeping an eye on Alaska. Several Alaskan bloggers had gained national audiences during the political campaign, and their comment sections had turned into pop-up communities. 
When the news of the situation in rural Alaska broke, two bloggers from separate villages chimed in to comment about the critical need for help in their communities. They volunteered to distribute anything people were able to send to the neediest among them.  An online community came together and created a blog called "Anonymous Bloggers" as a clearinghouse for a nationwide air mail food drive.
https://anonymousbloggers.wordpress.com/
 People from around the country packed hundreds of flat-rate boxes and shipped them to Nunam Iqua and Ugashik, Alaska throughout the winter.  During the worst of the natives' troubles, very little help, if any, came from the state.  A religious group sent a one-time food shipment, but, generally speaking, hungry, cold residents in remote villages in rural Alaska were pretty much on their own at the worst possible time of year. The AB online community truly made a difference that icy winter.
But that was then, and this is now, with another crisis involving an ill-fated fuel delivery.
Victoria Briggs, aka "ugavic", has been a primary influence to Anonymous Bloggers from Day One and a conscientious contributor to its web site.  She is a long-time resident of Ugashik, a tiny village located on the Aleutian peninsula, high up on the banks of the Ugashik River.  It has maybe 10 regular residents year-round. On any good day, it's a very hard life when you live out in the Alaska bush, so far off the grid and with no connecting roads.
She and Roland ("Rollie") have owned and operated a fishing operation that  first began as a salmon fishing cannery his parents started in the late 1960s. Vic and Rollie dreamed big over the years to find a way to make the family business profitable year-round so they could live in the place so dear to Rollie's heart and childhood.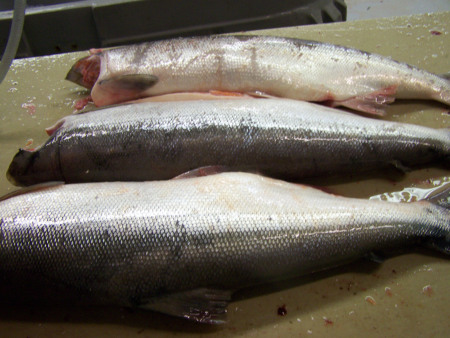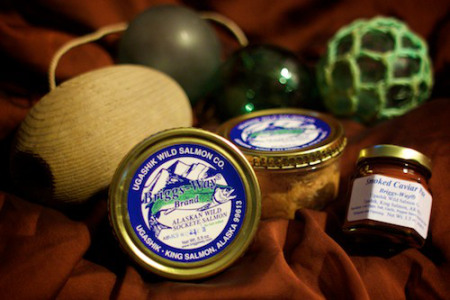 When Vic left behind corporate life in the lower 48 to marry Rollie, she embraced his dream of improving the lives of the people of Ugashik and neighboring Pilot Point.   Together, they have made a difference in their part of Alaska.
If you look back through the AB blog, you'll read about her love of gardening and the community garden she worked to start in Pilot Point so people there would have a supply of fresh vegetables. She's live-blogged from cold weather agriculture conferences and fishing board meetings, sharing both her interest in sustainable agriculture and her concern about salmon bycatch in the Alaskan fishing industry.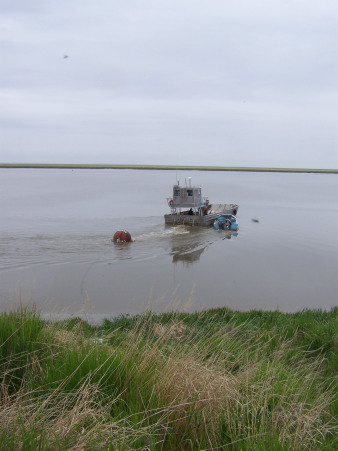 The Briggs' dreams led them to invest their time and funds into areas of interest beyond the family fishing business.  As a measure of Victoria's gardening enthusiasm, they bought and assembled high tunnel greenhouses and now produce a variety of fresh vegetables each season.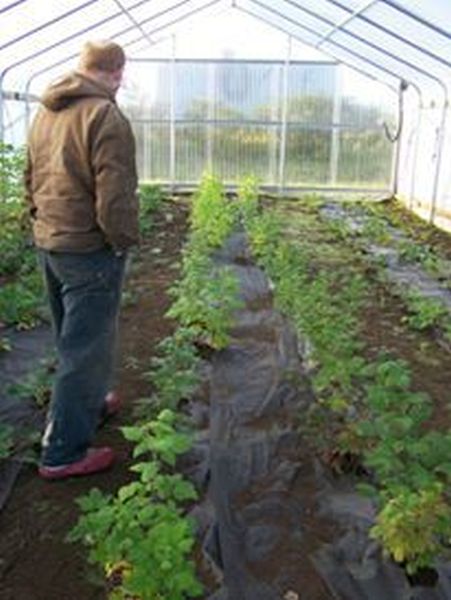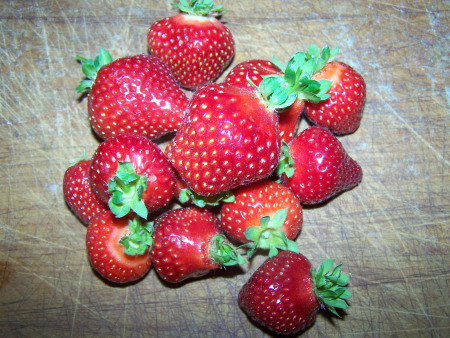 About 50-60 chickens keep them supplied with fresh eggs; extra eggs are sold to happy buyers interested in a fresh commodity so uncommon in remote Alaska.
In recent years, Vic and Rollie built an airstrip on their property to expand into the business of selling aviation fuel for private pilots, hunting and fishing guides, and charter flights.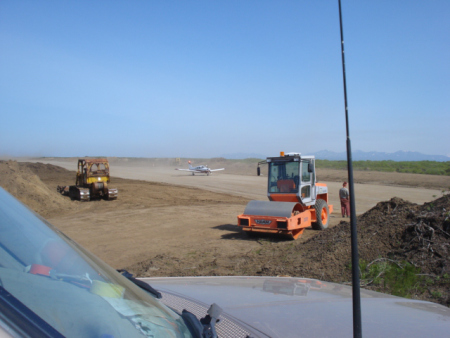 Fresh salmon could now be flown to market on a schedule, no longer limited to selling their catch to unreliable, river-based, fishing tenders that occasionally fill up, leaving the Briggs' stranded.  As the buyers' demands grew for different kinds of fuels, the Briggs decided to buy their own fuel barge so they had a dependable way to resupply their business rather than depend on a random river delivery from a larger, commercial fuel barge. 
Not only did Roland build, repair, install and monitor many different systems and equipment on his own property, but he was for hire to any who needed his skill set, so he traveled a lot! There was never a mechanical item he came in contact with that he didn't know its language.
He was a pilot, a captain, an equipment operator and a character. His heart was made of gold, and he loved to laugh.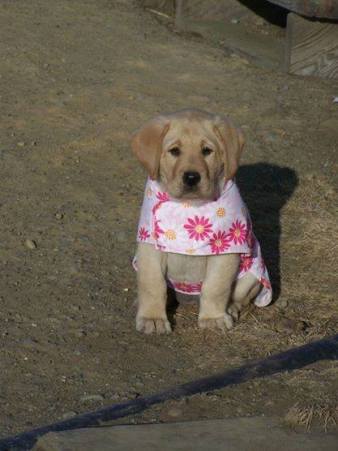 Vic , with some helpers, grew much of their fresh food for home use and their crews, then sold the remainder to regional fishing/hunting lodges and friends. 
Rollie and Vic each had their own talents and work experiences, but they also worked as a team, with Roland sharing his knowledge with Vic whenever he could.
Vic 's goal is to maintain a sustainable life in rural Alaska - which is never an easy task by itself.  Her farm, fishing and fuel businesses support other businesses and pay her crews. Her delicious salmon products get shipped far and wide, sharing the Bristol Bay area's super yummy and healthful bounty far beyond Alaska.
A GoFundMe account has been set up at
https://www.gofundme.com/2cdnh7fw
to give Vic a chance to pick up the pieces to get through her unexpected financial burdens this first year without Rollie.  Besides losing him, she's also suffered serious financial losses in the last several months.  100mph winds in December twisted and collapsed one of her high tunnels - a $20,000 loss. 
The lost fuel remains a $50,000 hit.  The fuel boat itself is a loss.  Several things remain to be done in order to get back to full capacity and continue where they left off as a company last October.  Vic needs our help.  
I would be so very thankful for any financial help, large, small, or in-between -- really, anything helps -- it really does, because together, all of it adds up to help this hardworking, persistent, Alaskan entrepreneur get beyond her losses and move forward with her life.
Thank you!
 Please share, Alaskans especially!
News coverage during the search for Roland:
http://kdlg.org/post/search-efforts-roland-briggs-suspended-saturday-says-coast-guard#stream/0
There is a 3:48 minute audio link, if interested, that was made with an old family friend during the search, talking about his friendship with Roland: "Glen Alsworth shared thoughts Friday about Roland Briggs and the ongoing search. This conversation first aired on KDLG's Bristol Bay and Beyond, listen here."
While inventory lasts:
To thank them, the first twelve donors of $250 or more will receive a Salmon Dip Pack of delicious Alaskan Wild Salmon which includes two 5.5 oz jars of salmon and two 1.5 oz jars of salmon caviar pate, and the recipe for the dip, shipped directly to their door.
To thank them, the first twelve donors of $500 or more will receive a case of twelve jars, 5.5 oz each, of delicious Wild Alaskan Salmon, shipped directly to them. Each jar holds wild-caught salmon, packed in its own juices, only a pinch of natural salt added, in glass, and BPA free.
+ Read More
Update 2
30 months ago
Share
A message from Victoria:

Airplanes Are Due!

A few times a day recently, I have been getting updates on the guides, lodges and other pilots due to arrive for the 'season' which is just around the corner now. This is the season of work, vacations, and adventures for some, and fresh, new bear prints on the beach! Newly sprouting grass and waking bears are both showing up about two weeks earlier than usual this spring.

We are scrambling to overcome setbacks -- some small, some not so small. Fuel needs to be hauled; pumps need new belts and filters. Fuel farm tanks still need preparations before the fuel barge shows up at our beachfront in about three weeks. The airstrip that serves the refueling site needs more compacting improvements; we are waiting for a few good rain showers to cut the dust that is already a problem, so early this spring.

A host of small and large tasks await us as we work through a long list of items, but the days don't stop, and the timelines keep creeping up.

We will update as we can. Feel free to post questions.

+ Read More
Update 1
30 months ago
Share
We have a message from Victoria!

***
Angels Come to Help!!

I have been blessed a number of times by people who have come to help, even when I was out of town dealing with a family health issue. Sweet wives have lent their hubbies for a day or more, and some, like the most recent, have been able to come for a few days. Kids, actually hard-working young adults, have come to help when I first got home, and more blessings keep coming.

The most recent are two helpers from the Kenai area. They are helping me prepare for the fishing and farm crews that will start showing up next week.

We had a plan, actually several plans, to address getting supplies grouped and ready, picking up where others have left off, with getting my solar tracking panel operational after it was wind damaged, and a host of other things.

We are making progress, although getting sidetracked, at times, by fueling equipment issues. Overall, the season is about ready to start.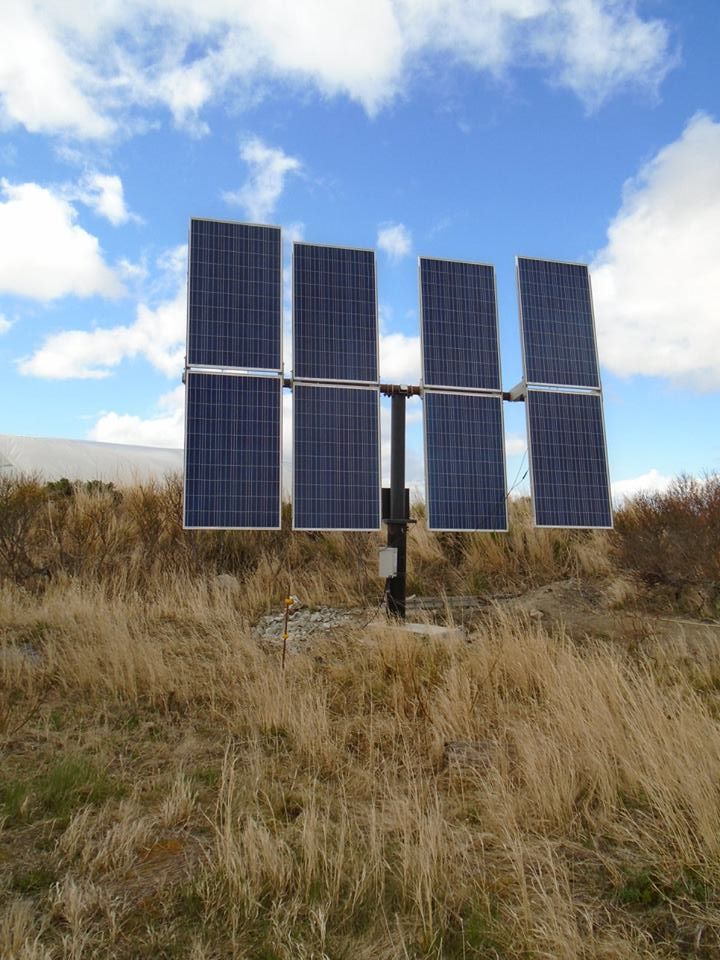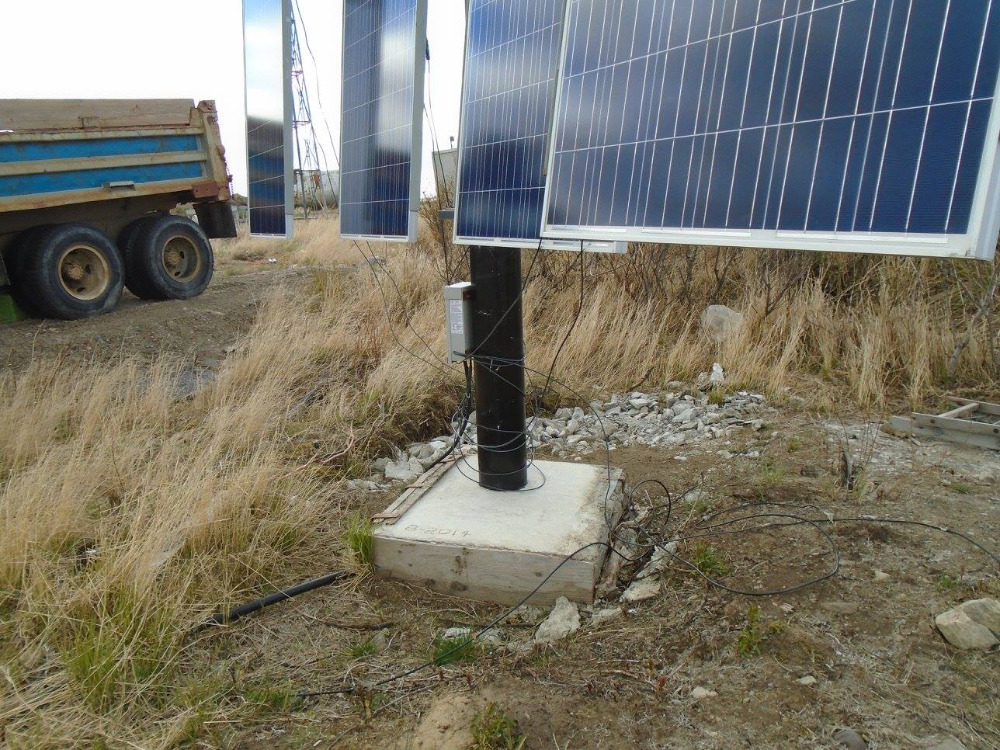 + Read More
Read a Previous Update
I was saddened to learn about the loss of Emorene, Roger and Roland over the years I worked for them in the early 2000's and and even had the pleasure flying with Roland fish spotting and then working on his 32 foot drift boat the Elusive. I will tell you I have never met such wonderful people and the work ethic these amazing people had was unmatched in my experience. I hope the family recovers it would be a shame to lose an Alaskan institution such as the Briggsway fishing company.
+ Read More
It's astounding the harassment from locals that Victoria is getting this fishing season! State troopers have come out to investigate rocks and mud being slipped into fuel tanks, different motors messed with, various needed machine and fishing parts stolen, and more. All this is done to kill her spirit about staying there and fighting for her home and her businesses of refueling planes, farming fresh Alaska Grown produce for sale, and the sockeye salmon fishing season now underway. Locals have even lied to the troopers about her stealing a boat, when in actuality, the owner specifically removed it from that local village and parked it on her property. She is determined to overcome the hardships simply of living her ordinary life, as well as the nastiness of some locals, whose hobby seems to be make her life miserable. So far, so good! Hang in there, Victoria. Keep your eye on the goal of surviving and flourishing, just as Roland would have wanted.
+ Read More