Ennis Family Scholarship Fund Trust
$5,668
of $12,000 goal
Raised by
57
people in 45 months
This is my beloved, to whom I pledged my undying love until death do us part.
As it happens, we have been apart two years. 
And now, she has passed away after a brave battle with cancer. 
My family needs your help.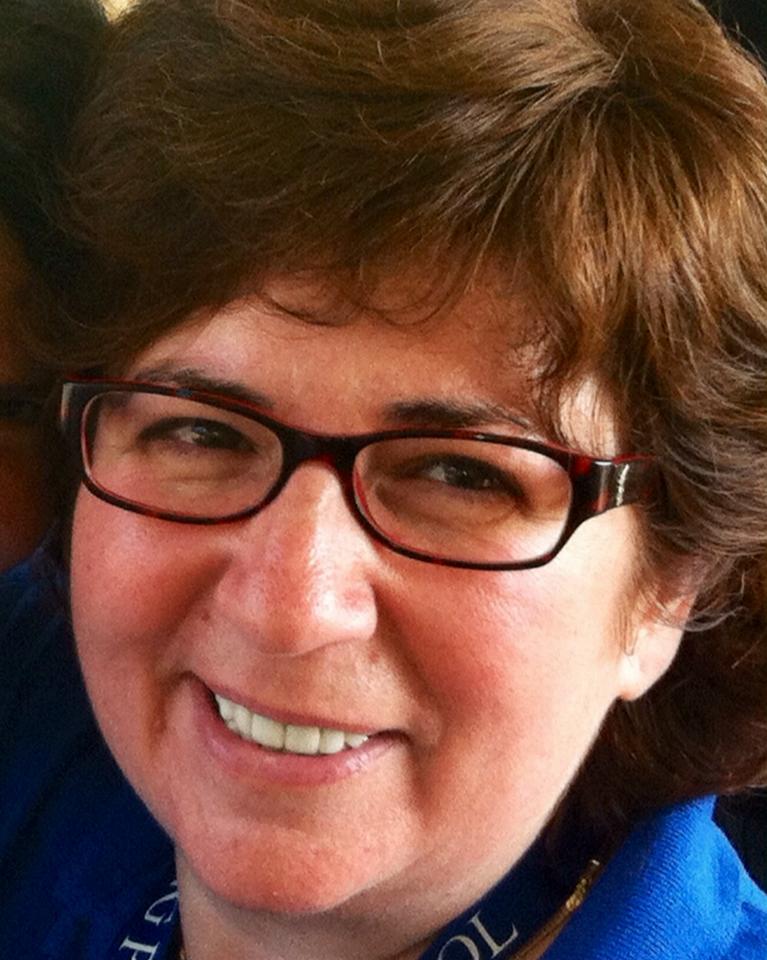 I first met Wendy Robin Lachs 30 years ago this September. We became college sweethearts, then we fell in love. We were each other's first love.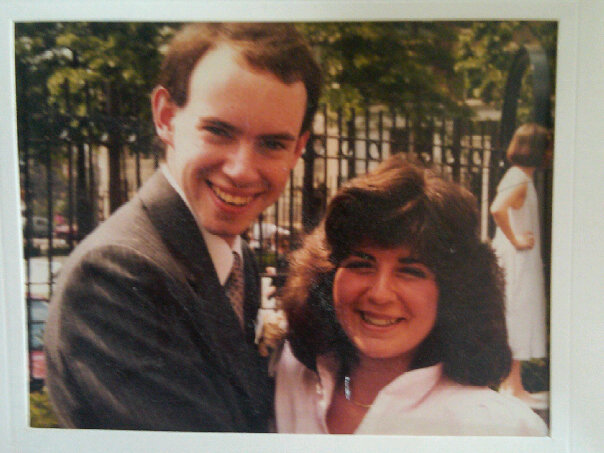 Upon graduation, I broke her heart by ending our romance. That was the first time my name changed.  
I went from "Don" to being known as "Slime" among her family and friends. And I guess I deserved it.
But you know what's interesting about slime? It never ever really goes away, no matter how hard you try.
Just like love.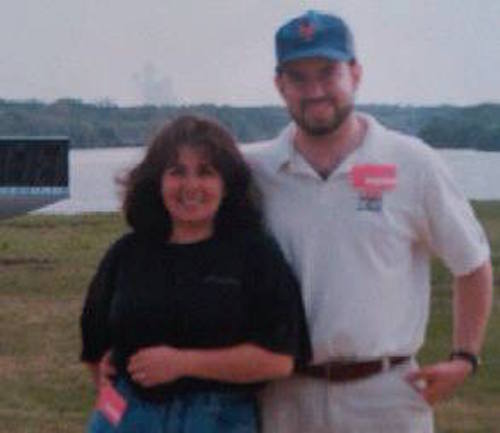 A decade after we first met, we found each other again.
We fell in love all over again, and this time, it stuck. 
She said yes. Ten years after we split up, we wed.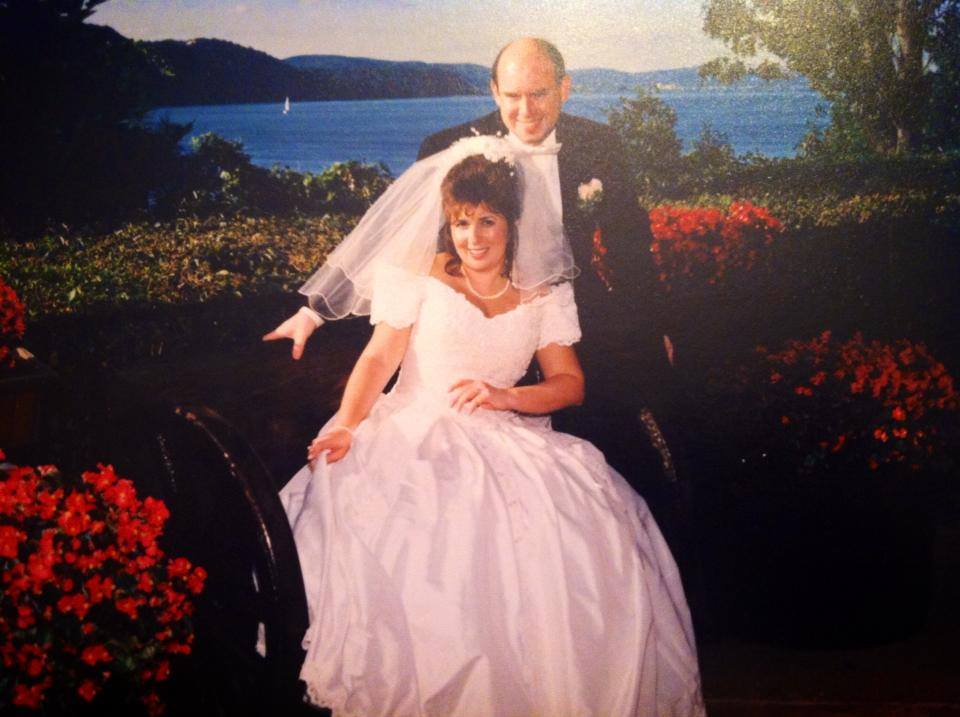 It was and remains the happiest day of my life.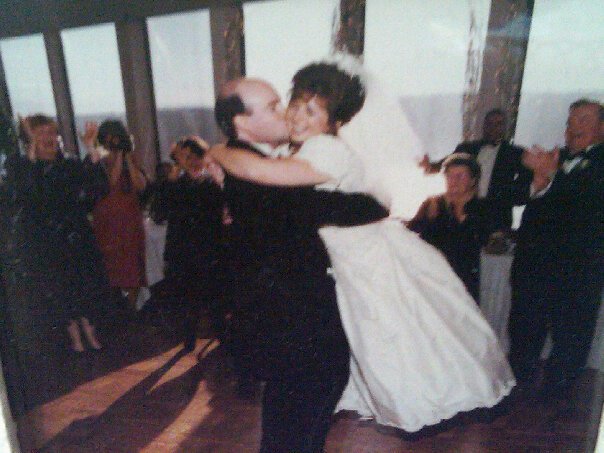 She was and still is the most beautiful woman I know.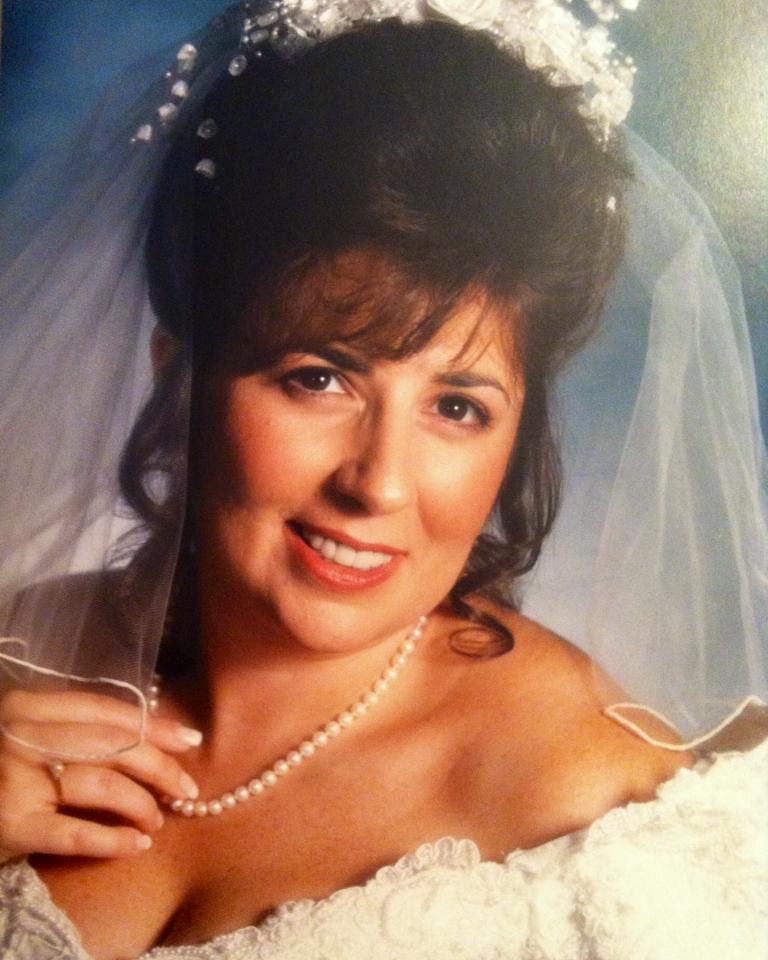 Within weeks of the birth of our first born, she survived a cancer scare, and we counted our blessings. Now we have three children: Sean, Sophie and Liam. 
Wendy dubbed them our first, second and LAST child. Sean is 17 and driving, Sophie is 13, and our Cub Scout, Liam, is 9. 
They are wonderful, compassionate and smart kids, and we are very proud. I say that the best of everything I've produced in 30 years of TV news, are my children. When their mom got sick they stepped up around the house and helped out tremendously as things at home changed.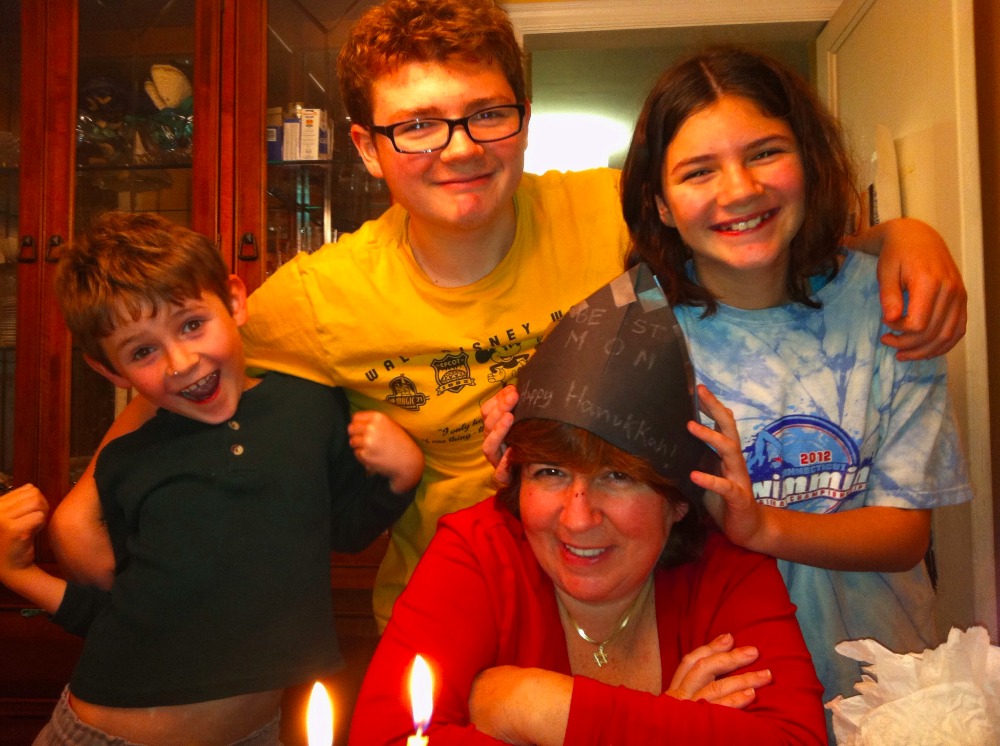 I was not there with them because of how I've changed. 
I am transgender. My transition in 2013 broke Wendy's heart a second time. Not because she could not accept me, but because I was not honest with her, or myself, about what I needed to do to live authentically. The children have been tremendous, loving and have adapted well. 
Transition was hard. 
Separation has been stomach-wrenching.
Cancer is the greatest challenge we as a family have faced, and we fought it together as hard as we could. 
But the energy and time that Wendy needed to rest and to live a normal life was chipped away by the constant drumbeat of bills arriving in the mail, stacking up unpaid, the notices that our family's Health Spending Account was tapped-out because of the expensive medications she needed and we couldn't afford, the collector calls ringing every hour filling up our answering machine and cellphone voicemail boxes. The stress alone of our financial crisis was taking a toll on Wendy's strength, as she worried constantly about how we will provide for our children. 
We wound up in this position after my transition cost me my six-figure broadcasting career. We lived expecting that salary would never go away and lived beyond our means. Our rainy day fund was sufficient for a shower, not a tsunami. The upheaval that followed left me unemployed, my reputation in tatters, wiped out our savings, zapped our chldren's college funds, turned our credit to crud, emptied our 401ks at considerable expense thanks to hefty fees, we got audited and we nearly lost our home to foreclosure. Thanks to the generosity of Wendy's family and our friends and our neighbors, and some skillful negotiating with our credtors, we survived until I finally found a job. Even though it was all the way across the country, I leaped at the chance to provide for my family again, against Wendy's advice. 
It was this past March, and we were all living under one roof again, and getting along, and we agreed the kids need their father, even a transgender one.
But after barely scraping by last summer, I knew without a steady income we would be in trouble this summer, and nobody else was offering me a chance to prove I could be a journalist again. 
I took the job even though it paid 25% of what I used to earn, and I applied for part-time jobs all over town, at retail stores, at fast food restaurants, and of course, at television stations. No one would hire me unless I could work 40 hours -- part-time -- and with a demanding full-time job like mine I couldn't make that commitment. So, I scrimped and I saved. I gave up my car, and I walked to work when I could, to save the $1 bus fare. I collected cans and bottles to save enough money to buy food, and whatever I have left, I sent home to support my famly, since Wendy didn't earn a paycheck over the summer. 
I love my job, and my bosses have been more than understanding, and my coworkers more than generous in tolerating me as I struggled with stress beyond what I can handle. It was so soul-crushing this news, because I moved to Los Angeles with the hope of buildng something up from zero, for me to move on with my life and for Wendy to find herself, too, and perhaps find love. She wouldn't be the first person to fall out of love after a spouse's gender transition. All I wanted is for her to be happy, and to keep our kids from hurting because of our split. Yes, we fought, but we remained friends, after a rocky struggle that led to her filing for divorce just before I left for the West Coast. I have tried to move on, yet I hope the truth is obvious: I never stopped loving this woman with all my heart and soul. 
For a long time she was a single mother, and I was 2,907 miles away, I could not do enough to help my family. Wendy went to chemo every other week, seven times, and required iron infusions the weeks in between.
But she lost so much ability to hold down food following cancer surgery in the fall of 2015 that she weakened, lost weight, and the chemo became too arduous. Ultimately, and very unexpectedly, she went into shock and within hours she slipped away, on January 20, 2016, one week before her birthday, surrounded by her children and her family and friends. 
Sadly, it was Wendy's wish that they not know her prognosis had changed and that the cancer had spread. This news came as a shock to them, and to almost everyone. She had just weeks before returned to work, which was a psychological boost but it took a terrible physical toll. And her last weeks were so unendingly painful that as much as we all miss her and wish for a different outcome, it is a blessing that at least she no longer suffers. 
I have moved back home and given up my job and my career. Thank goodness for our neighbors and friends who have pitched in with meals and prayers and rides and tons of support.  
It seems like yesterday that Wendy and I talked via FaceTime about how to stretch the pennies and coins we collect until the next payday at the end of the month, I recalled a story I reported: 
A newlywed couple in New Mexico set up a "GoFundMe" account to raise money for their cause.
And I recalled that early this morning I recommended that a facebook friend looking for help in a nasty divorce case set up a "GoFundMe" account to get herself a lawyer. 
That's when I decided it was time I set one up for Wendy and the kids, with her permission. But because our privacy has been invaded by the media so many times since 2013, I did not reveal any details about Wendy's cancer, or her prognosis, or any medical information. She did not want to give interviews, and we did not consent to the use of photographs of our children or Wendy, here or anywhere online, for any purpose whatsoever. Leave us some dignity, please.
I am not so proud that I will not beg to help my family.  I once found myself trying to justify the money I spent on airfare to be at my daughter's side for her most important day, her Bat Mitzvah, and to take my little boy to a ballgame and to go fishing, and to give my firstborn a hug that is long overdue. Seeing them every day on FaceTime and talking via text messages and phone calls are poor substitutes for a hug from our brave young man, my beautiful girl and the little guy.  A transcontinental plane trip once a month for just a weekend is a significant expense, but I needed it for my own mental health, too. The loneliness and the great distance between us — especially when that terrible day came —are my crosses to bear for life. 
We have been blessed to receive generous loans and gifts from so many who have graciously offered to let us repay them when we are back on our feet; we cannot ask you who have already given so much to give again, and you have our eternal thanks. Some of my wonderful cousins and all of Wendy's family likewise has been more than generous both financially and in lending their time and assistance. 
Now Wendy's industrious brother Robert has done his homework and we're ready to transition what was Wendy's Fund into the Ennis Family Scholarship Trust. Every penny raised here will go to the kids, through Robert. Scroll down to the end to learn of a way you can contribute to the trust and the children directly without donating online.
This is not for me. I never took a penny to support my transtion, my rent or for my sustenance, nor will I, as my dreams will wait. The money donated here will go directly to the children's accounts. 
This fund was established so our children could have a life free of worry and not spend every day watching their mother keel over from the pain of chemo, which helped her and yet hurt her, and the medications which rendered her unconcsious for hours at a time. This was created so Wendy could concentrate on getting well and not worry that the power will be turned off. This came to be so Sophie could have one last summer camp experience and the Bat Mitzvah she dreamed of. All Liam wanted is for me to be by his side, take him places and buy him ice cream. Our Sean, ever so strong, got himself a lifeguard job, and became the man of the house at the tender age of 16. Now he's 17, his sister 13 and Liam is 9. This fund is now dedicated to their future.
If I could have, I would have never left them. If I could have, I would still be that man Wendy married. But I am who I am, and that is still their father, and the person who loves Wendy more than life itself.
Any and every contribution has been and will be appreciated. Thank you from the bottom of my heart, and for allowing me to share our story with you. If nothing else, please pray or think good thoughts or tell someone you love them, in Wendy's name, because I do believe that good comes from good, and right now, it's our children who need it desperately. 
Thank you.
Sincerely,
Dawn Ennis 
July 18, 2015
Revised February 12, 2016
PS My first and foremost concern is, as always, to secure our children's future, and this is how you can help me accomplish that goal. But if you prefer to not donate online, since GoFundMe takes a chunk out of every donation, please send a check payable to: "Ennis Family Scholarship Fund Trust," to Wendy's brother:
Robert Lachs
1729 E Prairie Ave
Wheaton, IL 60137
Thank you!
+ Read More