Teaching Sewing in Zambian Village
$9,691
of $12,000 goal
Raised by
106
people in 31 months
I am honored to have been recently invited by
Simwatachela Sustainable Agricultrual and Arts Program
  to teach sewing workshops to village women in Zambia this summer and I need your help to make this happen!  
My name is Carrie.  I am the owner of 
Fabric Horse
, a women owned and operated small business sewing handcrafted & quality bags, utitlity belts, and accessories in our shop in Philadelphia.
If we can reach our inital goal of $6,000 for all our workshop supplies/materials and travel expenses we would love to raise an additional $6,000 for SSAAP to dig a new well and bring more water to the village. Our total fundraising goal is at $12,000, but first things first... 
 Any
donation is greatly appreciated and
no amount is too small!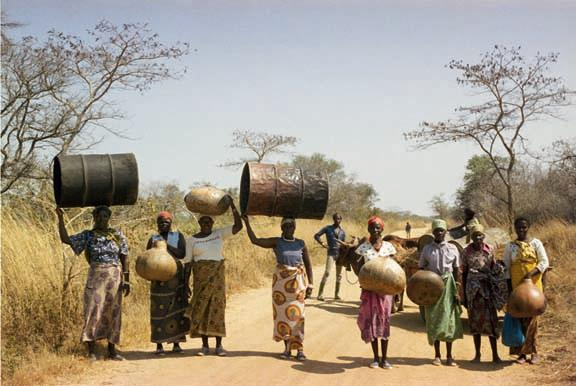 SSAAP is a non-profit organization based in Zambia and Sierra Leone.  My trip to Zambia this summer is completely volunteer based and needs to be 100% financed.  Fabric Horse has always stood for empowerment of individuals who are disempowered and has often used sewing as the vehicle to do this.  Having mentored many young women throughout my career I believe whole heartedly in empowering women.  It is a big piece of the activism I personally participate in, not just professionally but in other realms as well.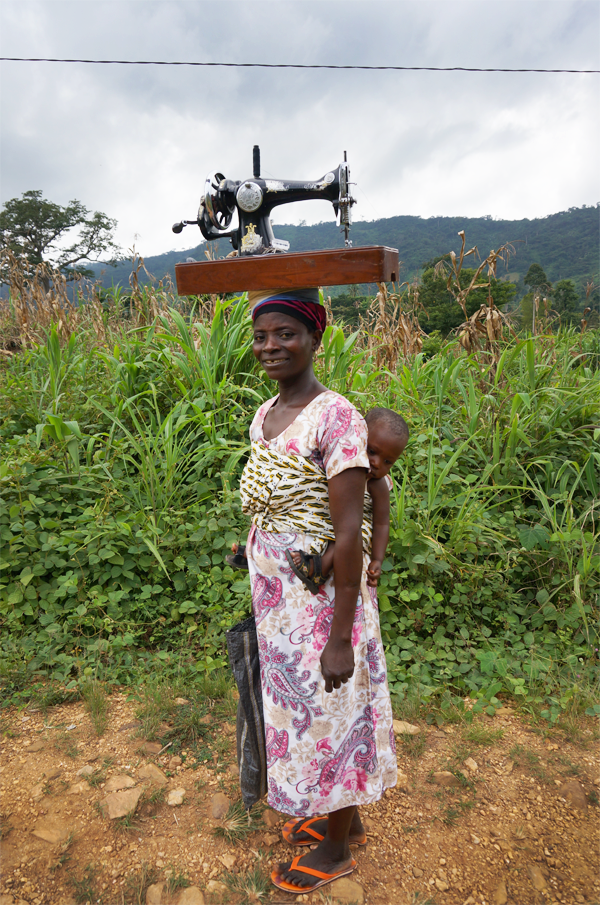 This project is so important to me personally, not just thinking on a global scale, but it hits home.  I was taught to sew by my mother when I was 9 years old.  She was taught by my grandmother, and she her mother... This skill has brought me great success not only as a creative individual but it has helped to carve me into a strong, independent and empowered woman.  
That is priceless.  
If we can inspire one woman to take on something for herself, or for her children, then it is a success!  The thing is, it's not just a workshop for one or even 20 women . . . we have been told to expect anywhere from
150 - 400
women to show up for these workshops.  The word has spread, and skills are needed.  
Experience

We have led many sewing workshops over the years in partnership with community based organizations to college universities to sewing cooperatives in Jamaica.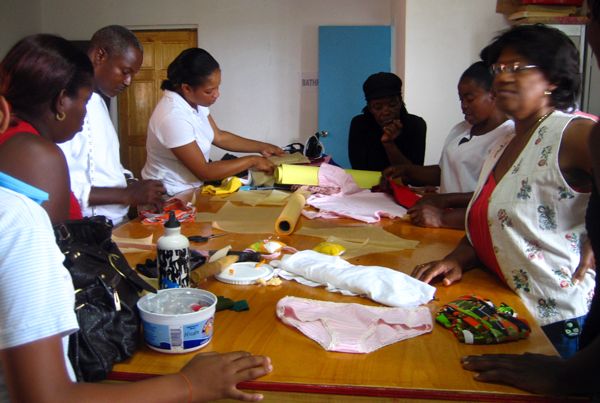 In 2009 I was invited by The Source Farm Ecovillage  in John's Town, Jamaica to lead skill building workshops to a women's sewing cooperative.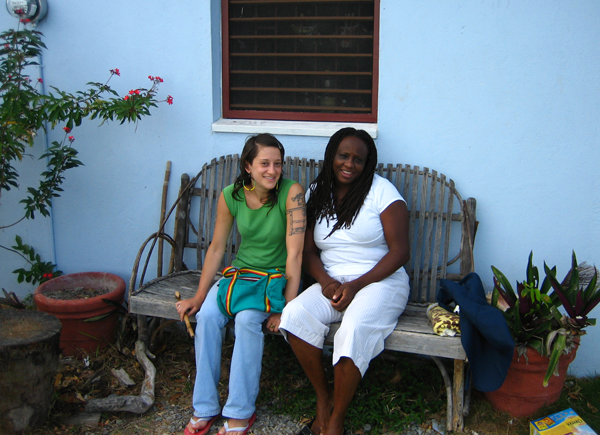 While I was there the women learned how to make tote bags, duffle bags, and simple backpacks.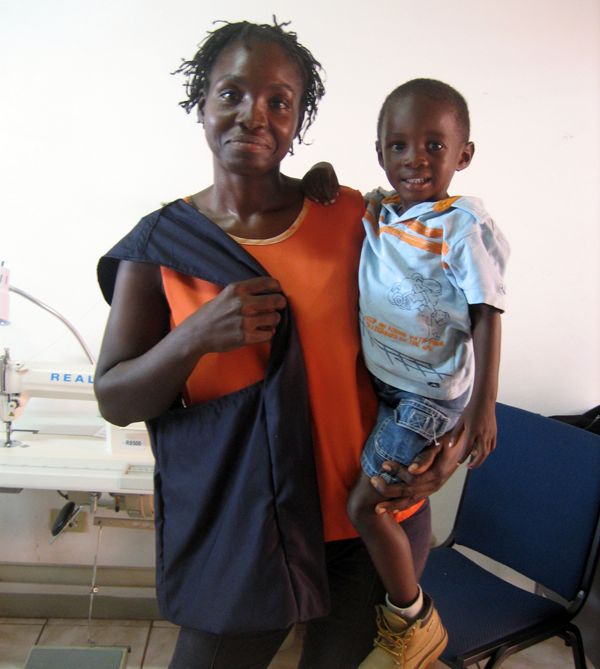 Other workshops focused on turning
 t-shirts into underwear
and making
reusable pantiliners
.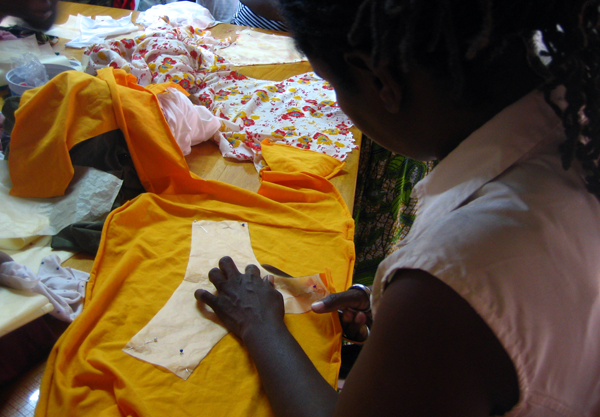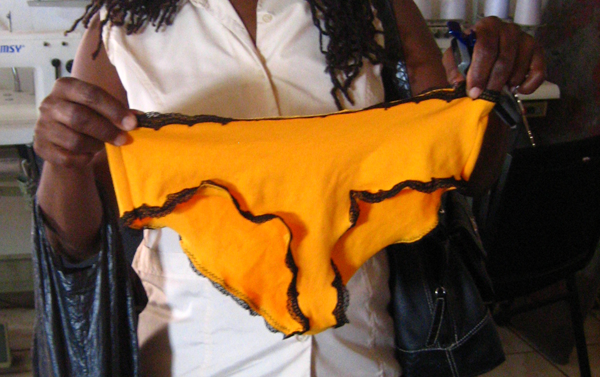 . . . which was really fun to sit in a group of women giggling about making undergarments.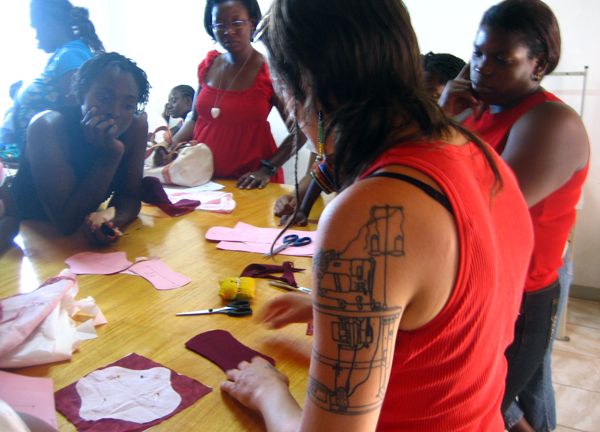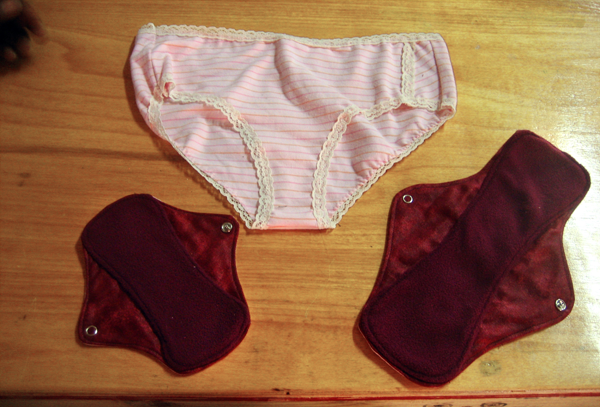 What is exciting for me is since I was there 7 years ago, the group of women have gained even more skills and have further organized themselves as the
Daughters of Indigo
 and have made several larger orders of tote bags, yogo bags, and naturally dyed fabrics. 
This is
proof that skill building workshops are successful
and over time people will grow into new possibilities for themselves.
What is possible in Simwatachela?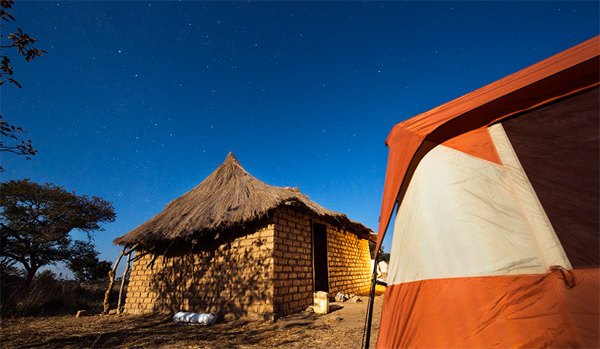 The environment in the village is very different from other places we have led workshops, or lived for that matter.  There is no running water or electricity.  This means that the workshops will be strictly hand sewing, which provides an interesting challenge.  I am so accustomed to having my collection of industrial sewing machines to whip up anything I need that I personally do not do much hand sewing unless it is to close up a seam or for mending.  I am excited by the challenge!
Because the people in the village do not have much, learning skills like sewing is a matter of sustainability, not merely creativity.  There is not enough access to water, barely enough food to feed their children, or school clothes for them to wear.
Learning and honing their skills of sewing, one can make and mend clothes for themselves and their family.  If so inclined, one could also make items to sell at market, in turn making money to buy food and pay school tuition.
SSAAP's main goal is to bring access to water to the villages by digging wells and installing hand pumps.  They also spearhead community farming and raise community goats. 
Our goal:
$6,000 -  expenses and materials for the trip and workshops.  
$6,000 - to dig a new well and bring more access to water.
Donate  Supplies!
If you would like to
donate your own scissors, pins, needles, thimbles, and/or tape measures
we are happy to accept those as well.  Please, we do ask that the scissors you send are sharp enough to cut fabric.  If my mother taught me anything it was how to protect the sharpness of your fabric scissors with your life.  So, if your used scissors do not cut well through fabric we ask that you kindly not send them to us, or better yet have them sharpened before you mail them.  We are very happy to have used items to take to Zambia!  
Please mail to:
Fabric Horse
1737 E Passyunk Ave
Philadelphia, PA 19148
Please no fabric or thread donations. 

We want to provide a sustainable skill that can be supplied locally.  A person can have scissors and pins their whole life, but fabric and thread are consumables.  I will be purchasing thread and fabric when I arrive in Lusaka before heading to the village, this way we are only suppling that which can be locally found.
Very special thank you's goes out to:
Video/Animation: created by the talented Ted Passon of 
All Ages Productions
Map Design: 
Lou Tumolo & Everybody
Music: 
Sun Airway
  and Women's choir at Merwe Reformed Church in Zambia, Petauke Zambia - Recorded by: Tasila
Rewards

We have set up a bunch of great stuff as rewards for donating and just being awesome.  We designed a few
NEW
limited edition
items that will be handmade by us just for you. 
We have taken our tried and true
Bifold Wallet
 and made it with beautiful African print textiles.  A small batch will be made only for this project.  We have several different patterns and you will recieve one of them that we randomly choose for you.  If you have a request for one inparticular we will do our best to send it to you.  Supply is limited.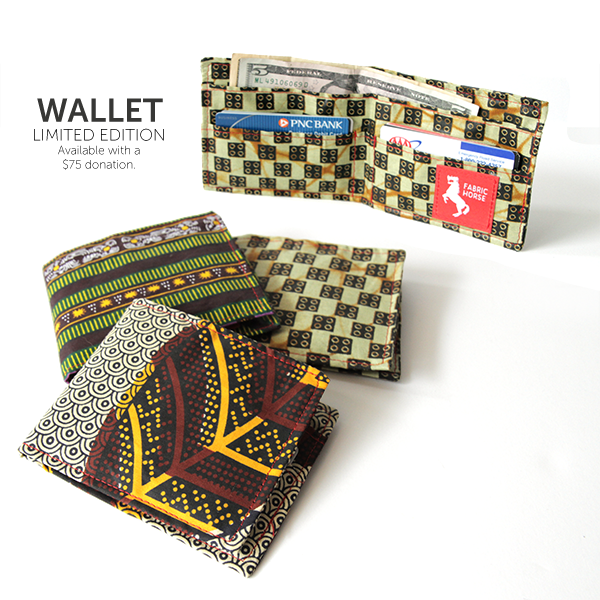 Our new Duffle!  A simple yet very functional duffle bag, originially designed as a kung fu duffle bag and reworked with different materials as a
limited edition
just for this campaign.  Made from black waxed canvas, YKK zipper, and reclaimed army surplus heavy duty straps.  Comes with a black removeable shoulder strap.  This guy is a great carry on sized bag!
 Dimensions 19 x 9 x 9
Our new Duffle Luxe!  Is larger than the Duffle and has lots more pockets available, inside and on the exterior.  Made from black waxed canvas, YKK nylon zipper, and our
limited edition
reclaimed army surplus heavy duty straps.  Comes with a black removeable shoulder strap.  Great for traveling and for use as a weekender!
Dimensions 22 x 12 x 11
+ Read More