7
6
Help Fund Mu Delta Alpha
$500
of $2,000 goal
Raised by
7
people in 13 months
Our Story


Mu Delta Alpha, also known as Muslimahs for Change, is the first collegiate Muslim sorority in the United States. Our efforts to achieve professionalism and agency as young Muslim women are woven intricately with core Islamic values and traditions. Our organization couples 21st-century women, hailing from various walks of life, with the ethics of our Islam to teach us to be both ambassadors of our faith and agents of change in the professional world. We are working diligently to make the first collegiate Muslim sorority a reality for all who believe in the power of sisterhood and for those who are willing to give it their all. We are delighted to share this dream of ours with you!
Who We Are


The sisters of Mu Delta Alpha strive to serve our communities while promoting sisterhood, civic engagement, professionalism, and lifelong friendships with our Muslim and non-Muslim sisters. We aim to instill positive values and ideals derived from the Quran and Sunnah to help young Muslim women move forward in their professional environment without compromising their Islamic identity.
The organization promotes young women to connect with professionals who overcame their struggles and found success in their passions.
We aim to unite with other Muslim women who are growing personally and professionally, and inshAllah.
We hope to see all our members achieve their professional and spiritual goals, and pray that each of our members are able to take the legacy we hold and keep our dream going. InshAllah, this ripple of change will create waves of personal, professional and spiritual progress for ourselves, our sisters, and our society.
Our Work


We are dedicated to empowering the minds of young women through education, and we are also devoted to the success and prosperity of our community. A few of the services we provide our members and the community are:
- Hosting professional speaker series each semester;
- Arranging professional and social networking opportunities;
- Offering a leadership retreat each summer;
- Raising awareness about Islam in partnership with Why Islam, and;
- Organizing and hosting the annual Young Muslimah Summit, aimed at Muslim girls from ages 9 to 15.
Our Core Values

- Sisterhood
- Mutual Support
- Professionalism
- Leadership
 -Appreciation for Education
- Diversity
- Respect
Our Mission

To encourage Muslim women to achieve their highest potential in all careers, life stages, and paths, and to expand the image of Muslim women as a positive force in improving their environments, and to demonstrate the value of diversity while holding on to one's identity.

Our Dream


To inspire, empower, and encourage our members to be agents of change in their homes, schools, communities and the world!


2nd Annual Young Muslimah Summit


The young women of Mu Delta Alpha wanted to take their experiences and lessons learned and help those who could benefit from the example of their own successes and shortcomings. This is how the idea of the Young Muslimah Summit was born.

There are far too many girls in our community, a group that is growing exponentially, who face issues that are in many ways parallel to what we have seen ourselves in our own journeys.
For instance, many young Muslim girls today deal with discrimination due to colorism, weight, appearance, and unfortunately so much more. We have witnessed such a great dissonance between the older generation of women and these young girls, making it difficult for them to reach out for help.
That is why the sisters of Mu Delta Alpha decided to step up and become mentors for younger girls facing these adversities.
Our presence is vital to upcoming generations of young Muslimahs.
As our sisters were growing up, they fell witness to the lack of Muslim women in positions of authority that they could look up to.
Thus, the sisters of Mu Delta Alpha strive to serve as role models for future generations of Muslimahs so that they have someone to emulate.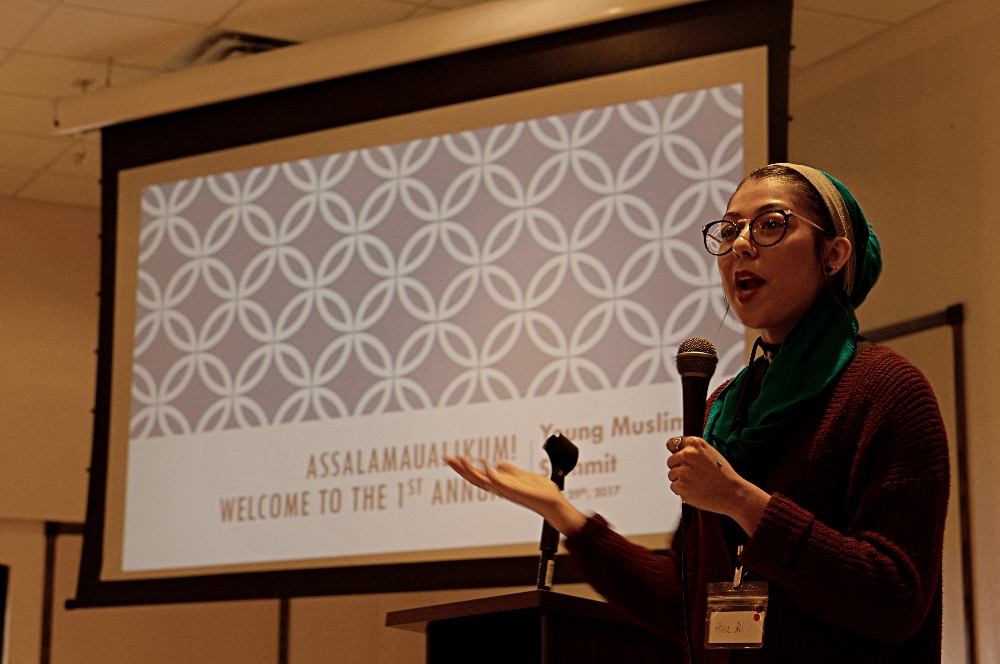 By the grace of God and the support of our community, we had 150 girls register and participate in the Young Muslimah Summit 2017. We arranged for six professional speakers to give lectures, presenting on a variety of topics including online bullying, self-esteem and confidence, leadership, and peer pressure. 
Please donate and support Mu Delta Alpha, as we hope to provide even more resources and interactive workshops at the next Young Muslimah Summit in March 2018. We hope to understand these issues on a deeper level so that we may improve our efforts and provide realistic solutions to a very real problem. However, we need your support through donations, which will go in the success of this event.
How Can You Help?


You can help us by donating to Mu Delta Alpha so that we can collect enough funds for the successful functioning of this organization. This organization seeks to find strong minded, tough-willed, and influential girls to bring them together and make change. We aim to accomplish not only our career goals, but community goals. Mu Delta Alpha will ensure that any academic or career aspirations are fostered and seen through. Mu Delta Alpha creates leaders, thinkers, and influencers. Nonetheless, with all these characteristics, we take them back to the young girls in our community to empower their growth.


Media Links: 
UT'S FIRST MUSLIM SORORITY HOPES TO INSPIRE LEADERSHIP - TEXAS TRIBUNE - NADIA HAMDAN, KUT NEWS - OCTOBER 17, 2017
FIRST MUSLIM SORORITY AT UT STARTS RUSH WEEK - ALYSSA GOARD, KXAN.COM - SEPTEMBER 19, 2017
FIRST PROFESSIONAL MUSLIM SORORITY OPENS CHAPTER ON CAMPUS - TEHREEM SHAHAB - THE DAILY TEXAN - SEPTEMBER 19, 2017
FIRST MUSLIM SORORITY BRINGS CHAPTER TO UT AUSTIN - ERIN JONES, KVUE - SEPTEMBER 24, 2017
ALCALDE DOCS | MU DELTA ALPHA
Contact us:
mudeltaalpha@mudeltaalpha.org
OR
visit our website
for more information about our organization:
https://www.
mudeltaalpha.org
Facebook:

https://www.facebook.com/mudeltaalpha/
Instagram: @mudeltaalpha

Twitter: @mudeltaalpha
+ Read More
Update 1
12 months ago
Share
salam( Peace) to all of you, we have a long way to reach our goal. Every cent goes to our amazing work that we do. Every resource helps us, we are going to open 2 more chapters next year Insha-Allah( God willing) we will be having our summit, our leadership retreat we need your support to make this happen.
+ Read More