Team Hoyt Arizona
$5,453
of $10,000 goal
Raised by
16
people in 28 months
Have you ever competed in a race...maybe a 5k, or 10k or even an Ironman! Either way there is a special feeling that comes over your body, mind and spirit when competing with others and crossing the finish line. I have had the opportunity to compete with my amazing wife, AJ, and my best man Demetrius in many races.  Some races I felt strong and had a great time...another race I pushed myself further than I ever had and was able to finish but ended up in the medical tent receiving 2 IV's. Even when the race did not go well I was still capable of racing and looking forward to the next race. Now imagine that you could never get that feeling again or were never able to from the beginning.

When I made a career change into Real Estate I saw it as an opportunity to be more involved in the community. I spoke with different organizations around Tucson and it was not until I met Denise and Steve King and heard about Lucas that it finally hit me…I could race and help raise funds so kids in our community could get that same feeling of racing. I realized I could share my passion with those that might not have been able to in the past but will be able to in the future. The first time I road with Steve he told me how Lucas laughs when going over bumps in his chair and I knew right then that I could help others experience the same.

There is nothing better to waking up with a bigger purpose each and every day. I want kids to enjoy those moments of competing and would love your help in raising funds for Team Hoyt AZ. Now, I would not ask to raise money if I were not willing to donate myself which is why I will be taking a % of EVERY real estate transaction and donating it Team Hoyt AZ. With your donation we can travel together through this journey and bring a smile or laughter to each child's face. Help me create these memories and donate to Team Hoyt AZ!


Team Lucas
Lucas King, the son of Steve and Denise King, was born in Tucson in 2007. Steve and Denise were very excited to bring Lucas into the world, and had made a lot of plans together for his future.

Life is not simple for Lucas, and he was born ten weeks early with the umbilical cord around his neck, injuring him. None of us can possibly imagine how that changed Steve's and Denise's lives unless we have been through it ourselves as parents.

At nine years old, Lucas is strong and his family is joyful. To hear them talk about it today inspires courage, happiness, and self-reflection. They have moved beyond Lucas' disabilities to live an amazing life together with him.

Lucas' parents are both athletes, and Lucas loves participating in sports. Basketball, football, baseball, running, cycling – he loves it all! The rougher, the better!

Anytime Steve went running, he'd always take Lucas and push him in the stroller. Lucas loved it, and when they hit bumps he would crack up laughing hysterically. Having seen how much Lucas enjoyed running in his stroller, Denise and Steve became very involved in the wheelchair athletics community.

Steve and Denise had an inspiring story with a powerful message. "Why can't Lucas take part in this activity?" They became nonprofit activists and devoted enormous energy to public charity activism focused on inclusion.

By rallying more and more volunteers behind the cause of inclusion, Steve and Denise were inspiring people to action. It was time to get organized!

Founding Team Hoyt Arizona

A new nonprofit organization with its own all-inclusive message was emerging. The Kings were friends with their heroes Rick and Dick Hoyt, and when they spoke about their organization with them Mr. Hoyt offered them the use of their name. This was a true honor for our organization because of what he and Rick had started.

Steve and Denise put together a Board of Directors and in March, 2016 founded Team Hoyt Arizona. In April the IRS determined our 501 (c) (3) nonprofit to be a qualified public charity and granted us tax exempt status.

We've already participated in races in Arizona and Massachusetts, and our calendar has a full race season planned!
+ Read More
Update 1
Posted by Grant Bruce
27 months ago
Share
What a great experience competing in my first race with Allen Jr! Can't wait to race more this season with such an awesome team!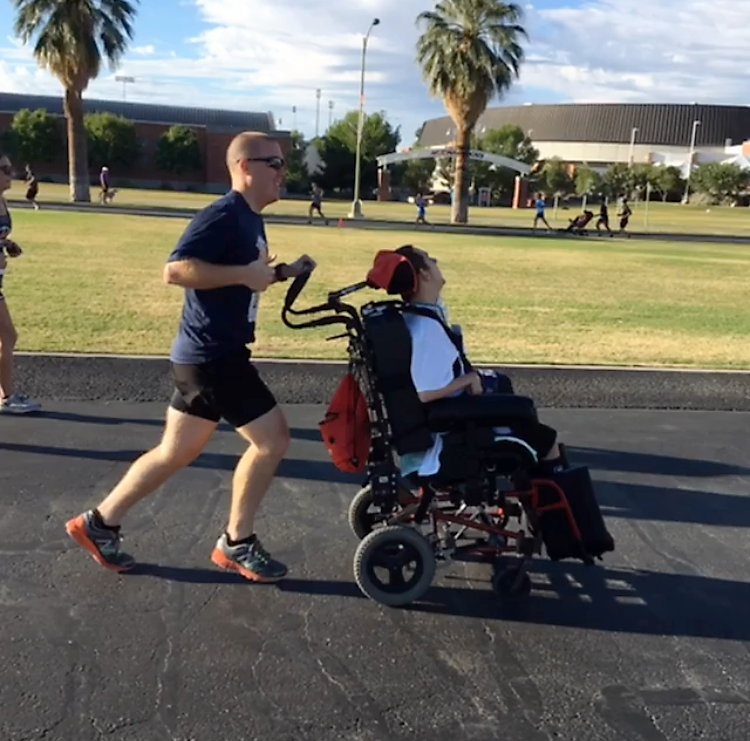 + Read More
Be the first to leave a comment on this campaign.