Nomadic Tents Film Project
$9,875
of $9,500 goal
Goal Reached!
-------Please check out
www.nomadictentsfilmproject.org
to see what this campaign has turned into. Thanks for your support!------
My name is Kevin Nielsen and I'm a barista in Washington State. In my spare time I study and teach traditional living skills. I'm making a Gofundme today because
I've been invited to go on a trip to visit the Nenets reindeer herders on the Yamal peninsula
on the far north edge of Siberia.  I want to go there to learn more about the traditional reindeer-skin tents of the reindeer herders that live there,
make a short film about their tents
, and put together a short book as well, but I need your help! Keep reading...
(The Yamal Peninsula is shown in red)
About The Nenets People:
--------------------------------------------
       The Nenets are a culture of nomadic reindeer herders who live in the Yamal peninsula area of northern siberia. They traditionally live in tents made of reindeer skin,  and travel on sleds pulled behind reindeer.  The tent is known as a chum (pronounced "choom").
       Reindeer is one of their main foods, and much of their clothing is made of reindeer skin. They migrate to the north in the spring and return to the south in the fall, to ensure access to good pasture for their herds.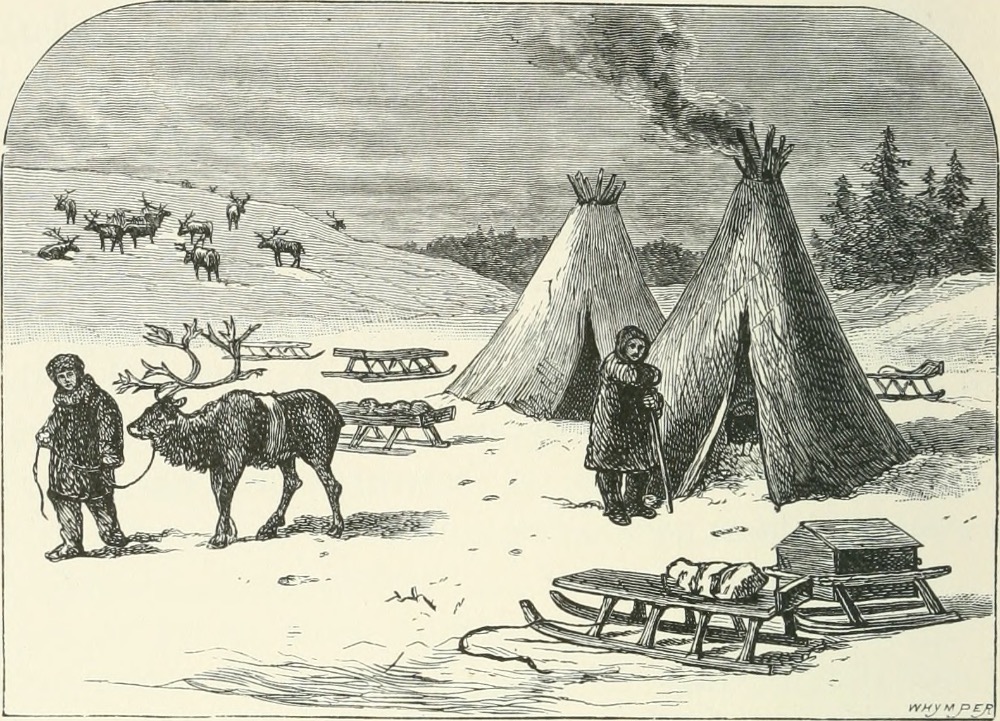 Historic woodcut (because all the modern photos I can find are copyrighted!)
The Idea:
---------------------------------------------
       I would like to learn and document as much information as possible about the chum tent.
How it's made, how the reindeer skins are processed, what's used to sew it, what stitches are used, how the pattern is created, what wood is used, how the wood is prepared, how it's set up, how it's packed for travel, etc.
I will make this into a short documentary film to be shared online
for anyone interested in learning more about these amazing structures. I will also make a pamphlet with the compiled info and still photos and make it available online.
         I will also try to learn about and photograph other traditional skills and crafts as much as is possible.
Background and Qualifications:
---------------------------------------------------
        I've been fascinated by traditional nomadic people for most of my life. I've also been semi-nomadic for much of my life, traveling and working seasonal farm and orchard jobs across the west.
I've spent years living in various traditional tents
including a year in a tipi in Arizona, a year in a canvas wall tent in California, and two years in a yurt that I made from scratch, using raw maple poles I cut in the forest. I've also had the privilege of visiting a bedouin tent in the desert in Syria.
I believe that puts me in a good position to explore the reindeer skin "chum" tent of the Nenets, as
i already have a solid understanding of nomadic tents and tent life.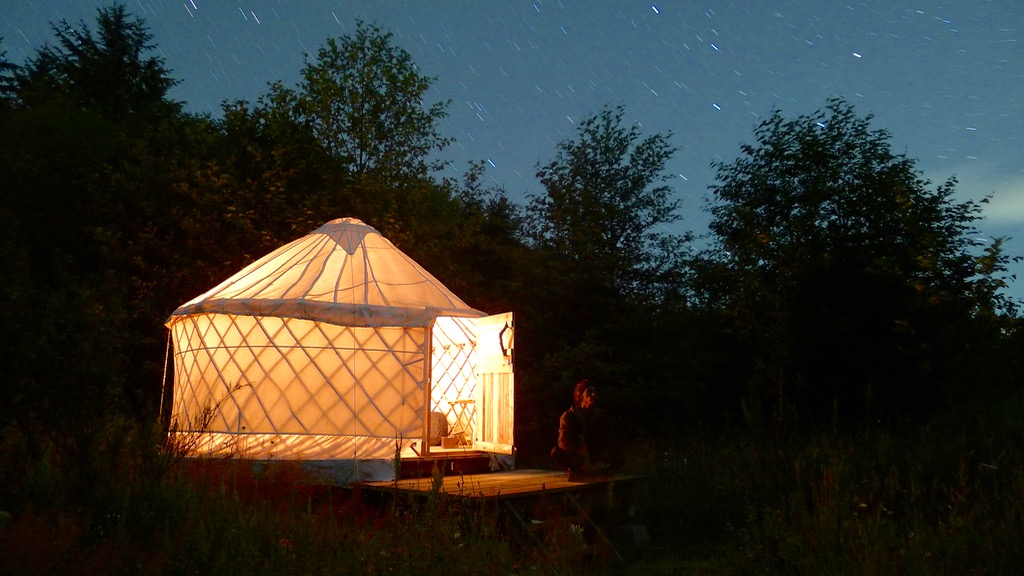 (This photo is the yurt I built)
Additionally I've been studying and practicing  traditional, organic leather tanning for over 10 years (and teaching classes about leather tanning for over 5 years) which will also help me to understand as much as possible about the preparation of the reindeer skins used to make the chum tent.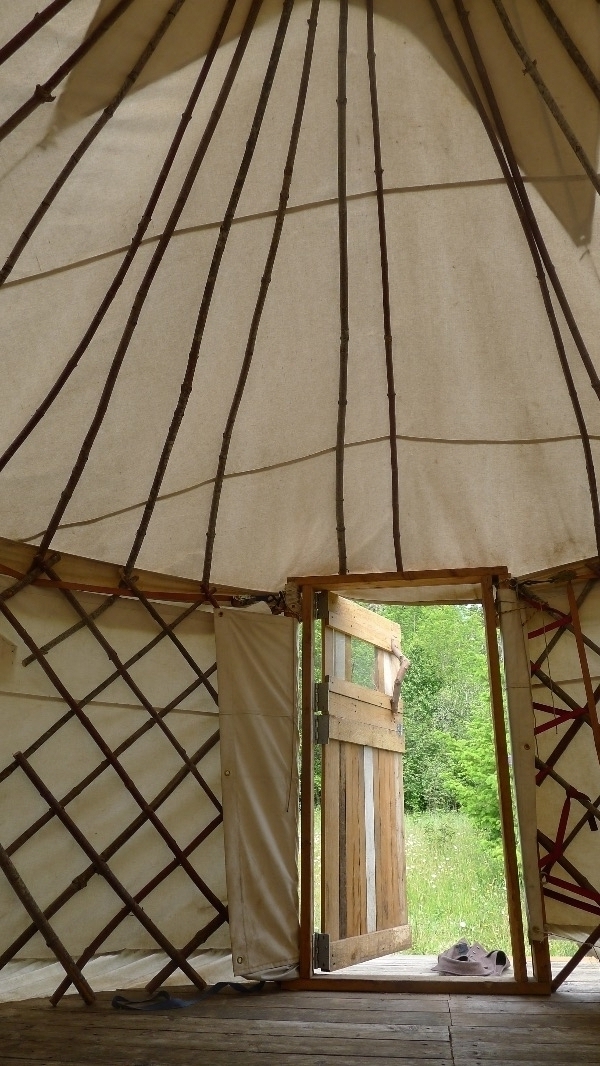 (another picture of my yurt)
During the past year I've been employed part time as an assistant in a small studio, filming, archiving and editing digital video and audio footage.
This has given me the skillset required to feel capable of filming and producing a short documentary video.
The Team:
------------------------------------------------------
      My friend who invited me is a photo-journalist from Croatia who has published previous trips of ours in National Geographic Croatia
,
Meridjani
, and other magazines and newspapers, as well as several books.
His last book got a written endorsement from the president of his country!
 He is a fantastic photographer with a ton of experience traveling in remote areas.  (Check out his website 
http://www.davorrostuhar.com/
, or his 
facebook
page) 
 In 2008 he secured a sponsorship that paid for he and I to spend 3 months visiting the most remote areas of West Papua (New Guinea), so I know that we travel well together and are prepared to meet the challenges we will inevitably face getting there and doing the work we set out to do. 
Davor has also been adding video to his repertoire of photography skills, and has the added advantage of already possessing top quality camera equipment.  
Why are these particular tents important to understand?

--------------------------------------------------
        Skin tents were traditionally used in many parts of the world, and have become less and less common as industrial materials are made available.  The production and use of them is skilled knowledge which is becoming scarce.
       Additionally,  nomadic cultures have become more and more threatened in the face of ever increasing pressures to settle down. That means less people are making, living in, and traveling with traditional tents. 
Why Now?

-------------------------------------------
         With the changing climate in the arctic,
the ice has been thawing earlier in the spring and freezing later in the fall, making migration more difficult
for the Nennets people. Migration across rivers and through swampland is only possible when the land is frozen, and the migrations are timed accordingly.
         As it becomes more difficult to travel to good pasture, the nomadic lifeway itself will be seriously challenged and may become a thing of the past as it has in much of the world. 
Shouldn't you leave this to an Anthropologist or something?
-------------------------------------------
       "I've watched a lot of documentaries (including one on the people of this region) and read a lot of ethnographic material culture, and it is extremely frustrating that subjects such as this are only covered as human interest and not to document the actual processes or details.
Most authors/researchers/film makers, don't know what they are looking at, what to look for, or even what questions to ask. Kevin is in a good position to actually pull this off
, because he has a background in tanning and in tent living as well as basic technology and subsistence life-ways in general. "  -Steven Edholm,  Author of BUCKSKIN: The Ancient Art of Braintanning
So let's do this!

-------------------------------------------
        Together as a team Davor and I have the equipment, skills, and desire to put together something awesome. But I need your help! As it turns out, getting to a village in the middle of siberia is expensive! Davor has booked a guide from March 20th to April 10th, but the cost of the actual travel for me to go is projected to be over $9,500.  This includes approximately $8000 for the guided portion of the journey roundtrip from Moscow, approximately $1000 for travel from the US to Moscow, food and lodging from my home to Moscow, as well as additional expenses that are extra and I will probably end up covering myself.  I can't fit the travel costs into my budget, so my participation on this trip, and the subsequent film will not happen unless this campaign succeeds.  
      I know that's really soon, but I put off asking for help until the last minute. I had resigned myself to not going because of the high cost, but as the deadline grew closer I realized that this was a really important opportunity and I need to do what I can to make it happen.  By creating this crowdfunder I'm pushing it to the next level, to see if there's support for it from others. 
        I've set up the campaign so that
if it does not raise $9500
by the time I need to apply for visas and confirm with the guide (January 21st!)
I will forfeit all the pledges and take no money
- you keep your money. Its all or nothing.  Any money donated beyond what I need for travel would be used to purchase better video and audio equipment.  
So that's it then, if I don't get $9500 by January 21st, you get your money back, and the project doesnt happen.
Please share on facebook, and e-mail to any friends who might be interested. Thanks for reading, and thanks for considering my project!
-------------------------------------------------------------------
"This looks to be a great project, worthy of supporting. I would encourage everyone to take a look at what Kevin is trying to do here. It is a fascinating undertaking."
-Mike Loades, Author and Director of several documentary films shown on National Geographic channel and History channel.    (
http://www.mikeloades.com
)
+ Read More