Please help us save up for IVF x
£2,957
of £21,000 goal
Raised by
65
people in 34 months
12/02/2017
Our first cycle of IVF has failed and we are devastated.
We are not giving up and will be back fighting.  In the meantime you can read more on our blog: 
http://tinyurl.com/zp9gfbp
 thank you, Shaun and Steffie xx
17/03/2016
We have reached our first go at IVF! Thanks to one final donation and added to our business we now have enough money for one attempt at IVF. Thank you to everyone who's adopted and donated so far. You're amazing! Lots of love from Steffie and Shaun xx
25/09/2015
Just a quick update to thank you all for your generosity. We are getting close to our first go day by day, please keep helping and sharing. Love you all! Steffie and Shaun xx
Hi and thank you for stopping by.
Some of you may already know me, others may not. 
My name is Steffie and I am almost 42 yrs old.
I am saving up for IVF to try and achieve my dream to be a mum.
Following a miscarriage in 2010 I was left untreated by my GP and my local hospital.  It took over two years of almost continuous complaints before I was finally referred back to the hospital.
After three operations over two years I lost both my fallopian tubes and I am no longer able to conceive naturally.
Because of my age and the time it took for the doctors to investigate I am no longer entitled to have IVF on the NHS and therefore the full cost of the treatment falls on my partner and me.
The poor treatment I received from the doctors over the last few years combined with my infertility has left me with severe depression.  I spent months being unable to function properly, I had to stop work and some days I still struggle to leave the house.
I also have Lupus which it is mainly located in my joints. It causes me bad inflammation and pains all over but I take medication which is helping me manage it.
I started work at 16 and had no break until this happened.  Not working has made me feel lost and without a purpose.
I'm not the kind of person who is used to depend on people.
Luckily, for the last three years I've been blessed with a very supportive partner who is 100% behind me and who also wants us to have our own family.
Please visit my website if you would like to read more, I have detailed my story throughout my blog.
Madebysteffieb.co.uk
 Thank you.
I've attempted counselling and have moved GPs a few times to get support but no one is interested in helping me. 
One of the counsellors I met with fell asleep and another told me that since I wasn't going to win the lottery (the only way for me to get enough money) I should just try to move on. Without even trying?
The only thing that has helped me get through the day is crafting. It helps me escape and it keeps me calm.  I have bad panic attacks when I think about the mountain I have to claim.
But I'm not ready to give up!
So six months ago in the mist of despair, I came up with an idea, a little crochet character.  Her name is Dotty and she's my little Cutie.  She has lots of
adventures
.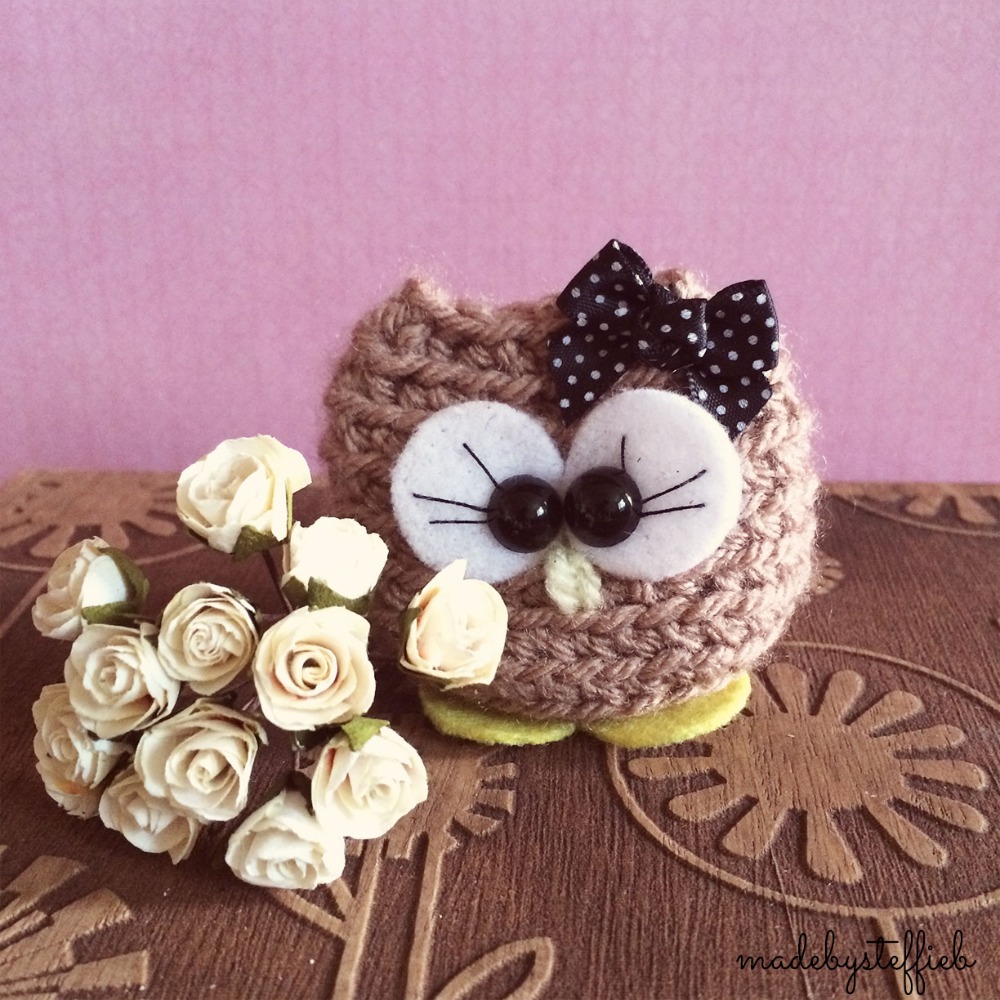 Dotty is always happy and she makes people smile, she has many friends and they all have different names and hobbies.  
A Cutie's number one priority is to be kind to people.  
On my website, people have the option to adopt Dotty's friends and a lot of you have.
There are a lot of Cuties' pictures travelling around the world being posted on the internet!
I just want to add that I don't know anyone who seeks support the way I am unless they are desperate. Exposing myself and my fertility online wasn't my first choice. 
It makes me feel vulnerable and sadly I have been targeted a couple of times by people with bad intentions.
It hasn't help my confidence of course but I don't think I should give up just because a couple of people don't like me… So many of you are loving Dotty's adventures and I have made so many amazing friends already.
So here I am.
Things are going better than I ever thought they would with my campaign and I am so grateful to everyone who has supported me and still does everyday.
My problem is time.  I don't have much of it.
IVF treatment usually stops at age 45 in most clinics in the UK and I will be 42 in two weeks.
When I made my Cuties I set a price for people to adopt them, I didn't want to be over the top and I didn't want to make them at a loss of course.
Over 100 of my Cuties have been adopted and everyone is happy with their little characters.  
Some people say they take theirs everywhere and it helps them when they have a hard day.  
Some children have taken to their Cuties as a companion they can't be without.
All our "adoptees" including children enjoy following Dotty's adventures and I always try to keep in touch with you all.  If someone is poorly or it's their birthday and I know about it, Dotty will send out a special message to them.
Your support is already overwhelming.
So, why am I here asking for this much money?
Well according to NHS guidelines, on average, people who have access to IVF treatment get around three attempts.  
My specialist has told me that the cost of one round of IVF at his clinic would be around £7000.  
So I'm trying to get enough or at least something towards my three attempts. 
I feel sad about the exploitation going on with people who need IVF treatment and the cost of it. 
But sadly my opinion makes no difference and unless I can pay up, there will be no IVF for me. 
It's a shame that all these medical miracles seem to be exclusively reserved for people with money.
What makes me not worth a trial?
I regularly speak to people who are on their forth, fifth, sixth  IVF attempts, it isn't easy and it's heart breaking but I so desperately want to try.
So I need your help.
It's taken me six months to raise £1500 and it is amazing but it doesn't include my material cost or my time.  It's just a rounded figure of the Cuties that have been adopted.
I'm so proud of myself, I just don't have another five years to do this.  
I have to  say that I have no intention of stopping making Cuties, it's my therapy. Or in fact stopping to make you smile, your kindness keeps me going.
So what can I offer you in exchange of your kindness?
If you donate to us and you get in touch with me afterwards, I will send you a THANK YOU card, handmade by me and Dotty. 
Something for you to keep as a memento, something to thank you for being part of my hope.
I will also keep making new Cuties for you to adopt and I'll keep creating adventures for Dotty to make you smile.
I will keep sending out special messages from Dotty to people who need them, children and grown ups. Just ask me. 
I will keep blogging to update you on our progress and my struggles with infertility and I will keep being honest, no matter what.
I promise to not give up.
I have added a donate button on my website, if you want to help I will be eternally grateful and if you want to, feel free to share it.
Please remember, if you know someone special who needs a special Dotty smile, give us a shout.
Thank you for reading me and thank you for being you.
With love,
Steffie x
+ Read More
Be the first to leave a comment on this campaign.