Edgar Allan Poe's Birthday
$1,705
of $1 goal
Raised by
44
people in 44 months
$175 NEEDED TO REACH OUR GOAL! PLEASE SHARE THIS REQUEST! 

HAPPY NEW YEAR TO ALL OF YOU!

Since 1982, Jeff Jerome, Poe House Curator Emeritus, has been celebrating the life and times of Edgar Allan Poe!Jeff Jerome continues this tradition
with the ever popular  
Edgar Allan Poe Birthday Observance
 scheduled for Saturday, January 16, 2016 at the historic Westminster Graveyard in downtown Baltimore! The start time will be 3:00 PM.
THIS EVENT IS FREE! This is the only Poe Birthday event that will be held at this location for January!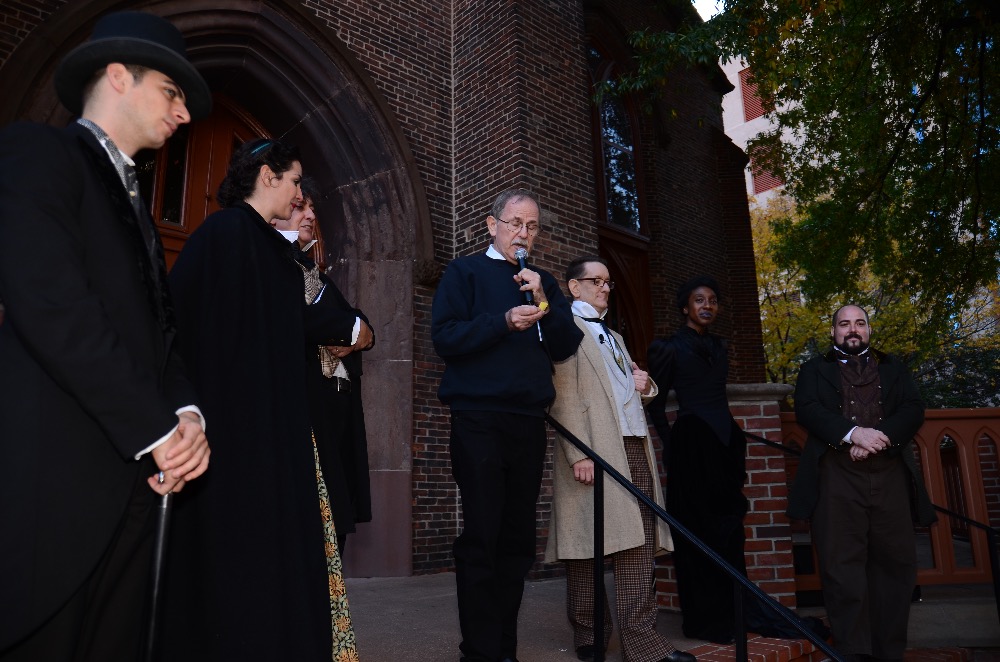 Image  from the October  Poe's Death Observance.
Photo Credit: Mike Hearse.
The program for January 16th
is a fine tribute to Poe! Currently the event will include theatrical readings of Poe's poems, including but not limited to
Annabel Lee
,
Alone
,
Eldorado, The Conqueror Worm 
and others. Jeff is pleased to announce that a special theatrical reading of
The Cask of Amontillado
will be presented!  This is a "first" for this tribute!
In addition to the performances
tributes from countries  around the world will be read. These countries include Persia, Siam, Chile, Peru, Yugoslavia, Bolivia, Italy, Norway  and several more. The tributes are from a Poe Birthday celebration held in Philadelphia in 1934! It is so touching what the Poe legacy meant to these countries!
Popular Poe actors Matthew Bowerman and Don Mullins
are honored to entertain you for this special event! In addition to these fine actors we are pleased to have several costumed performers from the recent smash hit
The Mesmeric Revelations! of Edgar Allan Poe
  participate in this tribute! The will share with you the Legend of the Poe Toaster! She devised and performed the original role of Madeline, Keeper of the House in that production.
A musical tribute
will start the program featuring actor, singer and FX artist Siobhan Beckett. Ms. Beckett designed the makeup and special FX for The Mesmeric Revelations! of Edgar Allan Poe. She'll sing Auld Lang Syne at the conclusion of the event.
The big give away
for this event will be a specially designed Poe themed birthday cake! One lucky audience member will go home with this highly desired delicacy designed by Jeff Jerome! (Sorry! Not the one pictured here!)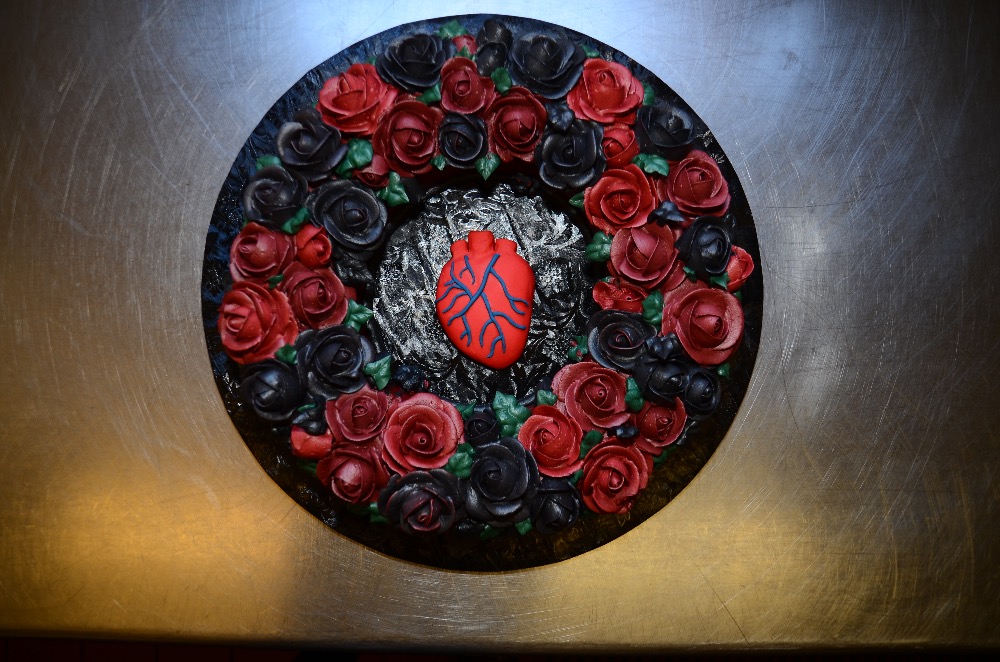 10 pound Cake from the October Poe's Death Observance . 
Photo Credit: Mike Hearse.
We are still working on a few surprises so check back for the announcements!This event will be held
at the steps leading into Westminster Hall! The perfect "stage" for this kind of event! 
THE FIRST APPEARANCE OF THE NEW "POE TOASTER " WILL HAPPEN AT THIS EVENT!

In November the Maryland Historical Society along with several other historical and civic organizations held auditions at the Historical Society with many applicants coming from all parts of the country with their own vision and interpretation of this tribute hoping to be chosen for this touching and mysterious tribute.

Over 100 people voted in a secret ballot and chose the new "Poe Toaster" but his/her identity remains a secret.



Sometime during the latter part of the program keep your eyes and ears open for this mysterious figure. Like the original Poe Toaster no one knew the exact time of his/her arrival. 

PLEASE NOTE!
This is not replacing or taking over the original Poe Toaster tribute. This is a public event where everyone can view this personal tribute. The original Poe Toaster tribute is safe and secure and will always be special in our hearts.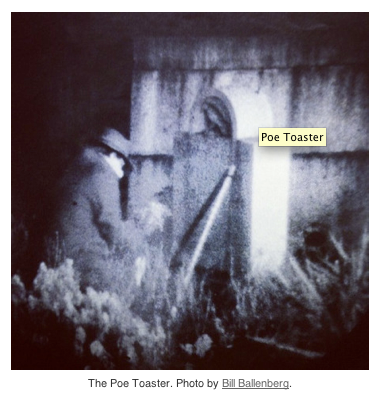 The Poe Birthday Observance will conclude at the Poe Monument where all the performers and audience will gather and the traditional apple cider Toast to Poe will be read by Jeff Jerome.

In addition a Mayoral Proclamation will be read commemorating Saturday, January 16, 2016 as "Edgar Allan Poe Appreciation Day" in Baltimore!

We are halfway to our fundraising goal! Please consider making a donation to help fund this Poe Birthday event! We need only $400 to meet our goal!  Will you help us?

Please note that these donations will be used for actors, tech crew, Poe cake, and other miscellaneous expenses.
If you don't feel comfortable making an on line donation please feel free to mail your donation to:Jeff JeromePO Box 1226Severna Park, Md. 21146Go Fund Me will not take a percentage out of your off line donation! We get 100% of your gift!
Please include an email so we may send you a thank you!
Donors who attend this event will received VIP viewing! You must let us know that you are coming so we can reserve your spot!
If you donate through GFM and wish to remain anonymous you can do that also. Simply follow the easy directions listed on the gofundme form.
Questions? Comments? Contact Jeff at
purplerustling@juno.com
. You can also visit our facebook page at Edgar Allan Poe: Evermore!
This page will be updated when new information is confirmed. 
Thank you for your consideration! It is deeply appreciated and touching and we are sure Poe is smiling down upon you!
This campaign will end on Friday, January 15, 2016 at midnight.
PLEASE NOTE  THIS PROGRAM MAY CHANGE DUE TO CIRCUMSTANCES BEYOND OUR CONTROL. EVERY EFFORT WILL BE MADE TO UPDATE THIS EVENT PAGE TO NOTE THESE CHANGES. 
+ Read More
Update 1
42 months ago
Share
Thanks to all the donors for making this event a big success! It is very appreciated and I'm humbled by the response!
+ Read More