Wrap Up, Lancaster!
$875
of $6,000 goal
Raised by
14
people in 46 months
We "scarf bomb" Lancaster, PA with hand-made hats & scarves.  That is, we leave them in public areas of the city - on poles, fences, trees, bushes, walls, wherever we can place them. They are then available to anyone who is in need of the item. There's no hassle, and no stigma. No forms to fill out, or qualifications to be met.  Just warm hats & scarves for those in need.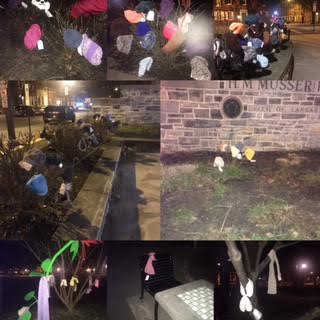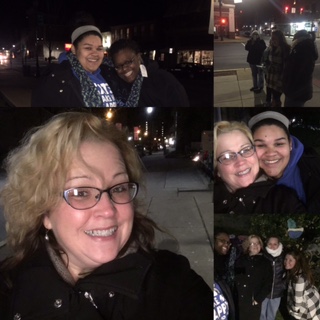 Why hand-made?  
Hand-made items are made with intention.   They  offer warmth, comfort, and hope to the recipient; they're like a hug.  They let the recipients know that someone cares.
In 15 months, Wrap Up, Lancaster! had 9 scarf-bombings & put out 1,656 items for those in need!  We have been able to scarf-bomb both Lancaster city and Columbia, PA.  Our third scarf-bombing season will begin October 2016.
The next phase of Wrap Up, Lancaster! is to expand the project by providing hand-made bags (made by a local organization that hires people with barriers to traditional employment) filled with personal care items.  The addition of these items will allow us to help people all year, not just in the cold weather months.
The project has grown quickly and we have had to rent a storage unit to house the donated items.  The storage unit is a temporary solution.  We're looking for a small office space where we can store and process donations.
 We are also working on making Wrap Up, Lancaster! a 501(c)3 charity organization, so that we can help more people in this community and beyond.
Here's how you can help:
Donate money
- all money donated on this page will go towards this project (material costs, storage/office rental, charity filing fees).  The more money we raise, the more people we can help.  Right now, we are putting items in Lancaster City, and Columbia,PA.  With funding, we can expand this project to be a year-round project in Lancaster, Columbia, and other communities.
Donate items
- we accept hand-made scarves (knit, crochet, woven).  Hand-made, because it's more personal & is filled with the good intentions of the maker.  They are like a hug.
Donate your time
- help us with the scarf-bombing, the tagging of the items, or with the collection of the items.  For more information, email: wrapuplancaster (at) g mail dot com  (replace the words with the appropriate characters).
Thank you!!
+ Read More
Be the first to leave a comment on this campaign.