Help rebuild Sunrise Farm in Nepal
£20,883
of £20,000 goal
Raised by
117
people in 38 months
"This is worth your time and support - real bottom-up permaculture relief and development in Nepal"

Rafter Sass-Ferguson
Hello, 
My name is Chris Evans and I've worked in Nepal for nearly 30 years, starting as a volunteer forester. In 1988, I came across the concept of Permaculture and embarked on an ambitious alternative.
Starting with a local friend, £500 and an acre of degraded farmland I helped found a demonstration and training centre in a remote area of western Nepal, which grew organically into the Jajarkot Permaculture Programme, a diverse array of projects spanning 4 districts, 65 villages, 8 resource centres (working farms), 120 staff and volunteers, and a membership of 12,000 farmers. During that time I also lived on a farm in Kathmandu where local villagers formed a committee to help manage the demonstration and training facilities there. One of the members was Shyam Shrestha, who went on to develop his own land in a similar way, starting in 1990.
Photo: Farmers learning advanced growing techniques for the cultivation of rice (SRI rice cultivation ) at Sunrise Farm
Shyam's house and land became Sunrise Farm, which has blossomed over the past 25 years, and although the city of Kathmandu has grown all around, it remains a green jewel of biodiversity, peace and productivity. As the closest organic and permaculture centre to the city, it is a crucial resource for organisations and farmers wanting to find out about permaculture, sustainable and organic agriculture, which is why, since the earthquakes hit Nepal in April and May 2015, with a team of people we are working hard to rebuild it.
What is Sunrise Farm?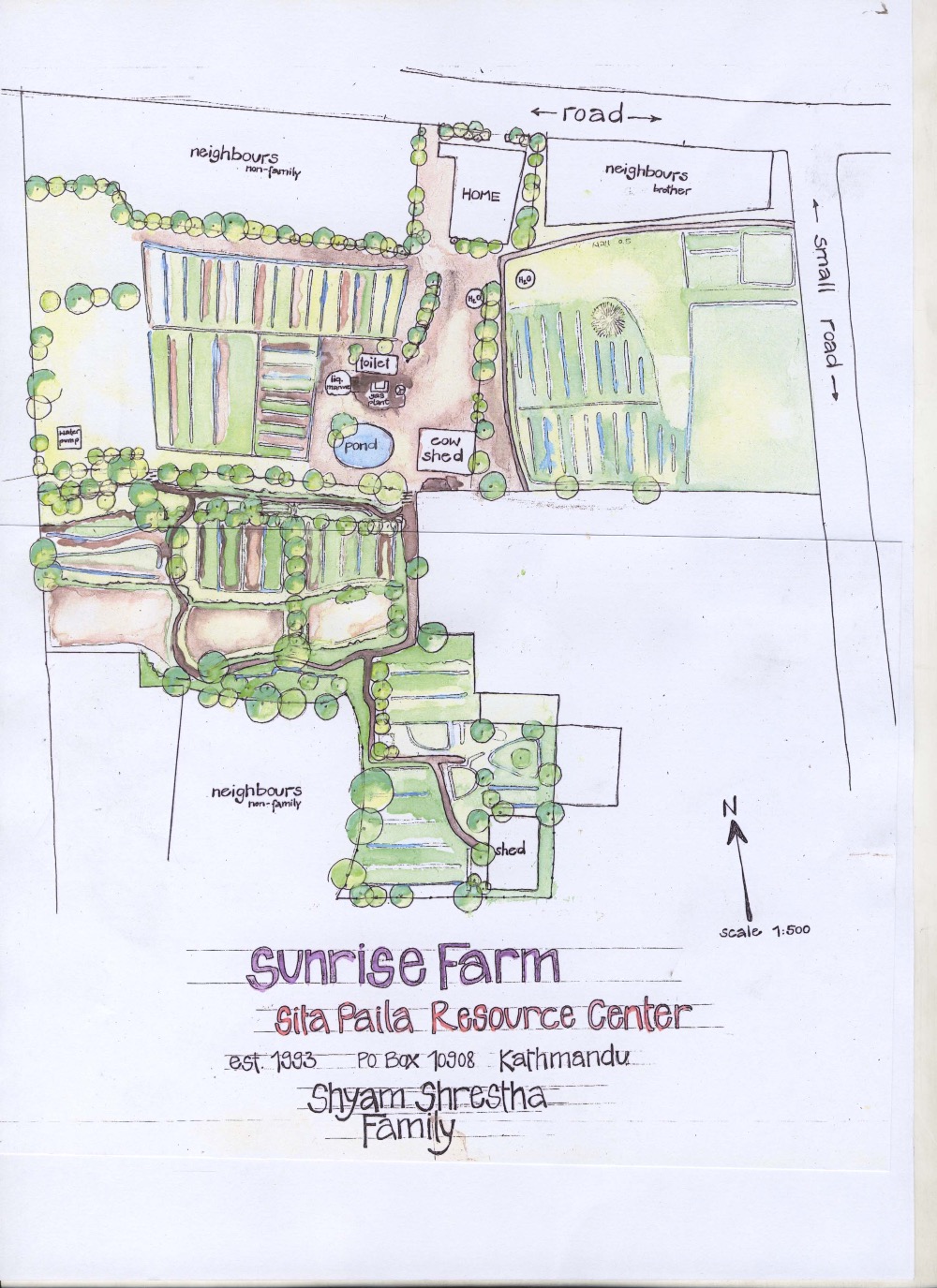 Image : Sunrise Farm Est.1993 Map
Sunrise Farm is a community farm program committed to the demonstration and training of sustainable agriculture and community development techniques. It is a working farm, and offers facilities for demonstration, training (in sustainable agriculture, agroecology and permaculture) and distribution of seed, seedlings, and educational resources.
 Sunrise Farm  is part of a growing network of similar farms and village programs coordinated by the Himalayan Permaculture Centre (HPC), a registered NGO based in Surkhet District and also working in Humla and Kathmandu districts.
Photo : Companion Planting in the Forest Garden
 Over the past 25 years, the farm has welcomed  thousands of visitors from all corners of Nepal and internationally to observe, learn and volunteer. The farm has also been a marketing hub for farmers elsewhere in Nepal, selling their products such as honey, pulses and garlic, helping rural farmers gain an income from their land.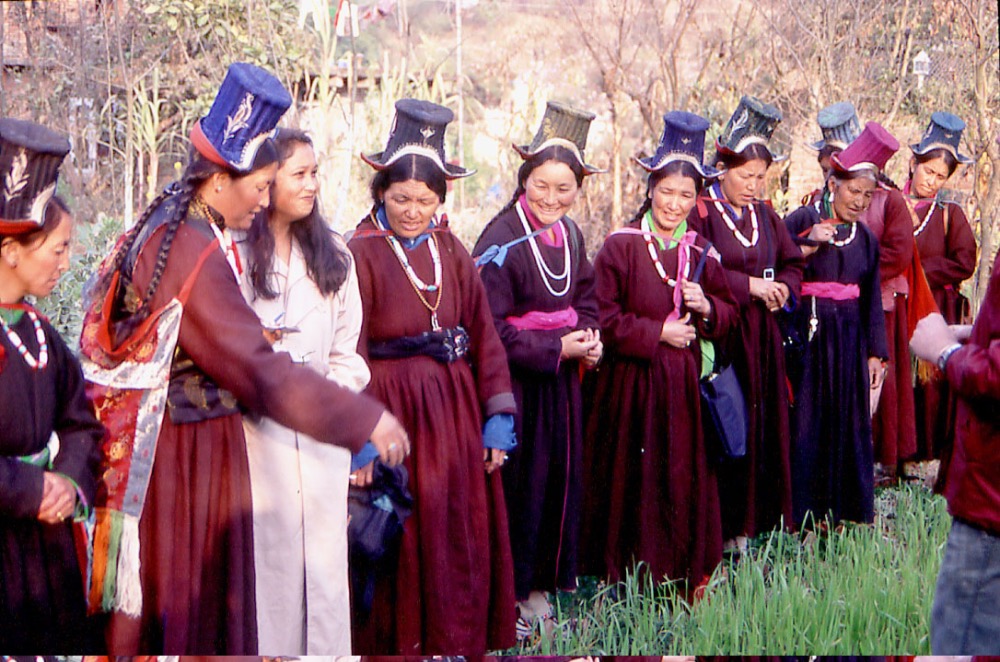 Photo : Women from the Ladakh Ecological Development Group  (started by Helena Norburg Hodge , and featured in her film/book "Ancient Futures ") who, on their annual pilgrimage to Buddhist stupas in Kathmandu, regularly visited Sunrise Farm  to view the demonstrations and receive training.

During this time, we have also written a book, called the  Farmers' Handbook in collaboration with local farmers in Nepali to help spread know how. Today, it is available both in English and Nepali to teach a wider number of people.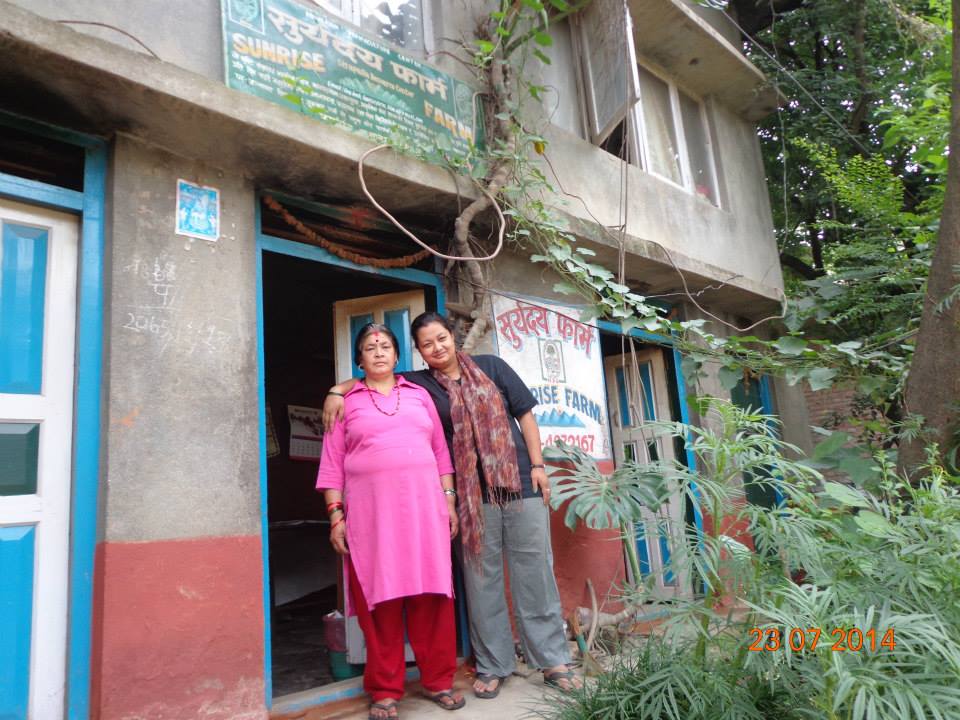 Photo: Sunrise Farm, July 2014 before the Earthquakes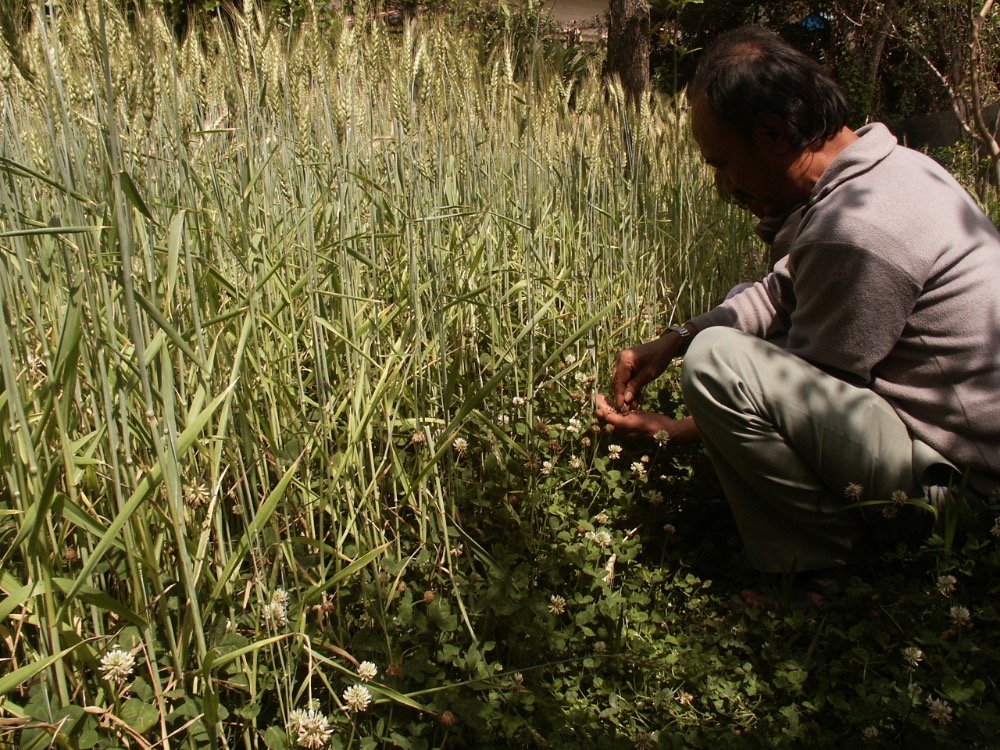 Photo : Urban rice cultivation (SRI rice training) at Sunrise Farm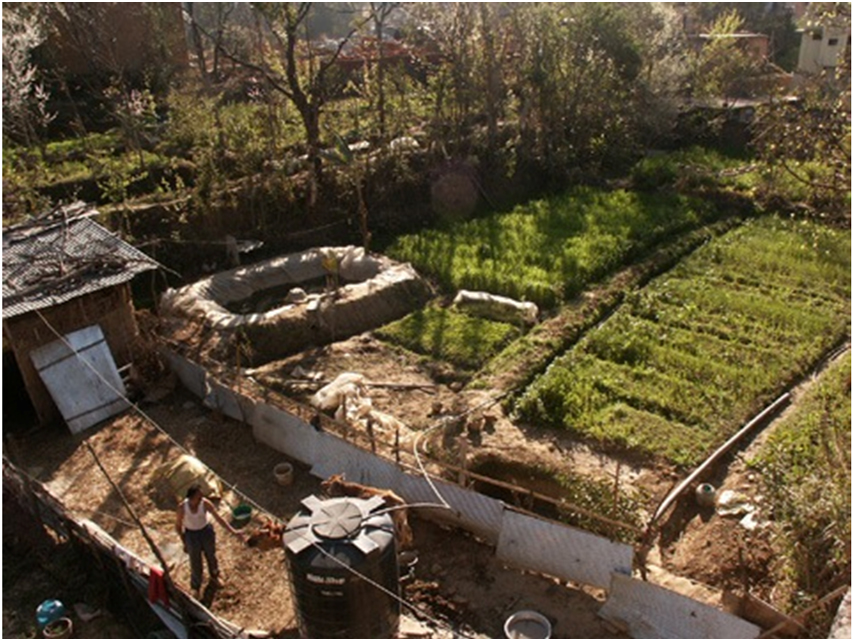 Photo : 20-year-established Fukuoka no-till method demonstration site at Sunrise Farm
What is the actual situation?

After the huge earthquakes, over 8000 people were killed and nearly a million buildings were destroyed or damaged beyond repair. The farm, because of its open spaces, became a sanctuary where hundreds of people could be safe from falling masonry, and many families have been camping there, too scared to return to unsafe buildings.

Unfortunately Sunrise Farm was badly damaged suffering large cracks throughout the house. The livestock shelter was destroyed, and the main house will need to be pulled down and re-build. The families are now living in cramped conditions in what used to be the rabbit shed.

But out of the disaster has come the opportunity to re-build afresh, using techniques for green building that are more sustainable and safer should an earthquake hit again.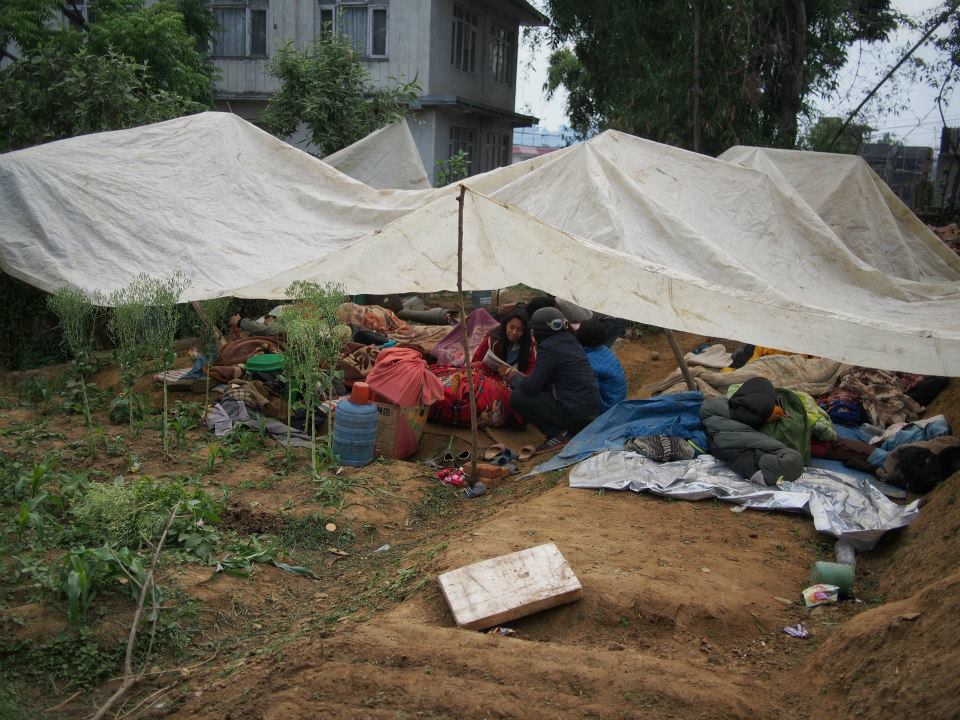 Photo : Families in makeshift shelters on Sunrise Farm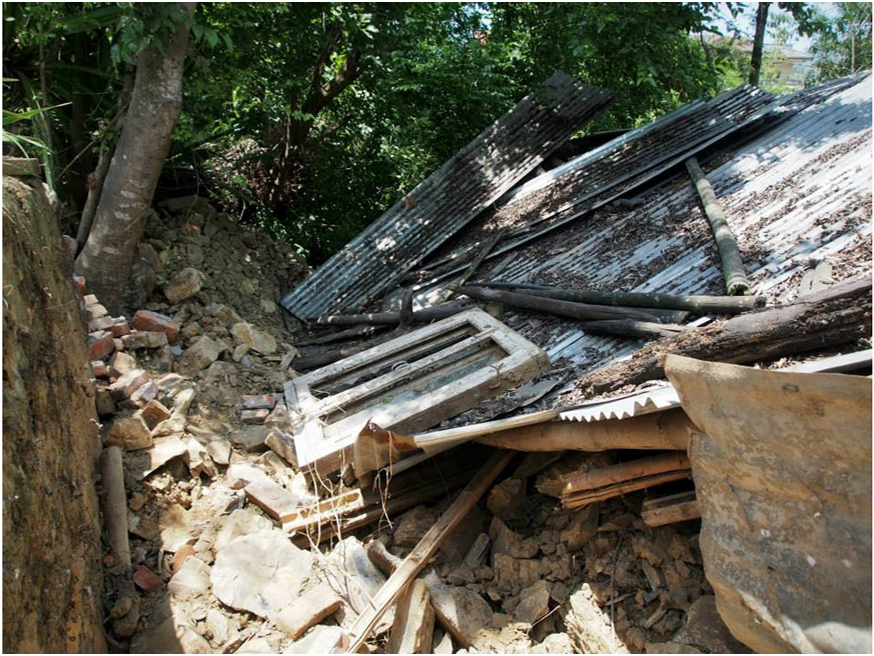 Photo : The destroyed livestock shelter at Sunrise Farm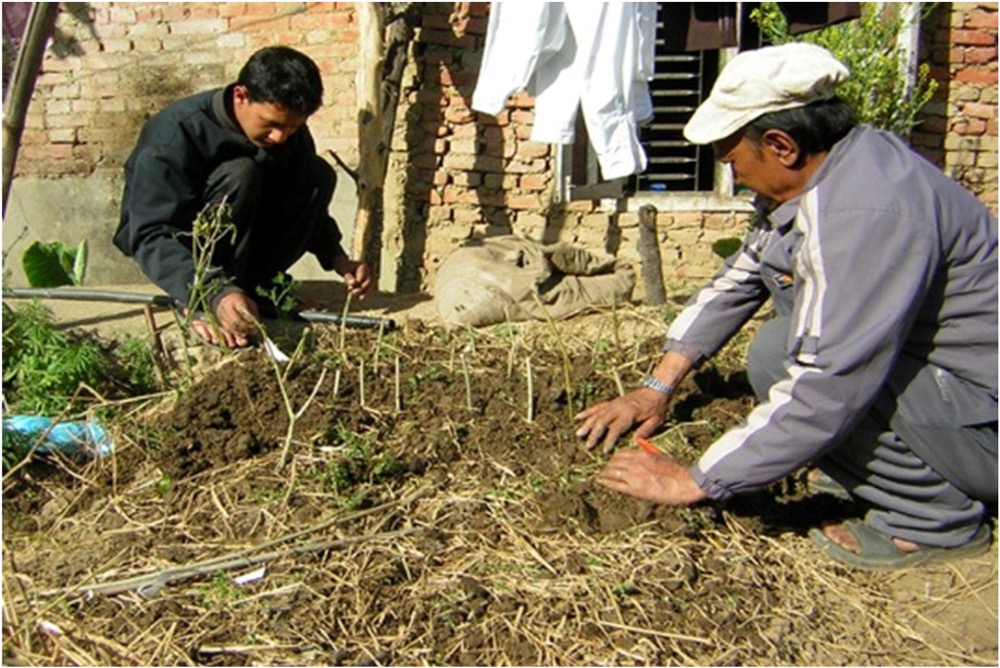 Photo : Nepali farmers onsite at Sunrise Farm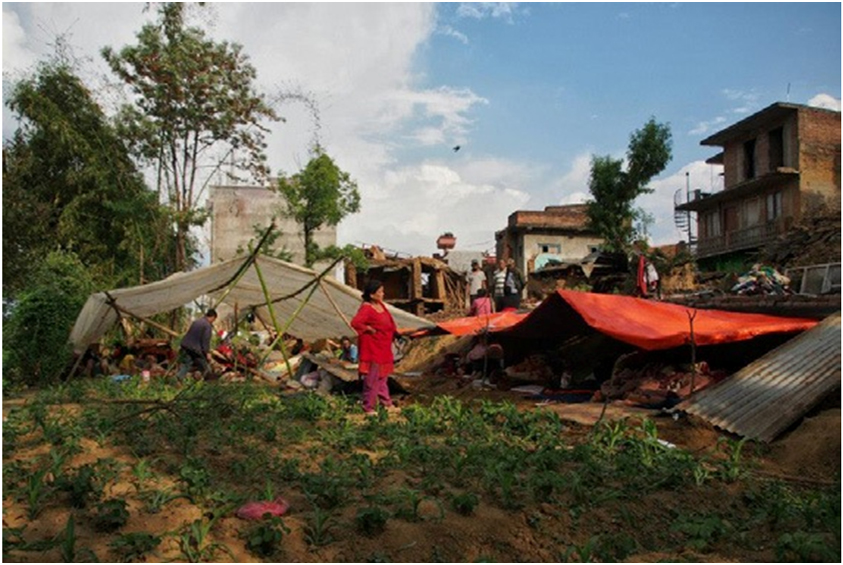 Photo : Families taking shelter on Sunrise Farm


Sunrise Farm is a well-known training center, and by re-building with green building techniques, it can be used as an example for organisations and families that need to reconstruct their homes and livelihoods. It can show how good architecture and building can be combined with health and sanitation, sustainable food growing, fair-trade income generation with energy from solar and biogas systems to produce a resilient, low-maintenance and productive household.
To continue to offer training to people and to be able to fix the farm, we need to raise £20,000 - for materials, tools, food for volunteers and to create and distribute training materials for villagers coming to the training sessions.


We are extremely grateful for every donation, but if you give more than £25, to thank you we would like to offer the choice of the following gifts:

·      £25 tree planted at Sunrise Farm and we will send you a picture of it
·      £75 "I supported Sunrise Farm" embroidered T-shirt (hand embroidered in Kathmandu, available Nov 2015)
·      £100 free place on Applewood Forest Gardening course 2016
·      £150 free food & accommodation at Sunrise Farm for 1 week (whenever you visit)
·      £300 free food & accommodation at Sunrise Farm and any Himalayan Permaculture Centre Farm in Western Nepal for up to 3 weeks (whenever you visit)
·      £500 free teaching fees on any Applewood  course in 2016 (pending dates) - note this applies to teaching fees only, you would be required to pay food & accommodation (camping) costs

**Once you have donated**

**please send an email to  sunrisefarmappeal@mail.com **
saying:


- which gift you would like,
- date / time and amount you donated,
- your address and contact email and/or telephone.

For the tee-shirt, please state your preferred size and colour.

We will be very pleased for you to visit and see how your donation has helped so many people in Nepal.


For more information

See more pictures of Sunrise Farm:
Himalayan Permaculture Centre

Article on Permaculture Association (Britain) Website 

Connect with Sunrise Farm on Facebook 


Article on PermacultureNews.org 06/11/15
"REBUILD SUNRISE FARM IN KATHMANDU APPEAL – PLUS UPDATES"

Thanks a lot


+ Read More
Be the first to leave a comment on this campaign.