67
7
Wildlife Tourism documentary
£2,769
of £20,000 goal
Raised by
65
people in 1 month
WATCH HERE: Thailand's Wildlife Tourism Industry: An Introduction

In a nutshell


I have just returned from documenting Thailand's Wildlife Tourism industry, with director Will Foster-Grundy.  What we witnessed was shocking and incredibly distressing. Your contributions can help expose this cruelty to the rest of the world and stop the cycle of abuse.
The images from our trip received significant media exposure and featured in The Metro, The Mail, The Sun, The Dodo, The Mirror and on BBC World News and more.  
Whilst we have made amazing progress, I am now raising funds for a second trip, to build on the story and produce a 30-minute documentary for global distribution. 


The issue
Posing for a tiger selfie, riding on the back of an elephant, watching dolphin shows: over 100 million people visit Wildlife Tourism attractions every year. Yet behind the shows and performances lies a dark side to this industry.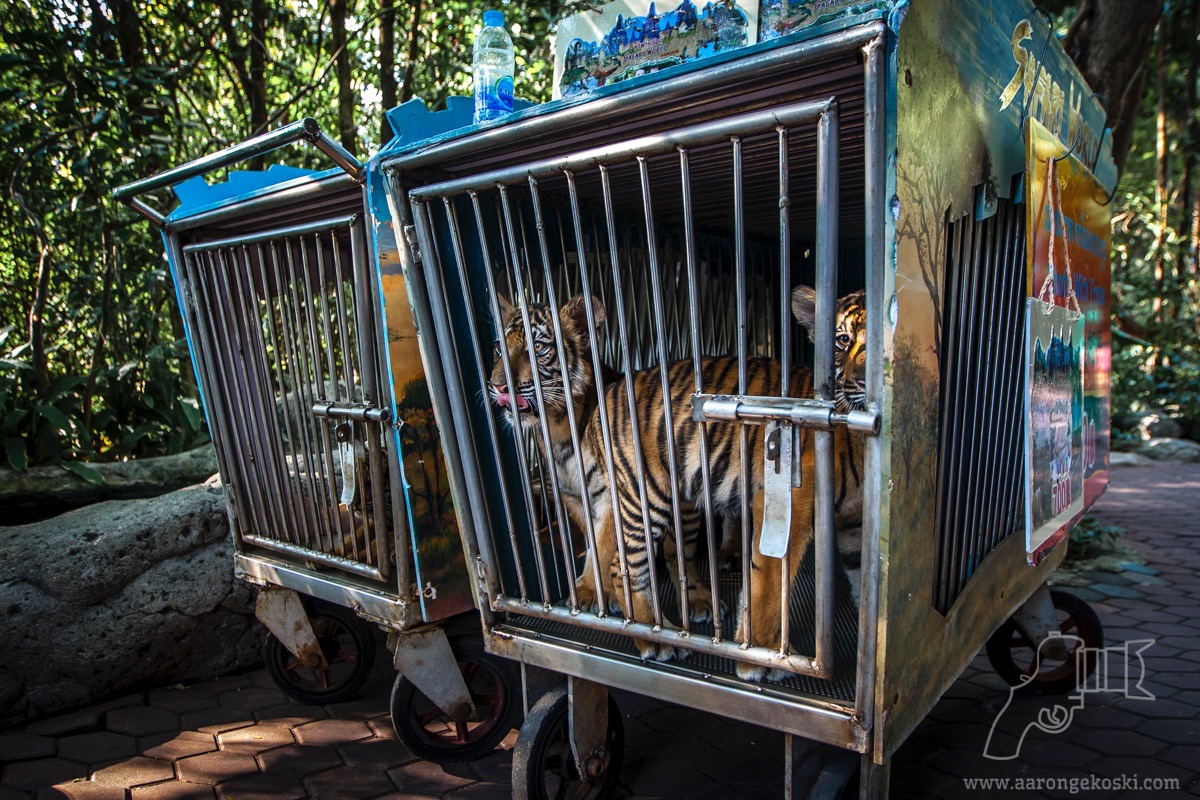 Over half a million animals are suffering for our entertainment. Many of them have been stolen from their families in the wild to live in inhumane conditions. Their spirits are broken by handlers, who beat them into submissive states. They then live the rest of their lives in appalling conditions and are abused and mistreated on a daily basis. 
Thailand: the epicentre of cruel Wildlife Tourism


I have just visited some of Thailand's Wildlife House of Horrors, with director Will Foster-Grundy. What we saw was truly shocking; orangutans forced to box each other in humiliating routines; elephants that appeared so drugged they could barely walk; monkeys yanked around on chains and made to ride bikes; a gorilla living in a filthy cell at the top of a shopping mall.
We documented these scenes, filming some compelling sequences and gathering imagery that is receving significant interest in the press and on social media.
However, to do this story justice we need to produce a documentary that will offer an in depth analysis into Thailand's Wildlife Tourism industry: the cruellest operators, the animals affected, as well as highlighting those working to combat the industry, such as Wildlife Friends Foundation Thailand, Freeland, and Elephant Nature Park. 
This means a return to Thailand with a small crew, where we will fill in the blanks and visit some of the above operators.
We will also be joined by Hollywood actress and animal right's activist, Shannon Elizabeth. Shannon is founder of Animal Avengers, an NGO that works to save as many animals on this planet as possible through strategic collaborations, financial aid, engagement with policy makers, hands on work in the field, education & tactical planning/execution for the future.
Once our story is complete, we will edit this into a 30-minute film that will be pitched to broadcasters, entered into film festivals and distributed through our network of global media partners.
The money will be spent as follows:
Travel and logistics: £14000
Return flight tickets for all crew, tuk-tuks, taxis, minibuses, trains, hard drives, food and drink, accommodation, entry tickets, tips, visas.
Professional broadcast TV editing: £6000
Edit suite rental, music licensing, editor daily fees, copious amounts of coffee, sound mixing studio fees, translator services.
Please note: we will not be making any money producing this film. We are doing it because we believe in the cause and it's a story that needs telling.
The platform
Eventually I would like to set up a website and app that allows users to 'Raise the Red Flag' on abusive operators. Concerned visitors will be able to upload photos and videos, and share their concerns with the rest of the world.
This information will then be offered up to the relevant authorities with the aim of closing down the worst offenders. Eventually I would like to work with industry experts to set up an accreditation system. 
Plan B
Should I not reach my funding goal, any donations will go towards funding another trip to other countries where abuse remains rife. I am currently looking into cruel attractions in China and Indonesia. The imagery will then be released through the media.
My background
As an environmental photojournalist and filmmaker, I believe the media can create change and inspire others. I have spent the past decade behind - and in front of - the camera, working on stories of human-animal conflict. My work has been widely published and I'm fortunate to have won a few awards, including a category at this year's Wildlife Photographer of the Year award. 
Palm-Oil Survivors, winner photojournalist category, Wildlife Photographer of the Year 2017
Thank you for your support. I will keep you fully updated as this project progresses. Without you, none of this would be possible. Together, our voices are stronger. Together, we can stop the cycle of abuse.
Me, being thankful :-)
Learn more on
www.aarongekoski.com
View productions on
www.scubazoo.tv
+ Read More