129
11
Wheels without limits, for Jarrod.
$12,401
of $12,000 goal
Raised by
130
people in 4 months
On the 7th July this year our lives changed forever. Yes, there were struggles on our farm with lack of water and feed but this was the event that will now shape us for the rest of our lives. 
Our youngest son Jarrod, had a car accident on the way to meet the bus to go to Orange to play Rugby. We praise God every day that he is alive however the accident has left him a paraplegic at just 17 years of age.
This gorgeous young man of ours is our sportsman; rugby, touch, netball, basketball - you name it he played it. He was also the farmhand, motorbike, ute or tractor driver, the paddocks were his. 
His first remarks to Michael and I when we first saw him in the emergency ward at Royal North Shore Hospital was "don't worry Mum and Dad, I'll play wheelchair basketball, I'll work harder at school and get a sit down job and I'll drive again as soon as I can, nothing will stop me getting back on the tractor, we'll make it work" This kids attitude and sense of humour, maturity and dedication to 'make it work' have given us all the inspiration we have needed to get through the 9 days in ICU, the 6 weeks in the Spinal Ward at Royal North Shore Hospital and the two months at Royal Rehab leaning this new world and way of life. We're on the downhill run now, we have our sights set on getting back home.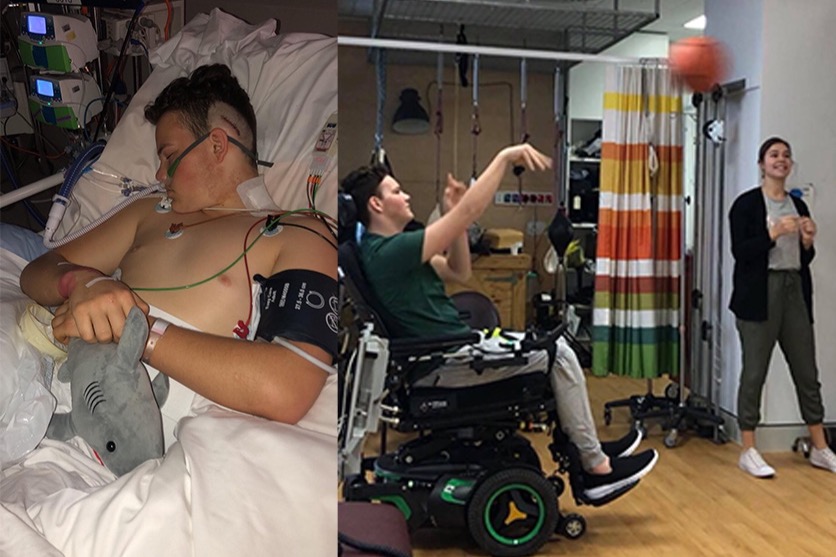 We've had the most amazing support from family, friends, the professionals and spinal injury families around us who have helped us all adjust so well. But now we need a little more help, just for Jarrod. 
In this 3 and a half months since life changed Jarrod has played; wheelchair basketball, wheelchair tennis, wheelchair netball, wheelchair rugby and swimming. He's already got his sights set on a sporting career playing wheelchair basketball and in January will have the opportunity to try out for the NSW Junior Wheelchair Basketball team with a view to playing in the State Finals in Townsville in April 2019, with hard work Jarrod's goal is to eventually play for Australia at the Olympics with our amazing Rollers Wheelchair Basketball Team. 
He has learnt to drive again, as all country folk know any sport our kids undertake involve hours on the road, even more so for Jarrod now. In a few months time he will even be learning to SCUBA Dive again. It's been a long hard road and asking for help is never easy, however, we just want to help this amazing young man of ours achieve his goals in this new world of wheelchair sports. 
After much discussion, and trying to convince Jarrod that he is certainly most worthy to receive some financial assistance, we've put together a fund with very limited fees, to help raise some financial assistance for him for sports chairs, equipment, travel, etc. 
It's really hard to ask, we were determined not to, but is really becoming evident we have no choice. Could you spare the cost of a meal and a coffee and perhaps make a donation to help get this kid of ours the life he deserves?
Please share our plight & help us reach our goal, we look forward to sharing his journey with you all.
Thanks to all,
The Emeny Family.
#wheels4jarrod
We'd love you to follow our journey and get to know Jarrod in the updates and video's below.
Tuesday 23rd October - Jarrod meeting some true hero's in every sense of the word at the Invitus games. This is Richard and David who are both playing in the Wheelchair Basket Ball event and Richard represented the UK in the recent world series in Germany.
Part 1. The journey begins.
 Part 2. The Journey continues.
+ Read More