The Walking Veteran
$4,875
of $6,000 goal
Raised by
73
people in 23 months
***The Walk Across America had concluded in Washington DC.  The primarly purpose was to take the evidence and secret recordings to capital hill and present the evidence to congress.  By doing this the peoole that made the recordings are protected from prosecution for recording on federal property.  That was the determination to keep going "One Step at A Time".  After considerable expense of donations and personal financial funds involving lodging, food, supplies and printing funds are at a crical low point.   The funds shown on GoFundMe is the total amound raise for a six month journey and not the oresent balance.  The mission is not over.  The Walking Veteran is going back to selected places to award the special children that showed extraordinary spirit of caring by helping The Walking Veteran.  The historical wagon and personal gifts will go into a museum in Henryetta, Oklahoma.  Please consider making a donation to help The Walking Veteran return to this places and to deliver the wagon to the museum. Weather is cold and health of The Walking Veteran is an issue.  Thank you.






"Walk Across America"  The
 Walking Veteran
,
Thomas Wayne Hudson 
is a cancer survivor veteran that began the  
Walk Across America
 on May 2, 2016  from Las Vegas, NV to Washington, DC, to bring awareness to the abuses and issues that veterans and employees endure by The Department of Veteran's Affairs.  The  mission is to bring AWARENESS, LEARNING and to deliver our message to congress.  To effect change for a broken bureaucratic system by demanding action through legislative change.The walk began May 2, 2016 in Las Vegas, NV and end with a rally in Washington, DC on Veteran's Day November 11, 2016.
The Walking Veteran, Thomas Hudson will meet with congressional members during the week of November 14th.
Thomas Hudson is The Founder of VeteransMarch.org, an investigative group that investigates allegations that lead to VA scandals.
The  mission is to effect change for a broken bureaucratic system by eems like a mountain to climb! One step at a time.  If we fall into a mind set of apathy then noting will never be done and the status quo will prevail. We might not be able to do a lot but we can try, "One Step at A Time."  For more information please visit
www.WalkingVeteran.com
To help with expenses on the 6 month, 3,000 mile journey (food, lodging  in cities where 
The Walking Veteran
will meet with congressional staff, governors, mayors, veterans, employees,  TV personalities, hold press conferences, and others, supplies, etc).
The Walking Veteran
 will also during The Walk Across America to select a name, pray and to have a picture taken with him holding up a cetificate honoring your love one.  The certificate will read: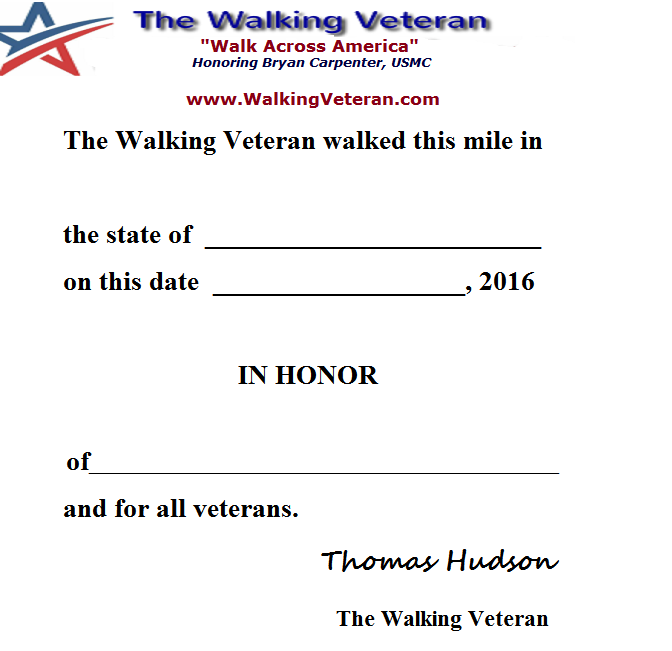 The picture will then be loaded up to 
The Walking Veteran facebook Group
with the information that you provide for the one to be honored.  The picture can also be sent by email.
"The greatest of all mistakes is to do nothing because you think that you can only do a little."    Zig Ziglar
For more information please visit us---
www.WalkingVeteran.com
 Join our Facebook Group---
https://www.facebook.com/groups/walkingveteran/
 LIKE our page on Facebook: 
https://www.facebook.com/walkingveteran/
+ Read More