10
15
Reach New Heights in the Himalayas
$378
of $7,400 goal
Raised by
10
people in 2 months
http://www.wisdomgardeninstitute.org/ReachingNewHeights.html We're doing it again and need your help! 


Here, we share our journey in successfully delivering laptop computers a couple of years ago and our latest hopes to gather support and help to reach our goal by November 2018 for a second, expanded trip to deliver more laptops and educational materials in India and now, Nepal.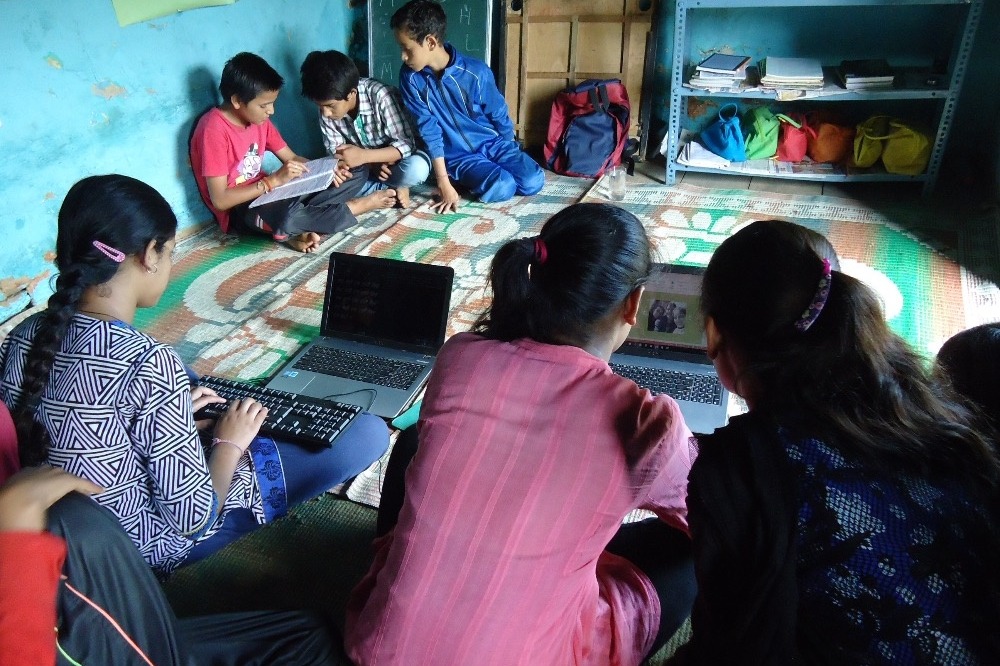 Above: Students using laptop computers we delivered to one of three villages in Uttarakhand, India on our first trip in 2016.
Above: Indian school girls in one of the village learning centers. 
Below: A thank-you banner presented by students at the Uttarakhand Environmental Education Center for educational materials we donated and delivered in November 2016.
Our organization, Wisdom Garden Institute is carrying on an outreach program, "Reaching New Heights" in the Himalayas, in which we are delivering and donating much needed educational materials and laptop computers to village learning centers in remote mountain regions. 
Many of the students we serve, ages 8-18 have been greatly impacted by climate change. The resulting hardships in turn, deeply affect the local villages' dependence on and sustainability of farming for livelihood, forcing many to head to the cities for work. Otherwise unaffordable tools such as laptops can help educate students on such topics and prepare the way for jobs.
In 2016, our team successfully delivered computers to three villages in Uttarakhand, India. Indeed, we learned that students were not gaming on computers, but using programs to chart and manage crops and growing and water resources for sustainability. Our hearts were opened to see their appreciation for these learning tools.
We are now underway with our 2018 program to reach even more students in India through the same local partner as well as expand into Nepal, as we have found a new NGO partner with similar needs.  In Nepal, many are still rebuilding schools (and other infrastructure) from an earthquake that occurred a few years back. Being able to support these efforts with educational materials for the classrooms brings students a step closer.
Our team's goal is to travel to these locations just after the monsoons, in mid-November 2018.
What we're looking for
We are posting this notice along with some photos in hopes that we can gather support and help to reach our goal by November 2018.
100% of Donations go to the purchase and delivery of educational materials.

Above: Young Nepali students in a rural primary school classroom.

+ Read More
Update:

As un update to those who have supported and are following our progress, we are happy to let you know that we are very close to reaching our goal now. We have enough money for a decent combination of laptop computers, video cameras and educational programs to implement programs in these remote mountain villages, and while it's not the original goal we set sights on, it is what we're able to achieve with the funds we have received up until now. We have utilized social media FB and GoFund me as part of our fundraising campaign for the 2018 "Reaching New Heights" in education and actually, found the response to be lackluster, but telling. Nevertheless, Blessings of outreach have evolved in other ways. We have also chosen to take on some personal financial burden in bearing part of the cost in order to keep the project on track for November.

Our hope of course is that we could reach the hearts of our like-minded, compassionate and spiritual community through social media. Thank you to those who have helped so far.

If you feel moved we and the students would greatly appreciate your help.
+ Read More
Read a Previous Update