Whoretography
£4,451
of £10,000 goal
Raised by
49
people in 17 months
Whoretography - The intersection of imagery, technologies, society & the sex worker rights movement
.
Website:
www.whoretography.com
Twitter:
https://twitter.com/Whoretographer
Instagram:
https://www.instagram.com/thewhoretographyproject/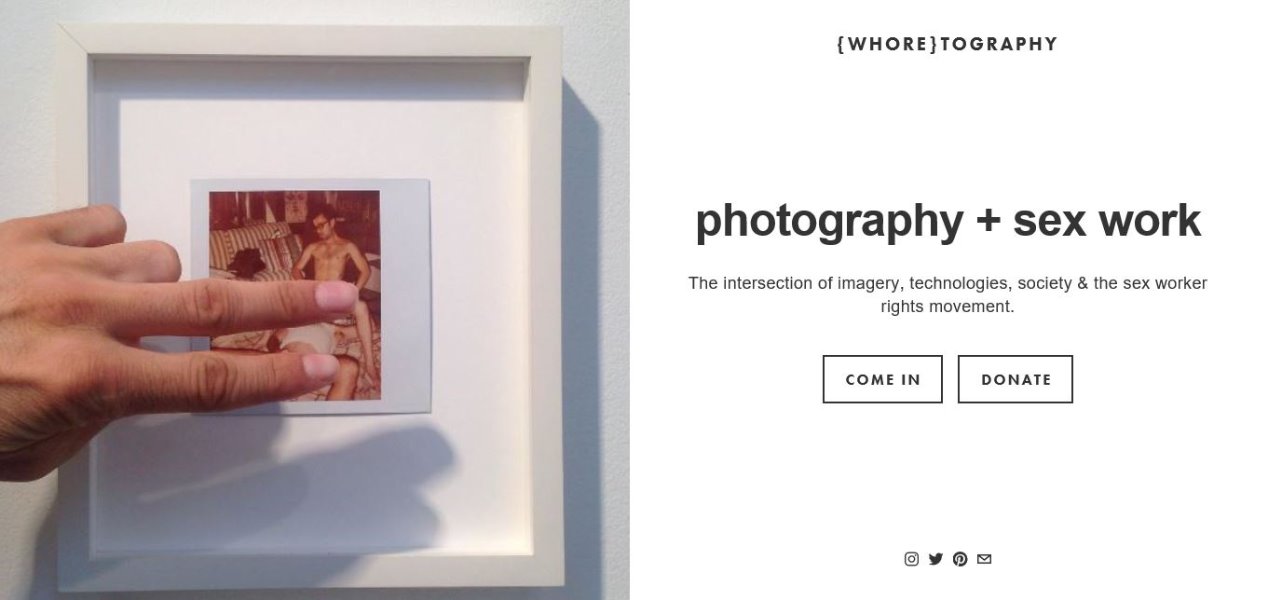 I am a Documentary Photographer, Masters Student, & Sex Work Activist interested in challenging the victim-centered nature of sex worker imagery online and how photography is instrumental in the war against sex workers. I want to challenge the prevailing ideology of sex-work & present to the viewer an alternative perception of the industry and its female participants - normally obscured by one particular, narrow version of feminism, by anti-sex-work rhetoric & by modern western cultural attitudes towards women's bodies & sex.
My work is aimed at stopping the over-simplification of the lives of sex workers, & to challenge current imagery that encourages the sense that the only way of interpreting their lives is to see them as ripe for 'rescue.' .
In the war on sex work, photography silences the intentions, actions, and feelings of sex workers & serves to make their lives more precarious . This narrow & selective representation of male oppression reproduces a politics of pity embedded in the visual representation of sex workers. This visual representation suggests only pity makes sense as a political, social & cultural response.
I am undertaking a pratise based Masters Degree and my thesis attempts to answer the following question;


Whoretography; Is it possible to reclaim the word whore though visual practise as research?
The Name


Whoretography.  It's brutal, right? I am sure it seems counter intuitive to use the word Whore in light of my expectations about the use of appropriate language surrounding sex work.   I am mindful that it is viewed just as a smart play on words. An advertising slogan for commercial purposes.  It started out as just the name of a photobook but  now is a public declaration of sorts against the linguistically disproportionate language used to label women who choose to engage in sex work and the role photography plays in the online sale of sex.
Funding
Whoretography is the intersection of where imagery, technologies, society & the sex worker rights movement collide.  I am seeking funding to take Whoretography from a Masters project (not to fund the MA as I have that covered) to a publishing house and activist platform dedicated soley to the advancement of sex worker rights through the medium of photography and visual practise.
What I am working on?
Whoretography is a multifaceted endeavour that works with found material uncovered via various visual research techniques and cyber ethnography. Below you will find a list of activities of what I am working on now (not including the work I undertake as part of the Masters Programme)
1)     Launching the Whoretography Magazine, which will be a quarterly e-magazine sold via blurb. I do have plans to make this a printed magazine as well.
2)     Maintaining the website as a space on the Internet dedicated solely to the discussion of sex work imagery.
3)     Currently planning a series of speaking engagements, both in London and Manchester.
4)     Currently curating an exhibition to be held in central London and drinks night to launch the Whoretography magazine, will be held in Clapham Old Town.
5)     Working on getting 5 books to publication (details can be found on my website)
6) Working on creating an online library dedicated to sex work photo-books and visual based projects
+ Read More
Be the first to leave a comment on this campaign.