Viva CocoMango!
$3,315
of $8,000 goal
Raised by
39
people in 28 months
CocoMango is dedicated to enriching the lives of our community, but
we can't succeed without generous supporters like you!

We are happy to announce that we have succeeded in funding all of our scholarship students for the 2017 school year. Proyecto CocoMango would like to express our sincere gratitude towards our generous friends and sponsors who have helped us along the way.

January 26th, we will be launching once again our Youth Enrichment Activa program. Please continue to support CocoMango to make this program a success!

How you can help!
-Donate: small or big, every bit counts!
-Spread the word: share our GoFundMe page with your friends and family
-Like our facebook page:
https://www.facebook.com/proyectococomango/
Where does your money go?
- 13 high school scholarships which include tuition, transportation, uniforms and school materials
- Art & Education projects
- Our Sustainable Rural Tourism initiative to improve incomes in the community
- Permaculture projects
- And more!
How your support can make a difference!
-Roberto is 14 years old and would like to go to school to become an engineer, but his family can not afford it. Our scholarship program will enable Roberto to complete his high school – an essential step towards his dream.
-Maria is keen on learning English to expand her job opportunities, but she must take care of her family and can not travel to Managua for classes.  Our English program is held in her small community, giving Maria access to the education she needs.
- Ana is in need of additional income, but work is scarce in the community. With no means of transportation, jobs in the surrounding communities are out of reach.  Our Sustainable Rural Tourism initiative will help bring work into the community, giving Ana the opportunity to earn money to support her family.
Do you want to know more about COCOMANGO!?
Proyecto CocoMango was founded in July 2014 by a group of individuals who have been leading educational programs in the Laguna since 2011, community members and resident expats. We are a community organization with a mission to expand educational and artistic opportunities, protect the environment, and develop social and economic resources for Laguna de Apoyo, Nicaragua, and neighboring communities.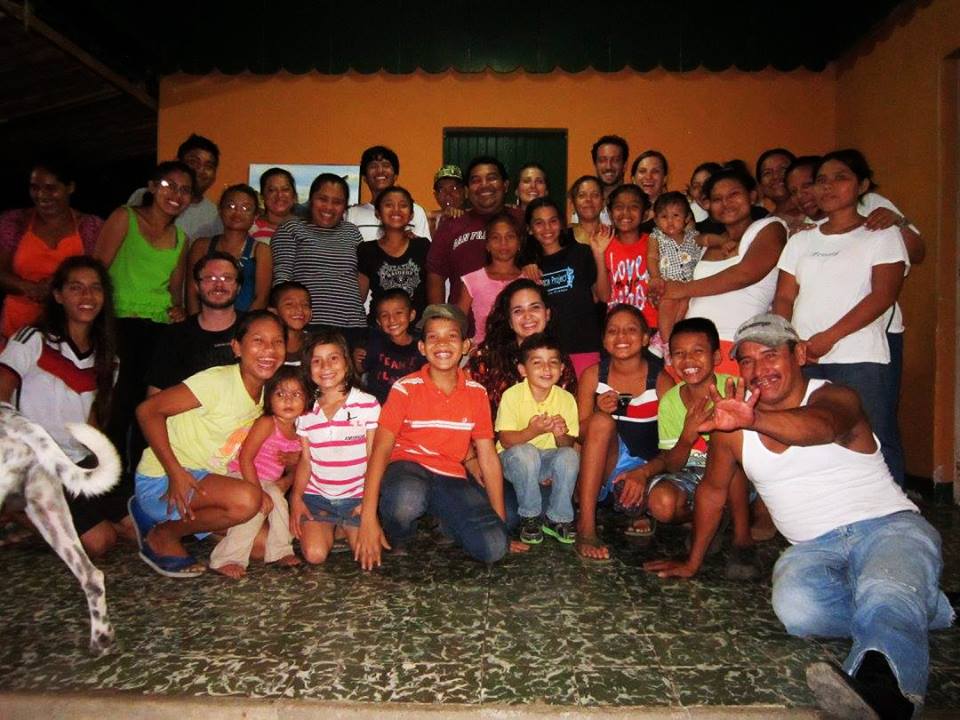 CocoMango is run by a community-elected Board, which includes local leaders, as well as expatriates, and has self-assigned community members working in committees for each project branch: education, environment, art and community development.
Why "CocoMango"?
When the community met to discuss the founding of a new organization, all topics were up for discussion: structure, mission, projects, leadership, etc. However, when deciding on a name, the whole group unanimously agreed on "CocoMango" in tribute to an enormous coconut-sized mango that had been perilously hanging above everyone's heads for the duration of the meeting. The name was immediately chosen with joyful cheering, and shouts of "CocoMango" which have been used to commonly greet fellow community members ever since. You may interpret it as a metaphor for prosperity and growth, for the collaboration between foreigners and locals, the cooperation of two ends of the community that had been geographically divided…. Or just a good omen for surviving the meeting beneath the enormous hovering fruit. Viva CocoMango!
Projects
Proyecto CocoMango works in four main project areas: education, environment, art and community development. Each branch has a committee of CocoMango members. For an update on our most recent activities, visit our Facebook page:
Proyecto CocoMango!
EDUCATION
Laguna de Apoyo has one primary school with about 55 students (Pre-K through 6th grade) and 3 teachers. Students receive basic subjects such as Spanish, Math, and Science, but do not have the chance to explore art or music classes.
To attend high school, secondary students need to bus all the way up to the crater's rim which is costly for most families.  Their coursework includes English and Computation courses. 
Most students face challenges to complete their schooling, whether it is due to economic stress on the family, early pregnancies, and/or a lack of parent/teacher support. CocoMango works to expand students' economic opportunities through the following programs:
Scholarships
Expenses related to secondary or university education put significant financial stress on families, and some individuals opt to work full-time rather than continue their studies. "A Fruitful Future" is our scholarship program that seeks to provide quality secondary and higher education opportunities to residents of Laguna de Apoyo who currently demonstrate dedication to their studies or are motivated to return to school. We hope to award our first secondary school scholarships for the 2016 school year to cover school fees, transportation, 2 uniforms, and 1 pair of shoes for recipients.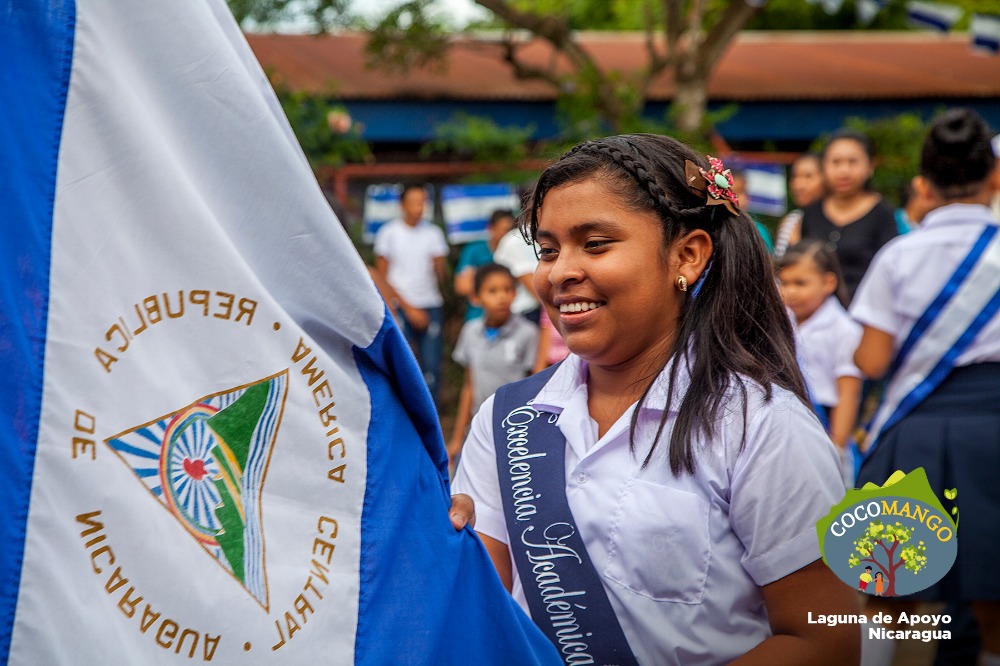 Primary School
The local primary school runs from 7am–12pm and there are three teachers covering pre-K through 6th grade. This results in three grade levels learning together in one classroom. We strive to support teachers by assessing needs and seeking material resources, in-classroom assistance, and providing individualized tutoring to high-needs students.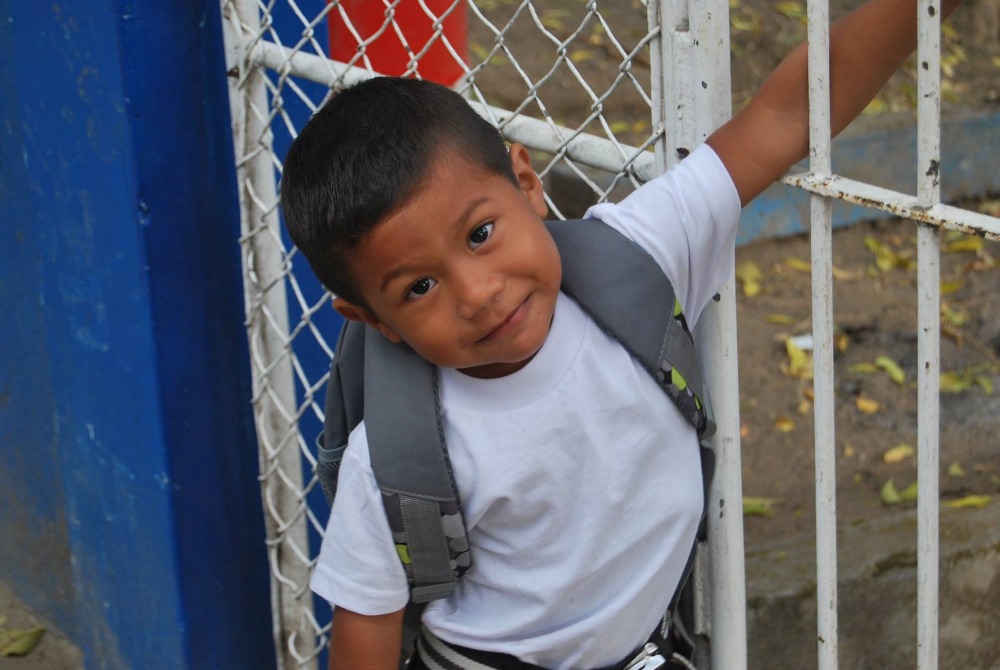 English Class
We provide 3 English levels at the primary school on Monday and Wednesday mornings from 8:30am – 9:30am. While not all primary school students live close enough to attend our afterschool program for further English practice, all primary school students from 1st to 6th grade are exposed to English education via these classes.
Laguna Activa Youth Enrichment Program
Nicaraguan students have 5-hour school days and often have time to spare after finishing chores and homework. We offer an afterschool enrichment program for students aged 5+ from 1-4pm on Mondays, Wednesdays, and Thursdays to provide academic support, facilitate creative learning, and present opportunities for personal growth. The afternoons are spent reinforcing basic academic skills, helping with homework, learning English, and introducing new areas of learning (art, theater, dance, sports, environmental conservation/recycling, team-building, etc). We strive to create a space where all youth are supported and respected.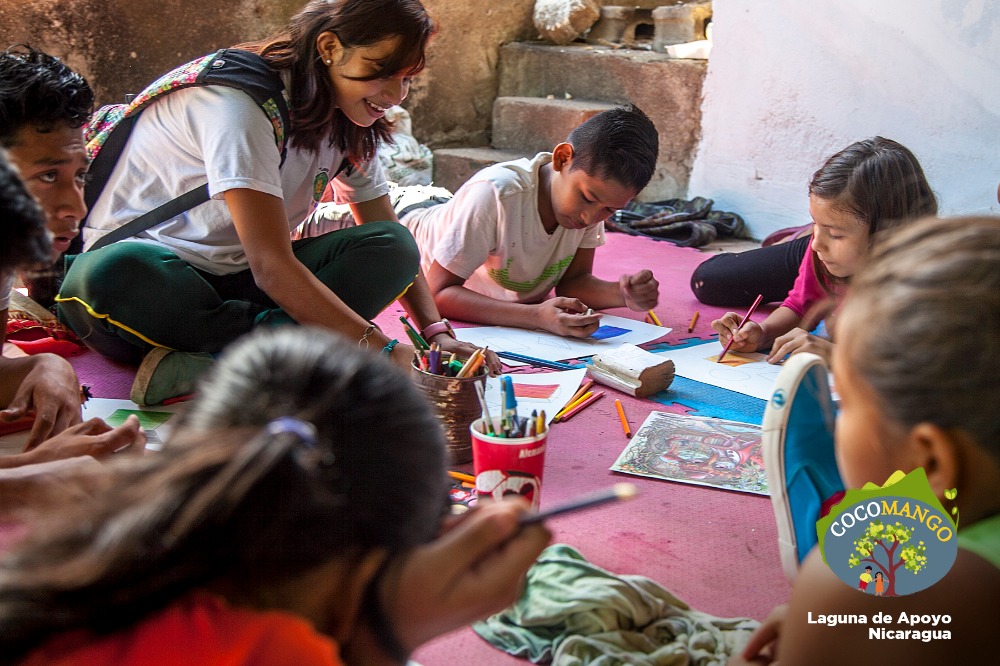 Teen/Adult English Education
Three nights/week, teens and adults are invited to participate in English classes at our volunteer house in order to broaden their job prospects with a key second language.
Literacy
Community members who are committed to improving their reading and writing levels receive literacy instruction 1-2 times per week from fellow community members or visiting volunteers. We coordinate 1-on-1 sessions at students' homes and utilize didactic materials provided by the Municipality of Catarina.
ENVIRONMENT
Laguna de Apoyo is situated in a protected Nature Reserve, with an incredible diversity of flora and fauna. The forest and lake make the Laguna a favorite tourist destination for foreigners and locals alike who come to year-round and patronize the beaches, bars, restaurants, and hostels. The economy of the Laguna depends greatly on the preservation of the valuable natural resources, but community members and MARENA (Park Guards) are battling to conserve the environment against deforestation, hunting, and littering. 
Environmental Week
This year, Proyecto CocoMango worked together with the Catarina Mayor's office and local businesse to organize the third annual Environmental Week in Laguna de Apoyo.  The event, which took place from July 5th – 8th, kicked off with a parade starting at the top of the volcanic crater and ending at the banks of the Laguna, and also included the following activities: demonstrations of recycled earrings, recycled paper, and competitions to design a Laguna de Apoyo logo; clean-up of the local paths; an underwater and beach clean-up; and a fair in the center of Catarina where various environmental-related organizations presented their activities and led demonstrations.
Youth + Environment
Environmental consciousness and preservation is one of the key focuses of our afterschool youth enrichment program, Laguna Activa.  Several key environmental activities that we carry out with the youth include:
-- Clean-ups: As a group, we periodically clean up the garbage that is left on the Laguna's public beaches and save materials that we can re-use – plastic bottles, bottle caps, glass, etc!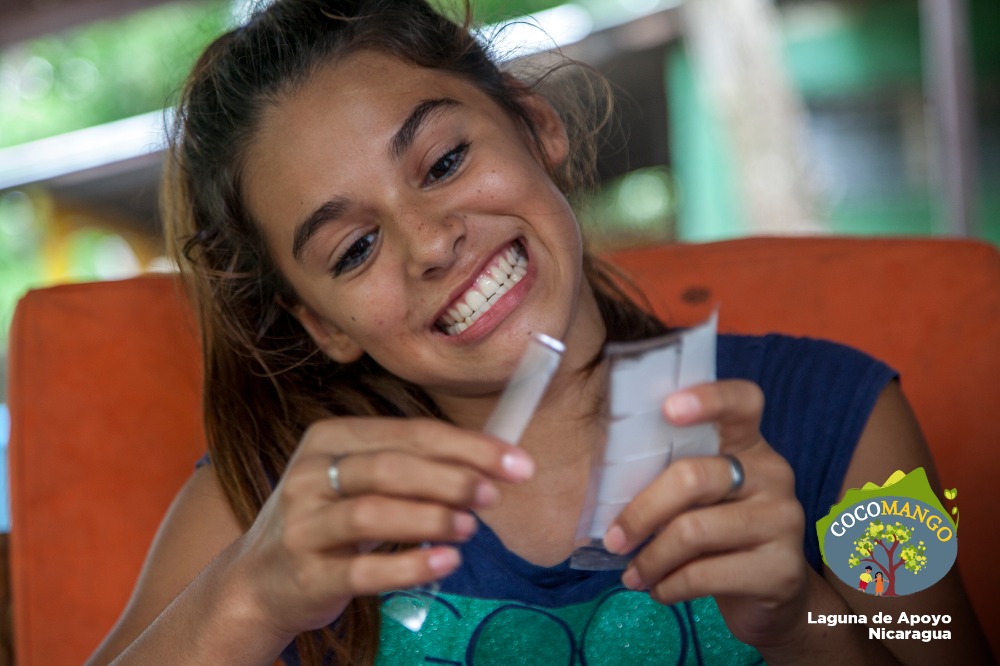 -- Recycled products: Using recyclable materials that we find during beach clean-ups, save from our own consumption, or ask nearby hostels to save for us, we work with the kids to create new, useful things!  These include recycling bins made from recycled plastic bottles, wallets made from milk cartons, and earrings made from chip bags and plastic bottles!
-- Youth-led workshops: After learning how to make new goods using recycled materials, our youth started leading workshops for primary and secondary level students at nearby schools, demonstrating their techniques at environmental fairs, and training primary school teachers.  This year, our kids displayed their handmade recycling bins at a World Water Day celebration in Granada and showed visitors how to make various recycled products at the Environmental Week fair in Catarina.  In collaboration with Opportunity International, they also led a workshop for primary school teachers on how to make earrings, wallets, and other products from recycled materials.
ART
Often integrated with environmental themes, art is another focus of our after-school extracurricular program, Laguna Activa. At least once per week, the Laguna Activa coordinators or visiting volunteers lead an art session with the youth, exposing them to various art forms and encouraging creativity! Examples of activities include acrobatics with CocoMango Coordinator, Ramon Pineda, who was formerly a member of the Granada Comedy and Mime School, recycled sock puppets, and mobiles.
COMMUNITY DEVELOPMENT
Proyecto CocoMango seeks to develop social and economic resources for Laguna de Apoyo and its neighboring communities.  Within this area, our activities include:
Clean Drinking Water: Members of CocoMango are working with the Detroit Chapter of Engineers Without Borders to identify a solution for clean drinking water for the Laguna de Apoyo Community.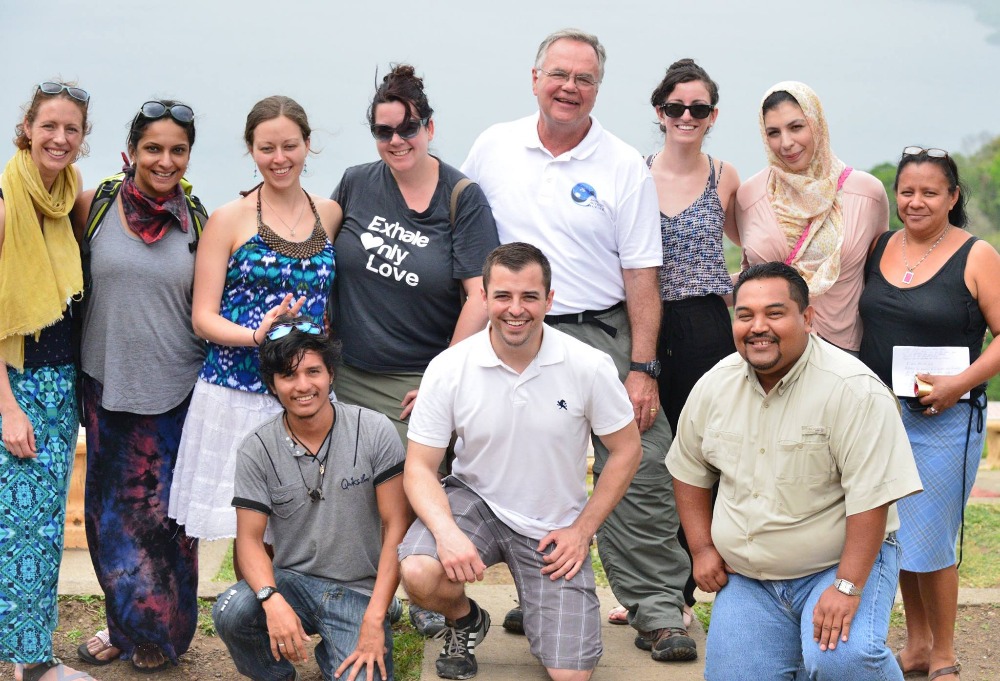 Coordination of Medical Brigade: CocoMango members periodically help organize visits by medical brigades to Laguna de Apoyo.  The visiting medical professionals – which have included dentists, gynecologists, pediatricians, general practitioners, etc – provide check-ups, tooth extractions, and necessary medicine to patients free of charge.
Sustainable rural tourism
This project has been initiated by the local,Community of the Laguna de Apoyo with the aim of sharing cultures and helping to build a sustainable economic and social development.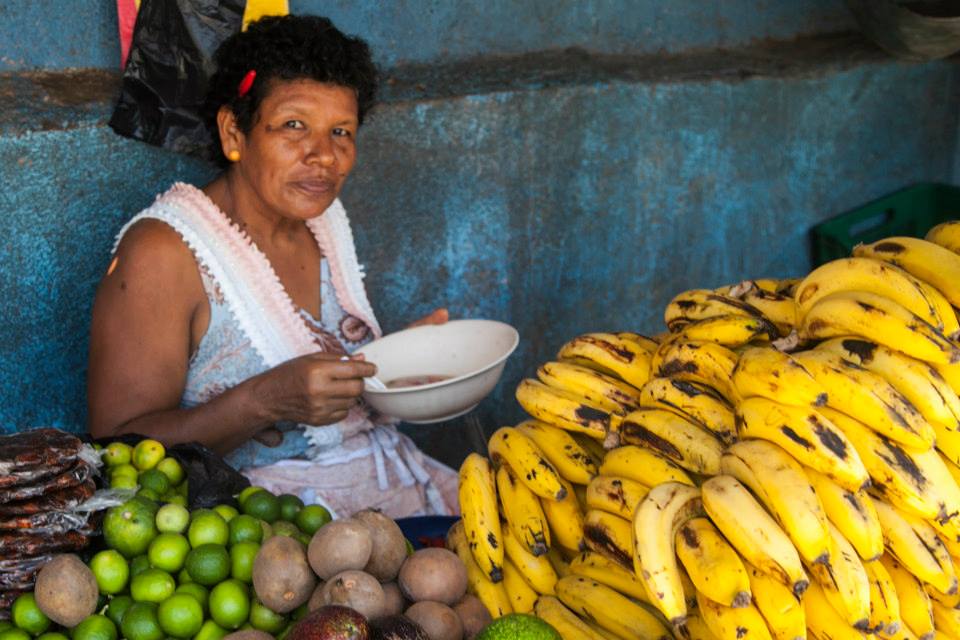 Laguna Sports
CocoMango promotes friendly sport and healthy lifestyles in Laguna de Apoyo. Sports activities include a girls' soccer team, Zumba class, and local soccer tournaments!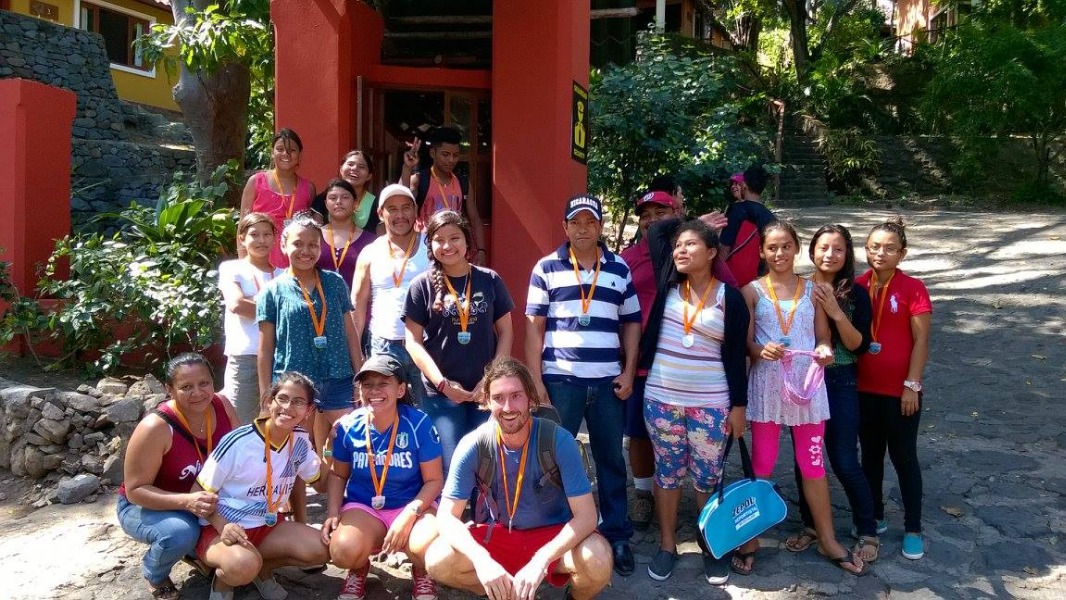 Thank you for your support!
Cocomango team
Laguna de apoyo, Nicaragua.
Website:
proyectococomango.org
Facebook Page:
Proyecto Cocomango
+ Read More
Be the first to leave a comment on this campaign.