Vet-Traxx Project for Veterans
$1,945
of $4,000 goal
Raised by
35
people in 35 months
What is VTP? We are a veteran owned; non-profit organization located in Galt, CA;  that aims to provide therapy thru music, one track at a time.
Our mission is to provide veterans suffering from PTSD, TBI, and other disabilities with a musical outlet in a recording studio for environment by enabling them to utilize their musical talents as a voice of expression. It has been proven that music is an effective form of therapy; providing an outlet for emotions, notion of using song, sound frequencies and rhythm to treat physical ailments. Providing therapy through music can benefit our veterans in so many different ways:
1. Decreasing stress, anxiety, anti-social behavior
2. Connecting with other veterans who have similar experience
3. Using music as a way to express feelings/thoughts
4. Building up self-esteem
We have a team of studio musicians available to aid in the writing/recording process. We have created partnerships with top music industry vendor's who will be providing musical instruments as well as equipment, so the veteran will not need to possess an instrument to be a client of VTP.
Your contribution/donation is going to a worthy cause. Listed below are examples of what the funds will be used for:
1.  Additional equipment not donated (ie Cargo Trailer, extra guitars, misc)
2.  Merchandising, we want to design shirts, hats for our veterans and corporate partners.
3.  Events cost money and we will need adverstising materials printed to attrack more donations and veterans.
4.  Cost of doing business, day to day expenditures.
All of the people that work for VTP are strictly volunteers and are donating their time for a good cause.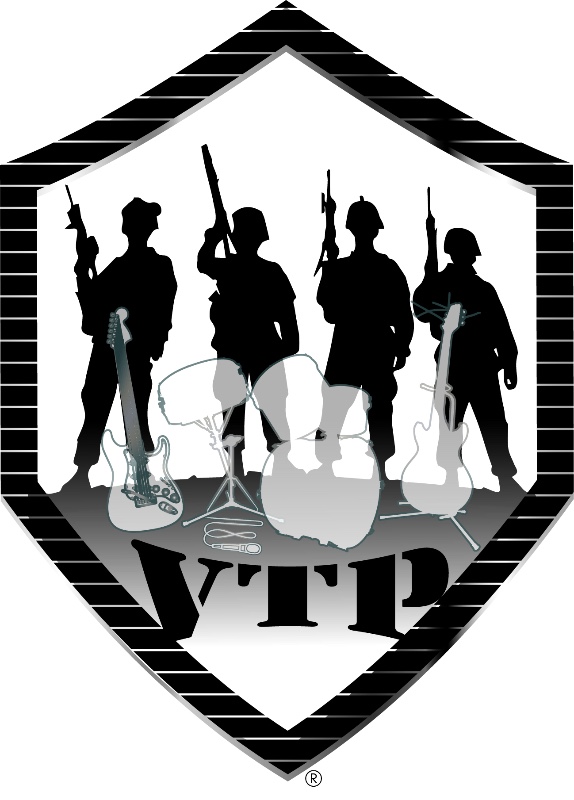 We have teamed up with some of the music industry's top equipment vendors which will provide our organization with top quality instruments and accessories for our veterans to utilize during the recording process. Our supporters include:
Drum Workshop
Sabian Cymbals
On-Stage Stands
Mesa Boogie
Schecter Guitar Research
SKB Cases
CAD Audio
D'addario
Trick Drums Hardware
Hartke Bass Amplification
X-Cel Drumsticks
Roland Corporation
Clearsonic Mfg
Focusrite Ltd
Kelly Shu
Avid
Team Tekin
Gear Crazy Music
Techno Empire
Super Sound Proof Co
Soundproof cow
Our community sponsors include:
Plastaket Mfg
ABC Supply
Lumber Liquidators
A-M-S Materials
GAF
Elk Grove Power Sports
Lodi Music
#gobeyondgiving
We already have media interest in our project and will fully advertise our corporate sponsors with our banners in the studio, social media, and news media.
A study published in the Cleveland Clinic Journal of Medicine found that,
"Combat veterans are not only more likely to have suicidal ideation, often associated with posttraumatic stress disorder (PTSD) and depression, but they are more likely to act on a suicidal plan. Especially since veterans may be less likely to seek help from a mental health professional, non-mental-health physicians are in a key position to screen for PTSD, depression, and suicidal ideation in these patients."
+ Read More
Be the first to leave a comment on this campaign.