139
13
Hope for Helena
$12,101
of $50,000 goal
Raised by
136
people in 3 months
HOPE for HELENA
 On Thursday, July 12th Lisa's daughter, Helena experienced an unexpected tragedy while vacationing in Utah with her Grandmother and two brothers, Derek and Dawson. Helena, 15 years old, was in a terrible ATV accident.  Helena's right hand was completely crushed, and she was airlifted to the trauma center in Las Vegas. Lisa immediately flew across the country to be by her daughter's side and the surgeons are doing the best they can, but she was told it's going to take a miracle.  Helena has had two surgeries in the last two days and more expected next week.  Helena is being kept as comfortable as possible but will need many more surgeries and on-going therapy. She is in ICU in recovery and will be moved to the Pediatric trauma unit soon. The surgeon did the best she could to get the bones back together, but they cannot do much with the tendons and nerves at this time. She will need many more surgeries for that. We are just hoping, right now, that the blood flow regains into her fingers.
Helena is a beautiful, active (soon-to-be) 10th grader who is a student at Coral Springs Charter School and active in Cheerleading, Soccer, and Student Athletic Training Organization … helping care for the school's athletes.  She hopes to one day go into sports therapy.  She is your typical teenage girl.  She likes going to the movies with her friends, make-up, boys, and just recently got her learners permit to drive. 
Lisa is a single mom and wonderful mother to her three children and is in dire need of our help.  Due to financial constraints, the children are unfortunately uninsured.  Lisa will be out of work for an unspecified amount of time and as the sole provider of her family, she shouldn't have to choose between working and caring for her daughter. At this point, she has no idea how long Helena will be in the trauma center and what the long-term prognosis is at this time. Already on a tight budget, this is going cause a huge, financial hardship for them without our help. Between transportations costs, lodging, medical bills, therapy, rent and living expenses … they need our help. No donation is too small ... every little bit adds up! 
Lisa's family and friends thank you from the bottom of their hearts for your support and generosity. We will keep you all posted in the days to come.
+ Read More
Update 1
2 months ago
Share
I have wonderful news to report ... Helena has been released from the hospital in Las Vegas and is on her way home. She arrives in Fort Lauderdale early in the morning and then has a doctor's appointment at
10:00 am at the University of Miami. Although she is a true champion and has been so brave with a constant smile on her face, she has a long and challenging road ahead of her. Lisa and her family want to thank each and every one of you from the bottom of their hearts for your prayers and generous donations. Please continue to share the Go Fund Me page so that we can assure Helena that it's all going to be okay and she shouldn't have to worry about her care in the days to come. Lisa is already talking about going back to work in a week or two and I don't think that either of them is quite ready for that yet. I will continue to keep you updated.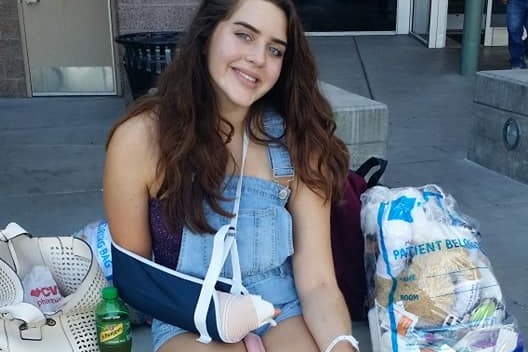 + Read More