Freedom Home Academy Building Fund
$3,291
of $100,000 goal
Raised by
92
people in 45 months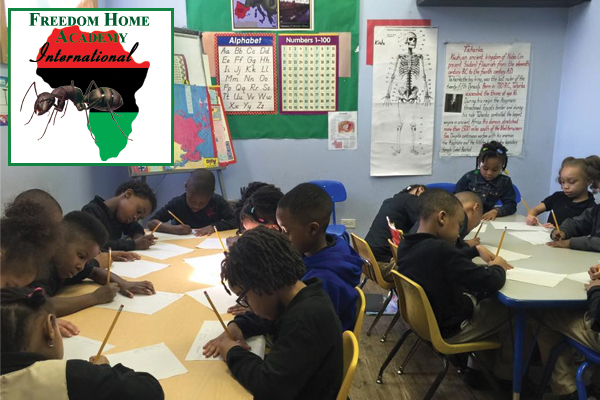 UHURU SASA!
In Swahili, this means "Freedom Now!" Swahili is just one of the languages we teach at Freedom Home Academy International, an independent private school serving the Afrikan youth of Chicago, IL. We feel that all Afrikan children have growth and development potential that reaches far beyond our limited –and limiting– perception of society. Our program is holistic in nature and addresses how the world is viewed. Therefore, we teach about international policy and how it places the Afrikan, so that our students can be clear on how to move with confidence in this competitive world.
We began as a humble home school almost 12 years ago, and have grown into a truly dynamic school where our elementary and middle school children learn on a high school and college level. We offer French, Kiswahili, Tai Chi, Piano, Science, Biology, and more - concentrating on Reading, Mathematics, Focus, Geography, Health, and Cultural Enrichment. Our School of Literacy campuses offer the same program for pre-schoolers. You can view our techniques and awesome students in action
here
.
Not only do we provide an extraordinary learning program, but our children also participate in learning camps across the country, gaining experience in robotics, computer programming, game design, web design and more. These trips prove to be extremely valuable, not only in book education, but also in real-world education. Freedom Home Academy is succeeding in giving our children important life lessons that extend well past their home state and into the world beyond.
Each year, we celebrate our students' achievements at the Freedom Home Academy International Annual Academic Expo & Awards Ceremony. Our Afrikan children exhibit many of the academic hurdles they have overcome during the year, as well as show off their Tai Chi skills, perform culturally relevant skits, and recite some of their literary works. This full production takes the work of our entire staff, parents, and community in order to get it up and running every year. 
You have a chance to help inspire a new generation of children to want to learn like they never knew they could. A chance to spark the flame in a child that may feel neglected in their current learning environment, or who feels the need for a more challenging program. Parents and guardians who witness the FHAI students at their best feel such a sense of pride, a renewed sense of hope for their own children. They see freedom for their children - freedom from the stigma of modern education that holds Afrikan children back from their true potential. If you believe in freedom - uhuru - then please donate now - sasa - and help our school build a brand new facility so we can continue to showcase the exemplary work of these students, teachers, parents, and, of course, community.
Your donations will go towards securing a building that will allow us to combine our Academy and School of Literacy, as well as increase the amount of students that can benefit from our classes. We will also be able to build out state-of-the-art classrooms in order to continue to teach our children in a modern learning environment. Join the Freedom Home Academy community by showing your support today.
Gratitude,
The Freedom Home Academy Family
+ Read More
Be the first to leave a comment on this campaign.