Help Chris Cayford Beat Cancer
$17,584
of $25,000 goal
Raised by
203
people in 34 months
Chris has been battling cancer for the past 3 years - and has inspired many with his positive attitude, strength, resilience, and courageous fight against this terrible disease. During a recent surgery doctors removed a mass that was identified as Primitive Neuroectodermal Sarcoma; Chris is now faced with a new type of cancer that is lethal and the odds of survival are low. He will require 4 three week cycles of aggressive chemotherapy. He has been a warrior these past 3 years; never asking for help and fighting cancer with everything he has. However, now unable to work and having no extended benefits, the bills and therapy requirements will become overwhelming. Chris has relied on employment insurance to cover his medical and day-to-day expenses, however EI will soon be exhausted leaving him with no income. Fighting cancer and staying strong is where his efforts and energy need to be focused, rather than worrying about the financial burdens. I have started this page to provide an opportunity for Chris' friends to support him while he takes on this life-threatening illness.





Chris' story:In January 2013, Chris was diagnosed with a very rare form of cancer, Stage 3c Extra Gonadal Germ Cell, that required 12 weeks of incredibly aggressive chemotherapy that nearly killed him. June of 2013 Chris had a 15 hour surgery that removed 22 tumours and his left kidney and broke 5 ribs to gain access. A week after discharge he was readmitted and given an emergency chest tube that drained over 4L of fluid from his right chest cavity. He would have died within 24 hours had it not been discovered. Two more weeks after his second discharge he was readmitted again with Clostridium difficile colitis (C-Diff), an infection that thankfully was caught and responded well to antibiotics.

August 2013 he had his second surgery to remove the 8cm tumour from his neck. September 2013 he was told he was in remission. In December of 2013 he contracted Epiploic Appendagitis which led to the discovery of a new mass behind his pancreas. March 2014 he had a 4cm mass removed as a result. This was thought to be his last battle against this Germ Cell cancer.

It would not be until a routine check-up that he completed every 4 months that a new mass was discovered in his liver in October of 2015. This 2cm mass was removed January 2016. He was then diagnosed with Primitive Neuroectodermal Sarcoma and told that in order to save his life he would again need to go through chemo therapy, a process he will begin in February 2016.


My goal for Chris is to continue focusing on fighting and not have to worry about expenses that will continue to grow.  His body has taken the toll of multiple surgeries and treatments, and now he has another difficult fight ahead of him.  Some of us have witnessed first-hand the toll this has taken on Chris, and others have provided much-needed supported from a distance.  Now he needs all of us more than ever.  Any donation, regardless of amount, is greatly appreciated and will be a huge help to Chris during this time to give him access to all the tools he is going to require to beat this new, more aggressive form of cancer.
Chris - you've got a whole team of family and friends behind you and we know that you'll beat this and kick cancer's a$$!  You live life with such passion and are loved by so many.  We are all rooting for you!!!
+ Read More
Update 1
32 months ago
Share
Thank you to everyone for your generous and kind donations, I know Chris and his family have been overwhelmed by the support. Chris is currently in the midst of his chemo treatments, and even through the toughest battles he continues to stay positive and inspire us all.

A "Dine & Drive" fundraiser for Chris will take place on Thursday May 12 from 4-8pm at Boston Pizza Ackroyd (No. 3 Road in Richmond).
There will be a number of vehicles to test drive, and Dueck will donate $25 to Chris for each person who test drives a vehicle.
Boston Pizza will donate 10% of each bill that evening.
Additionally, we will have a raffle and 50/50 inside Boston Pizza.
Please spread the word and bring your friends! This is a great opportunity to raise some additional funds for Chris.

Many thanks,
Danielle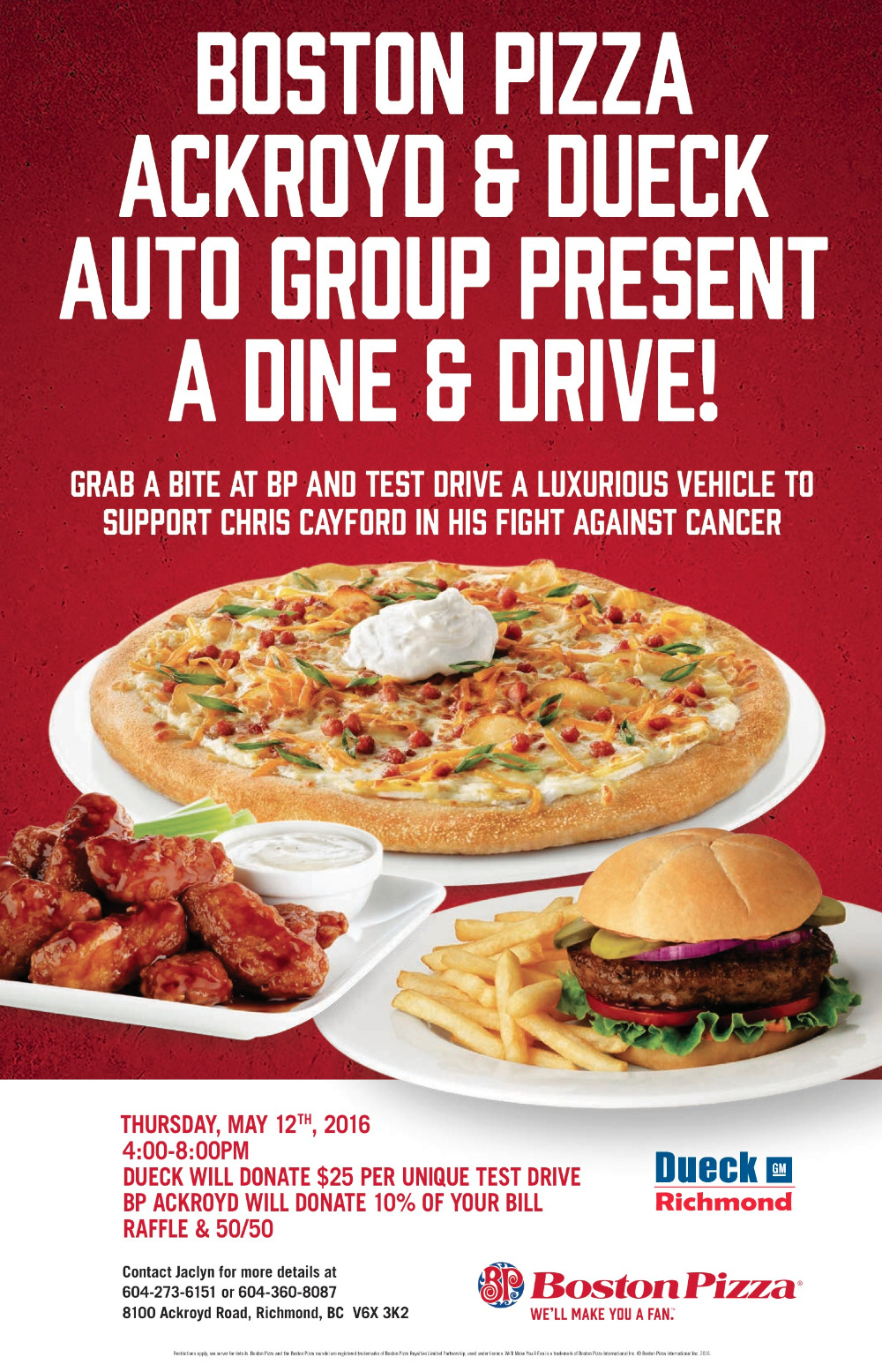 + Read More
Jackie Condé
34 months ago
Thank you Danielle from the bottom of my heart for encouraging everyone who loves Chris to rally in support so that what should be the least of his worries at this time can be, in any small way, a burden relieved. My nephew is so brave and so very loved.
+ Read More
I`m doing Tough Mudder Yorkshire in August and every penny to you pal
+ Read More