Travelling Monkeys
€1,201
of €1,200 goal
Raised by
29
people in 49 months
The Travelling Monkey's next destination: Rapa Nui!Become a supporter of the Travelling Monkeys and receive a unique self- and handmade Travelling Monkey yourself!You will be able to help us letting the Monkeys travel all around the world. Wherever you go, take pictures of your Travelling Monkey and upload them to our Facebook fanpage:
https://www.facebook.com/travellingmonkeys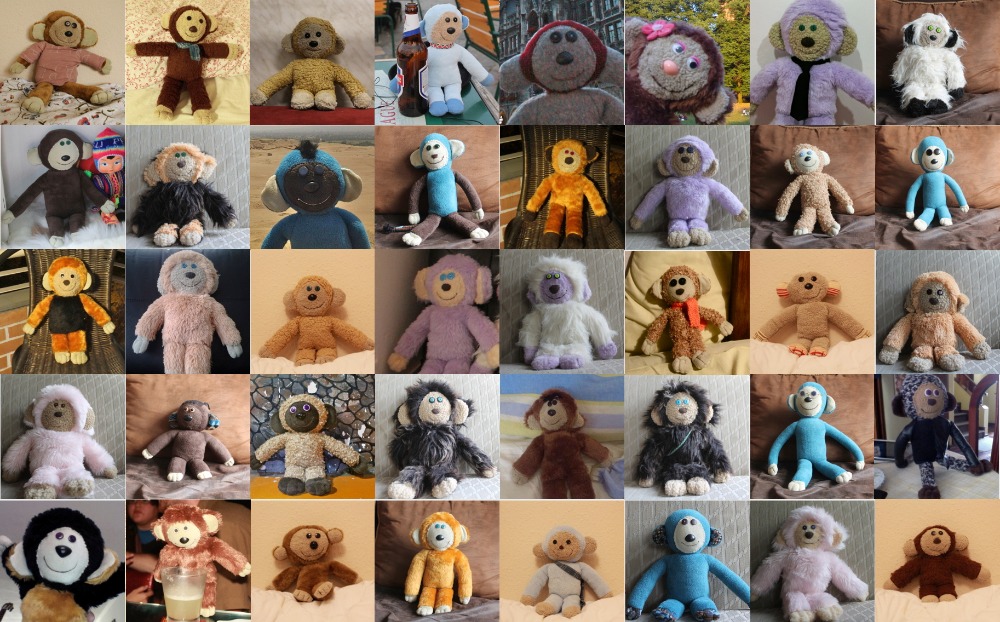 The Story of Bimbino and Bambina
Bimbino and Bambina are two little stuffed monkeys who like travelling. Since they were born in 2012 they have been on the road.
After having discovered various places in Europe the monkeys decided to move to South America to live a nomad life. Travelling on a low budget results in a lot of adventures: couchsurfing, hitchhiking, volunteering and always having to find the cheapest solution to visit famous places and to get from point A to point B.
May it be travelling 2000 km on a fright boat in Amazonia, walking nearly 30 km along a railroad to get for less than 3 Euros to Machu Picchu or to sleep in the store-room of a petrol station in the middle of the Andes. Bimbino and Bamnina never go for the common way. They love the adventure!
To share their experiences they have started writing a blog recently:
https://monitosviajandos.blogspot.com
Not only to tell about their adventures but also to give advice to other travellers.
In January 2014 the monkeys' passports got stolen in Cusco. Ever since, they have been stuck in Peru waiting for new ones to get issued. As a result they had to give up their big dream to go to Isla Navarino in Chile.
Nevertheless they won't stop dreaming, and where old dreams die new ones arise.
To see the Moai's on Rapa Nui is one of those dreams.

Unfortunately it is impossible to reach this place by hitchhiking, and it would be very difficult to swim over the Pacific Ocean.
No, Bimbino and Bambina are not raising the money to build a boat, they just want to fly!
To Rapa Nui - the Easter Island!

Having a travelling monkey is like having a permanent travel partner.

In the end your monkey identifies you. So instead of having an awkward photo of you with closed eyes taken by a stranger in front of Eifel Tower half of which is missing on the picture you will have a perfect picture, how
you 
want it, with your cute travelling partner on.
By donating for the Travelling Monkeys you will not only make sure that Bimbino and Bambina will reach the island of their dreams, you will also be contributing to various projects they are working on.
1. Their travel blog:
https://monitosviajandos.blogspot.com
2. The ongoing photo project "Bimbino and Bambina around the World". Examples of this project you can see in the introduction video and on their Facebook:
https://www.facebook.com/travellingmonkeys
3. The creation of the "Travelling Monkeys" website, an online-shop for selling handmade stuffed monkeys.
You might think that 2500 Euros are a too big amount of money for two flight tickets to Rapa Nui and you are right with that thought.
Tickets from Santiago de Chile usually don't cost more than 1500 Euros for two persons.
The difference of 1000 Euros can be explained with the costs for printing the postcards, materials and sending costs for the Travelling Monkeys they are giving as rewards to their donors.
All Travelling Monkeys sent to donors are unique and handmade.
Concerning rewards:
Couch Potato: A post card with your favourite motive of the Travelling Monkeys video.
Tourist: A SMALL sized unique handmade Travelling Monkey.
Backpacker: A NORMAL sized unique handmade Travelling Monkey.
Tramp:  A PERSONALIZED* SMALL sized unique handmade Travelling Monkey. 
Supertramp: A PERSONALIZED* NORMAL sized unique handmade Travelling Monkey.
Travelling Monkey: A PERSONALIZED* NORMAL sized unique handmade Travelling Monkey including its own passport and a handmade backpack.
* Personalized means that the monkey gets created according to the look and character of its future owner.
+ Read More
Be the first to leave a comment on this campaign.