Help me get song into Hobbit 3 & New CD!
$2,113
of $10,000 goal
Raised by
36
people in 57 months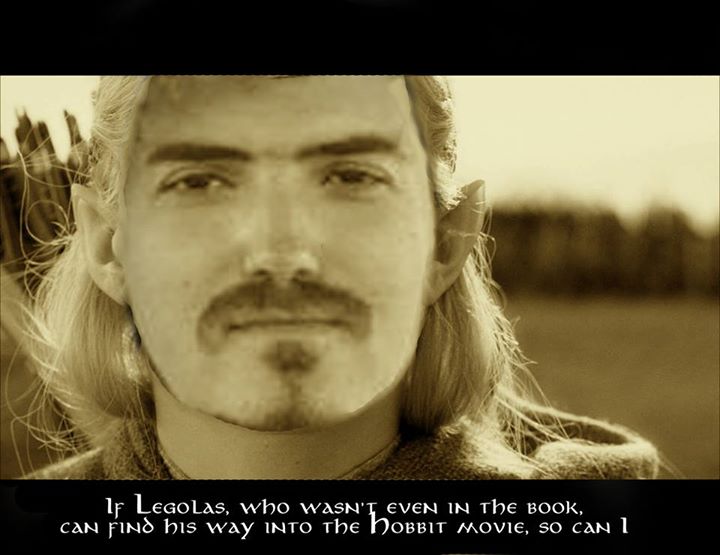 This is a humble goal of someone who still believes the reality we live in is decided by the thoughts, heart and actions of the dreamer. 
I am a dreamer who wrote a song called
"There and Back Again"
I am invisioning to be in the last Hobbit movie.  Set to the melody of the "Shire Theme" with an intro/outro version of the last song in the Hobbit book, "There and Back Again" has all the elements of a triumphant return the end of that long tale deserves.  I have had some great feedback so far, yet after many carrier pigeons overseas to anyone who may know a Middle Earthling, I feel that if this is going to come to fruition, I will need to do something daring. 
Over fifteen years ago I felt an overpowering call, a call to leap out of my door and find a way to New Zealand.  Hitchiking west, through trial and triumph, the goal unexpectedly shifted into something new... a life of sharing Music.  While traveling the southwest I began to find my voice, met some wonderful friends, played some unforgettable shows, recorded nine albums, had a beautiful daughter and have given my all to sharing with others as much as I could.  Though I did not make it to New Zealand, what emerged was an understanding that when you leap, great things happen.  Now, after fifteen years my goal once again is to finally make it to Middel Earth and pitch my song to anyone with the pointy ears to hear.  Currently they are in post production for the last of the three Hobbit movies due out in December.  They did not have a closing credit song until 2 months before the second movie came out last year, so I know I have a window of getting heard; it may be small, but my passion for this is a flaming arrow of ridiculous obssesive oober geeky magnitude! 
Friends, family, strangers, that dude over there in the corner, please help me cross into the west so I can give it everything I can to personally put this song into the right people's hands!  This is the completion of a huge section of my own story and the chance of a lifetime.  To be a part of Tolkien's world with my song in the closing credits would be a dream come true.  Whatever you can give, is forever appreciated.  Please listen to the song and help me manifest this!!  SO BE IT!!!!
To get to New Zealand my goal is to raise $4000, though I am setting a goal of $10,000 because any extra will go to putting the song "There and Back Again" on a new double album featuring a soft side of love and campfire songs and an upbeat revolutionary world tribal symphonic side that is the culmination of the sound I have always dreamt of.  All the songs are complete, they just need to be recorded.  And this is where you come in!  Here is the breakdown so you know exactly what your precious gift will go to:
NEW ZEALAND:
*Airfare - $1600-2000 (depending on how soon I get the ticket).  *Minimal car rental - $30/day.
*Occasional hostel to wash my bum - $20-30/night.
*Gas, food, water, necessities, one and half beers, cds to hand out - $1000.
RECORDING:
*Studio time/mixing - $3500.
*Printing albums - $1500.
*Promotion - $1000.
I have some awesome rewards for your valuable belief.  After reaching the goal of $10,000 everyone who donated over $50 will receive a double album.  This means so much to me.  From all my heart, thank you for helping me achieve this lifetime dream of being a part of one of the greatest stories ever told.  All my love and gratitude!
+ Read More
Be the first to leave a comment on this campaign.