Help me Fly like Iron Man!
$3,580
of $75,000 goal
Raised by
141
people in 24 months
The Project:
As you know, the Hacksmith has been attempting to build a flight system for a few months now in order to Fly Like Iron Man -- or rather, at least hover. 
What you might not know is that part of the reason we're doing this… is because we were challenged to by Iron Man himself, Robert Downey Jr!



We started the project by attempting to use solid fuel rockets, which would be as close to "Flying like Iron Man" as you can get.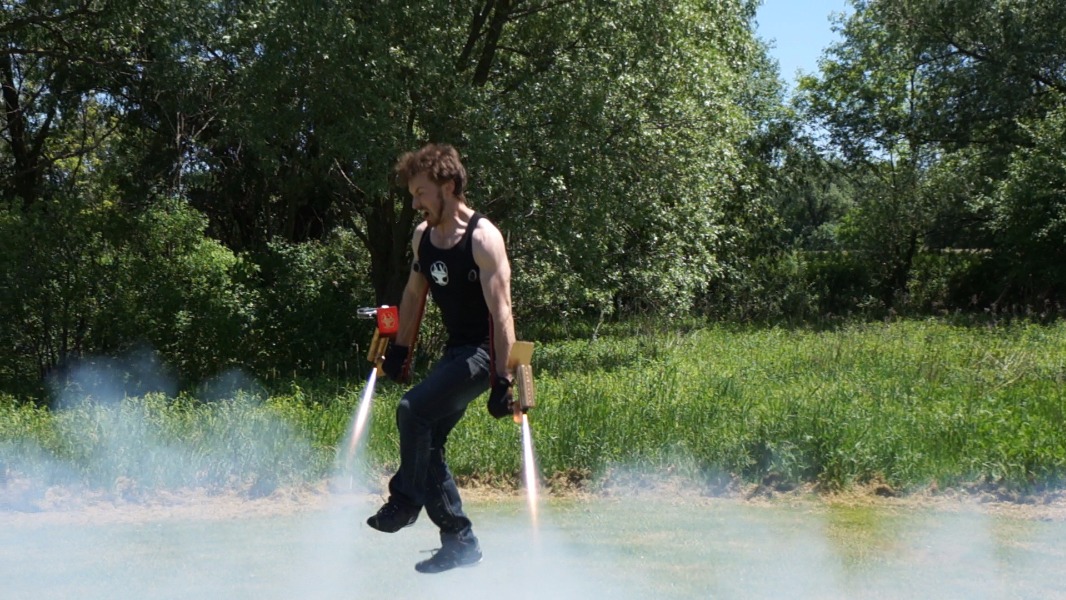 The first 7 videos of the project were dedicated to this, and while we had a lot of fun playing around with the rockets – ultimately we decided they were too dangerous, too expensive, and didn't last long enough for a suitable flight system.

It would have been more like a rocket boost than any kind of hover anyway – the rockets only lasted for about 2 seconds each. The other issue was using higher power rockets would be illegal without a license -- and for what we were attempting to do, no regulatory authority would condone the project.

New Direction:
Thankfully, Hobby King stepped in and sponsored the project with parts they manufacture and sell.



Because of that, we've been able to play around with EDFs (electric ducted fans) and figure out how to use them in order to fly!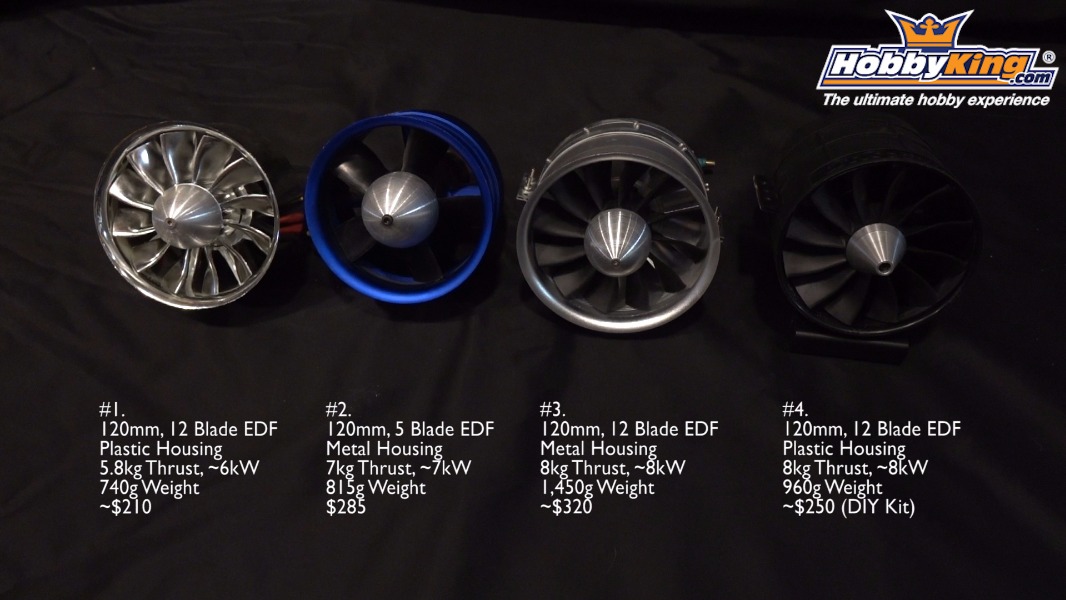 Unfortunately, even the largest EDF's Hobby King sells aren't big enough to fly. We'd need around 20+ of the largest size they sell (120mm diameter which produce 8kg of thrust). Placing 20 EDFs on my body just isn't going to work.

Remember -- the entire system including pilot is going to weigh around 100kg. To fly -- and have responsive controls, the EDFs must provide significantly more thrust.

Most quadcopters function at a 50% thrust output to hover. That means to have control like a quadcopter, we would need 200kg of thrust! We also don't want to have to run the EDFs at full power constantly, as overheating can then become an issue as well.

The Solution:
Luckily, we've found a supplier in China who can provide 144mm EDFs for around $650 USD each that put out 12kg of thrust and only weigh 1kg -- we will still need around 12 of these (plus a few spares in case anyhing breaks) as well as 300A ESCs, larger batteries, wire, and other components to finish the project.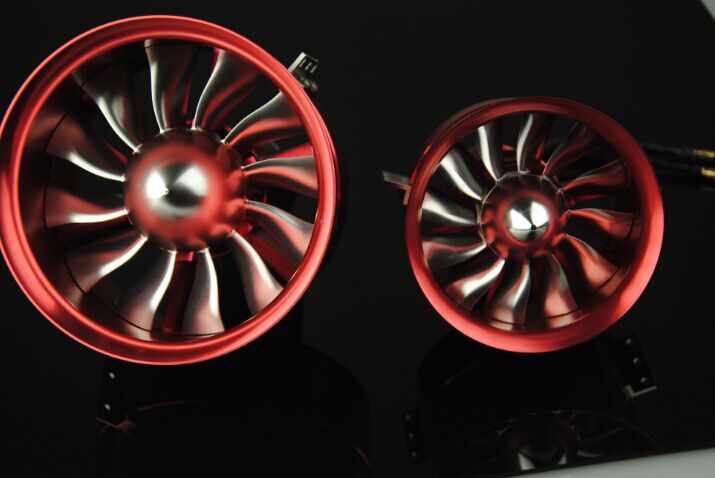 144mm EDF (12kg thrust) -- $647.31 USD each
https://www.aliexpress.com/item/Full-Metal-144-bypass-turn-inside-with-TP-motor-racing/32414888469.html

We have one of these that we ordered ourselves, and unfortunately, in our tests, it only produces 10kg of thrust -- but it is more energy efficient than the 120mm EDFS -- and features an all metal design which is more robust and reliable.

So while these are our best option so far, we would still need a minimum of 16 of these larger EDFs, which again, isn't going to work very well. 

Now there are bigger EDFs which would be even better. But the price goes way up because it is a very niche market. We've found a 195mm EDF that can produce 24kg of thrust. Double the thrust output and only about 50mm (2") bigger in diameter!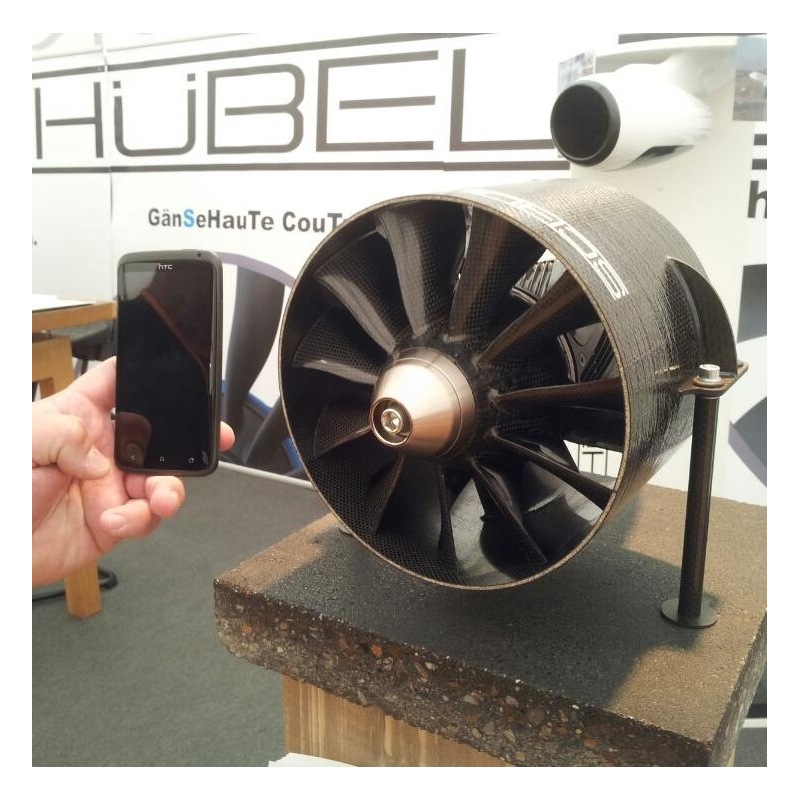 195mm EDF (24kg thrust) -- $4226.25USD quote from manufacturer (w/ ESC)
http://www.turbines-rc.com/en/edf-ducted-fan/344-schubeler-ds-215-dia-hst-195mm-carbon-edf-ducted-fan-motor.html

We Need Your Help!
What we would like to do is use six of these 195mm EDF's in a jetpack hexacopter configuration to provide 144kg of thrust with stabilization via a flight controller.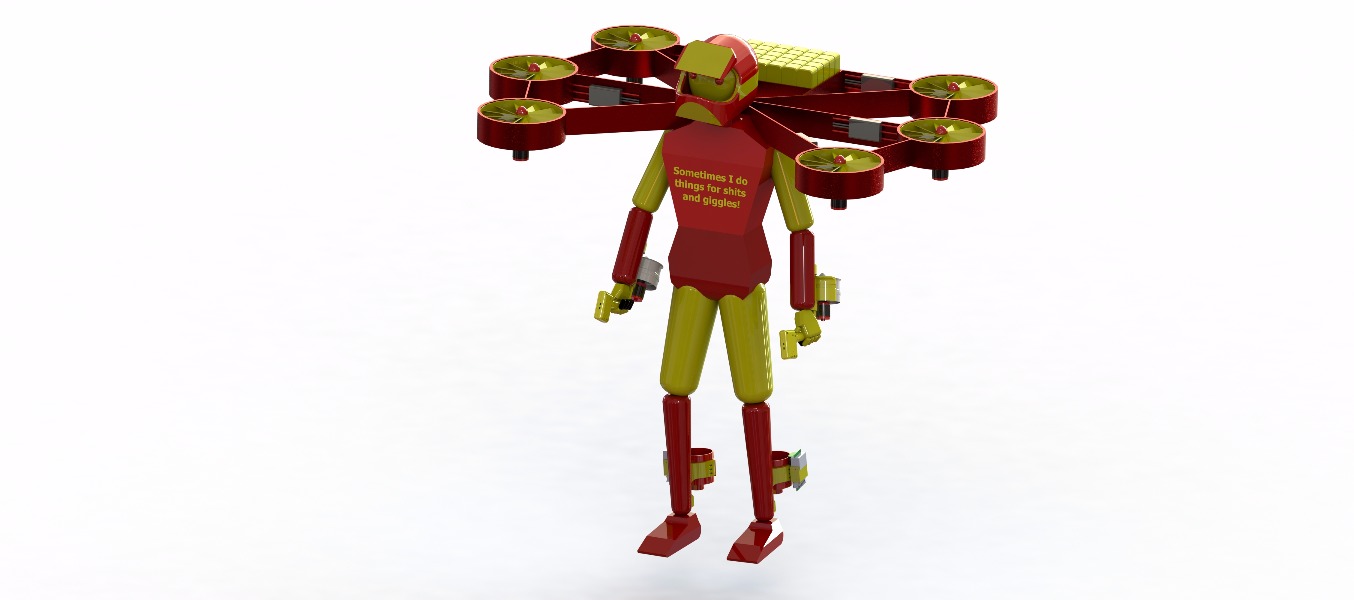 Then we can use the other 144mm EDFs on my limbs, which would give us 10kg thrust per limb to allow for steering -- keeping these allows us to fly around "like Iron Man".



Unfortunately, we can't afford to outright buy that many EDFs (especially not the big ones!) so we're looking to you guys, our faithful fans who want to see this project take off (We also love puns!).
Please consider donating to help us order these more expensive EDF's in order to make this project a success!

Where would the money go?
The following table outlines where the majority of the financing is needed.

This does not include any overhead costs, design time, or external consulting we may require. It's an ongoing bill of materials and is subject to change -- but as you can see -- it's gonna be one expensive project.



*Our funding goal is in Canadian, as GoFundMe does not allow us to raise funds in USD because of our location.

Also while tax laws vary country to country, in Canada, any donations received (because we are not a charitable foundation) are subject to income tax, which will be another significant cost that we will have to deal with.

What if we exceed our goal?
If we raise more money than we aim for, don't worry! It'll only make the project better! There's honestly so many more things we could do to make this system better -- more advanced batteries, lightweight materials, etc.

Having a financial buffer for this project is almost a necessity, as there are many things that could go wrong!

The budget above does not include many other costs that will be associated with the project.

TL;DR If we've already raised enough for our goal and you still want to support the project, please do!

All proceeds above and beyond this GoFundMe will go into the flight project, tools, or equipment for the development of these Make it Real projects.

What's in it for you?
If we reach our goal we'll be able to keep working on this flight project, and eventually, fly.

If we don't reach our goal, we might never be able to finish this project.

If you want to see us succeed, please consider donating! Plus there are some awesome perks if you do!

We will be posting updates on the project upon successful funding -- but please note, it could still take months or even years to finish it! 

As a donor to the project you will be given access to a private discussion board where extra photos and videos will be shared during the development of this project. We will be using Discord for this reward. Sign up at  https://discord.gg/zpMEmEv and then when you make your donation, leave us your username so we can add you to the #supporter group!

We will also be sharing all design files we create for this project -- meaning you could build your own -- if you happen have around $100,000 laying around.

Thanks for checking out the project, we'll see you in the skies!

~the Hacksmith

PS: Check out the FAQ on our website for more information about our project!
+ Read More