The Art Journal: Our Story
$2,190
of $1,200 goal
Raised by
57
people in 37 months
"In the midst of pain & insurmountable obstacles, beauty & strength can emerge. This book along with all of my artistic endevors, is meant to serve as a catalyst in the regeneration of hope."
The Art Journal: Our Story
is a project I started the day after Thanksgiving. In some ways it was a personal goal, and in others, a philanthropic foundation. A yin & yang. A human experiment of sorts.
Now, now, don't get all human rights activist on me, I am not testing on humans. If anything, I am the test dummy, the lab rat, chasing unrealistic dreams, with non existent funding.
So, here is the experiment: Can "impossible" dreams become reality, when a community leads a dreamer to believe "i'm possible"?
Who is 
The Art Journal: Our Story
for?
YOU!
What is 
The Art Journal: Our Story
?
Tangibly, it is a reproduction of the original 6" x 9" hand crafted art journal I worked on relentlessly from Thanksgiving till Christmas of 2015.
Each of the 36 pages within The Art Journal contain a whimsical, full color image and key word on one side and are blank on the other side.
The books are printed locally on quality paper and are mailed out daily to each beautiful soul who invest in a copy by contributing $30 = ($25 + $5 shipping) to this GO FUND ME campaign. <3
Where did
The Art Journal: Our Story
project begin?
Its original inspiration came from my desire to chase dreams, while running from demons. I wanted to stop grieving over my loss and reclaim a year of my life lost to depression and anxiety, by turning it into a best seller.
I started small by writing and sharing My Story on my blog, which you can read here in >
My Past
. It was an excruciating process to put myself through, but I felt I needed to do it for others.
After surviving multiple traumas and near death experiences, I thought facing my truth would be easy. I am a fighter after all, and my wounds always scar quickly, leaving my skin tougher than before.
But this was different. This entire past year was different.
For the first time in 37 years I had listened to the voice in my head. My truth. It filled my heart with sorrow, and my mind with despair. I did not think I could survive the story I had forced myself to accept.
As I accepted the unacceptable truths of what had happened to me and the freedoms that had beentaken from me, I became more desperate. I wanted the pain to end, I didn't want to feel anymore. I wanted to disappear, but I couldn't.
I had two amazing boys and a best friend, who I have the honor of calling husband to take care of. They helped me to see hope again. Every time I looked into their loving eyes, hope always shined back at me.
These boys gave me the strength to fight! They reminded me of who I was and what I'd overcome! I started to document my journey and through writing my story I found a new weapon of defense.
My pen came to the rescue any time my mind was under attack. About 6 months into this war I had declared on my self, I downloaded a live streaming app called Periscope and I was blessed with another line of defense.
Through the Periscope community I was able to share my tragedy, along with my dream of publishing my first book. New friends encouraged me to pursue publishing the journaling I had done through my healing process, along with my art work.
I started there, but as I began to design
The Art Journal
something didn't feel right. The dream had evolved. My heart went from feeling this project was about me and My story, to making it known it was for others, in hopes of helping them tell their own story.
As the dream took shape, my Periscope community placed their belief in me & my ability to make it a reality. Their faith helped me to move forward and the dream evolved into OUR STORY and together we made it come true!
The Art Journal: Our Story
 was brought to life, LIVE on Periscope. Strangers contributed ideas, encouragement and support, successfully changing my mindset from thinking this dream was impossible to I'm possible!
Why did I create 
The Art Journal: Our Story
?
Because YOUR STORY is important to me and more importantly to YOU. It is valuable and so is every breath you take, so I want to encourage you to give your self attention! You are worthy and that is why I invested my time into finishing this safe and inviting space.
My art and this journal are meant to serve as a bridge between fragility and strength. My hope is that it will help others face fear on a neautral ground, where they feel in control, armed with a pen in hand ;)
"
The Art Journal: Our Story
is an incredible example, of how much impact, one person can have on the life of another & how support and kind encouraging words can change the world."
As of today, we have exceeded our original goal of raising $1,200 in 12 days, to print 100 copies of 
The Art Journal: Our Story
!
Together we accomplished this on January 1, 2016 and started off our new year with success! 
Thank you beautiful brave souls!
Love, smiles and sunshine to you all,
@TheCraftyCutie
A.K.A. Tatiana Allen
Here is what you get for your donation:
$5 gets you a thank you e-mail with 1 digital page filled with some of the hand drawn images created just for the
The Art Journal: Our Story.
$10 gets you the above, along with second digital page of quotes to go along with 
The Art Journal: Our Story.
$30 gets you 1 copy of 
The Art Journal: Our Story
which will include a 31 page full color 6" x 9" Art Journal made up of original designs created just for this project!
$50 will get you dibs on one of the ORIGINAL pages (their willl be 31 + cover) of the original Art Journal!
$75 will get you 1 
The Art Journal: Our Story
+ dibs on 1 ORIGINAL page!
I will give priority on ORIGINAL pages based on the order of donations ie. the first person to donate $50 gets first dibs on an ORIGINAL page!
Here are pages 1 & 2: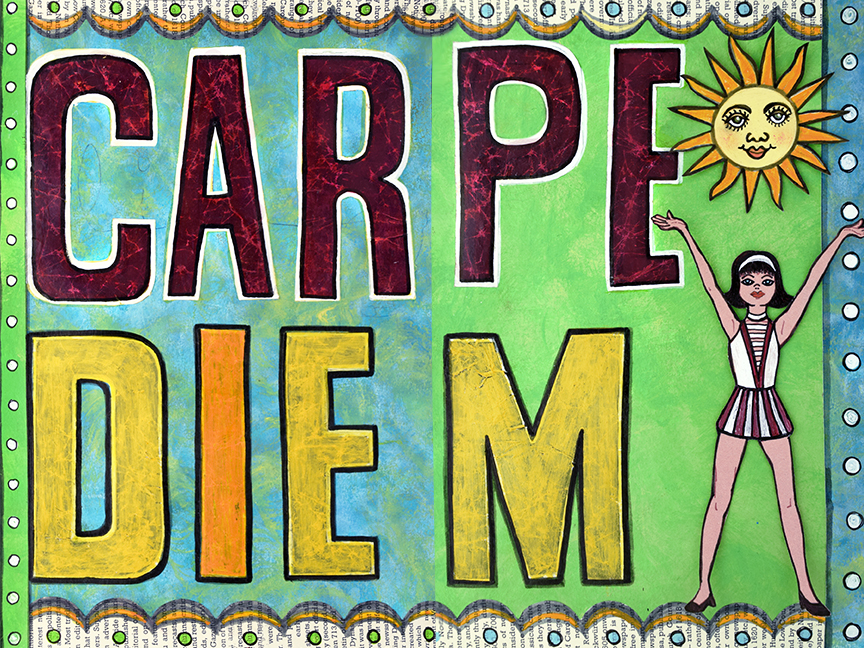 and pages 3 & 4 :)
I'm SO excited! A big thank you to @PedroSanchez231 & Stefanie8675309 for pushing me into this leap of faith <3 Much love to all my supporters, encouragers and collaborators!
The Crafty Cutie 
Periscope link
The Crafty Cutie Twitter link
The Crafty Cutie 
Instagram link
The Crafty Cutie Blog link
The Crafty Cutie 
facebook link

T
he following beautiful words were created by a friend I met on Periscope named @Stefanie8675309 after volunteering to help me get this GoFundMe set up!
"Tatiana Allen is a multi-talented artist, specializing in Mixed Media and Art Journaling. With a large following on Periscope and a successful Blog, known as the Crafty Cutie, she shares her inspirational talent and message of hope and healing with thousands.
For Tatiana, art has been her 'therapy'. It has helped her explore and work though past trauma and she has learned to live a successful life because of it.
She is a wife and mother of two young boys, who has been living her dream as an artist and designer for the past decade. After years of working with different companies as a designer and successfully selling her own art, she feels ready to combine forces into one effort.
She shares with all, her testimony of the healing therapy of Art Journaling ... "There is a tremendous power in imagery. Instead of 'telling your story' to others, you are able to safely 'recreate your story', that's where the power lies."
Now Tatiana is sharing her gift of Art Journaling with everyone, from beginners to those well versed in the power of Art Journaling.
Tatiana shares, "Don't think you need to be an artist to find strength through Art Journaling. Take time to meditate, work through your day. Go through the process of exploring your feelings and past traumas, release those memories through imagery and language. Find within yourself, your own truth, then, if you so choose, you will have the strength to share your story with others."
This beautiful Art Journal, created by Tatiana is your starting point to self discovery. Everything is included except your story, that is for you to explore and add to this journal in your own artistic way. There is no 'right' way to do this. It comes from inside, your way, is the right way.
In the short time I have known Tatiana, she has touched my heart. Her words of encouragement and insight to Art Therapy has helped me deal with my own personal trauma of over 30 years. She knows of what she teaches, because not only has her life been changed through Art Journaling but through her encouragement so have many others.
Please help us support Tatiana in this endeavor, her first printed work. Not only has she worked so hard on this, she has allowed us, her followers and friends to put our 2 cents into the design. Thank you, Tatiana, for your love and kindness to everyone you meet!!"
-Stefanie
+ Read More
Update 1
Posted by Tatiana Allen
37 months ago
Share
Be the first to leave a comment on this campaign.