The 36-24-36 Project
$1,270
of $5,000 goal
Raised by
28
people in 7 months
The 36-24-36 Project
#MoreThanMeasurements

Empowering people to love their bodies, just as they are.

Dedicated to creating a community

& imagery that encourages the innate beauty of individuality.

www.362436project.com 


Named from numbers coined the "perfect measurement" standard for a female body, The 36-24-36 Project is an ongoing, interactive photo series and community of all body types challenging societal body bias. This project is for anyone who wants to explore a new narrative for the way they see themselves.
The mission of the project is simple: to encourage self-love, just as you are. That includes the stigmatized parts of our bodies we're often taught to hide and hate (i.e. stomachs, fat rolls, stretch-marks, scars). Those who reach out to us for the experience step in front of the camera, naked or in underwear, allowing these parts of themselves to be photographed, honestly and intimately. It's an invitation to open their hearts to the hidden places, the hated places, the parts of their bodies they were told to change. We want every person to see their own unique beauty, to look at the pictures of themselves without Instagram filters or Photoshop, and to see their bodies as works of art. They are naked without being sexualized or objectified; celebrated for every freckle, every mark, every curve, every line, every scar.
How It Started:
The project grew out of an accidental photoshoot that proved so healing and empowering, the two childhood best friends, NYC based Fine Art Photographer Ashley and Body Positive Model and Actress Lauren, decided to open the experience to others. Originally intended as personal exploration in a time of exhausting self-doubt, Lauren asked Ashley to take photos of her wrapped in measuring tape. She snapped that concept, but it's what she captured after the tape released that surprised them. Unprompted and unposed, Ashley zoomed into the places on Lauren's body that had been harboring self-hate, intimately capturing them uncovered. Those images, and the catharsis in seeing her body this way, led them to create this opportunity for others.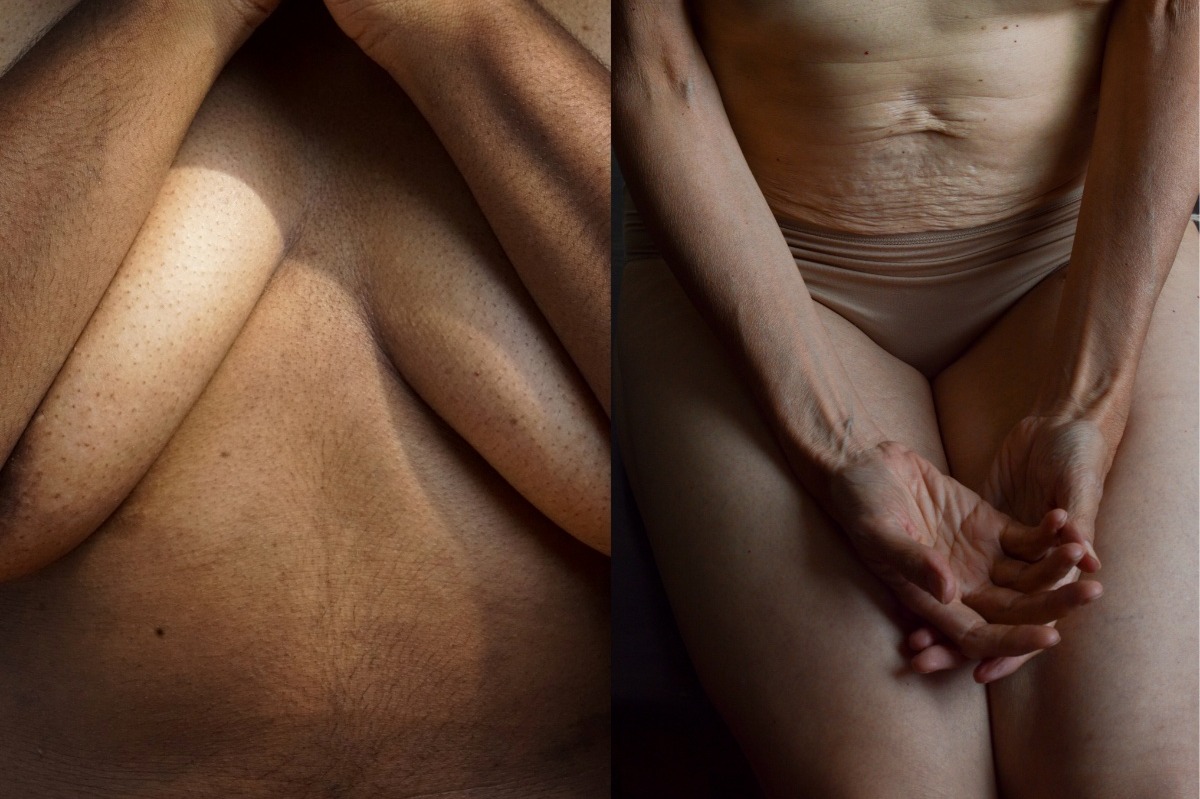 How It's Helping:
Since we began 4 months ago, opening the invitation to participate to the public, we have photographed nearly 60 people in NYC, and have inquires across North America, India, Moscow, and the UK. Our inbox is filled will deeply meaningful, honest messages from people around the world wanting to join this experience, empowering themselves and others. Messages such as:
"I have seen your Instagram and I think it could really change the way I see myself. I just want to see myself as beautiful"
"...I hope to one day turn this [harmful] mentality around and with examples like your project, I hope we turn around the worlds view as well."
"I would love to be part of this to both further my journey in full self love and also to encourage other women who are on their own journey. This project is beautiful, and I hope I can take part in it."
From The Participants:
"I hope that other people with scars see that scars aren't something to hide, nor do they define your identity. Scars are beautiful, they are stories on your skin of trauma that you survived, but people aren't entitled to that story. Beauty is complex and multidimensional, I hope people see that there is room for complexity and that as a collective society we do not have to accept the status quo. Representation matters" - Jenny
"I have decided to create forward movement, and so I began with allowing myself to be naked and unveiled in front of two women that helped me feel powerful, their love was absolutely unconditional and at no point did I question what I was doing. To have these photos taken of me made me feel whole for that hour of my life. I was unveiled and beautiful no matter which way I stood. I will remember that feeling forever, and I will look at these photos and remind myself  THAT's the real me. Thank you 36-24-36 for reminding me that there are more people who feel like I do. So many moments I feel so alone in all of this, and the truth is that I'm not. Not in the slightest." - Lauren S.
"Truly loving yourself, unlearning a lifetime of oppression and unlocking your power is the greatest act of rebellion, and the greatest challenge. I dedicate my life and art to loving transformation, because I want my life to be how I make it, not how I learned it." -Regina
We also ask each participant a series of questions, one being "Who would you be if you really loved your body?" Answers range from: "Myself at my truest, most powerful form." "Powerful. A leader. A guide for women to come." "Unstoppable." Though the answers vary, the conclusions are the same: Loving our bodies leads to fuller lives. Though vulnerability and painful truths are explored, the questions and photo shoots result in healing, positivity, and love.
What's Next:
Next month, The 36-24-36 Project goes to Washington DC!
The 36-24-36 Project will be going to
Superfine! Washington DC
  October 31st-November 4th. We have a booth FRONT OF SHOW! We are featuring a selection of images from our shoots over the past few months in Superfine!'s photography program, Foto Kaip-Sool, focused on photography that is exploring social and political topics.
Superfine! DC will be happening at Union Market, a venue that has an average of 10,000 visitors a week and is spitting distance from the Capital. Superfine! will be partnering with many influential platforms such as NPR, The Washington Post, Washington Magazine, the Smithsonian Hirshhorn Museum, and National Museum of Women in the Arts. We can't wait for this incredible opportunity to spread this beauty and message!! We're reaching out to you because we need your help getting there!
Acceptance as a Special Feature in Manhattan Gallery Show in December
This December, we will be exhibiting in our very first gallery show in NYC as a special project feature with the international art organization RE:ARTISTE for their group show 'Transformation' at Gallery MC, on W52nd St in Manhattan! It's a larger space, and we are so excited for the opportunity to share more, and to give every participant an opportunity to see themselves.
We are in the planning stages now, but will be hosting panel discussions and other exciting programming throughout the duration of the show!
The 36-24-36 Project Book: New York
We are currently designing our first book, a collection of images and stories from each person who has joined the journey in NYC. With your help we hope it can make it's printed debut this winter at our NY exhibition! We can't wait to see each participant (nor can they!) in this beautiful, empowering collection. Ultimately there will be a series of #MoreThanMeasurements books, with specific editions for each city we shoot in. It's not too late for people to shoot with us here in NYC to be featured in the book.
Why we need your help
We are a team of four volunteers: Founders Ashley and Lauren, and two former participants, Rachel Yamshon and Gabriela Escalante, so inspired by their experience they asked to give their time and join the team! We are just four girls in a bedroom in Bushwick, Brooklyn doing what we can to change a negative narrative affecting so many people's lives. We need your help to make these opportunities we have been given a reality. We need your help reaching the people who have reached out to us.
We are currently in the process of becoming a 501(c)(3) Nonprofit Organization, but we need your help now in order to make these upcoming showcase opportunities happen! We need your help so we can buy the prints for our shows, travel to represent the project in DC, create our book, and expand to other cities where people are reaching out . Realizing how many people around the world want a safe space to explore their own body image, we need your help growing now. Help us help each other.
www.362436project.com
+ Read More