The Devin Project: Hammock Village
$6,857
of $6,000 goal
Raised by
104
people in 23 months
Ask any teenager what they want for Christmas, and you will get answers. Very. Specific. Answers. Because it can't just be headphones, it has to be gaming headphones with built in voice activation, surround sound capability, only acceptable in the shade of steel gray with a kelly green mid line stripe, and it MUST be cordless so they can jump around freely while yelling at the tv.
Christmas of 2016, Scott and I asked our son Devin what he wanted for Christmas. His only request? A hammock. But not just any hammock. A neon, tri-colored, double nest Eno Hammock with Atlas Suspension System.
Devin was kind enough to explain that it was a hammock he wanted for Camp. They are rugged and made of heavy-duty nylon that packs down exceptionally small for easy use and transport. Its breathable material is lightweight, and incredibly soft. They have tarp attachments, mosquito netting attachments, and their own line of twinkling powered lights. These aren't your everyday hammocks that remain empty in a stand in your backyard, waiting longingly for you to find a moment during your busy life to slow down and enjoy it. They are made for the adventurers, the seekers, the doers, and the lovers of nature.
Can you guess what was under our tree last year? Because I'm a mean mom, I made him save that one certain gift for last. But when he opened it, hand to God, HE HUGGED IT. Then he pulled it out, draped it over the couch and laid on it. It wasn't hung up on anything but he didn't care. We were going to grandma and grandpa's house soon and they had a perfect spot for him to test it out. And he didn't have to wait for summer camp to use it again.
Camp Ondessonk, our beloved home away from home, has a Loyal Lodge program. "The Lodge of Ondessonk and Tekakwitha is an honor society for campers and staff alike who have shown their loyalty and dedication to camp in an exemplary way. Through fundraisers or service, all members of Lodge strive to give back to the Camp Ondessonk community and act as ambassadors of Ondessonk's values and camp spirit in their daily lives.
All active members may come to Fall or Spring Lodge Reunions, weekends where the Lodge works to maintain the organization with elections and meetings, as well as to give back to camp through service projects. Members are divided geographically into tribes, which act independently to do service in their communities and for Ondessonk throughout the calendar year."
During Devin's 2 week stay at Camp last year, he was nominated into Lodge by BOTH of the adventure camps he attended. He couldn't have been prouder of himself and I couldn't have been prouder of him. He wore that sash for weeks, and it was probably the only article of clothing he would never toss in a pile on the floor of his room. Due to geography, he was now a member of the Peoria Lodge Tribe and was able to attend both Lodge reunions where the members helped clean up camp areas and work on various service projects while participating in worship and fellowship.
When Devin returned from Spring Lodge Camp this year, he showed me a photo taken of him and his friends in what they called a "Hammock Canopy". A cluster of kids grouped together in a cluster of hammocks enjoying the Southern Illinois springtime and all the promises the summer would have to offer.
Devin didn't get to see Camp from his hammock this summer. Two days after his return from that spring weekend, he made the decision to end his life. We are left with questions, photos, and an empty hammock.
All of Camp Ondessonk has joined us in our grief and disbelief, from the director, to counselors, to fellow campers.  But this group of  kids? They dream big. They want change. And they aren't afraid to make things happen. They have gotten approval to build a Hammock Village in Camp Ondessonk as their Devin Project. We are heading to Southern Illinois on April 19th-exactly one year from the day he took his last breath.  While I am broken without my son, knowing that something good is growing from this tragedy warms the pieces of my heart.
While we have raised money for this project, this momma wants more. Bigger. Enough to make this space strong enough to withstand the elements and start a scholarship for new campers who We have ONE MONTH people. And I'm shooting for the stars. Crying isn't anything new for me, but this Camp and these kids leave me covered in  giant wet splotches of pure love. I am humbled by their hearts and desire for giving. They aren't just remembering Devin, they are creating a space for campers to feel welcome, a place for fellowship and fun. A place to talk and feel safe.  They are making a community. The only thing I made that young was toll house cookie dough to eat while I read my books. These kids have taught me so much. Please help them teach others too.
Heepwah- Heather
PS- please feel free to read more of our story on our Facebook page...it's rough, and raw, and real, but there is beauty in it too.
Devin 57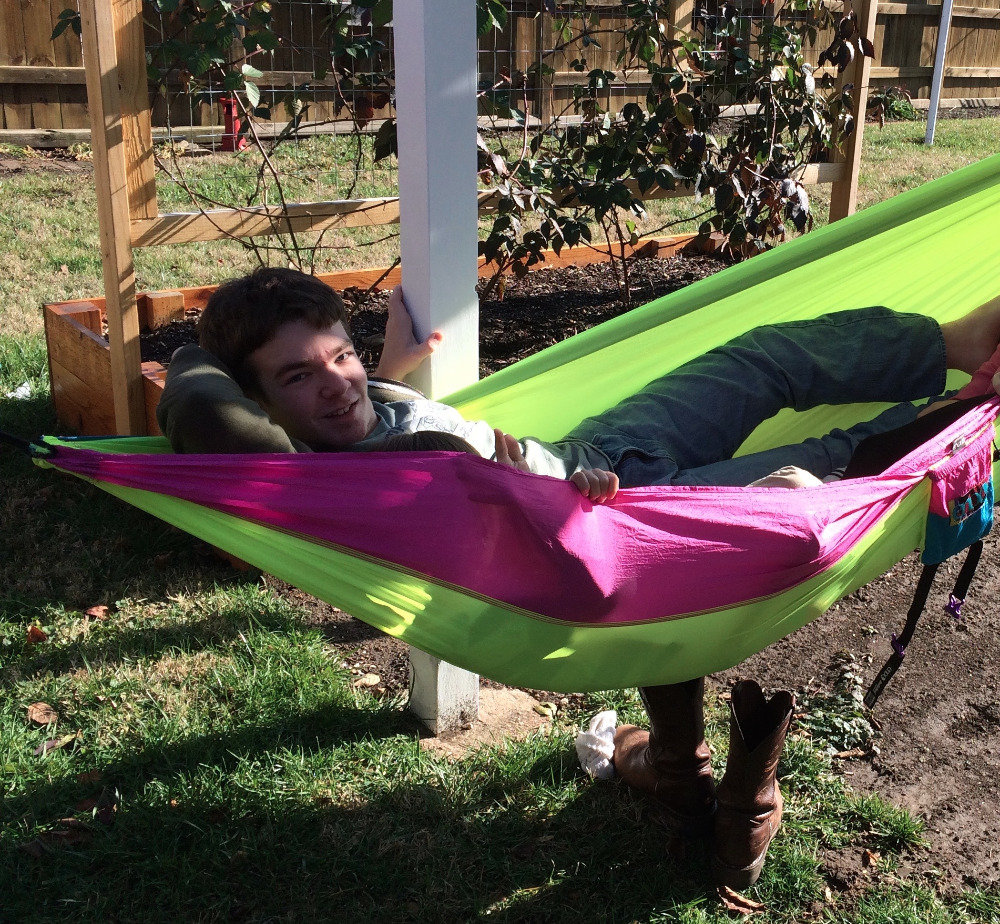 + Read More
Update 2
17 months ago
Share
It has taken me so long to put this out there, but for those interested in seeing what this campaign brought to life, please visit our FB page Devin 57 and see what you helped to create
+ Read More
Update 1
22 months ago
Share
I am so incredibly humbled and grateful for the support that has been provided for our family ...we are SO close to our goal! 4 more days and this campaign will close. Please stay tuned to our FB page Devin 57 in the coming 2 weeks and see what you will have helped us accomplish! "Thank you" are two very tiny words that will never be able to show all the appreciation I have in my shattered heart....but thank you for helping us to honor our son and for the opportunity to help other children as well.
+ Read More
Read a Previous Update
Be the first to leave a comment on this campaign.