The Beat of the Bat
$2,879
of $25,000 goal
Raised by
54
people in 27 months
"The Beat of the Bat" is a full-length documentary that tells the story of the music of the 1966 "Batman" Television Series and how composers
Neal Hefti
,
Nelson
Riddle
&
Billy May
gave Batman his first real musical identity- and one that has remained inexorably tied to the character for over 50 years!
In fact, if you saw the just released "Lego Batman Movie" you might have noticed the numerous references to the music of the TV series. 
And face it, you can go up to anyone, anywhere in the world and sing "Na Na Na Na Na Na Na Na!" and they will instantly know what you are talking about!
The music was as important to the show as the bright colors, campy dialogue and tongue-in-cheek performances. Yet, strangely, the story of how it came to be has never been told...
Until now.
"Holy Fundraiser Batman, Isn't this the same campaign we saw on Kickstarter?!?"
Why yes. Robin, it is. Unfortunately that campaign (
https://www.kickstarter.com/projects/921452605/the-beat-of-the-bat
) didn't make it's goal in time, and so, as heroes must do, we decided to dust off our capes and start again!
SO WHAT'S THE STORY?
It sounds like a simple tale but there is much more to it than just "Na Na Na Na Na Na Na Na"!First, there are the "Batman" composers: Neal Hefti, Nelson Riddle and Billy May. You'll get to know these brilliant composers and arrangers from the people that knew and worked with them.
Of course there's the worldwide phenomenon of the theme song as well as the myriad cover versions from 1966 through the present, from groups ranging from 
The Who, Flaming Lips, Iggy Pop
and many more… including some VERY bizarre ones.
You'll learn the process of scoring and recording the music for an episode of the show and hear from the musicians who performed on various Bat-recordings. 
We'll also discuss the historical impact and continuing legacy of the music and theme song with modern "Batman" composers and music experts.
The show also featured a lot of well-known musicians on the show in guest roles- including
Liberace, Chad & Jeremy, Paul Revere & the Raiders, Leslie Gore
and more- we'll cover them all!
We've also unearthed some truly obscure tidbits… like how
Frank Zappa
and
Sun Ra
are involved in all this Bat-Music madness!
And, of course, we'll teach you how to do the Batusi!
So who's behind this awesome, fun-filled project?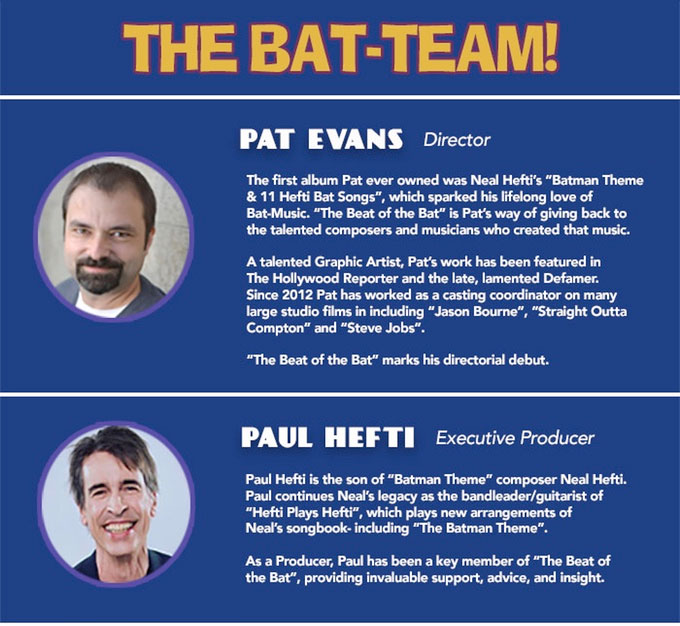 We've already filmed a bunch of our key interviews, including:
Noted Voice Actor and 1966 Bat-fanatic
Wally Wingert
, who has been friends with Adam West for over 30 years and just played the Frank Gorshin version of the Riddler in the animated feature "Return of the Caped Crusaders". He also befriended Neal Hefti in his later years and gave us some great information and stories about him!
Surf-Rock Pioneer
Michael Z. Gordon
, whose band The Marketts managed to chart with "The Batman Theme" before Neal Hefti's official version! How did they do that? Follow "The Beat of the Bat" and find out...
Chad & Jeremy, the English folk-rock duo who guest starred on "Batman" (and many other shows in the 60's) only to have Catwoman steal their voices! Are they still a couple of "blighters"? Tune in to "The Beat of the Bat" and find out!
Legendary Guitarist
Bob Bain
, whose credit list would seriously take up this whole page and includes the theme songs for "Bonanza", "M*A*S*H" and, of course, "Batman". Not only did Bob work with all three Batman composers (Hefti, Riddle and May) he was also the solo accompanist to Audrey Hepburn on "Moon River" in "Breakfast at Tiffany's" AND the guitarist in Johnny Carson's "Tonight Show" band for over 30 years. The word you are looking for is "WOW!"
Musician
Johnny Green
, who was the leader of the Joker's green-haired band in the classic "Surf's Up, Joker's Under" episode. We interviewed Johnny and went with him back to Torrance Beach for the first time since the episode was filmed there 50 years ago. And yes, his hair is still green.
As you can see, we've gotten quite a lot done independently, but now we're at the point where additional funding is essential to complete the film. So what are we looking at here? Let's talk Bat-Numbers...
That definitely gets the job done, but we'd also LOVE to be able to include all the bells and whistles- more interviews, more music, enhanced motion graphics and a very special end credit sequence that involves an awesome band of Bat-Musicians. That's where our stretch goals come in...
Aside from the warm fuzzy glow you'll get for helping us tell this story and preserving Batman history, we've also got some really cool stuff for you for as a bonus!
We look forward to bringing you this story and filling in a missing chapter of Bat-Music history!
Risks and challenges
Although we have a good start with the key interviews, there's always the danger of not getting some interviews we'd really like to have. Of course, this can be worked around by using alternative interview sources or by using narration.
Some of these interviews may require travel. If travel is not possible for some reason, Skype may be a potential solution. If we reach our Stretch Goal funds for travel, that may alleviate some issues as well.
Also, music rights are expensive and complicated so we may not be able to include some of the material we'd like to. To this end, we have included a stretch goal to include additional music. Otherwise we may simply mention details about a recording (say, in an interview segment or an on-screen graphic) but not actually play the recording itself.
+ Read More
Hey Bat-Music Lovers!

Hope you are having a fantastic week so far! Thanks again to all of you who have come on board as backers of this important piece of Bat-Music history. Your support has helped us to be a trending project here on Go Fund Me!

I've been lining up some exciting stuff for the film, including more composer interviews, editing some great footage of our friend Johnny Green at Torrance Beach, a special video retrospective of Batman's greatest musical moments and more.

We're moving forward with even more momentum and awareness of the film and big things continue to happen. I've been through some major hurdles with this project before and I don't intend on letting anything get in my way.

One thing I've learned in life: problems happen, and you have to learn to adapt and roll with them. There's no other choice! Of course, your continued faith and support helps enormously in overcoming those rough spots! With your help, we'll finally be able to right this musical wrong and give credit to the amazing musicians who helped define my hero.

Please help us continue the momentum here on Go Fund Me and share it on your Facebook, Twitter or email. It's the best way to ensure we stay a trending campaign and keep the beat going strong!

Thanks and stay tuned for more video updates coming soon!

Best,
Pat
+ Read More