Textbooks for Rwanda
$4,275
of $6,000 goal
Raised by
42
people in 38 months
In summer 2014, I accepted a position with the Human Resources for Health (HRH) Program through the Ministry of Health in Rwanda. Launched in August 2012,
HRH is designed to help establish a sustainable healthcare education system.
The Rwandan government has partnered with 23 leading U.S. institutions of medicine, nursing, health management, and dental health to meet the program's goals:
·      Address the critical shortage of healthcare workers in Rwanda
·      Improve the quality of Rwandan health education
·      Provide better infrastructure and equipment in health facilities
·      Improve the management of health facilities
I participate in HRH at the
University Teaching Hospital of Butare (CHUB)
. Established in 1928 and designated a teaching hospital in 1966, CHUB is located in Rwanda's southern province town of Butare and is one of four referral hospitals. According to the National Commission of Poverty Reduction,
the Rwandan population referred to CHUB is among the poorest in the nation.
 CHUB aims to be a "leader in providing quality healthcare services, education and conducting research" while "striving for excellence in Africa." The hospital is currently undergoing a rigorous accreditation process with the Council for Health Service Accreditation of South Africa.
 My position as Intensive Care Unit (ICU) Clinical Educator at CHUB enables my interaction with staff physicians and nurses as well as nursing students. When I first arrived, I placed in the ICU the few U.S. nursing textbooks I had brought with me; CHUB staff immediately expressed interest in them. I came to learn that
textbooks are prohibitively expensive in Rwanda: Most students cannot afford to buy the books, so they share the only copy available in their school library.
This challenge inspired me to find a way to ship to Rwanda the multitude of textbooks I had in storage back home, gathering dust. I spread the word to my friends in the U.S., asking them to send their old textbooks to my parents' house in Maryland. I planned to bring a suitcase back to CHUB with me following the New Year holiday. What happened next was incredible. Friends, acquaintances, and people I have never even met
sent more than 40 boxes (estimated 3000 lbs) of nursing and medical textbooks and references, with the promise of more to come.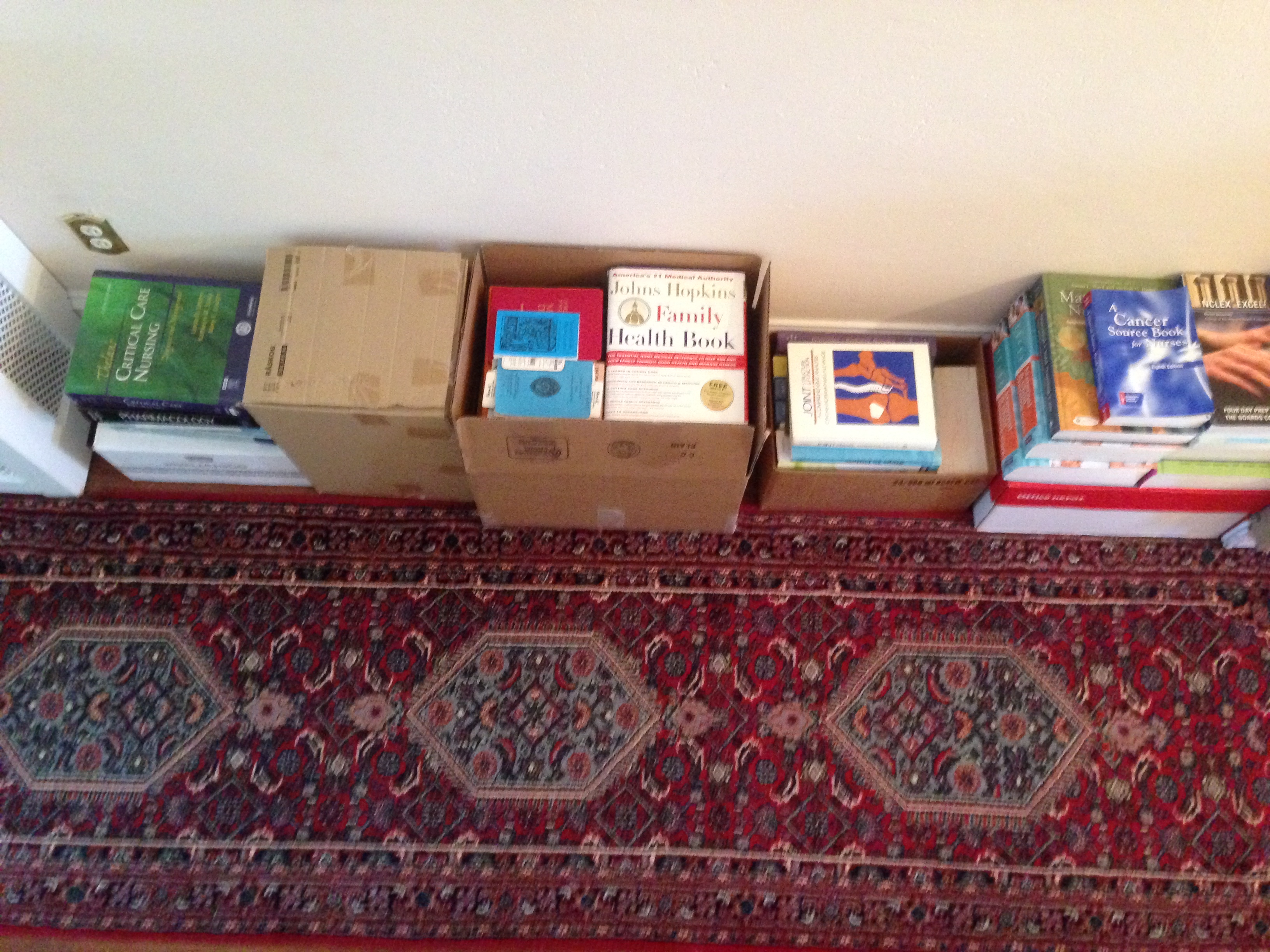 This is where you come in: I need your help in the form of a monetary donation that will enable me to:
1.     Pack and ship the textbooks from Maryland to Butare.
2.     Purchase adequate bookshelves in Rwanda to store the textbooks in the hospital departments.
3.     Purchase additonal textbooks and references deemed necessary and appropriate by CHUB and HRH staff.
Your support for this project is vital. All donations will go directly to the activities listed above and support the hard-working staff at CHUB, who are eager to improve care for the patients they serve.
If you have questions about this project, please contact me through this site. If you are interested in sending books directly, please see the address below. On behalf of CHUB, thank you for your consideration.
Alexandra Bambrick, MPH, RN, BSN, CCRN
University of Texas Health Sciences at Houston Rwandan Ministry of Health
Human Resources for Health Program
ICU Clinical Educator
University Teaching Hospital of Butare           
Mailing Address (USPS is best option):
Textbooks for Rwanda c/o Alexandra Bambrick
Southern Province
Huye District
PO Box 137 Huye
Butare/Rwanda
Other References:
"The Human Resources for Health Program in Rwanda—A New Partnership"
New England Journal of Medicine (2013)  
Human Resources for Health Program Website
+ Read More