Vietnam War Hero Needs Your Help!
$18,030
of $1.0M goal
Raised by
76
people in 34 months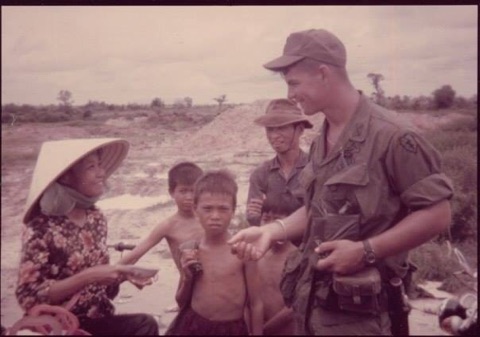 Terrence M. O'Connell was a former Captain in the United States Army, awarded the Distinguished Service Cross, the Purple Heart, and three Bronze Stars for valor as a combat troop commander in Vietnam.  But all of those awards rang shallow in the ensuing years, as his service to our country would take its toll on Terry not just physically, but mentally as well over the span of the next four decades.
But not all of the wounds and afflictions that Terry suffered from the war were physical, or incurred "in battle."
A graduate of Sacred Heart High School in Newton, MA, Terry entered service to his country at the age of 17, cycling through an ROTC program at the University of Michigan, where as a walk-on freshman he made the varsity team that went on that year in 1964, to become the Big Ten Rose Bowl Champion's.  He graduated near the top of his class, before receiving orders to report for duty with the Fifth Special Forces at Fort Bragg. He was eventually deployed to Vietnam.
While engaged in battle in Vietnam, Terry displayed extraordinary heroism when the enemy tossed a grenade in his unit's direction. Terry immediately shoved one dazed comrade to the ground and fell on top of the second man as the grenade descended toward Terry's left shoulder and exploded.  Terry's unhesitating actions enabled his two companions to escape the blast with only minor fragmentation wounds.  Unfortunately, Terry was critically injured, losing an eye, ear, and arm in the explosion.  He underwent dozens of surgeries over the span of just two years.  But the pain never really went away. 
"You have to learn to live with it, subsume it into your life so that it doesn't become your life," O'Connell said.  "The pain started with the blast, but continued into the caring for the wounds, the plastic surgeries, the re-growth of nerves, and then especially the long, slow aftermath of exposure to things like Agent Orange.  Those effects lead you down a long, arduous road of recovery."
Decades after the explosion, Terry was diagnosed with an aggressive form of B-Cell lymphoma, a malady his doctor attributed to his exposure to Agent Orange.
"The pain and suffering would not go away, and I realized that many of the men I served with were fighting the same battles as I.  They were suffering from physical wounds as well as Post-Traumatic Stress Disorder (PTSD).  And that doesn't go away easily or quickly. 
Terry's injuries and illnesses – both mental and physical - would dog him through the rest of his career.  It came to a head when, on the way to assist retirees during a meeting at the Pentagon, several years ago, he lapsed into a mental state and was rushed to the Navy Hospital at the Walter Reed Center. 
The setback brought an abrupt end to an admirable career he had established helping veterans over 25 years, working with special expertise in the representation of clients before Congress, the White House, and the Departments of Commerce, Defense, Energy, Homeland Security, Housing and Urban Development and Justice, State and Transportation.  Terry had been the second longest service Chairman of the Reserve Forces Policy Board, and President of the Board's Alumni Association.  But none of that mattered anymore.
In October of 2016, Terry's right leg was amputated. There is discussion now about whether his left leg will also be amputated. The amputation was due to circulatory problems brought on by complications associated with his two kidney transplants, Agent Orange, and his war wounds.
And with that end, came an end to support services, not to mention regular income to take care of his bills and family.
Please help us get this war hero and his family back on their feet!Distinguished Service Cross
Awarded for actions during the Vietnam War
The President of the United States of America, authorized by Act of Congress, July 9, 1918 (amended by act of July 25, 1963), takes pleasure in presenting the Distinguished Service Cross to First Lieutenant (Infantry) Terrence M. O'Connell, United States Army, for extraordinary heroism in connection with military operations involving conflict with an armed hostile force in the Republic of Vietnam, while serving with Troop D, 3d Squadron, 4th Cavalry, 25th Infantry Division.
 First Lieutenant O'Connell distinguished himself by exceptionally valorous actions on 8 January 1970 while leading a combat patrol in search of enemy soldiers near Cu Chi. As the patrol maneuvered beside a thickly vegetated hedgerow, faint voices were heard coming from the mouth of an underground enemy tunnel. Lieutenant O'Connell immediately directed his interpreter to instruct the enemy soldiers to surrender. Two enemy soldiers surrendered immediately upon hearing the first command and a third yielded after a second directive was issued. As the third enemy soldier left the tunnel opening, a grenade was tossed from the hole but exploded harmlessly among the alert patrol members. Utilizing the temporary disorganization caused by the explosion, the third enemy soldier drew a grenade he had concealed on his person and tossed it toward Lieutenant O'Connell and two patrol members.
 Lieutenant O'Connell immediately shoved one dazed comrade to the ground and fell on top of the second man as the grenade descended toward his left shoulder and exploded. Although critically wounded by the explosion, Lieutenant O'Connell's unhesitating actions enabled his two companions to escape the blast with only minor fragmentation wounds. First Lieutenant O'Connell's extraordinary heroism and devotion to duty were in keeping with the highest traditions of the military service and reflect great credit upon himself, his unit, and the United States Army.
General Orders: Headquarters, U.S. Army, Vietnam, General Orders No. 3377 (July 23, 1970)
+ Read More