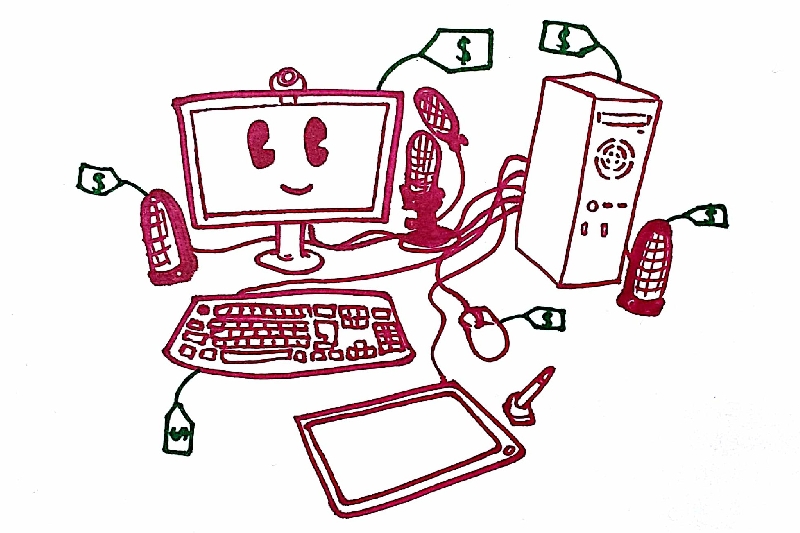 12
2
Help Me Afford A Computer!
£733
of £850 goal
Raised by
15
people in 15 months
Hey, hi! I'm a cartoonist, writer and podcaster, and for the last six years (oh god) I've been doing all of these things on a tiny laptop that could just barely open an outdated version of Photoshop. 
What changed? Well, the laptop died. Three times in the space of two years. With no warranty left to save me, I've come to the conclusion that it's time to build a
new desktop computer. One that's designed for what I actually do, that I can fix and upgrade whenever things go wrong. For the same price as yet another low end laptop, I can build a machine that will run Photoshop happily, that won't crash and wipe out hours of work when I try to edit large audio files, that might even be capable of running two programs simultaneously.
The catch is...I can't afford it right now. Moving to a new city wiped out my savings, and even saving every penny from my paycheck would take me at least three months -- three months in which I can't work, can't take commissions, can't do anything more complicated than a phone browser can handle.
That's why I'm asking for help. I've priced out all of the components I need for a basic, budget, workhorse computer, and I'll be putting aside as much as I can manage each month to meet that goal. But if you guys can spare ANYTHING to help me get there faster, it would make an incredible difference to both my quality of life and my career. It could mean the difference between me being able to get back to work this year or being out of commission until 2018! That's a long time for a small business!
Thank you so much for reading, for thinking about my situation, and for contributing whatever you can!
+ Read More
Update 2
14 months ago
Share
The picture says it all. I can't believe how quickly you guys have propelled me back into action with all your help and support. Thank you, thank you, a million times thank you. This machine is going to make a huge difference to my ability to prepare for end of year conventions and keep working through into 2018. You are all amazing and I love you. Thank you so much!
+ Read More
Update 1
15 months ago
Share
In just three days you guys have helped me raise 2/3rds of the cost to replace my work computer, I'm completely bowled over by everyone's support and generosity. At this rate I hope to be back in action by the end of October -- considering that I was originally afraid I'd be unable to work until 2018, that's huge! Thank you so much to everyone who's shared or donated to the fund! xx
+ Read More
Read a Previous Update