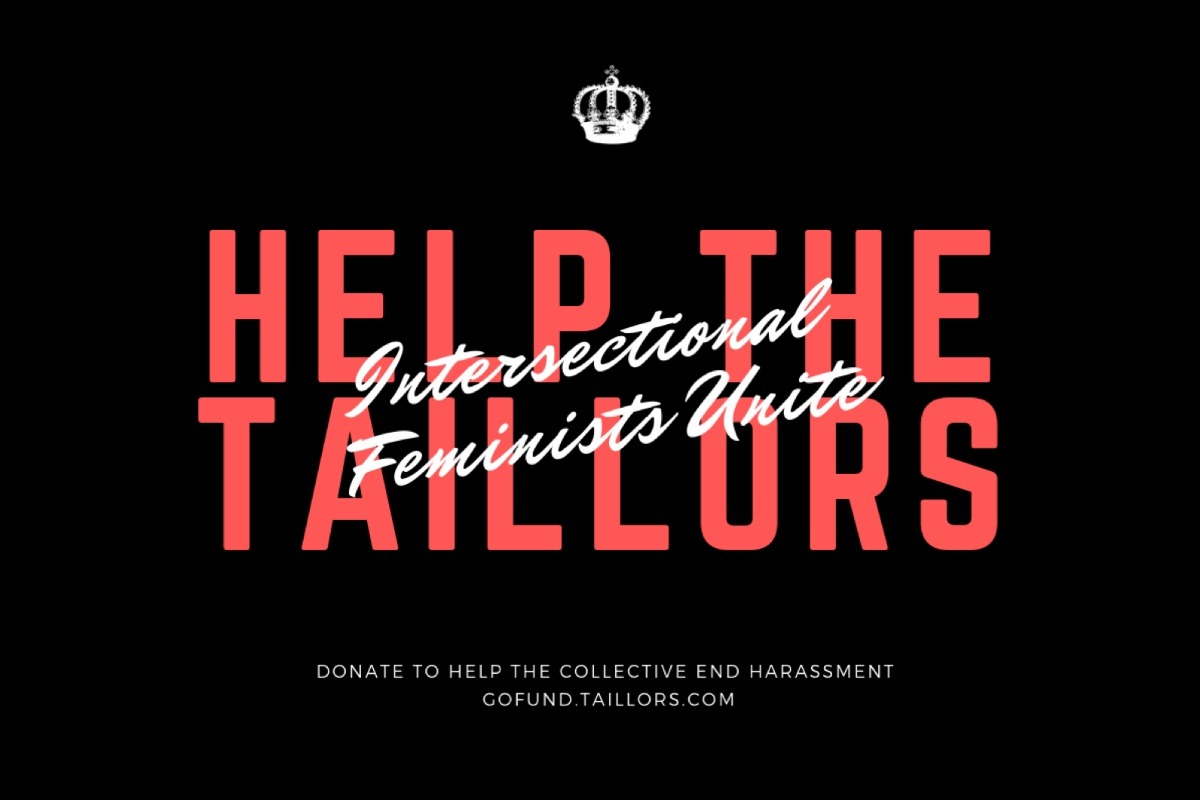 32
2
Help Taillors Move
$2,720
of $15,000 goal
Raised by
27
people in 5 months
[ GoFundMe seemed to not love kink either, so
we opened a Fundrazr for the balance
and have been using that — whenever we receive a donation here, we update the balance on
Fundrazr
 ].
Hello community of sex-positive, femme-loving, BDSM-accepting humans. We are
the Taillor Collective
, a feminist group of dominant womyn hosting workshops, inclusive gatherings, SSC play parties, fundraisers, and other community events in Brooklyn. We had a wonderful experience at our old place and have recently moved to a slightly bigger one, in which we invested lots of energy and money in order to create a fabulous new home.
One of our new neighbors believes kink to be evil, and has been out to get us. She has made several complaints to the Police and the DOB, handed out and posted flyers, and still screams ill of us at residents on the block. We have gone to community meetings to clear up the issue, hired a lawyer (as well as additional legal counsel), and have been trying to resolve the issue in several ways — but the harassment has only escalated.
Charlotte
  has even tried writing her a cooperating note and the response was a deeply hateful and insulting letter, pounded on our window.
We legally have every right to the space. We have signed and paid for a year+ lease and wished, at least, to see it through. However, the bullying has only increased, and we may be being forced to relocate for our own safety and the overall wellbeing of our community.
We would be forever grateful for your help and support. Please consider making a donation to help us pay our legal fees and unexpected moving expenses. We are an all femme identifying collective where a majority of us are victims of illegal sex work, abuse, trauma, poverty, and lack of resources. We represent a strong intersectional feminist collective of queer womyn, trans womyn, disabled womyn, womyn of color, and most importantly, womyn who have found their voice within our collective and as a means to empower themselves.
We (the Taillor Collective) are recipients of the fund goal. We are reaching out to those who have been to our space, to our fellow industry members, and the general feminist sex positive community who wants to help people in need. 
The funds would directly go to relocating and renovating a new space. The funds would go towards deposits for spaces, renovation and moving expenses, and the ability to have flexibility to open or close when we are the midst of moving. Our fund goal is the exact amount we used for relocating to our new space (renovations, new purchases) and to cover lawyer fees when we started being harassed. We need your help to do it all over again and appreciate every effort. Any excess funds will be donated to the SOAR Institute and GLSEN. 
By supporting us, you would be supporting voices that are never given a chance outside of the world we have created. We want to continue sharing that world for as long as we can.
Thank you,
The Taillors
_____
+ Read More
Update 1
3 months ago
Share
Dear donors:
thank you for the help through such hardship. We have happily moved! I, Charlotte Taillor (or for those who donated from the vanilla world, Nathalie Carneiro), am withdrawing funds in my (vanilla) name, and paying for the remaining bills for our move, paying back part of the loan from Emma Jones to cover the moving costs (of several months of rent and deposit) and using it to make the new place a home again — from paint to the hourly rate of professional suspension rig installers.

Sorry for the unnecessarily detailed message — GoFundMe obligates us to do that and even disclose our real name. SWers: never use GoFundMe! Everyone: I wouldn't recommend GoFundMe for you either. Fundrazr has been super chill.

Thank you very much for your support, really. Without it, I am not sure of what would be happening.

Sending much, much love,
Charlotte
+ Read More